In such times of trial it is important to live in accordance with the Gospels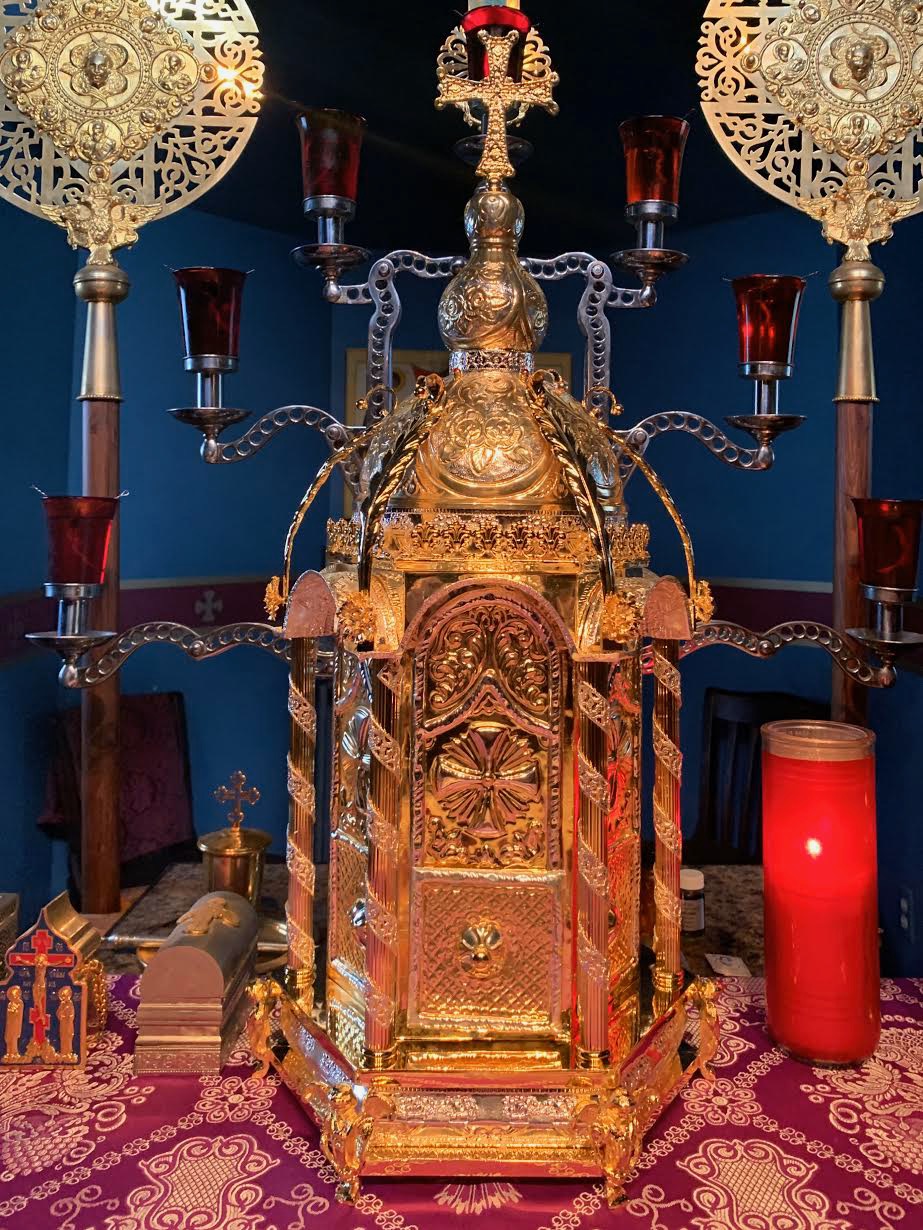 After further consultation with other monastery leaders and personal prayer and searching on the matter, we as a community have felt it to be important to make the Church services available to those who wish to come and pray to our Lord.
The city of Seattle and the Puget Sound area still remains one of the hot-spots of the Covid-19 virus, though, and we feel that traveling to this area (or any other hotbed of cases of infection) should only be undertaken in great need. This especially applies for children (who are easily infected), the immuno-compromised, and the elderly (who are more likely to suffer from serious illness or worse).
With this in mind, while on the one hand we will still close the gates to visitors in general, on the other we will still be available for people with pastoral needs, and we can be contacted about these. We will also be available to meet up on a case by case basis, as needed.
Furthermore, we will still conduct our coffee business and our online store will continue to operate as usual. We also welcome your generous financial contributions towards the support of the monastery. Like everyone else, this coronavirus is having a negative economic impact on our monastery.
Of course, if, God forbid, any of the monastics should contract the virus the monastery will be quarantined as a whole, and closed off to anyone else.
We ask for everyone's continued prayers during these trying times for all, and remind everyone that while it is normal and right to take reasonable precautions in accord with one's personal circumstances, it is equally important in such times of trial to live in accordance with the Gospel commandments and make oneself and one's Saviour available to others. We are all in need of the Saviour, and sometimes God permits difficult times like this to draw both our and others' attention to the "one thing needful".
With love and blessings,
Abbot Tryphon
Let us all join together in reciting the following prayers each and every day, until this pandemic has come to an end:
"More than all others we have sinned against Thee and we have transgressed, O Master, and if we have not acquired repentance instead of repentance accept our offering. And having set Thyself to mercy, as Thou art almighty, free Thy servants from death bearing sickness and grievous afflictions, groaning in pain we pray Thee, quickly hearken and have mercy."
"We have sinned and we have transgressed, and therefore Thy righteous anger has visited us, O Lord, our God; and the darkness of death has encompassed us and we have drawn nigh unto the gates of Hades. But, with compunction, we cry out unto Thee, our God, in our infirmities: Spare, O spare Thy people, and destroy us not utterly, humbly we pray Thee, hearken and have mercy."
"O Lord, Who rules by life and by death: do Thou not enclose the souls of Thy servants in death, but turn aside from wrath and forsake anger, for our days vanish like smoke, and our strength has wasted away, and we are perishing utterly because of our sins. Be Thou merciful unto Thy servants who are repenting with tears, we pray Thee, hearken and have mercy."
(Taken from the "Molieben Sung in Time of Devastating Epidemic and Death-bearing Pestilence")
Tuesday March 17, 2020 / March 4, 2020
Third Week of the Great Lent. Tone six.
Great Lent. By Monastic Charter: Food without Oil
Venerable Gerasimus of the Jordan (475).
Venerable Gerasimus, monk, of Vologda (1178).
St. Daniel, prince of Moscow (1303).
New Hieromartyrs Archpriest Dimitry Ivanov of Kiev (1933) and Priest Vyacheslav (Leontiev) of Nizhegorod (1937).
New Hieromartyr Alexander priest (1938).
Blessed Basil (Basilko), prince of Rostov (1238).
Saints of Pskov martyred by the Latins: Venerable Ioasaph of Snetogorsk Monastery and St. Basil of Mirozh Monastery (1299).
Martyrs Paul, his sister Juliana, and Quadratus, Acacius, and Stratonicus, at Ptolemais in Syria (273).
Venerable James the Faster of Phoenicia (Syria) (6th c.).
Translation of the relics (938) of Martyr Wenceslaus, prince of the Czechs (935).
St. Gregory, bishop of Constantia in Cyprus.
St. Gregory, bishop of Assos near Ephesus (1150).
St. Julian, patriarch of Alexandria (189).
St. Peter (Michurin), youth of Tobolsk (Siberia) (1820).
The Scripture Readings
Isaiah 9:9-10:4
9 All the people will know—
Ephraim and the inhabitant of Samaria—
Who say in pride and arrogance of heart:
10 "The bricks have fallen down,
But we will rebuild with hewn stones;
The sycamores are cut down,
But we will replace them with cedars."
11 Therefore the Lord shall set up
The adversaries of Rezin against him,
And spur his enemies on,
12 The Syrians before and the Philistines behind;
And they shall devour Israel with an open mouth.
For all this His anger is not turned away,
But His hand is stretched out still.
13 For the people do not turn to Him who strikes them,
Nor do they seek the Lord of hosts.
14 Therefore the Lord will cut off head and tail from Israel,
Palm branch and bulrush in one day.
15 The elder and honorable, he is the head;
The prophet who teaches lies, he is the tail.
16 For the leaders of this people cause them to err,
And those who are led by them are destroyed.
17 Therefore the Lord will have no joy in their young men,
Nor have mercy on their fatherless and widows;
For everyone is a hypocrite and an evildoer,
And every mouth speaks folly.
For all this His anger is not turned away,
But His hand is stretched out still.
18 For wickedness burns as the fire;
It shall devour the briers and thorns,
And kindle in the thickets of the forest;
They shall mount up like rising smoke.
19 Through the wrath of the Lord of hosts
The land is burned up,
And the people shall be as fuel for the fire;
No man shall spare his brother.
20 And he shall snatch on the right hand
And be hungry;
He shall devour on the left hand
And not be satisfied;
Every man shall eat the flesh of his own arm.
21 Manasseh shall devour Ephraim, and Ephraim Manasseh;
Together they shall be against Judah.
For all this His anger is not turned away,
But His hand is stretched out still.
Assyria Shall Be Broken
10 "Woe to those who decree unrighteous decrees,
Who write misfortune,
Which they have prescribed
2 To rob the needy of justice,
And to take what is right from the poor of My people,
That widows may be their prey,
And that they may rob the fatherless.
3 What will you do in the day of punishment,
And in the desolation which will come from afar?
To whom will you flee for help?
And where will you leave your glory?
4 Without Me they shall bow down among the prisoners,
And they shall fall among the slain."
For all this His anger is not turned away,
But His hand is stretched out still.
Genesis 7:1-5
The Great Flood
7 Then the Lord said to Noah, "Come into the ark, you and all your household, because I have seen that you are righteous before Me in this generation. 2 You shall take with you seven each of every clean animal, a male and his female; two each of animals that are unclean, a male and his female; 3 also seven each of birds of the air, male and female, to keep the species alive on the face of all the earth. 4 For after seven more days I will cause it to rain on the earth forty days and forty nights, and I will destroy from the face of the earth all living things that I have made." 5 And Noah did according to all that the Lord commanded him.
Proverbs 8:32-9:11
32 "Now therefore, listen to me, my children,
For blessed are those who keep my ways.
33 Hear instruction and be wise,
And do not disdain it.
34 Blessed is the man who listens to me,
Watching daily at my gates,
Waiting at the posts of my doors.
35 For whoever finds me finds life,
And obtains favor from the Lord;
36 But he who sins against me wrongs his own soul;
All those who hate me love death."
The Way of Wisdom
9 Wisdom has built her house,
She has hewn out her seven pillars;
2 She has slaughtered her meat,
She has mixed her wine,
She has also furnished her table.
3 She has sent out her maidens,
She cries out from the highest places of the city,
4 "Whoever is simple, let him turn in here!"
As for him who lacks understanding, she says to him,
5 "Come, eat of my bread
And drink of the wine I have mixed.
6 Forsake foolishness and live,
And go in the way of understanding.
7 "He who corrects a scoffer gets shame for himself,
And he who rebukes a wicked man only harms himself.
8 Do not correct a scoffer, lest he hate you;
Rebuke a wise man, and he will love you.
9 Give instruction to a wise man, and he will be still wiser;
Teach a just man, and he w