What should a Christian's response be to dark times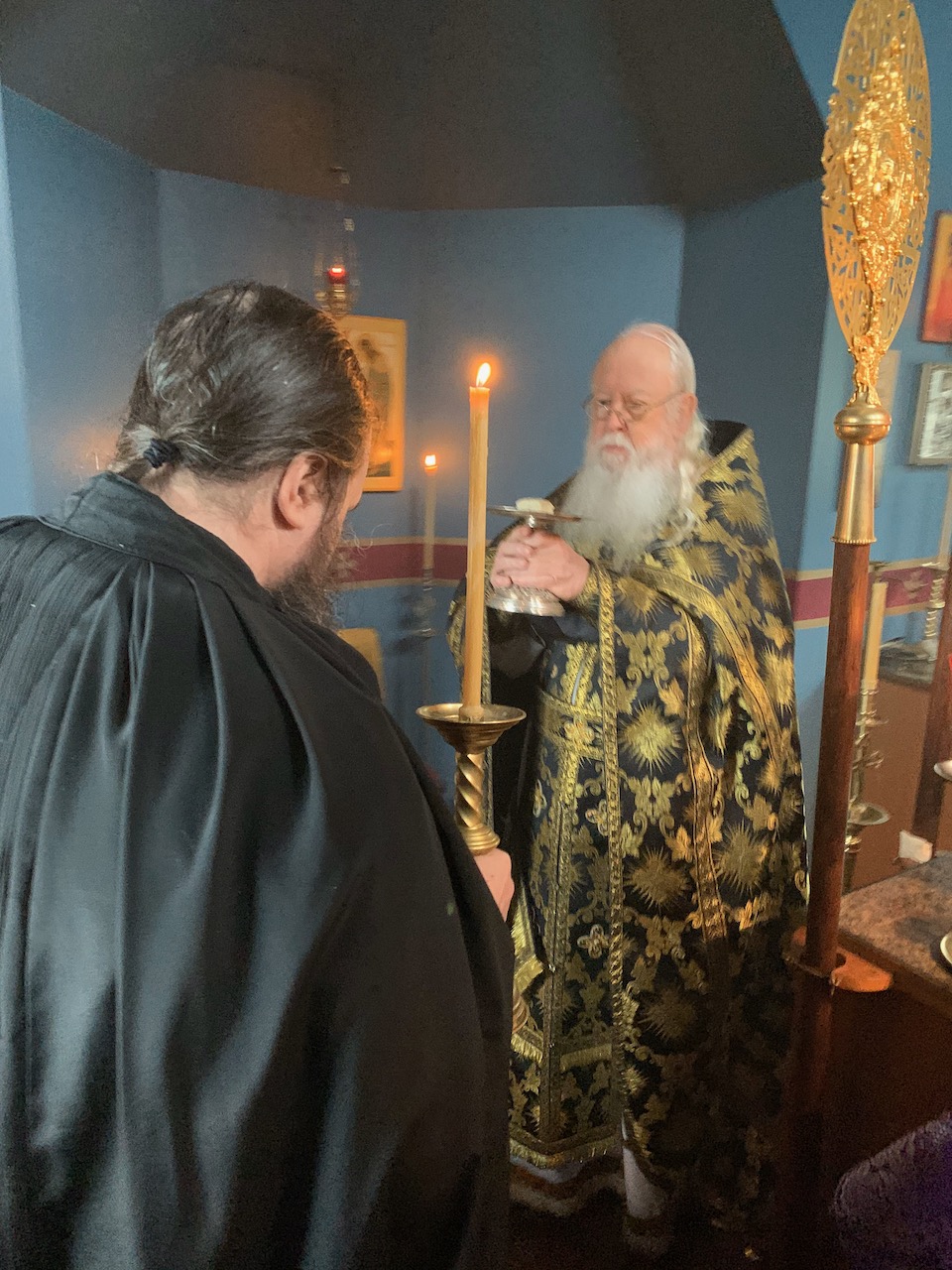 As an Orthodox Christian, I do not believe God makes us suffer. However, I know that God sometimes allows me to suffer as a means of delivering me the salvific medicine that can bring about healing of my fallen nature. God knows I sometimes need to suffer in order to turn to Him, and thus deepen my relationship with Him. It is also evident from my relationship with the Church, that God does sometimes allow demons to attack me, but this is always meant to turn my heart to repentance. Are dark times sent to me by God, or is it something that has descended upon my world because of my sin? As an Orthodox Christian, I know in my heart that dark times are a call for my repentance, and are therefore not something I can blame on others.
It would be so simple if I could point an accusing finger toward the secular and humanistic society that has distanced itself from our society's Christian roots, but in good conscience, I can not say that. I can only look at my own sinful nature, and how far I have fallen from the image and likeness that Our Lord created me to image, and know that dark times are all about me, and I must look to the Lord in the midst of all the suffering that befalls our world, and embrace the truth that my own sin is the cause of all calamities.  I must realize that it is in suffering that God is calling me to turn my gaze upon Christ, and become more like Him.
Repentance in the midst of suffering does not mean that I am saying God is punishing me. Repentance is about turning more to Christ and becoming more like Christ. And suffering often is the only way we can do that. All is the province of God, and I am simply His servant, and I am charged by Him to serve His people, as best I can, as their servant. I am called to give witness to the truth of our Orthodox Christian faith, as best I can. If I am to be a true Christian, then I must be consistent with my Orthodox Faith, and see myself as the ultimate cause of all the suffering and darkness that befalls our world, and I must repent.
"Lord, grant me to see my own sins, and not to judge my brother, for Thou art blessed unto ages of ages. Amen. (The Prayer of Saint Ephraim the Syrian)."
With love in Christ,
Abbot Tryphon
Sunday March 15, 2020 / March 2, 2020
Second Sunday of the Great Lent. Tone six.
Great Lent. Food with Oil
St. Gregory Palamas the Archbishop of Thessalonica (movable holiday on the 2nd Sunday of the Great Lent).
Synaxis of all Venerable Fathers of the Kiev Caves (movable holiday on the 2nd Sunday of the Great Lent).
Appearance of the Kolomenskoye Icon of the Most Holy Theotokos, "Reigning" (1917).
Hieromartyr Theodotus, bishop of Cyrenia (315).
St. Arsenius, bishop of Tver (1409).
Virgin-martyr Euthalia of Sicily (257).
Martyr Troadius of Neo-Caesarea (3rd c.).
Venerable Agatho of Egypt, monk (5th c.).
440 Martyrs slain by the Lombards (579).
St. Sabbatius, monk, of Tver (1434), and his disciple St. Euphrosynus (1460).
Sts. Barsanuphius (1459) and Sabbas (1467), abbots, of Tver.
St. Chad, bishop of Lichtfield, England (672) (Celtic & British).
St. Quintus of Phrygia, confessor and wonderworker (283) (Greek).
Martyr Andronicus and the virgin Athanasia (Greek).
Hieromartyrs Nestor the bishop and Tribimius the deacon of Perga in Pamphylia (250).
Martyr Hesychius the Palatine of Antioch (304).
New Martyr Theodore Sladich of Komogovina (1788).
St. Joachim (Papoulakis) of Vatopedi, Mt. Athos and Ithaca (1868).
The Scripture Readings
Luke 24:36-53
Jesus Appears to His Disciples
36 Now as they said these things, Jesus Himself stood in the midst of them, and said to them, "Peace to you." 37 But they were terrified and frightened, and supposed they had seen a spirit. 38 And He said to them, "Why are you troubled? And why do doubts arise in your hearts? 39 Behold My hands and My feet, that it is I Myself. Handle Me and see, for a spirit does not have flesh and bones as you see I have."
40 When He had said this, He showed them His hands and His feet. 41 But while they still did not believe for joy, and marveled, He said to them, "Have you any food here?" 42 So they gave Him a piece of a broiled fish and some honeycomb. 43 And He took it and ate in their presence.
The Scriptures Opened
44 Then He said to them, "These are the words which I spoke to you while I was still with you, that all things must be fulfilled which were written in the Law of Moses and the Prophets and the Psalms concerning Me." 45 And He opened their understanding, that they might comprehend the Scriptures.
46 Then He said to them, "Thus it is written, and thus it was necessary for the Christ to suffer and to rise from the dead the third day,47 and that repentance and remission of sins should be preached in His name to all nations, beginning at Jerusalem. 48 And you are witnesses of these things. 49 Behold, I send the Promise of My Father upon you; but tarry in the city of Jerusalem until you are endued with power from on high."
The Ascension
50 And He led them out as far as Bethany, and He lifted up His hands and blessed them. 51 Now it came to pass, while He blessed them, that He was parted from them and carried up into heaven. 52 And they worshiped Him, and returned to Jerusalem with great joy, 53 and were continually in the temple praising and blessing God. Amen.
Hebrews 1:10-2:3
10 And:
"You, Lord, in the beginning laid the foundation of the earth,
And the heavens are the work of Your hands.
11 They will perish, but You remain;
And they will all grow old like a garment;
12 Like a cloak You will fold them up,
And they will be changed.
But You are the same,
And Your years will not fail."
13 But to which of the angels has He ever said:
"Sit at My right hand,
Till I make Your enemies Your footstool"?
14 Are they not all ministering spirits sent forth to minister for those who will inherit salvation?
Do Not Neglect Salvation
2 Therefore we must give the more earnest heed to the things we have heard, lest we drift away. 2 For if the word spoken through angels proved steadfast, and every transgression and disobedience received a just reward, 3 how shall we escape if we neglect so great a salvation, which at the first began to be spoken by the Lord, and was confirmed to us by those who heard Him,
Mark 2:1-12
Jesus Forgives and Heals a Paralytic
2 And again He entered Capernaum after some days, and it was heard that He was in the house. 2 Immediately many gathered together, so that there was no longer room to receive them, not even near the door. And He preached the word to them. 3 Then they came to Him, bringing a paralytic who was carried by four men. 4 And when they could not come near Him because of the crowd, they uncovered the roof where He was. So when they had broken through, they let down the bed on which the paralytic was lying.
5 When Jesus saw their faith, He said to the paralytic, "Son, your sins are forgiven you."
6 And some of the scribes were sitting there and reasoning in their hearts, 7 "Why does this Man speak blasphemies like this? Who can forgive sins but God alone?"
8 But immediately, when Jesus perceived in His spirit that they reasoned thus within themselves, He said to them, "Why do you reason about these things in your hearts? 9 Which is easier, to say to the paralytic, 'Your sins are forgiven you,' or to say, 'Arise, take up your bed and walk'? 10 But that you may know that the Son of Man has power on earth to forgive sins"—He said to the paralytic, 11 "I say to you, arise, take up your bed, and go to your house." 12 Immediately he arose, took up the bed, and went out in the presence of them all, so that all were amazed and glorified God, saying, "We never saw anything like this!"