The Church is a microcosm of the universe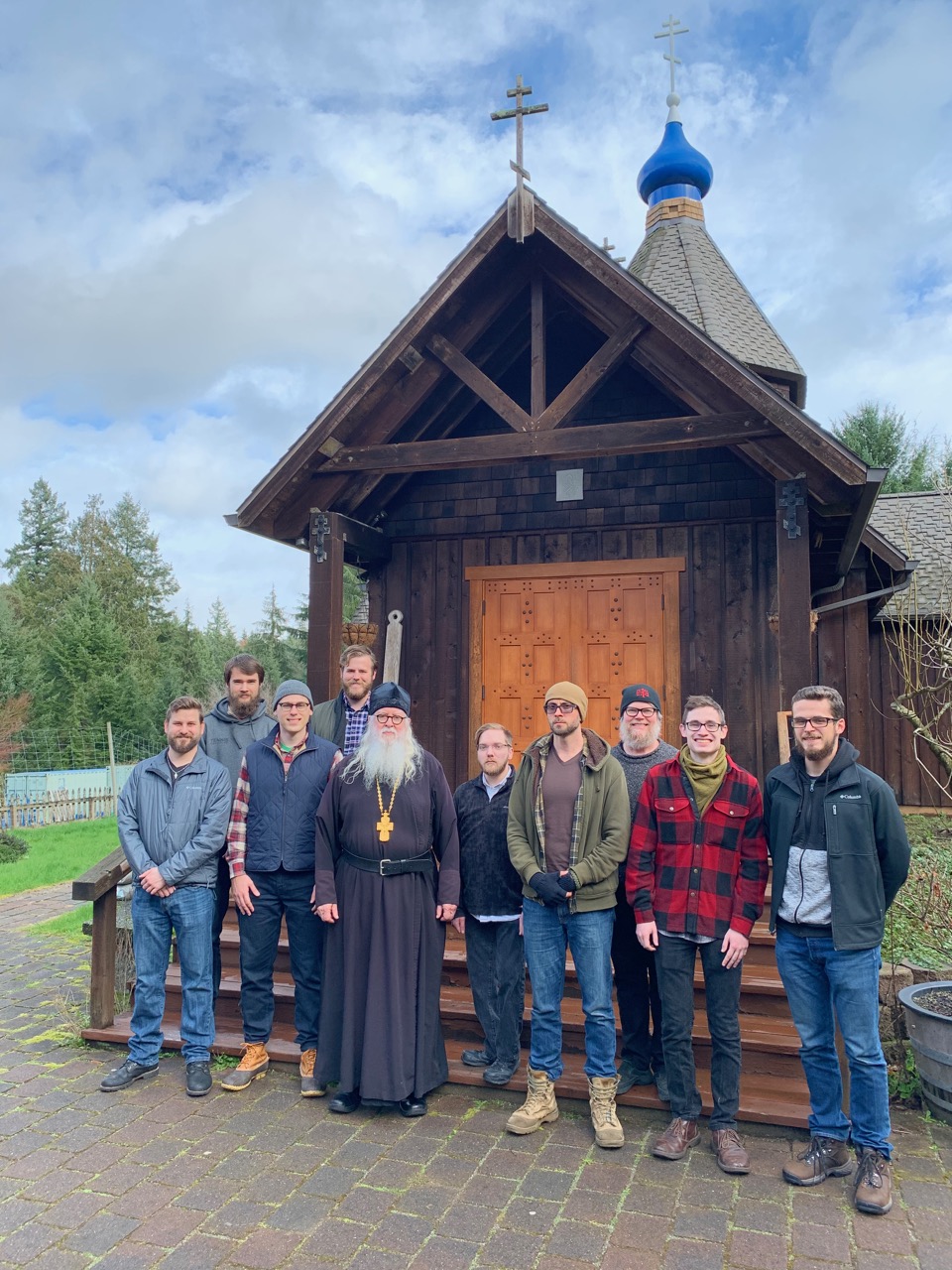 "Everything that lives and breathes is sacred and beautiful in the eyes of God. The whole world is a sacrament. The entire created cosmos is a burning bush of God's uncreated energies. And humankind stands as a priest before the altar of creation, as microcosm and mediator. Such is the true nature of things; or, as an Orthodox hymn describes it, "the truth of things," if only we have the eyes of faith to see it."
These words of His Holiness Bartholomew, the Ecumenical Patriarch, ring so true to me, both as an Orthodox Christian, and as a man who has always loved the outdoors. Some of my earliest memories are the camping trips we would take, as a family, pitching a tent by an idyllic lake in Northern Idaho, cooking over a fire, catching rainbow trout for breakfast (nothing like a freshly grilled trout for breakfast), and hiking mountain trails. When in high school I'd join friends for day long hikes in the nearby mountains, or go swimming in remote areas of Lake Pend Oreille, Idaho's largest lake.
At 65 miles long, and located in the northern pan handle of the State, it is the fifth deepest lake in the United States, measuring 1,150 feet deep in some areas. The lake's 111 miles of uncrowded shoreline, permitted many an adventure, and instilled in me a love of nature, and the great outdoors. The waters of this lake are so pure, many people who have built homes on the lake's many islands, simply pipe their water from the lake, with no treatment necessary.
Every Summer, I try to get away for a few days of bass fishing with my brother, Dwayne, boating up the Clark Fork River, a tributary of Lake Pend Oreille. We feel like our Viking ancestors, as we move ever deeper into wilderness, entering the remote territory of moose, elk, bear, and eagles. We both consider ourselves environmentalists, and as stewards of the natural resources God has given us.
The Redwoods of Northern California are another special place for me. These towering giants have beckoned me since I first entered this primordial forest back in the late 1960's. One Redwood tree is particularly special to me, for it was the first tree I ever hugged (yes, I'm a tree hugger), and I've made it a point to hug that very tree since I was twenty-two, and have photographed many a friend embracing that tree, including priests who will remain anonymous.
Orthodoxy has never viewed the environment, nor the natural resources, for plunder. Orthodoxy has historically viewed the earth as a place to be nurtured, protected, and preserved for future generations. The vast areas of Russia that were plundered and laid waste, happened under the godless Soviets. The great forests that surrounded Athens and Thessaloniki, were cut down by the Turks, who built only with wood, whereas the Greeks built with stone.
Our Church has special supplications and litanies for "seasonable weather, for abundance of the fruits of the earth" or for protection in the case of natural disasters. There is even a special prayer from the service said in times of danger from earthquake:
"The earth, is without words, yet groans and cries: 'Why, all people, do you pollute me with so many evils? The Master spares you but chastises me entirely: understand and propitiate God in repentance.'"
Orthodoxy conveys a profound understanding of creation, and the role of humanity as the priesthood of creation. As creatures who are able to alter and reshape the world, we are bound by the Creator to be good stewards. As the whole of the cosmos has worshiped the Creator, we have built churches that represent a microcosm of this very universe. The promise of redemption is for all of creation, and is the gift of salvation wrought by Jesus Christ.
With love in Christ,
Abbot Tryphon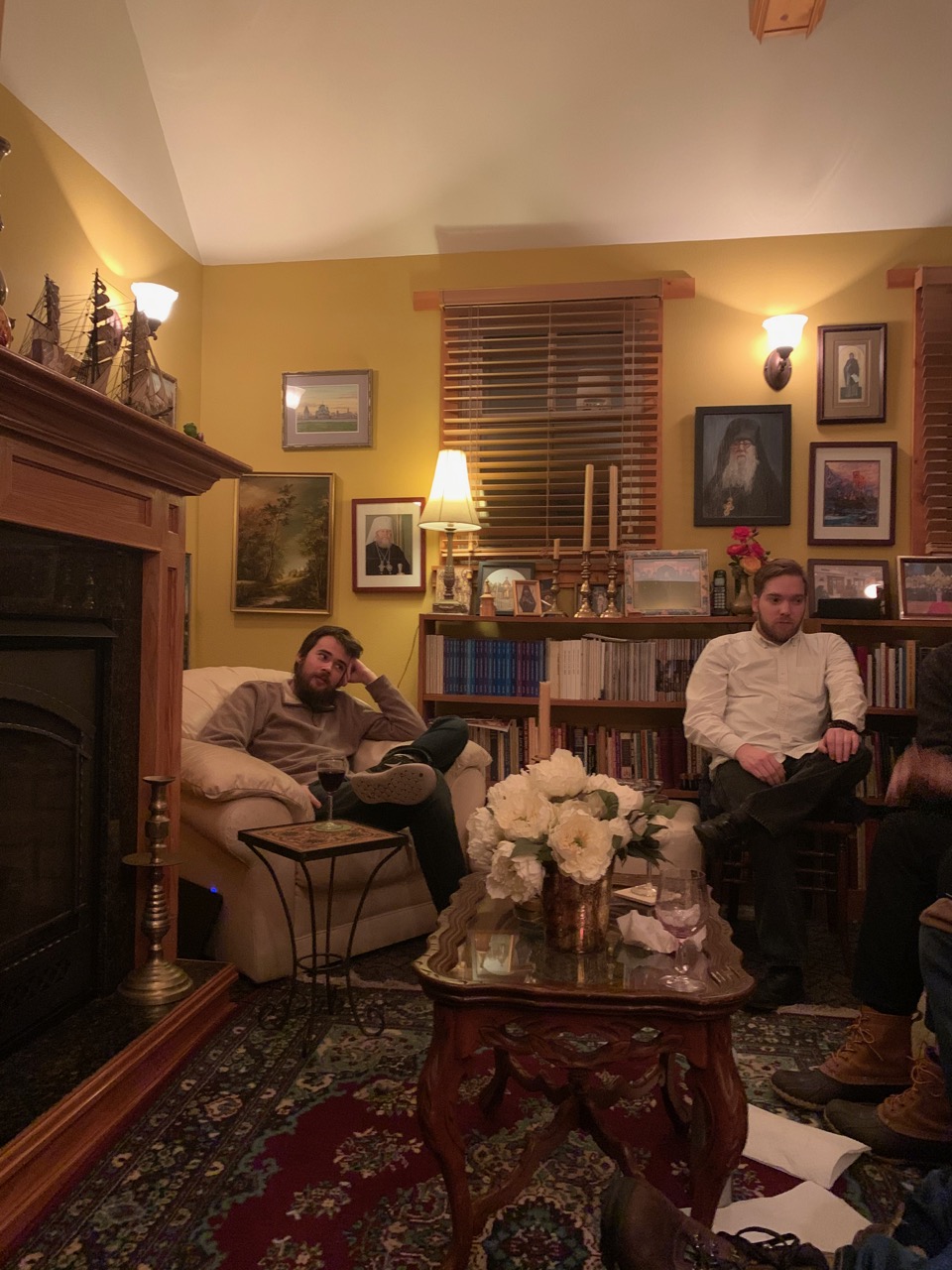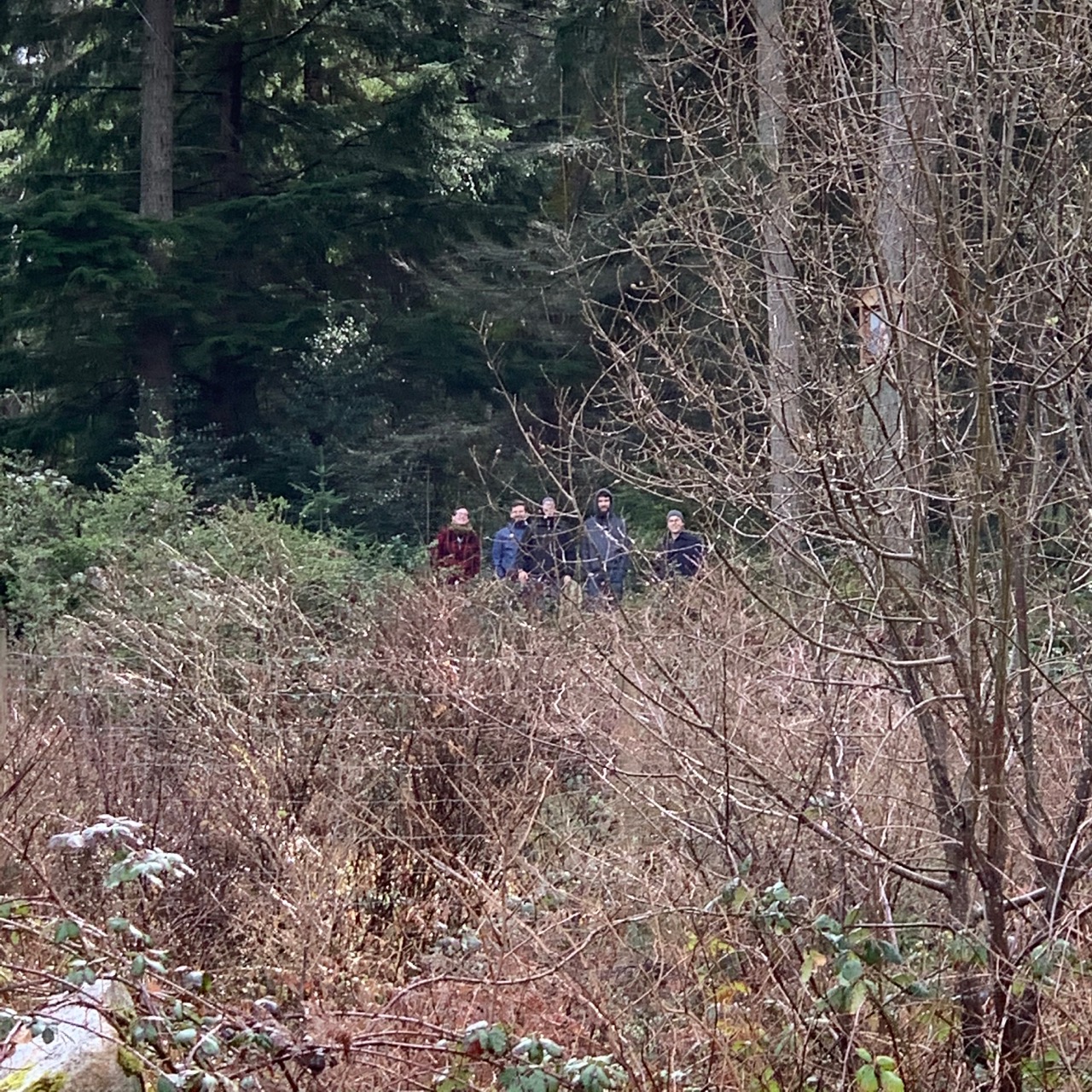 Photos: We've been blessed with members of the Salish Brotherhood of Saint John the Wonderworker, who've been on retreat here in the monastery. These fine young men have come from various parts of Southern California, and Oregon. It has warmed my heart to know such fine young Orthodox Christian men, all who are the future of our Orthodox Church.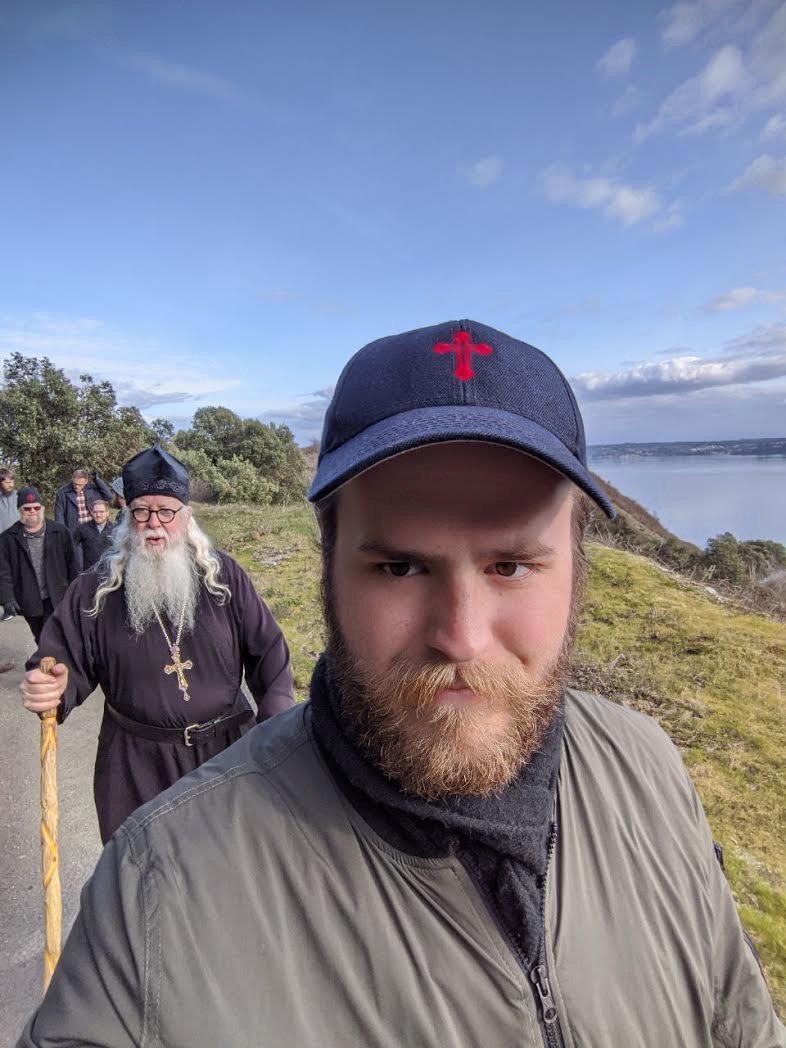 UPDATE: I took a terrible fall while hiking with the young men here on retreat. I lost my balance, and fell down an embankment on a trail, hitting my head on a rock and breaking my glasses. Given the remoteness of the site, it was good that I had the young men with me, otherwise I would not have been able to tell the Fire Department medics where I was.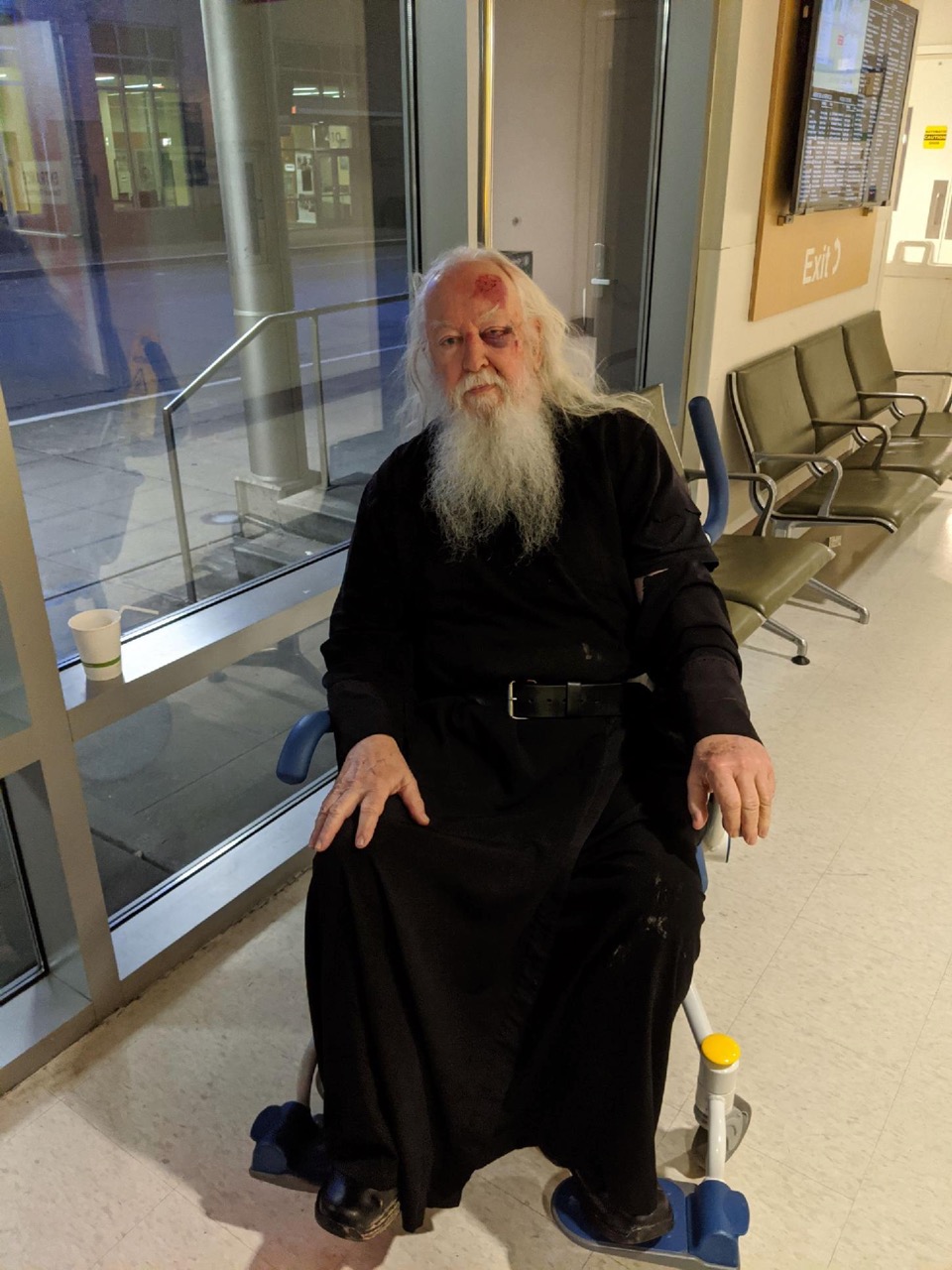 My A-fib has returned due to the trauma of my fall.  Additionally, I have a fractured bone under my eye, and am in terrible pain in my left side ribs, but miraculously, other than the fractured bone below my eye, I suffered no broken bones. I was released to the care of Fathers Paul and Martin, just in time to get the 2:20 a.m. ferry back to the island (the last one of the day).
Turns out Harborview Trauma Center in Seattle is considered the best in the world, so I was in good hands. I'm suffering a lot of pain over my whole body, but am grateful I did not hit that rock in my eye, or teeth. I suffered no concussion, but the emergency room doctors said I was lucky to be alive. Of course "luck" had nothing to do with it, for I believe the Holy Virgin protected me.
Jason Howell, one of the young men on retreat, accompanied me in the ambulance. and stayed by me in the trauma center the whole time. Additionally, I am grateful for all the prayers from all of you, after Father Martin posted on my Facebook page, alerting all of you to my plight. Abbess Markella of Life Giving Spring Greek Orthodox Women's Monastery in Dunlap, CA., called me in the emergency room, and observed that this was my introduction to Great and Holy Lent.
I am seeing double, so I am to return to the hospital within the week for them to check it out. There is the possibility I might have to have eye surgery, so I ask your holy prayers on my behalf. I'm heading back to bed, but wanted to post my blog for the day, before it got any later. Thanks for all your prayers, and please know that I love all of you with my whole heart.
Abbot Tryphon
Tuesday February 25, 2020 / February 12, 2020
Week of the Last Judgment. Tone three.
Maslenitsa. Meat is excluded
Iveron Icon (Moscow) of the Most Holy Theotokos (9th c.).
St. Meletius, archbishop of Antioch (381).
St. Alexis, metropolitan of Moscow and wonderworker of all Russia (1378).
St. Meletius, archbishop of Kharkov (1840).
New Hieromartyr Alexius (Buy), bishop of Voronezh (1930).
New Martyr Mitrophan, archpriest (1931).
Venerable Mary, nun (who was called Marinus), and her father, St. Eugene, monk, at Alexandria (6th c.).
St. Anthony II, patriarch of Constantinople (895).
Saint Meletios of Lardos, Founder of Ypseni Monastery (19th c.).
Venerable Bassian, disciple of St. Paisius of Uglich and abbot of Ryabovsky Forest Monastery, Uglich (1509).
Callia, righteous.
Venerable Gertrude of Nijvel, abbess (659) (Neth.).
St. Ethilwald of Lindisfarne (740) (Celtic & British).
New Martyr Chrestos at Constantinople (1748) (Greek).
Martyrs Saturnius and Plotonus (Greek).
Hieromartyr Urban us, bishop of Rome (223-230).
Holy Fathers Prokhore the Georgian (11th c.), Luka (Mukhaidze) of Jerusalem (1277), Nikoloz Dvali (1314), аnd the Holy Fathers of the Georgian Monasteries in Jerusalem (Georgia).
The Scripture Readings
Luke 1:39-49Mary Visits Elizabeth39 Now Mary arose in those days and went into the hill country with haste, to a city of Judah, 40 and entered the house of Zacharias and greeted Elizabeth. 41 And it happened, when Elizabeth heard the greeting of Mary, that the babe leaped in her womb; and Elizabeth was filled with the Holy Spirit. 42 Then she spoke out with a loud voice and said, "Blessed are you among women, and blessed is the fruit of your womb! 43 But why is this granted to me, that the mother of my Lord should come to me? 44 For indeed, as soon as the voice of your greeting sounded in my ears, the babe leaped in my womb for joy. 45 Blessed is she who believed, for there will be a fulfillment of those things which were told her from the Lord."The Song of Mary
46 And Mary said:
"My soul magnifies the Lord,
47 And my spirit has rejoiced in God my Savior.
48 For He has regarded the lowly state of His maidservant;
For behold, henceforth all generations will call me blessed.
49 For He who is mighty has done great things for me,
And holy is His name.
Luke 1:56
56 And Mary remained with her about three months, and returned to her house.
Jude 1-10
Greeting to the Called
1 Jude, a bondservant of Jesus Christ, and brother of James,
To those who are called, sanctified by God the Father, and preserved in Jesus Christ:
2 Mercy, peace, and love be multiplied to you.
Contend for the Faith
3 Beloved, while I was very diligent to write to you concerning our common salvation, I found it necessary to write to you exhorting you to contend earnestly for the faith which was once for all delivered to the saints. 4 For certain men have crept in unnoticed, who long ago were marked out for this condemnation, ungodly men, who turn the grace of our God into lewdness and deny the only Lord God and our Lord Jesus Christ.
Old and New Apostates
5 But I want to remind you, though you once knew this, that the Lord, having saved the people out of the land of Egypt, afterward destroyed those who did not believe. 6 And the angels who did not keep their proper domain, but left their own abode, He has reserved in everlasting chains under darkness for the judgment of the great day; 7 as Sodom and Gomorrah, and the cities around them in a similar manner to these, having given themselves over to sexual immorality and gone after strange flesh, are set forth as an example, suffering the vengeance of eternal fire.
8 Likewise also these dreamers defile the flesh, reject authority, and speak evil of dignitaries. 9 Yet Michael the archangel, in contending with the devil, when he disputed about the body of Moses, dared not bring against him a reviling accusation, but said, "The Lord rebuke you!" 10 But these speak evil of whatever they do not know; and whatever they know naturally, like brute beasts, in these things they corrupt themselves.
Luke 22:39-42
The Prayer in the Garden
39 Coming out, He went to the Mount of Olives, as He was accustomed, and His disciples also followed Him. 40 When He came to the place, He said to them, "Pray that you may not enter into temptation."
41 And He was withdrawn from them about a stone's throw, and He knelt down and prayed, 42 saying, "Father, if it is Your will, take this cup away from Me; nevertheless not My will, but Yours, be done."