We must struggle to put off the old self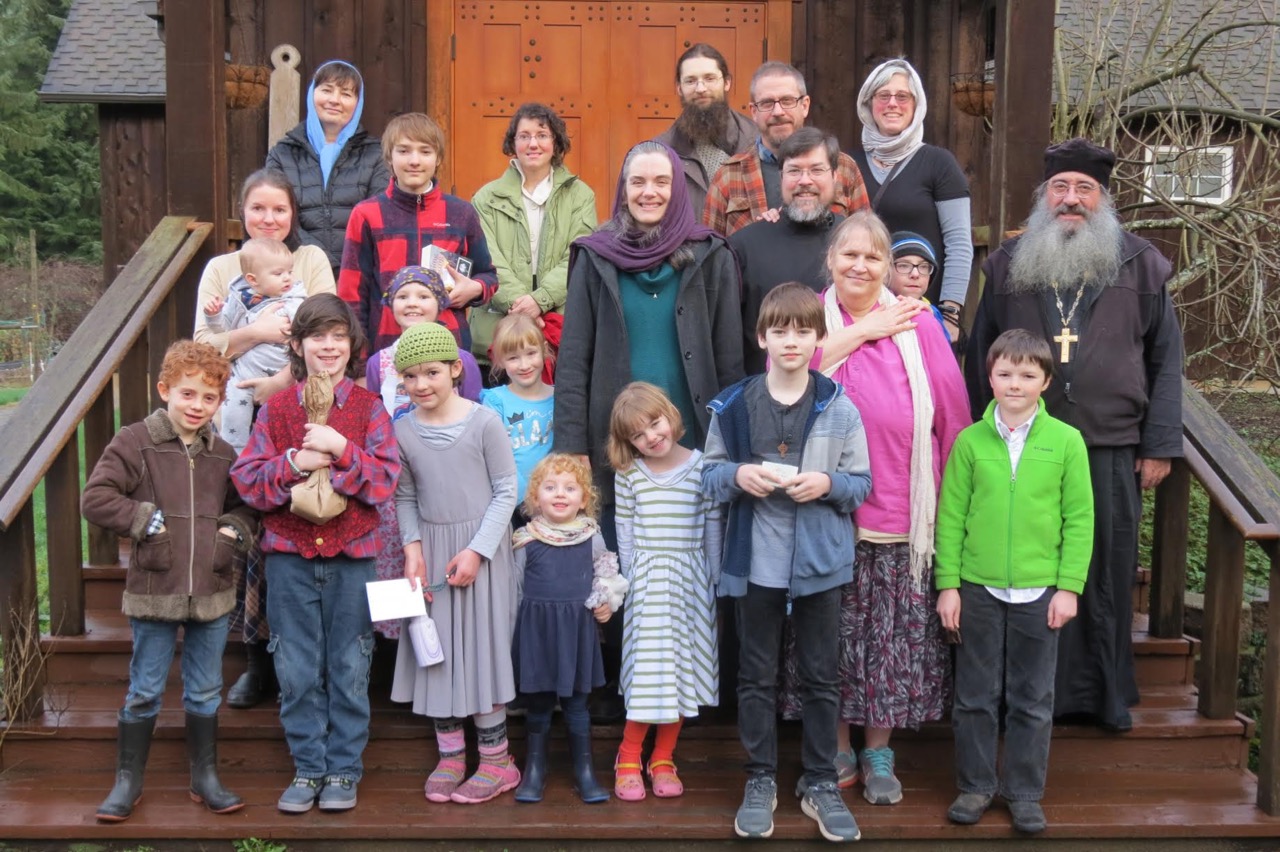 As we struggle to make spiritual progress we do battle with the old self. We work against old habits that have kept us stuck and prevented the change we so desire in our quest for communion with God. Our sins and passions have become familiar to us, almost like old friends, and laziness sets in. We have become comfortable with the way we are and change seems like too much work.
Spiritual laxity and sinful habits must be confronted with a renewed commitment to live as a child of God. This struggle comes with a price tag, requiring real work on our part. The Kingdom of Heaven must be taken by storm, but this struggle does not require us to battle on our own, for the Holy Spirit empowers us with the grace sufficient to win the battle over the old self. In Christ we become new creatures and the old self is put aside.
With love in Christ,
Abbot Tryphon
Photo: Children from Saint Herman of Alaska Orthodox Church in Port Townsend, WA., visited the monastery this past Saturday. What a delightful group of children.
Saturday February 1, 2020 / January 19, 2020
33rd Week after Pentecost. Tone seven.
Venerable Macarius the Great of Egypt (390).
St. Mark, archbishop of Ephesus (1444).
Blessed Theodore of Novgorod, fool-for-Christ (1392).
Venerable Macarius the Roman of Novgorod (1550).
New Hieromartyr Peter priest (1918).
New Hieromartyr Nicholas priest (1930).
Martyr Theodore (1940).
Venerable Macarius of the Kiev Caves (12th c.).
Venerable Macarius, deacon of the Kiev Caves (13th-l4th c.).
Opening of the relics of Venerable Sabbas of Storozhev or Zvenigorod (1652).
Virgin-martyr Euphrasia of Nicomedia (303).
Venerable Macarius of Alexandria (394).
Venerable Anton the Stylite of Martqophi, Georgia (6th c.) (Georgia).
St. Arsenius, archbishop of Kerkyra (Corfu) (953).
Venerable Euthymius, confessor (20th c.) (Georgia).
St. Branwalader (Breward) of Cornwall and the Channel Islands (6th c.) (Celtic & British).
St. Fillan (Foelan) of Strathfillan (VIII) (Celtic & British).
Venerable Meletius, confessor of Mt. Galesion, monk (1286) (Greek).
Translation of the relics (950) of St. Gregory the Theologian (389).
Martyr Anthony Rawah the Qpraisite (8th c.).
The enthronement of His Holiness Patriarch Kirill of Moscow and All Russia.
The Scripture Readings
1 Thessalonians 5:14-23
14 Now we exhort you, brethren, warn those who are unruly, comfort the fainthearted, uphold the weak, be patient with all. 15 See that no one renders evil for evil to anyone, but always pursue what is good both for yourselves and for all.
16 Rejoice always, 17 pray without ceasing, 18 in everything give thanks; for this is the will of God in Christ Jesus for you.
19 Do not quench the Spirit. 20 Do not despise prophecies. 21 Test all things; hold fast what is good. 22 Abstain from every form of evil.
Blessing and Admonition
23 Now may the God of peace Himself sanctify you completely; and may your whole spirit, soul, and body be preserved blameless at the coming of our Lord Jesus Christ.
Luke 17:3-10
3 Take heed to yourselves. If your brother sins against you, rebuke him; and if he repents, forgive him. 4 And if he sins against you seven times in a day, and seven times in a day returns to you, saying, 'I repent,' you shall forgive him."
Faith and Duty
5 And the apostles said to the Lord, "Increase our faith."
6 So the Lord said, "If you have faith as a mustard seed, you can say to this mulberry tree, 'Be pulled up by the roots and be planted in the sea,' and it would obey you. 7 And which of you, having a servant plowing or tending sheep, will say to him when he has come in from the field, 'Come at once and sit down to eat'? 8 But will he not rather say to him, 'Prepare something for my supper, and gird yourself and serve me till I have eaten and drunk, and afterward you will eat and drink'? 9 Does he thank that servant because he did the things that were commanded him? I think not. 10 So likewise you, when you have done all those things which you are commanded, say, 'We are unprofitable servants. We have done what was our duty to do.' "