The Church's definition of repentance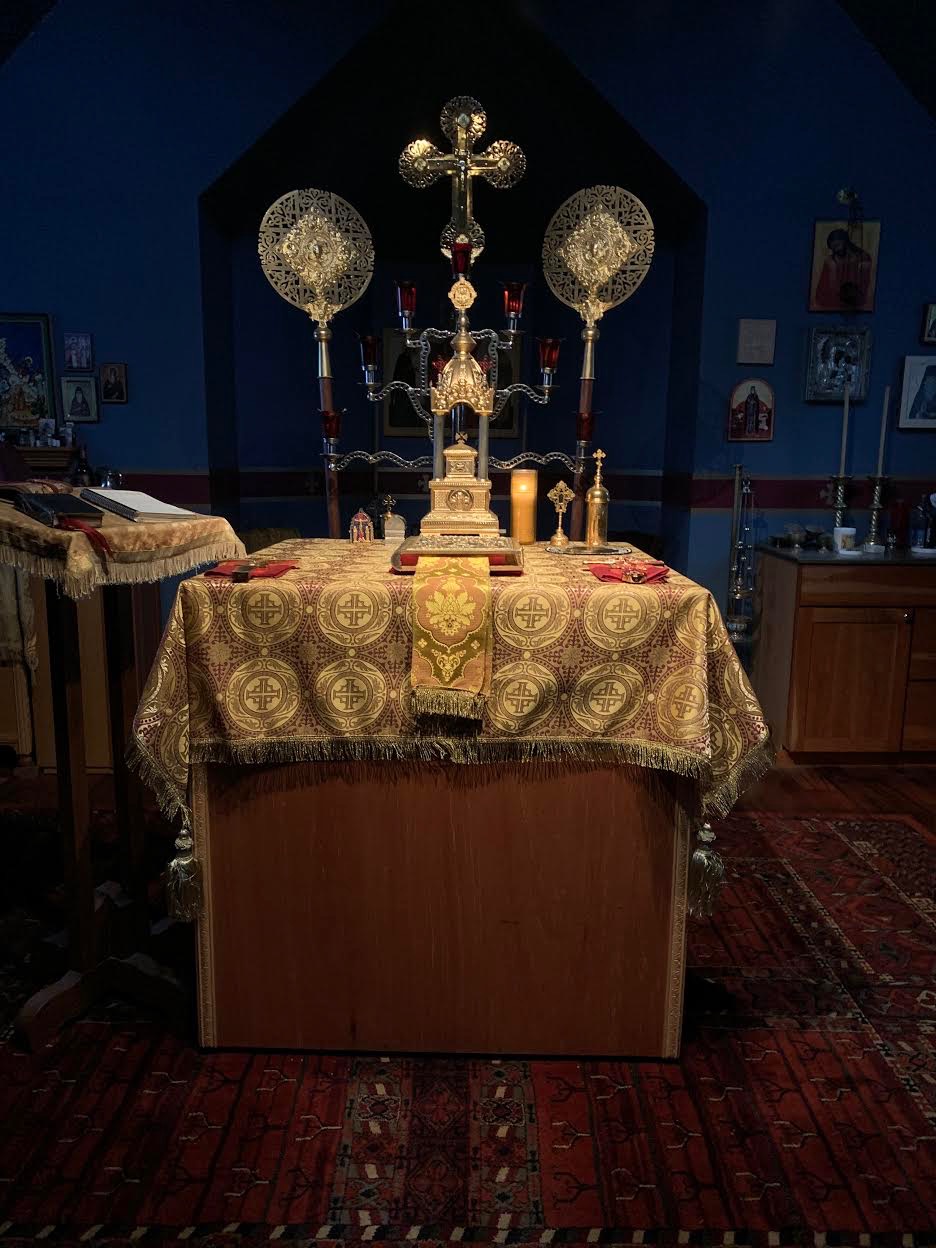 The act of repentance is the moment when we recognize the wrong we've done, either to another person, or to God. At the moment we accept we've failed to live as God intended, we must seek out to rectify our transgression by reaching out to the person we've wronged, and ask their forgiveness.
This act of repentance also requires us to truly ask God's forgiveness by admitting that we've fallen short of keeping the commandments, and are guilty of having sinned. We thus make a solemn promise or resolve to avoid repeating our offense against another, or against our God, and we make a commitment to reverse the harmful effects of our sin.
With love in Christ,
Abbot Tryphon
Photos: New gold altar cloth, made by Katia Ogan of Grants Pass, Oregon.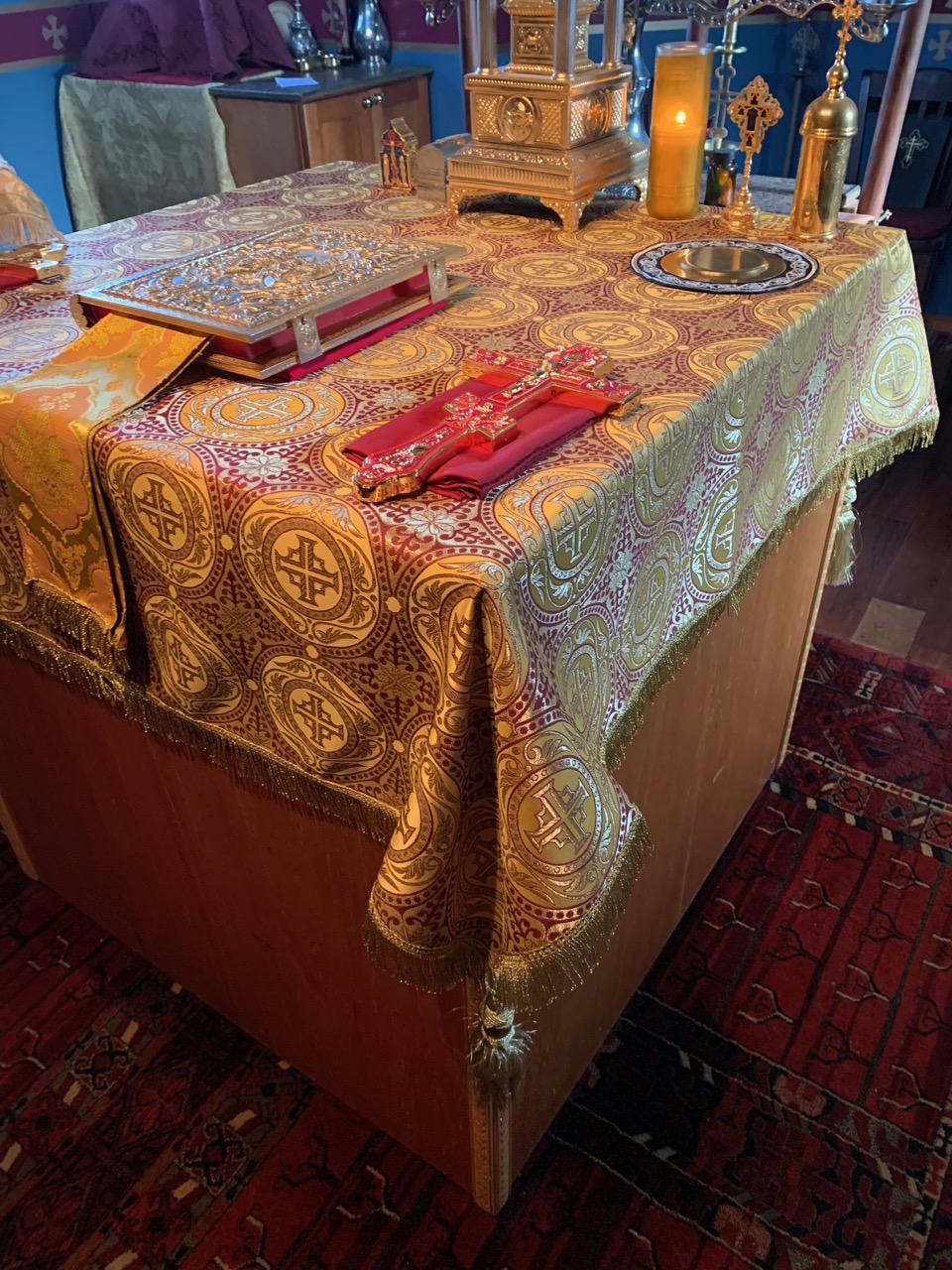 Sunday February 2, 2020 / January 20, 2020
33rd Sunday after Pentecost. Tone eight.
Venerable Euthymius the Great (473).
New Hieromartyr Paul priest (1940).
Venerable Laurence the Recluse (13th-l4th c.) and Venerable Euthymius the Silent (14th c.), of the Kiev Caves.
Venerable Euthymius of Syanzhemsk (1470).
Martyrs Inna, Pinna, and Rimma, disciples of Apostle Andrew in Scythia (lst-2nd c.).
Martyrs Bassus, Eusebius, Eutychius, and Basilides at Nicomedia (303).
St. Euthymius (Kereselidze) the Confessor (1944) (Georgia).
Martyr Anna at Rome.
Martyrs Therses and Agnes.
St. Leo the Great, confessor, emperor of the East (474) (Greek).
New Martyr Zacharias in Patrai in Morea (1782) (Greek).
Blessed Peter the Customs Inspector of Constantinople (6th c.) (Greek).
St. Neophytus of Vatopedi, Mt. Athos (14th c.).
St. Euthymius, patriarch of Turnovo (ca. 1400).
Venerable Euthymius of Archangelsk (1523).
St. Theodore Kuzmich of Tomsk (1864).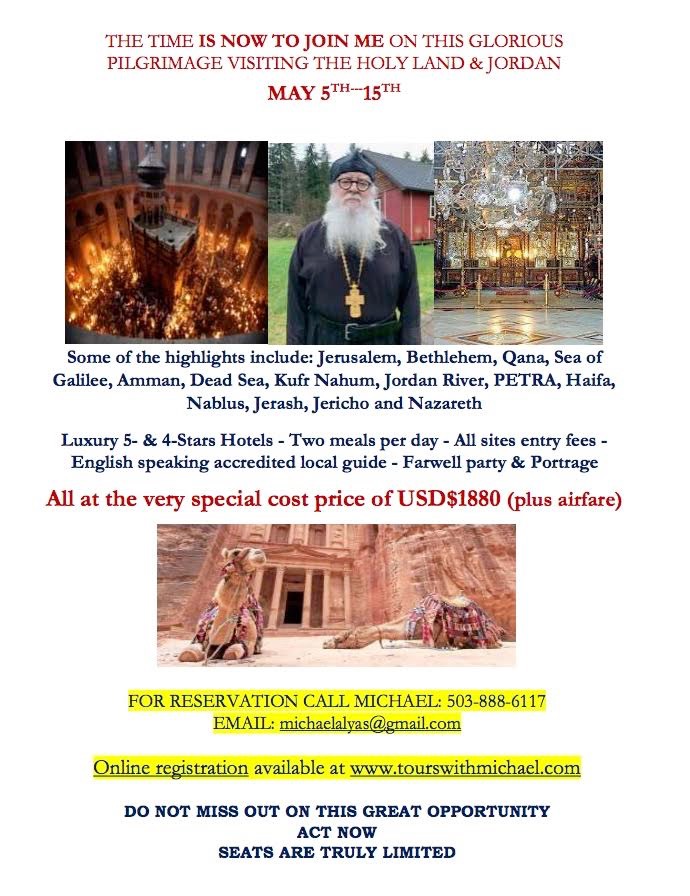 The Scripture Readings
John 21:15-25
Jesus Restores Peter
15 So when they had eaten breakfast, Jesus said to Simon Peter, "Simon, son of Jonah, do you love Me more than these?"
He said to Him, "Yes, Lord; You know that I love You."
He said to him, "Feed My lambs."
16 He said to him again a second time, "Simon, son of Jonah, do you love Me?"
He said to Him, "Yes, Lord; You know that I love You."
He said to him, "Tend My sheep."
17 He said to him the third time, "Simon, son of Jonah, do you love Me?" Peter was grieved because He said to him the third time, "Do you love Me?"
And he said to Him, "Lord, You know all things; You know that I love You."
Jesus said to him, "Feed My sheep. 18 Most assuredly, I say to you, when you were younger, you girded yourself and walked where you wished; but when you are old, you will stretch out your hands, and another will gird you and carry you where you do not wish."19 This He spoke, signifying by what death he would glorify God. And when He had spoken this, He said to him, "Follow Me."
The Beloved Disciple and His Book
20 Then Peter, turning around, saw the disciple whom Jesus loved following, who also had leaned on His breast at the supper, and said, "Lord, who is the one who betrays You?" 21 Peter, seeing him, said to Jesus, "But Lord, what about this man?"
22 Jesus said to him, "If I will that he remain till I come, what is that to you? You follow Me."
23 Then this saying went out among the brethren that this disciple would not die. Yet Jesus did not say to him that he would not die, but, "If I will that he remain till I come, what is that to you?"
24 This is the disciple who testifies of these things, and wrote these things; and we know that his testimony is true.
25 And there are also many other things that Jesus did, which if they were written one by one, I suppose that even the world itself could not contain the books that would be written. Amen.
1 Timothy 4:9-15
9 This is a faithful saying and worthy of all acceptance. 10 For to this end we both labor and suffer reproach, because we trust in the living God, who is the Savior of all men, especially of those who believe. 11 These things command and teach.
Take Heed to Your Ministry
12 Let no one despise your youth, but be an example to the believers in word, in conduct, in love, in spirit, in faith, in purity. 13 Till I come, give attention to reading, to exhortation, to doctrine. 14 Do not neglect the gift that is in you, which was given to you by prophecy with the laying on of the hands of the eldership. 15 Meditate on these things; give yourself entirely to them, that your progress may be evident to all.
Luke 19:1-10
Jesus Comes to Zacchaeus' House
19 Then Jesus entered and passed through Jericho. 2 Now behold, there was a man named Zacchaeus who was a chief tax collector, and he was rich. 3 And he sought to see who Jesus was, but could not because of the crowd, for he was of short stature. 4 So he ran ahead and climbed up into a sycamore tree to see Him, for He was going to pass that way. 5 And when Jesus came to the place, He looked up and saw him, and said to him, "Zacchaeus, make haste and come down, for today I must stay at your house."6 So he made haste and came down, and received Him joyfully. 7 But when they saw it, they all complained, saying, "He has gone to be a guest with a man who is a sinner."
8 Then Zacchaeus stood and said to the Lord, "Look, Lord, I give half of my goods to the poor; and if I have taken anything from anyone by false accusation, I restore fourfold."
9 And Jesus said to him, "Today salvation has come to this house, because he also is a son of Abraham; 10 for the Son of Man has come to seek and to save that which was lost."