No one is required by God to remain in an abusive relationship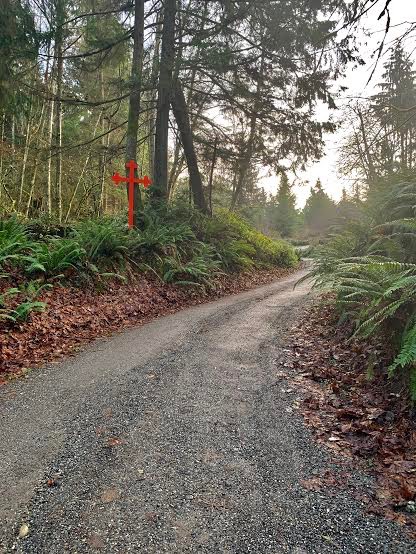 The best way to respond to another person's anger is not to withdraw, but to move towards them with kindness. There are times when distancing yourself from someone who is angry, is necessary, for there is absolutely no good reason for you to move towards another, when they are being abusive. For the wife of an abuser to remain in danger, in an attempt to transfer love while receiving abuse, is a form a suicide. Too many women, either out of fear, or for economic reasons, or for the sake of the children, remain in abusive relationships. This is clearly a situation that does not require the abused, out of Christian charity, to remain living with the abuser, for to do so could prove dangerous.
Likewise, if out of a desire to help the abuser, we offer love, but do not call them on their bad behavior, we could be guilty of enabling their abusive behavior. I once stopped my car at curbside, when I saw a man beating on a woman. It would have been unthinkable for me to continue driving, knowing this woman was in danger. After calling 911, I stepped between the man and woman, telling the man to back off (not something I'd recommend). Lucky for me I was able, probably because of my attire and size, to intimidate him to step back until the police arrived. My point in telling this story is that there are times when justice must reign, and we must offer assistance to someone who is being abused.
Remaining in an abusive relationship can be destructive to our spiritual lives, as well as being potentially dangerous. We must be wise as serpents, but meek as lambs, and temper our response to the anger of another. Striking back must not be our response, as we must recognize the abuser must be called to repentance. In our attempt to offer love and goodness to the person who is heaping anger upon us, we could inadvertently be prolonging the day of their repentance. The person struggling with anger does not need you to be his enabler, and relationships of co-dependence have the potential of being spiritually destructive for both parties. As long as our response to someone's anger is itself devoid of anger, we are safe.
Permissiveness is not required when dealing with the abuser, for we must not allow the evil of abuse to continue. We must respond without anger, for the opposite of anger is not passively allowing the abusive behavior to continue. We must cultivate a strong sense of right and wrong, and oppose evil, not out of passion, but out of righteousness. If the anger is accompanied by a history of violence, the gravity of the offense most certainly does not require the abused to continue to live in the grip of the abuser. This can clearly be a situation that requires the abused to remove themselves, and their children, from the dangers of living with such a person. If moving out puts the abused in further danger, the police should be enlisted to help with the move.
It is important to note, finally, that it is not just men who can be abusers. What I have written about women needing to remove themselves, and their children, from the dangers of living with the abuser, goes as well for men who find themselves in such unhealthy, and dangerous situations. There are also female abusers, and a man need not feel he is alone when dealing with an abusive woman.
With love in Christ,
Abbot Tryphon
Friday January 3, 2020 / December 21, 2019
29th Week after Pentecost. Tone three.
Nativity (St. Philip's Fast). Food with Oil
Forefeast of the Nativity of Christ.
Virgin-martyr Juliana of Nicomedia, and with her 500 men and 130 women (304).
Repose of St. Peter, metropolitan of All Russia (1326).
New Hieromartyr Michael priest (1918).
New Hieromartyr Sergius deacon (1937).
New Hieromartyr Nicetas bishop of Belevsk (1938).
New Hieromartyr Leontius deacon (1940).
St. Juliana, princess of Vyazma (1406).
Blessed Procopius of Vyatka, fool-for-Christ (1677).
St. Philaret (Theodosius in schema), metropolitan of Kiev (1857).
Martyr Theomistocles of Myra in Lycia (251).
St. Macarius the Faster, Abbot of the Khakhuli Monastery (11th c.) (Georgia).
St. Anthony II The Catholicos of Georgia (1827) (Georgia).
Finding of the relics (1950) of New Monk-martyr Ephraim of Nea Makri (1426).
The Scripture Readings
John 10:1-9
Jesus the True Shepherd
10 "Most assuredly, I say to you, he who does not enter the sheepfold by the door, but climbs up some other way, the same is a thief and a robber. 2 But he who enters by the door is the shepherd of the sheep. 3 To him the doorkeeper opens, and the sheep hear his voice; and he calls his own sheep by name and leads them out. 4 And when he brings out his own sheep, he goes before them; and the sheep follow him, for they know his voice. 5 Yet they will by no means follow a stranger, but will flee from him, for they do not know the voice of strangers." 6 Jesus used this illustration, but they did not understand the things which He spoke to them.
Jesus the Good Shepherd
7 Then Jesus said to them again, "Most assuredly, I say to you, I am the door of the sheep. 8 All who ever came before Me are thieves and robbers, but the sheep did not hear them. 9 I am the door. If anyone enters by Me, he will be saved, and will go in and out and find pasture.
Hebrews 7:18-25
18 For on the one hand there is an annulling of the former commandment because of its weakness and unprofitableness, 19 for the law made nothing perfect; on the other hand, there is the bringing in of a better hope, through which we draw near to God.
Greatness of the New Priest
20 And inasmuch as He was not made priest without an oath 21 (for they have become priests without an oath, but He with an oath by Him who said to Him:
"The Lord has sworn
And will not relent,
'You are a priest forever
According to the order of Melchizedek' "),
22 by so much more Jesus has become a surety of a better covenant.
23 Also there were many priests, because they were prevented by death from continuing. 24 But He, because He continues forever, has an unchangeable priesthood. 25 Therefore He is also able to save to the uttermost those who come to God through Him, since He always lives to make intercession for them.
Mark 10:23-32
With God All Things Are Possible
23 Then Jesus looked around and said to His disciples, "How hard it is for those who have riches to enter the kingdom of God!"24 And the disciples were astonished at His words. But Jesus answered again and said to them, "Children, how hard it is for thosewho trust in riches to enter the kingdom of God! 25 It is easier for a camel to go through the eye of a needle than for a rich man to enter the kingdom of God."
26 And they were greatly astonished, saying among themselves, "Who then can be saved?"
27 But Jesus looked at them and said, "With men it is impossible, but not with God; for with God all things are possible."
28 Then Peter began to say to Him, "See, we have left all and followed You."
29 So Jesus answered and said, "Assuredly, I say to you, there is no one who has left house or brothers or sisters or father or mother or wife or children or lands, for My sake and the gospel's, 30 who shall not receive a hundredfold now in this time—houses and brothers and sisters and mothers and children and lands, with persecutions—and in the age to come, eternal life. 31 But many who are first will be last, and the last first."
Jesus a Third Time Predicts His Death and Resurrection
32 Now they were on the road, going up to Jerusalem, and Jesus was going before them; and they were amazed. And as they followed they were afraid. Then He took the twelve aside again and began to tell them the things that would happen to Him: