We must resist this world that has collectively slipped into madness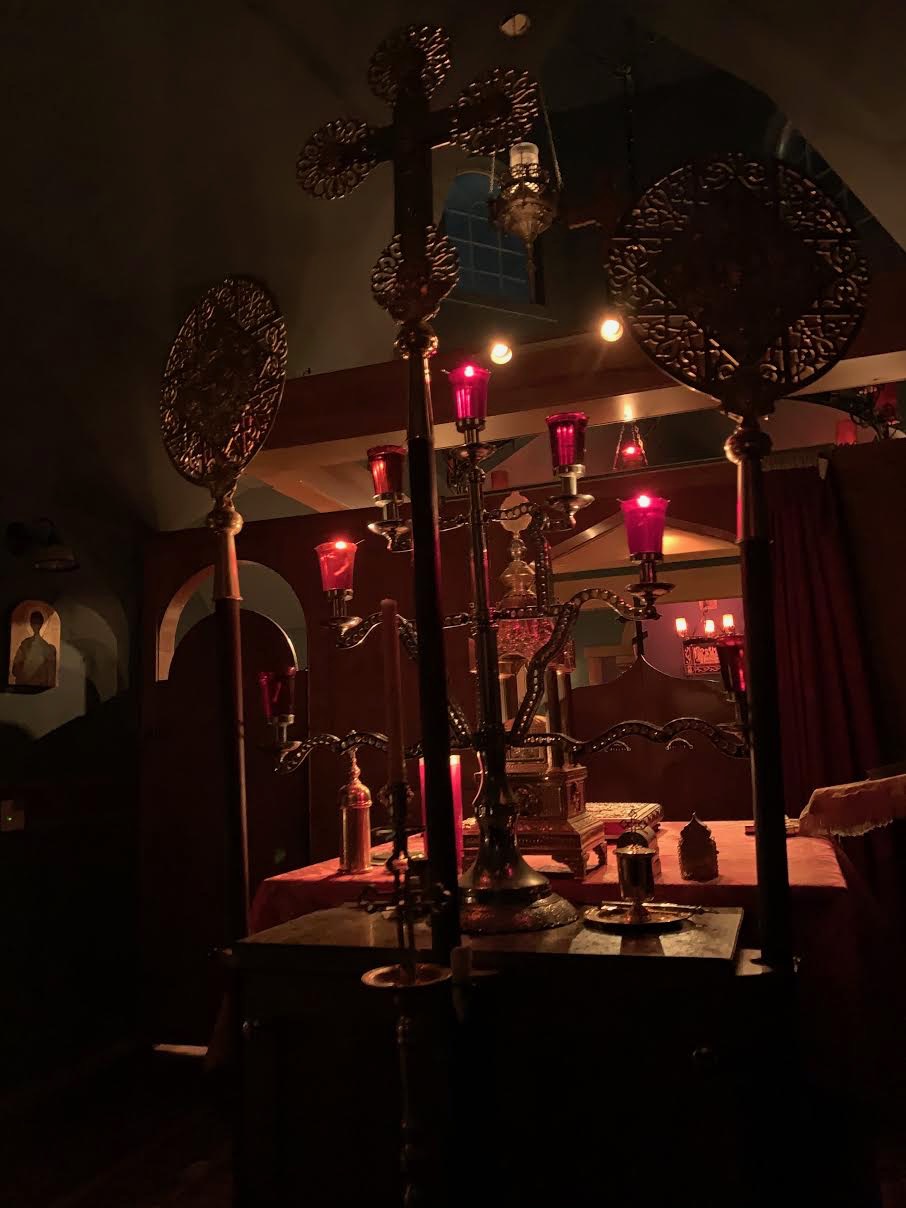 In this secular society there are many Orthodox individuals who've found themselves sharing their lives with non-Orthodox friends and family members. Sometimes these people are not even practicing Christians, so the struggle to keep to the traditions and practices of the Orthodox Faith can be difficult.
Even the blessing prayers before each meal can be awkward when other members of one's household are not believers. There are also those Sunday mornings when other members of one's family want to head for the ski slopes, but you're needing to be in church for the Divine Liturgy. The difficulty of being true to one's faith can be even more difficult if your family members hold to anti-religious sentiments.
I remember an uncle who was so hostile towards religion that he forbade my aunt and cousins to attend church. Although he was an extreme example, there are many Orthodox Christians who struggle to live their faith in an environment that is not conducive to the spiritual life. This hostility towards our Orthodox Christian faith can even carry over into the workplace. A goodly number of employers do not let Orthodox Christians take time off for holy days, or even major feast days such as the Nativity of Christ.
When we are committed to Christ we must not allow others to keep us from practicing our faith. Although it is not necessary to be in their face about our faith, it is important that we remember the example of the early Christians. They were so committed to Christ that they willingly faced martyrdom rather than deny their faith, or compromise Christian principles.
It has been my experience that many individuals who deny the importance of faith in their lives have, in reality, have simply been turned off to religiosity. They've seen a form of Christianity that is disingenuous and have therefore discounted Christianity all together. Others see Christians as judgmental and self-righteous, and are therefore turned off to any religious expression.
We must not hide our faith under any circumstances. This does not mean that we become preachy or self-righteous, but rather live with such joy and love, that others see in us the truth of our Christian faith. We must remember that a Christian who is grateful for their faith is also compassionate toward those who have no faith. Giving a loving witness to Christ while following the dictates of our Orthodox traditions is a good starting point.
If we are seated at the dinner table with unbelievers, it is important that we not be showy about our faith, but also important that we not hide the fact that we are Orthodox Christians. Making a simple sign of the cross over ourselves before we eat expresses not only our gratitude towards God for our food, but gives quiet witness to our willingness to truly live our lives in open love of our Saviour. The Lord said if we deny Him before men, He will deny us before the Father. Keeping the traditions of our faith, staying true to the fast periods and making an effort to attend Liturgy on a weekly basis is absolutely necessary if we are to grow spiritually.
Most importantly, our dedication to the faith and our willingness to give witness to our love of Christ can have a huge impact on those around us. If our love of the Saviour translates into love of family and neighbor, those around us will see that our God is real, and our Orthodox faith is truly a way of life, one that actually transforms our nature. When people see that we are filled with joyous living and not judging others, they in turn will want what we have, and the Pearl of Great Price can be theirs as well!
We must resist with all our heart and with all our strength the ways of this unbelieving world, a world that has collectively slipped into madness. That others have turned their backs on religion in no way should mean we should keep quiet about our Christian faith. We must let the Light of Christ shine brightly through us, that our love for God will be seen by our coworkers, friends, and family. If our love for others reflects God's love for them, they too, will embrace Jesus Christ, and true and everlasting happiness will be theirs as well.
With love in Christ,
Abbot Tryphon
Thursday January 2, 2020 / December 20, 2019
29th Week after Pentecost. Tone three.
Nativity (St. Philip's Fast). Food with Oil
Forefeast of the Nativity of Christ.
Hieromartyr Ignatius the God-bearer, bishop of Antioch (107).
Repose of Righteous John of Kronstadt (1908).
Venerable Ignatius, archimandrite of the Kiev Caves (1435).
St. Anthony, archbishop of Voronezh (1846).
St. Philogonius, bishop of Antioch (323).
St. Daniel II, archbishop of Serbia (1338).
"Novodvorskaya" and "Lenkovskaya" (Novgorod-Severny) named "Rescuer of the Drowning" Icons of the Mother of God.
New Martyr John of the isle of Thasos (1652) (Greek).
The Scripture Readings
Matthew 6:1-13
Do Good to Please God
6 "Take heed that you do not do your charitable deeds before men, to be seen by them. Otherwise you have no reward from your Father in heaven. 2 Therefore, when you do a charitable deed, do not sound a trumpet before you as the hypocrites do in the synagogues and in the streets, that they may have glory from men. Assuredly, I say to you, they have their reward. 3 But when you do a charitable deed, do not let your left hand know what your right hand is doing, 4 that your charitable deed may be in secret; and your Father who sees in secret will Himself reward you openly.
The Model Prayer
5 "And when you pray, you shall not be like the hypocrites. For they love to pray standing in the synagogues and on the corners of the streets, that they may be seen by men. Assuredly, I say to you, they have their reward. 6 But you, when you pray, go into your room, and when you have shut your door, pray to your Father who is in the secret place; and your Father who sees in secret will reward you openly. 7 And when you pray, do not use vain repetitions as the heathen do. For they think that they will be heard for their many words.
8 "Therefore do not be like them. For your Father knows the things you have need of before you ask Him. 9 In this manner, therefore, pray:
Our Father in heaven,
Hallowed be Your name.
10 Your kingdom come.
Your will be done
On earth as it is in heaven.
11 Give us this day our daily bread.
12 And forgive us our debts,
As we forgive our debtors.
13 And do not lead us into temptation,
But deliver us from the evil one.
For Yours is the kingdom and the power and the glory forever. Amen.
Hebrews 7:1-6
The King of Righteousness
7 For this Melchizedek, king of Salem, priest of the Most High God, who met Abraham returning from the slaughter of the kings and blessed him, 2 to whom also Abraham gave a tenth part of all, first being translated "king of righteousness," and then also king of Salem, meaning "king of peace," 3 without father, without mother, without genealogy, having neither beginning of days nor end of life, but made like the Son of God, remains a priest continually.
4 Now consider how great this man was, to whom even the patriarch Abraham gave a tenth of the [a]spoils. 5 And indeed those who are of the sons of Levi, who receive the priesthood, have a commandment to receive tithes from the people according to the law, that is, from their brethren, though they have come from the loins of Abraham; 6 but he whose genealogy is not derived from them received tithes from Abraham and blessed him who had the promises.
Mark 10:17-27
Jesus Counsels the Rich Young Ruler
17 Now as He was going out on the road, one came running, knelt before Him, and asked Him, "Good Teacher, what shall I do that I may inherit eternal life?"
18 So Jesus said to him, "Why do you call Me good? No one is good but One, that is, God. 19 You know the commandments: 'Do not commit adultery,' 'Do not murder,' 'Do not steal,' 'Do not bear false witness,' 'Do not defraud,' 'Honor your father and your mother.' "
20 And he answered and said to Him, "Teacher, all these things I have kept from my youth."
21 Then Jesus, looking at him, loved him, and said to him, "One thing you lack: Go your way, sell whatever you have and give to the poor, and you will have treasure in heaven; and come, take up the cross, and follow Me."
22 But he was sad at this word, and went away sorrowful, for he had great possessions.
With God All Things Are Possible
23 Then Jesus looked around and said to His disciples, "How hard it is for those who have riches to enter the kingdom of God!"24 And the disciples were astonished at His words. But Jesus answered again and said to them, "Children, how hard it is for those who trust in riches to enter the kingdom of God! 25 It is easier for a camel to go through the eye of a needle than for a rich man to enter the kingdom of God."
26 And they were greatly astonished, saying among themselves, "Who then can be saved?"
27 But Jesus looked at them and said, "With men it is impossible, but not with God; for with God all things are possible."