Let my prayer arise as incense before Thee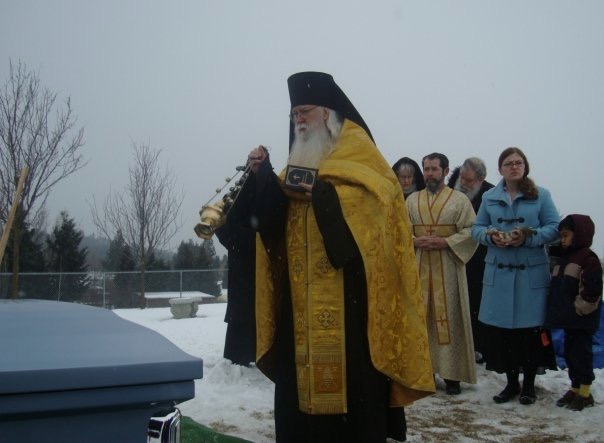 From Old Testament times believers have burned incense as an offering when worshiping God. The ancient temple in Jerusalem even had priests whose sole duty was to keep the censer burning twenty-four hours a day.
Ancient pagan kings were often escorted with large fans of peacock feathers and burning incense when entering their palaces. Early Christians took both these symbols for their worship in recognition of Christ as their Sovereign King and Lord. To this day the Orthodox Church uses incense in most of her services, and large circular fans, reminiscent of the peacock fans of ancient times, are held over the Gospel book during the proclamation of God's word during celebrations of the Divine Liturgy.
As a young man attending my very first Orthodox Liturgy, I was struck by the use of incense. The words of the Psalmist King David, "Let my prayer arise as incense before Thee…", is chanted during every celebration of Vespers during the censing of the temple. During every service where there is a great censing of the whole church, the priest (or deacon) censes the frescoes and icons as windows into eternity, as the incense wafts upward as an offering of the people of God.
The people are also censed by the priest in recognition of their having been created in the image and likeness of their Creator God. Incense is so central in Christian worship that it is even used in the worship of the domestic church, where the family gathers in prayer around their own icons, reading the scriptures together, and offering their family prayers to the Lord.
"Let my prayer arise as incense before Thee." Psalm 141:2
With love in Christ,
Abbot Tryphon
Photo: Censing the casket of my beloved mother, Elizabeth Dolores Parsons, back in January of 2008. May her memory be eternal.
Wednesday January 22, 2020 / January 9, 2020
32nd Week after Pentecost. Tone six.
Fast. Fish Allowed
Martyr Polyeuctus of Melitene in Armenia (259).
Hieromartyr Philip, metropolitan of Moscow and all Russia (1569).
St. Jonah (Peter in schema), founder of Holy Trinity Monastery in Kiev (1902).
New Hieromartyr Paul priest (1943).
Prophet Shemaiah (Samaia, Semeias) (10th c. B.C.).
St. Peter, bishop of Sebaste in Armenia (395), and brother of St. Basil the Great and St. Gregory of Nyssa.
Venerable Eustratius the Wonderworker of Tarsus (821).
St. Adrian of Canterbury (709) (Celtic & British).
St. Berhtwald Archbishop of Canterbury (731) (Celtic & British).
St. Fillan (Foelan) of Strathfillan (VIII) (Celtic & British).
New Martyr Parthena of Edessa in Macedonia (1375).
Translation of the relics of St. Judoc, hermit of Ponthieu.
St. Fillan, abbot of Strathfillan.
The Scripture Readings
Luke 6:17-23
Jesus Heals a Great Multitude
17 And He came down with them and stood on a level place with a crowd of His disciples and a great multitude of people from all Judea and Jerusalem, and from the seacoast of Tyre and Sidon, who came to hear Him and be healed of their diseases, 18 as well as those who were tormented with unclean spirits. And they were healed. 19 And the whole multitude sought to touch Him, for power went out from Him and healed them all.
The Beatitudes
20 Then He lifted up His eyes toward His disciples, and said:
"Blessed are you poor,
For yours is the kingdom of God.
21 Blessed are you who hunger now,
For you shall be filled.
Blessed are you who weep now,
For you shall laugh.
22 Blessed are you when men hate you,
And when they exclude you,
And revile you, and cast out your name as evil,
For the Son of Man's sake.
23 Rejoice in that day and leap for joy!
For indeed your reward is great in heaven,
For in like manner their fathers did to the prophets.
James 1:1-18
Greeting to the Twelve Tribes
1 James, a bondservant of God and of the Lord Jesus Christ,
To the twelve tribes which are scattered abroad:
Greetings.
Profiting from Trials
2 My brethren, count it all joy when you fall into various trials, 3 knowing that the testing of your faith produces patience. 4 But let patience have its perfect work, that you may be perfect and complete, lacking nothing. 5 If any of you lacks wisdom, let him ask of God, who gives to all liberally and without reproach, and it will be given to him. 6 But let him ask in faith, with no doubting, for he who doubts is like a wave of the sea driven and tossed by the wind. 7 For let not that man suppose that he will receive anything from the Lord; 8 he is a double-minded man, unstable in all his ways.
The Perspective of Rich and Poor
9 Let the lowly brother glory in his exaltation, 10 but the rich in his humiliation, because as a flower of the field he will pass away. 11 For no sooner has the sun risen with a burning heat than it withers the grass; its flower falls, and its beautiful appearance perishes. So the rich man also will fade away in his pursuits.
Loving God Under Trials
12 Blessed is the man who endures temptation; for when he has been approved, he will receive the crown of life which the Lord has promised to those who love Him. 13 Let no one say when he is tempted, "I am tempted by God"; for God cannot be tempted by evil, nor does He Himself tempt anyone. 14 But each one is tempted when he is drawn away by his own desires and enticed. 15 Then, when desire has conceived, it gives birth to sin; and sin, when it is full-grown, brings forth death.
16 Do not be deceived, my beloved brethren. 17 Every good gift and every perfect gift is from above, and comes down from the Father of lights, with whom there is no variation or shadow of turning. 18 Of His own will He brought us forth by the word of truth, that we might be a kind of firstfruits of His creatures.
Mark 10:11-16
11 So He said to them, "Whoever divorces his wife and marries another commits adultery against her. 12 And if a woman divorces her husband and marries another, she commits adultery."
Jesus Blesses Little Children
13 Then they brought little children to Him, that He might touch them; but the disciples rebuked those who brought them. 14 But when Jesus saw it, He was greatly displeased and said to them, "Let the little children come to Me, and do not forbid them; for of such is the kingdom of God. 15 Assuredly, I say to you, whoever does not receive the kingdom of God as a little child will by no means enter it." 16 And He took them up in His arms, laid His hands on them, and blessed them.