Closed communion protects those who do not hold to the Church's teachings regarding the Holy Mysteries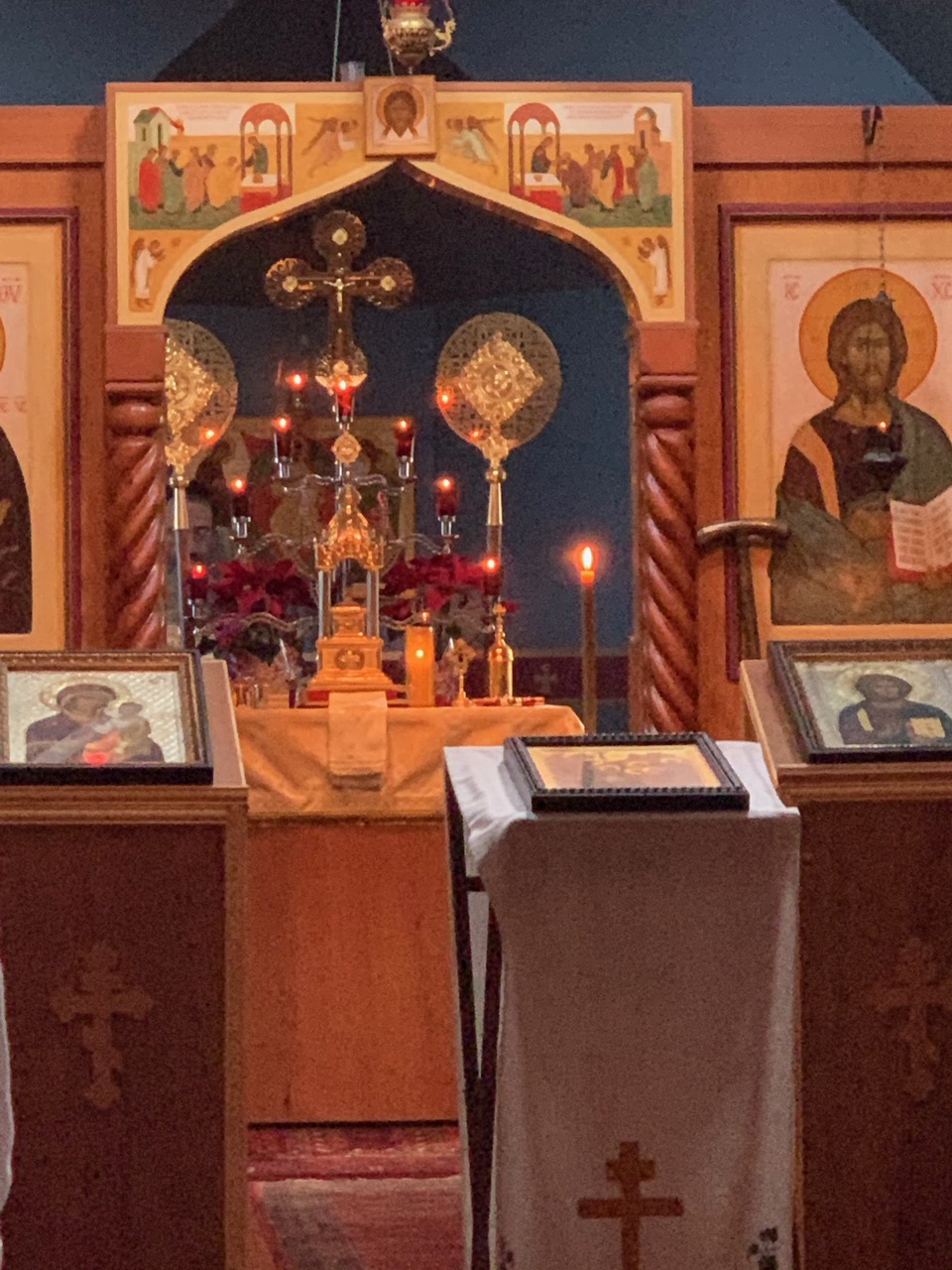 "Therefore whoever eats this bread or drinks this cup of the Lord in an unworthy manner will be guilty of the body and blood of the Lord. But let a man examine himself, and so let him eat of the bread and drink of the cup. For he who eats and drinks in an unworthy manner eats and drinks judgment to himself, not discerning the Lord's body. For this reason many are weak and sick among you, and many sleep (1 Corinthians 11:27-30)."
When a stranger approaches the Holy Gifts during the celebration of the Divine Liturgy it is the norm in the Orthodox Church for the priest to ask the person to "kiss the chalice". Not knowing if the person is Orthodox, or whether they are in good standing with the Church, the priest can not give them communion. This "closed communion" is not meant as a way of separating ourselves from visitors as though we were better than them, but as our way of guarding the Holy Mysteries from being received by someone who is not part of the Church and who may hold to views concerning the Eucharist that are in opposition to the teachings of scripture and the dogmas of the Ancient Apostolic and Catholic Church.
Priests are guardians of the Holy Mysteries and must make sure they are not defiled. The priest must also protect the person who may receive without proper preparation and belief. Every Orthodox Christian is expected to have prepared for communion by abstaining from all food and drink from midnight on, as well as having said the pre-communion prayers. A good confession is also an important part of proper preparation for Holy Communion.
When a person believes that the things which we teach are true and has received baptism in the Orthodox Church unto regeneration, and who is living a life in Christ, the communion is not simply common bread or common wine we are receiving, but the very Body and Blood of the Saviour. The Logos (Word) Who took on our flesh for the salvation of the world, is received into our bodies through the action of the Holy Spirit and the prayer of His word (this is my body….this is my blood). At this moment our blood and flesh, by transmutation, are nourished with the flesh and blood of Jesus who was made flesh.
Closed communion is the way the Church protects anyone who does not hold to these beliefs from receiving unworthily and therefore hurting their soul. As well, when the priest co-mingles the commemoration particles after the communion of the faithful, with the Body and Blood of Christ, he  commemorates the union we have with each other as members of the Body of Christ, the Church. This union is not just with those who are communing with us in this Liturgy, but a union of both the Church Militant here on earth, and the Church Triumphant in heaven. Within the life of the Church there is no separation from each other at death. The Body of Christ is made up of both those who have gone on before us and those who are still alive, for we are all alive in Christ. In a very real way we are not only communing of Christ's true Body and Blood, but we are communing of each other as the Body of Christ, the Church!
Love in Christ,
Abbot Tryphon
Monday January 27, 2020 / January 14, 2020
33rd Week after Pentecost. Tone seven.
Apodosis of the Theophany.
The Holy Fathers slain at Sinai and Raithu: Isaiah, Sabbas, Moses and his disciple Moses, Jeremiah, Paul, Adam, Sergius, Domnus, Proclus, Hypatius, Isaac, Macarius, Mark, Benjamin, Eusebius, Elias, and others (4th-5th c.).
St. Nina (Nino), equal-to-the-Apostles, enlightener of Georgia (335).
New Martyrs bishop Ambrosius (Gudko) and others slain at Raithu Monastery near Kazan (1918).
Venerable John confessor (1961).
Venerable Joseph Analytinus of Raithu Monastery (4th c.).
Venerable Theodulus, son of Venerable Nilus of Sinai (5th c.).
Venerable Stephen, abbot of Chenolakkos Monastery near Chalcedon (716).
Martyr Agnes.
St. Kentigern (Mungo), first bishop of Strath-clyde (Glasgow), Scotland (612) (Celtic & British).
St. Sava I, enlightener and first archbishop of Serbia (1235).
St. Meletius, bishop of Ryazan, missionary to Yakutia (1900).
The Scripture Readings
Matthew 10:1-8
The Twelve Apostles
10 And when He had called His twelve disciples to Him, He gave them power over unclean spirits, to cast them out, and to heal all kinds of sickness and all kinds of disease. 2 Now the names of the twelve apostles are these: first, Simon, who is called Peter, and Andrew his brother; James the son of Zebedee, and John his brother; 3 Philip and Bartholomew; Thomas and Matthew the tax collector; James the son of Alphaeus, and Lebbaeus, whose surname was Thaddaeus; 4 Simon the Cananite, and Judas Iscariot, who also betrayed Him.
Sending Out the Twelve
5 These twelve Jesus sent out and commanded them, saying: "Do not go into the way of the Gentiles, and do not enter a city of the Samaritans. 6 But go rather to the lost sheep of the house of Israel. 7 And as you go, preach, saying, 'The kingdom of heaven is at hand.' 8 Heal the sick, cleanse the lepers, raise the dead, cast out demons. Freely you have received, freely give.
James 2:14-26
Faith Without Works Is Dead
14 What does it profit, my brethren, if someone says he has faith but does not have works? Can faith save him? 15 If a brother or sister is naked and destitute of daily food, 16 and one of you says to them, "Depart in peace, be warmed and filled," but you do not give them the things which are needed for the body, what does it profit? 17 Thus also faith by itself, if it does not have works, is dead.
18 But someone will say, "You have faith, and I have works." Show me your faith without your works, and I will show you my faith by my works. 19 You believe that there is one God. You do well. Even the demons believe—and tremble! 20 But do you want to know, O foolish man, that faith without works is dead? 21 Was not Abraham our father justified by works when he offered Isaac his son on the altar? 22 Do you see that faith was working together with his works, and by works faith was made perfect? 23 And the Scripture was fulfilled which says, "Abraham believed God, and it was [e]accounted to him for righteousness." And he was called the friend of God. 24 You see then that a man is justified by works, and not by faith only.
25 Likewise, was not Rahab the harlot also justified by works when she received the messengers and sent them out another way?
26 For as the body without the spirit is dead, so faith without works is dead also.