We must pray for help in our struggle for repentance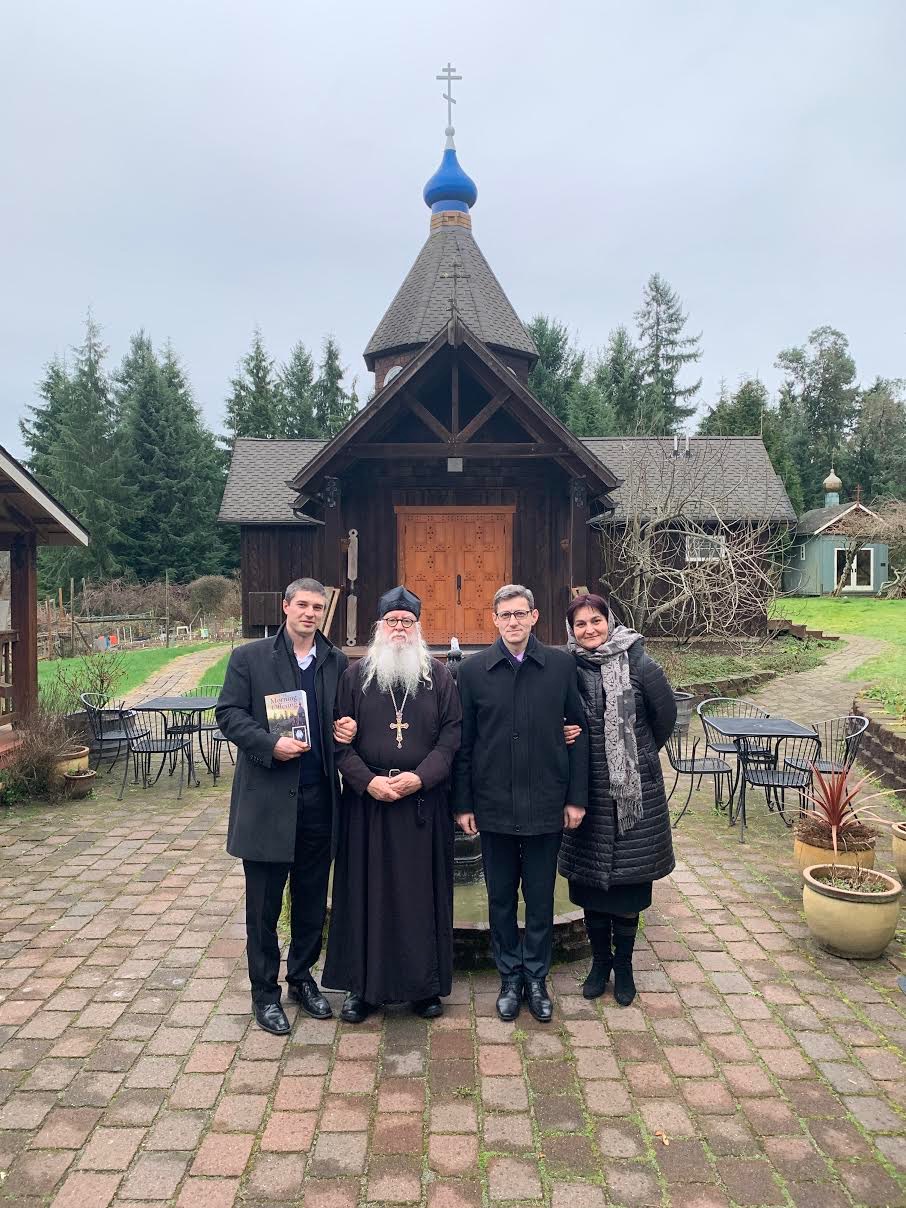 In our struggle on the path to God, repentance must be the central theme. Only in repentance will we find the true meaning of life, for only in repentance can one enter into communion with God. This life has been given to us for one purpose, that we might be deified, and be united with God, as was His purpose from the very beginning. In our fallen state, our brokenness keeps us separated from God, for our darkened nous can not see clearly. Repentance changes our nous, clearing the way for complete union with Christ, and making us whole.
"Ask for repentance in your prayer and nothing else, neither for divine lights, nor miracles, nor prophecies, nor spiritual gifts—nothing but repentance. Repentance will bring you humility, humility will bring you the Grace of God, and God will have in His Grace everything you need for your salvation, or anything you might need to help another soul (Saint Paisios of Mount Athos)."
Love in Christ,
Abbot Tryphon
Photo: Our longtime friend, Vlad, together with his child's godparents, all from Romania, visited the monastery on Thursday.
Friday January 31, 2020 / January 18, 2020
33rd Week after Pentecost. Tone seven.
Fast. Fish Allowed
St. Athanasius the Great (373) and St. Cyril (444), archbishops of Alexandria.
Venerable Cyril, schemamonk, and Venerable Maria, schemanun (1337) (parents of St. Sergius of Radonezh).
New Hieromartyr Michael priest (1919).
New Hieromartyr Eugene priest (1930).
New Hieromartyrs Vladimir, Nicholas, Sergius Alexander priests (1938).
Venerable Athanasius, abbot of Syanzhema (Valaam) (1550).
Venerable Athanasius of Novolok, monk (16th-17th c.).
Venerable Marcian of Cyrrhus in Syria, monk (ca. 303).
Martyr Xenia.
St. Maximus of Serbia, metropolitan (1516) (Serbia).
Venerable Silvanus, of Palestine, monk.
St. Leobardus of Marmoutier (6th c.) (Gaul).
Martyr Theodula and her companions Helladius, Boethius, Evagrius and Macarius of Anazarbus in Cilicia, (304).
St. Ephraim the Lesser, the Philosopher (1101) (Georgia).
Venerable Hieromonk Alexi (Shushania) of Teklati (1923) (Georgia).
St. Joachim, patriarch of Turnovo (1235).
St. Ninnidh of Inismacsaint (6th c.) (Celtic & British).
The Scripture Readings
Hebrews 13:7-16
Concluding Religious Directions
7 Remember those who rule over you, who have spoken the word of God to you, whose faith follow, considering the outcome of their conduct. 8 Jesus Christ is the same yesterday, today, and forever. 9 Do not be carried about with various and strange doctrines. For it is good that the heart be established by grace, not with foods which have not profited those who have been occupied with them.
10 We have an altar from which those who serve the tabernacle have no right to eat. 11 For the bodies of those animals, whose blood is brought into the sanctuary by the high priest for sin, are burned outside the camp. 12 Therefore Jesus also, that He might sanctify the people with His own blood, suffered outside the gate. 13 Therefore let us go forth to Him, outside the camp, bearing His reproach. 14 For here we have no continuing city, but we seek the one to come. 15 Therefore by Him let us continually offer the sacrifice of praise to God, that is, the fruit of our lips, giving thanks to His name. 16 But do not forget to do good and to share, for with such sacrifices God is well pleased.
Matthew 5:14-19
14 "You are the light of the world. A city that is set on a hill cannot be hidden. 15 Nor do they light a lamp and put it under a basket, but on a lampstand, and it gives light to all who are in the house. 16 Let your light so shine before men, that they may see your good works and glorify your Father in heaven.
Christ Fulfills the Law
17 "Do not think that I came to destroy the Law or the Prophets. I did not come to destroy but to fulfill. 18 For assuredly, I say to you,till heaven and earth pass away, one jot or one tittle will by no means pass from the law till all is fulfilled. 19 Whoever therefore breaks one of the least of these commandments, and teaches men so, shall be called least in the kingdom of heaven; but whoever does and teaches them, he shall be called great in the kingdom of heaven.