The workplace can be a place for spiritual growth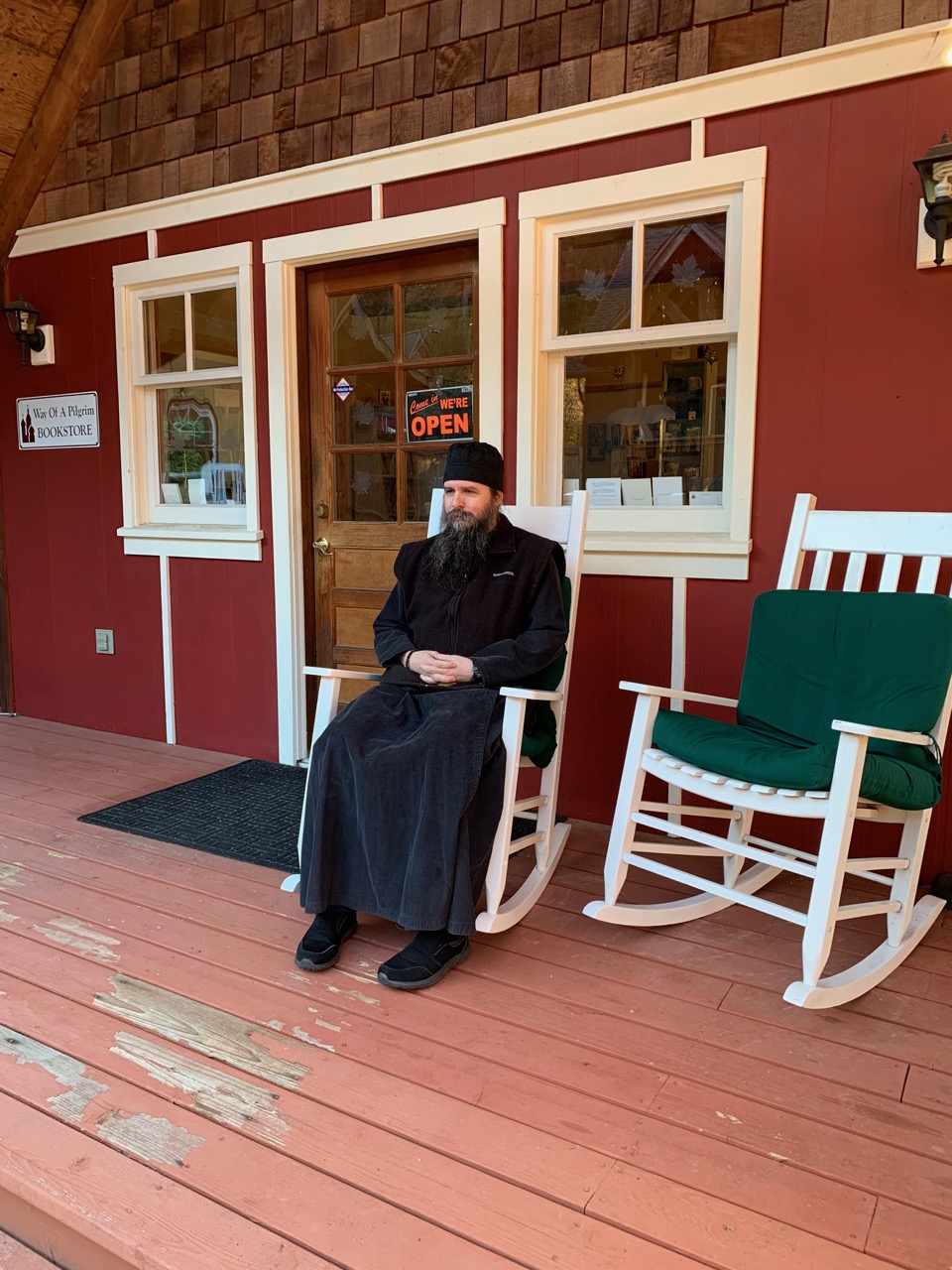 Balancing the spiritual life with the workplace can be quite challenging. Our work day should begin with prayer, and should be planned with the help and guidance of one's spiritual father, priest or confessor. If we have children, we should get up an hour early, so we have plenty of time for prayer before getting them breakfast and sending them off to school. Setting aside this prayer time each morning is the best way to guarantee the day will be God centered.
If we are a commuter who takes public transportation, we can get in the habit of reading books that are available in our parish bookstore. Again, our priest can suggest books that would be of benefit to us. I keep a book in our van so as to have spiritual reading while waiting on the ferry dock, or crossing on the ferry.
Using our coffee break to read a few chapters in our commuter book, can keep us grounded, spiritually. When we head out for lunch, we can take the book along as our companion.We can also benefit by downloading programming from Ancient Faith Radio on our ipad. And finally, for those long hours of work time, the continuous repetition of the Jesus Prayer can keep us grounded in our faith.
Following these simple guidelines will make a huge difference in our workday, and contribute immensely to our own spiritual growth. We should never allow our workplace to become a place devoid of faith.
With love in Christ,
Abbot Tryphon
Photo: Monk Nicodemus sitting on the porch of Way of a Pilgrim Book Store.
Sunday December 29, 2019 / December 16, 2019
28th Sunday after Pentecost. Tone three.
Nativity (St. Philip's Fast). Fish Allowed
Week of Holy Forefathers
Prophet Haggai (Aggaeus) (500 B.C.).
New Hieromartyrs Priest Vladimir (1918)
New Hieromartyrs Arcadius, bishop of Bezhetsk, and Priests Elias, Paul, Theodosius, Vladimir, Alexander, and Peter priests, Martyr Makarius (1937).
Venerable Sophia, nun (in the world Solomonia), wife of Grand Duke Basil III (1542).
Martyr Marinus of Rome (283).
Blessed Empress Theophania of Byzantium (893).
St. Memnon, archbishop of Ephesus (5th c.).
St. Nicholas Chrysoberges, patriarch of Constantinople (995).
St. Modestus II, archbishop of Jerusalem (634) (Greek).
Martyrs Promus and Hilarion (Greek).
The Scripture Readings
Luke 24:36-53
Jesus Appears to His Disciples
36 Now as they said these things, Jesus Himself stood in the midst of them, and said to them, "Peace to you." 37 But they were terrified and frightened, and supposed they had seen a spirit. 38 And He said to them, "Why are you troubled? And why do doubts arise in your hearts? 39 Behold My hands and My feet, that it is I Myself. Handle Me and see, for a spirit does not have flesh and bones as you see I have."
40 When He had said this, He showed them His hands and His feet. 41 But while they still did not believe for joy, and marveled, He said to them, "Have you any food here?" 42 So they gave Him a piece of a broiled fish and some honeycomb. 43 And He took it and ate in their presence.
The Scriptures Opened
44 Then He said to them, "These are the words which I spoke to you while I was still with you, that all things must be fulfilled which were written in the Law of Moses and the Prophets and the Psalms concerning Me." 45 And He opened their understanding, that they might comprehend the Scriptures.
46 Then He said to them, "Thus it is written, and thus it was necessary for the Christ to suffer and to rise from the dead the third day,47 and that repentance and remission of sins should be preached in His name to all nations, beginning at Jerusalem. 48 And you are witnesses of these things. 49 Behold, I send the Promise of My Father upon you; but tarry in the city of Jerusalem until you are endued with power from on high."
The Ascension
50 And He led them out as far as Bethany, and He lifted up His hands and blessed them. 51 Now it came to pass, while He blessed them, that He was parted from them and carried up into heaven. 52 And they worshiped Him, and returned to Jerusalem with great joy, 53 and were continually in the temple praising and blessing God. Amen.
Colossians 3:4-11
4 When Christ who is our life appears, then you also will appear with Him in glory.
5 Therefore put to death your members which are on the earth: fornication, uncleanness, passion, evil desire, and covetousness, which is idolatry. 6 Because of these things the wrath of God is coming upon the sons of disobedience, 7 in which you yourselves once walked when you lived in them.
8 But now you yourselves are to put off all these: anger, wrath, malice, blasphemy, filthy language out of your mouth. 9 Do not lie to one another, since you have put off the old man with his deeds, 10 and have put on the new man who is renewed in knowledge according to the image of Him who created him, 11 where there is neither Greek nor Jew, circumcised nor uncircumcised, barbarian, Scythian, slave nor free, but Christ is all and in all.
Luke 14:16-24
16 Then He said to him, "A certain man gave a great supper and invited many, 17 and sent his servant at supper time to say to those who were invited, 'Come, for all things are now ready.' 18 But they all with one accord began to make excuses. The first said to him, 'I have bought a piece of ground, and I must go and see it. I ask you to have me excused.' 19 And another said, 'I have bought five yoke of oxen, and I am going to test them. I ask you to have me excused.' 20 Still another said, 'I have married a wife, and therefore I cannot come.' 21 So that servant came and reported these things to his master. Then the master of the house, being angry, said to his servant, 'Go out quickly into the streets and lanes of the city, and bring in here the poor and the maimed and the lame and theblind.' 22 And the servant said, 'Master, it is done as you commanded, and still there is room.' 23 Then the master said to the servant, 'Go out into the highways and hedges, and compel them to come in, that my house may be filled. 24 For I say to you that none of those men who were invited shall taste my supper.'