What should be our attitude toward icons and other sacred things?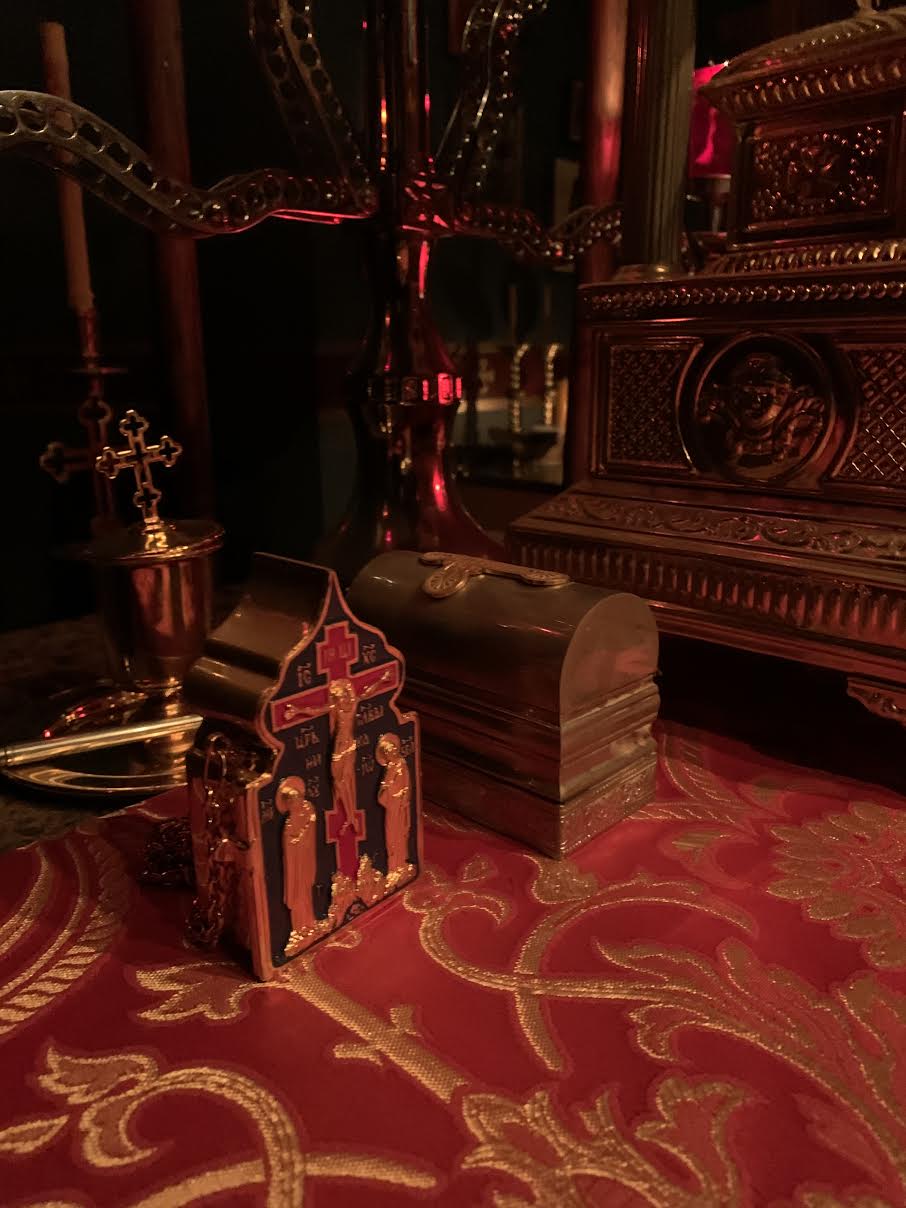 One of the attributes of God is holiness, and is reflected in His people, and in physical objects that have been blessed by the Church for the use of His people in their journey towards Him. Therefore, reverence for these sacred objects and images is the manifestation of the relationship between ourselves and God. "And ye shall be holy unto me: for I the Lord am holy… (Leviticus 20: 26)." Icons of Christ, His Holy Mother, the saints, or depictions of biblical events, are not just art objects, popular today, but disposable tomorrow, but are vehicles for God's sustaining grace.
As Orthodox Christians, we should make it a rule never have arguments, or engage in improper behavior before the images of the saints, and instill in children, from the earliest of age, reverence for the holy icons. Not only do we call upon the saints for their heavenly intercession, but their icons serve as reminders that Christ has called us to repentance, and the deification of each human soul.
Under no circumstance can such an icon, even one that has not been blessed, be simply thrown away. A holy item, even if it has lost its original appearance, should always be treated with reverence. This is one of the reasons it is never a good idea to send a greeting card with an icon on it, especially if it is to be sent to someone who might not understand the importance of treating an icon with great reverence and respect.
If an icon's condition has rendered it unfit for use and it cannot be restored, it should be taken to the church, where it can be burned in a furnace or special place set aside for the disposal of holy things. If this is not possible, you should burn the icon yourself, and bury the ashes in a place that will not be sullied or disturbed, such as in a cemetery or under a tree in the garden.
Our patronal icon should be held in particular reverence, for following baptism, we each have a special bond with our personal saint. Parents should make it a tradition to bless their children with the child's personal icon, as they set off for a new year at school, an extended journey, or when they leave home, to start their own family. Family members should be sure to bring at least a few icons into the hospital room or the nursing home, of their loved one, so a person's own departure from this life can take place in the presence of their personal icons.
Holy oils, and any other blessed articles used in the home, should always be treated with the uttermost reverence, and, like the icons, never be improperly disposed of. Those things, like bottles of holy oil, that can not be burned, should be placed in the ground, always in a place that will not be used for something else.
With love in Christ,
Abbot Tryphon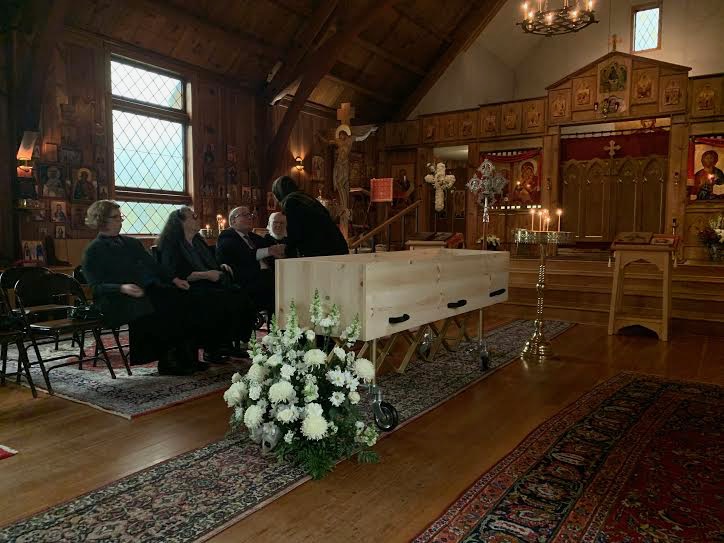 Photos: The funeral for Matushka Barbara Letten, beloved wife of my confessor and friend, Archpriest Nicholas Letten. The funeral was presided over by OCA Archbishop Benjamin, and held in Holy Annunciation Orthodox Church in Milwaukie, Oregon.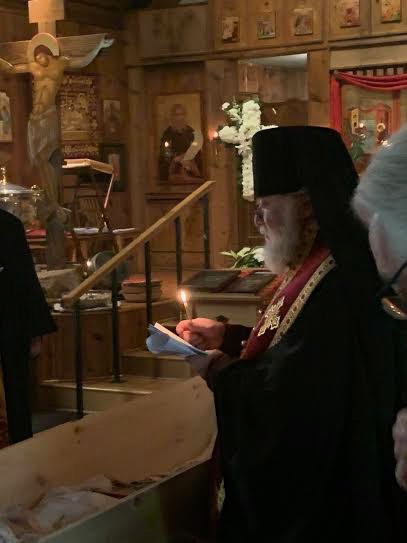 Friday December 20, 2019 / December 7, 2019
27th Week after Pentecost. Tone one.
Nativity (St. Philip's Fast). Food with Oil
St. Ambrose, bishop of Milan (397).
Venerable Nilus, monk, of Stolben Island (1554).
Venerable Anthony, abbot of Siya Monastery (Novgorod) (1556).
New Hieromartyrs Sergius, Andronic (1917).
New Hieromartyr Antonius priest (1918).
St. Ambrosius confessor, bishop of Kamenets-Podolsk (1932).
New Hieromartyrs Sergius, Michael and Sergius priests, Nicephore deacon and Hieromartyr Galaction and Gurias, Martyr John (1937).
New Hieromartyrs Peter and Basil priests (1941).
Venerable John, faster of the Kiev Caves (12th c.)..
Martyr Athenodorus of Mesopotamia (304).
Venerable Paul the Obedient.
St. Philothea of Turnovo (1060), whose relics are in Arges, Romania.
Icon of the Mother of God of Vladimir of Seligersk.
Venerable Gregory the Silent of Serbia, founder of Grigoriou Monastery, Mt. Athos (1405) (Greek).
Venerable Ignatius, monk, near Blachernae (Greek).
St. Bassa of Jerusalem, abbess (5th c.).
St. Diuma, bishop of the Mercians and Middle Anglians.
Martyr Neophytus (Greek).
Martyr Dometius (Greek).
Martyrs Isidore, Acepsimas and Leo (Greek).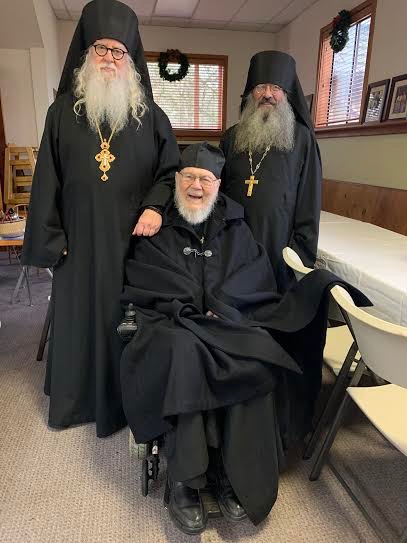 The Scripture Readings
2 Timothy 1:1-2
Greeting
1 Paul, an apostle of Jesus Christ by the will of God, according to the promise of life which is in Christ Jesus,
2 To Timothy, a beloved son:
Grace, mercy, and peace from God the Father and Christ Jesus our Lord.
2 Timothy 1:8-18
Not Ashamed of the Gospel
8 Therefore do not be ashamed of the testimony of our Lord, nor of me His prisoner, but share with me in the sufferings for the gospel according to the power of God, 9 who has saved us and called us with a holy calling, not according to our works, but according to His own purpose and grace which was given to us in Christ Jesus before time began, 10 but has now been revealed by the appearing of our Savior Jesus Christ, who has abolished death and brought life and immortality to light through the gospel, 11 to which I was appointed a preacher, an apostle, and a teacher of the Gentiles. 12 For this reason I also suffer these things; nevertheless I am not ashamed, for I know whom I have believed and am persuaded that He is able to keep what I have committed to Him until that Day.
Be Loyal to the Faith
13 Hold fast the pattern of sound words which you have heard from me, in faith and love which are in Christ Jesus. 14 That good thing which was committed to you, keep by the Holy Spirit who dwells in us.
15 This you know, that all those in Asia have turned away from me, among whom are Phygellus and Hermogenes. 16 The Lord grant mercy to the household of Onesiphorus, for he often refreshed me, and was not ashamed of my chain; 17 but when he arrived in Rome, he sought me out very zealously and found me. 18 The Lord grant to him that he may find mercy from the Lord in that Day—and you know very well how many ways he ministered to me at Ephesus.
Luke 21:37-22:8
37 And in the daytime He was teaching in the temple, but at night He went out and stayed on the mountain called Olivet. 38 Then early in the morning all the people came to Him in the temple to hear Him.
The Plot to Kill Jesus
22 Now the Feast of Unleavened Bread drew near, which is called Passover. 2 And the chief priests and the scribes sought how they might kill Him, for they feared the people.
3 Then Satan entered Judas, surnamed Iscariot, who was numbered among the twelve. 4 So he went his way and conferred with the chief priests and captains, how he might betray Him to them. 5 And they were glad, and agreed to give him money. 6 So he promised and sought opportunity to betray Him to them in the absence of the multitude.
Jesus and His Disciples Prepare the Passover
7 Then came the Day of Unleavened Bread, when the Passover must be killed. 8 And He sent Peter and John, saying, "Go and prepare the Passover for us, that we may eat."