In Christ we become new creatures and the old self is put aside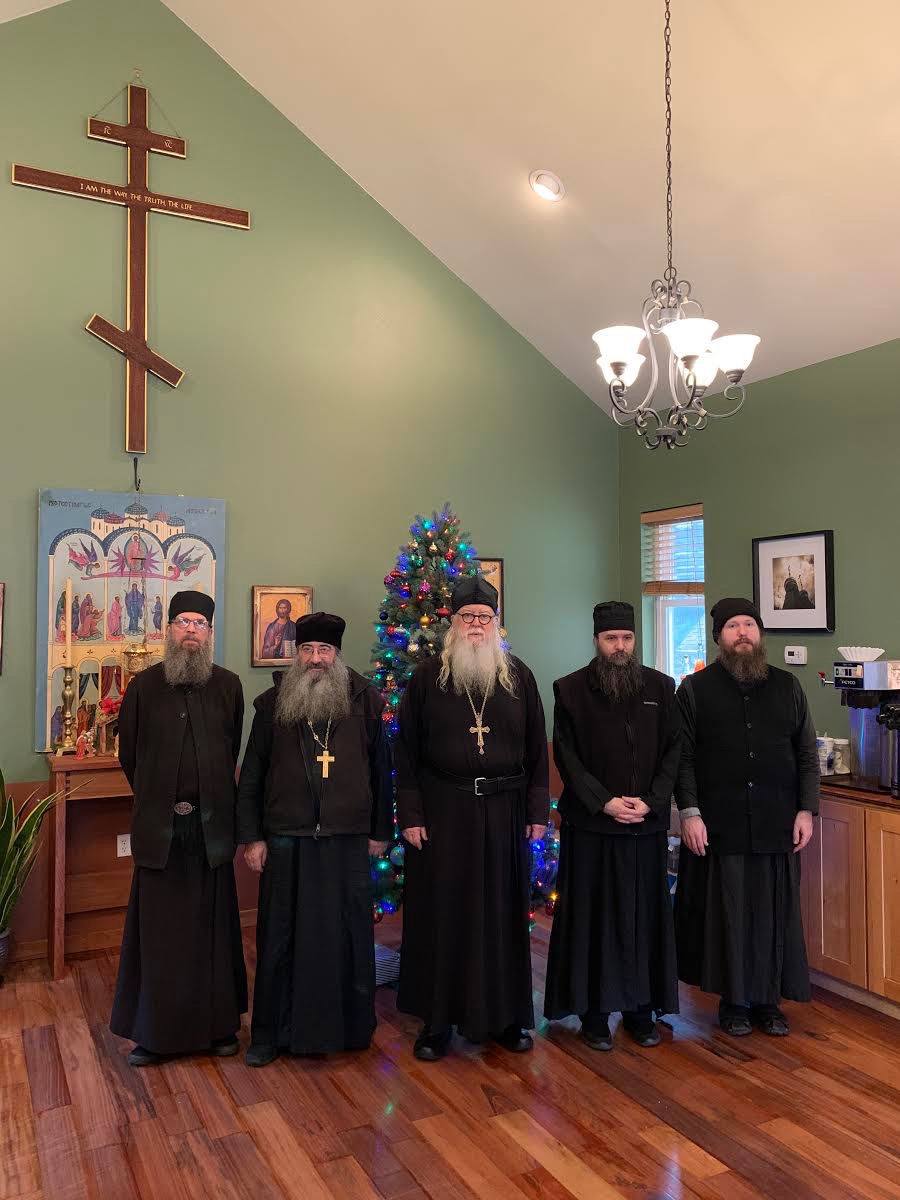 As we struggle to make spiritual progress we do battle with the old self. We work against old habits that have kept us stuck and prevented the change we so desire in our quest for communion with God. Our sins and passions have become familiar to us, almost like old friends, and laziness sets in. We have become comfortable with the way we are and change seems like too much work.
Spiritual laxity and sinful habits must be confronted with a renewed commitment to live as a child of God. This struggle comes with a price tag, requiring real work on our part. The Kingdom of Heaven must be taken by storm, but this struggle does not require us to battle on our own, for the Holy Spirit empowers us with the grace sufficient to win the battle over the old self. In Christ we become new creatures and the old self is put aside.
With love in Christ,
Abbot Tryphon
Thursday December 26, 2019 / December 13, 2019
28th Week after Pentecost. Tone two.
Nativity (St. Philip's Fast). Fish Allowed
Martyrs Eustratius, Auxentius, Eugene, Mardarius, and Orestes at Sebaste (284).
Venerable Herman, Wonderworker of Alaska (1836).
Virgin-martyr Lucy of Syracuse (304).
New Hieromartyr Alexander priest and Martyr John (1920).
New Hieromartyrs Vladimir, Alexander, Jacob, Alexis, Gregory priests (1937).
New Hieromartyr Nicholas priest (1938).
New Hieromartyra Emilian and Basil priests (1941).
Venerable Arcadius, monk of Novotorsk (11th c.).
Venerable Mardarius, recluse of the Kiev Caves (13th c.).
Venerable Arsenius of Latros (8-10th c.).
St. Dositheus metropolitan of Moldavia (1693) (Romania).
Venerable Nicodemus of Romania (Romania).
St. Gabriel, patriarch of Serbia (1659) (Serbia).
St. Odilia, virgin of Alsace (720) (France).
Venerable Innocent, bishop of Cherson (1857).
St. Gabriel, bishop of Imereti, (1896) (Georgia).
St. Columba of Terryglass (549) (Celtic & British).
St. Judoc, hermit of Ponthieu.
St. Ares, monk (Greek).
The Scripture Readings
Matthew 10:16-22
Persecutions Are Coming
16 "Behold, I send you out as sheep in the midst of wolves. Therefore be wise as serpents and harmless as doves. 17 But beware of men, for they will deliver you up to councils and scourge you in their synagogues. 18 You will be brought before governors and kings for My sake, as a testimony to them and to the Gentiles. 19 But when they deliver you up, do not worry about how or what you should speak. For it will be given to you in that hour what you should speak; 20 for it is not you who speak, but the Spirit of your Father who speaks in you.
21 "Now brother will deliver up brother to death, and a father his child; and children will rise up against parents and cause them to be put to death. 22 And you will be hated by all for My name's sake. But he who endures to the end will be saved.
Titus 1:5-2:1
Qualified Elders
5 For this reason I left you in Crete, that you should set in order the things that are lacking, and appoint elders in every city as I commanded you— 6 if a man is blameless, the husband of one wife, having faithful children not accused of [a]dissipation or insubordination. 7 For a [b]bishop must be blameless, as a steward of God, not self-willed, not quick-tempered, not given to wine, not violent, not greedy for money, 8 but hospitable, a lover of what is good, sober-minded, just, holy, self-controlled, 9 holding fast the faithful word as he has been taught, that he may be able, by sound doctrine, both to exhort and convict those who contradict.
The Elders' Task
10 For there are many insubordinate, both idle talkers and deceivers, especially those of the circumcision, 11 whose mouths must be stopped, who subvert whole households, teaching things which they ought not, for the sake of dishonest gain. 12 One of them, a prophet of their own, said, "Cretans are always liars, evil beasts, lazy gluttons." 13 This testimony is true. Therefore rebuke them sharply, that they may be sound in the faith, 14 not giving heed to Jewish fables and commandments of men who turn from the truth. 15 To the pure all things are pure, but to those who are defiled and unbelieving nothing is pure; but even their mind and conscience are defiled. 16 They profess to know God, but in works they deny Him, being [c]abominable, disobedient, and disqualified for every good work.
Qualities of a Sound Church
2 But as for you, speak the things which are proper for sound doctrine:
Mark 9:10-16
10 So they kept this word to themselves, questioning what the rising from the dead meant.
11 And they asked Him, saying, "Why do the scribes say that Elijah must come first?"
12 Then He answered and told them, "Indeed, Elijah is coming first and restores all things. And how is it written concerning the Son of Man, that He must suffer many things and be treated with contempt? 13 But I say to you that Elijah has also come, and they did to him whatever they wished, as it is written of him."
A Boy Is Healed
14 And when He came to the disciples, He saw a great multitude around them, and scribes disputing with them. 15 Immediately, when they saw Him, all the people were greatly amazed, and running to Him, greeted Him. 16 And He asked the scribes, "What are you discussing with them?"