If we are to win the battle we must focus only on our own sins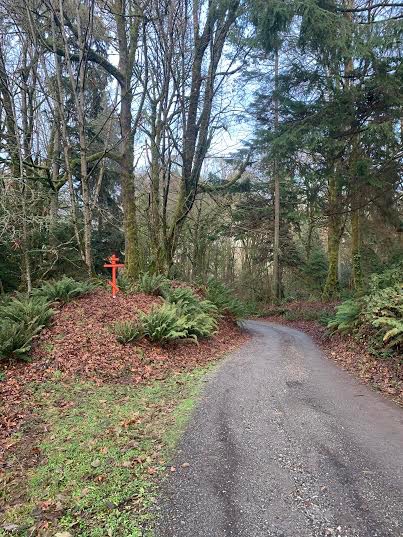 When we take our eyes off our own failings, shortcomings, and sins, we notice the failings of others. As the sins of others get our attention, our focus turns away from our own struggles with the passions, and we begin to fall further into sin, our eyes having turned away from the Lord. When our focus is no longer turned towards the conquering of our own passions, our hearts become vulnerable, and we begin to expend our energy on picking apart our neighbor. Their sins become the hot topic with our gossiping friends, and we fall further into the rottenness of our own sins. At this stage, Abba Sisoes asks, "How can we guard the heart if the tongue leaves the door of the fortress open?"
If we are to take ourselves out of the mire of sin, and with Christ's help, be transformed and made whole, our eyes must never look to the sins of others, "For a person cannot be disquieted or concerned about other people's affairs if he is satisfied with concentrating on the work of his own hands (St. John Cassian)."
As we approach the celebration of Christ's birth on January 7th, let us refocus ourselves, and prepare for the struggle ahead. Let us make this period the most profitable of all, with the goal of acquiring a humble and contrite heart. If we focus on our own failings, only, we will find this holy season will be the most profitable of all, and we will be lifted up by God, and our celebration of the Holy Nativity will be the most glorious of them all.
Remember, the four great periods of fasting on the Church Calendar were created for us as a time for repentance, renewal, and the restoration of heart, mind, and body. Let us keep our spiritual eyes on Christ, and be open to the healing of our soul that comes for us through this very Christ Jesus, Whom we worship and adore.
With love in Christ,
Abbot Tryphon
Tuesday December 31, 2019 / December 18, 2019
29th Week after Pentecost. Tone three.
Nativity (St. Philip's Fast). Food with Oil
Martyr Sebastian at Rome and his companions: Martyrs Nicostratus, Zoe, Castorius, Tranquillinus, Marcellinus, Mark, Claudius, Symphorian, Victorinus, Tiburtius, and Castulus (287).
Martyr Victor (1937).
New Hieromartyr Thaddeus (Uspensky), archbishop of Tver (1937).
New Hieromartyrs Nicholas archbishop of Velikoustiuzh, James, John, Vladimir, and Nicholas priests (1937).
New Hieromartyr Sergius deacon and Virgin-martyr Vera (1942).
Venerable Sebastian, abbot of Poshekhonye Monastery (Vologda) (1500).
Glorification (1694) of Righteous Simeon, wonderworker of Verkhoturye (1642).
St. Modestus I, archbishop of Jerusalem (4th c.).
Venerable Florus, bishop of Amisus (7th c.).
Venerable Michael the Confessor at Constantinople (845).
Venerable Daniel the Hermit (Romania).
Martyr Eubotius at Cyzicus (318).
Venerable Winnibald, abbot and missionary of England and Heidenheim (Germany) (761) (Celtic & British).
Hieromartyr Zaccheus the Deacon and St. Alpheus the Reader of Caesarea (Greek).
St. Gatianus, first bishop of Tours (3rd c.).
St. Sophia the Wonderworker (Greek).
The Scripture Readings
Hebrews 4:1-13
The Promise of Rest
4 Therefore, since a promise remains of entering His rest, let us fear lest any of you seem to have come short of it. 2 For indeed the gospel was preached to us as well as to them; but the word which they heard did not profit them, not being mixed with faith in those who heard it. 3 For we who have believed do enter that rest, as He has said:
"So I swore in My wrath,
'They shall not enter My rest,' "
although the works were finished from the foundation of the world. 4 For He has spoken in a certain place of the seventh day in this way: "And God rested on the seventh day from all His works"; 5 and again in this place: "They shall not enter My rest."
6 Since therefore it remains that some must enter it, and those to whom it was first preached did not enter because of disobedience, 7 again He designates a certain day, saying in David, "Today," after such a long time, as it has been said:
"Today, if you will hear His voice,
Do not harden your hearts."
8 For if Joshua had given them rest, then He would not afterward have spoken of another day. 9 There remains therefore a rest for the people of God. 10 For he who has entered His rest has himself also ceased from his works as God did from His.
The Word Discovers Our Condition
11 Let us therefore be diligent to enter that rest, lest anyone fall according to the same example of disobedience. 12 For the word of God is living and powerful, and sharper than any two-edged sword, piercing even to the division of soul and spirit, and of joints and marrow, and is a discerner of the thoughts and intents of the heart. 13 And there is no creature hidden from His sight, but all things arenaked and open to the eyes of Him to whom we must give account.
Mark 10:2-12
2 The Pharisees came and asked Him, "Is it lawful for a man to divorce his wife?" testing Him.
3 And He answered and said to them, "What did Moses command you?"
4 They said, "Moses permitted a man to write a certificate of divorce, and to dismiss her."
5 And Jesus answered and said to them, "Because of the hardness of your heart he wrote you this precept. 6 But from the beginning of the creation, God 'made them male and female.' 7 'For this reason a man shall leave his father and mother and be joined to his wife, 8 and the two shall become one flesh'; so then they are no longer two, but one flesh. 9 Therefore what God has joined together, let not man separate."
10 In the house His disciples also asked Him again about the same matter. 11 So He said to them, "Whoever divorces his wife and marries another commits adultery against her. 12 And if a woman divorces her husband and marries another, she commits adultery."