The Original Men in Black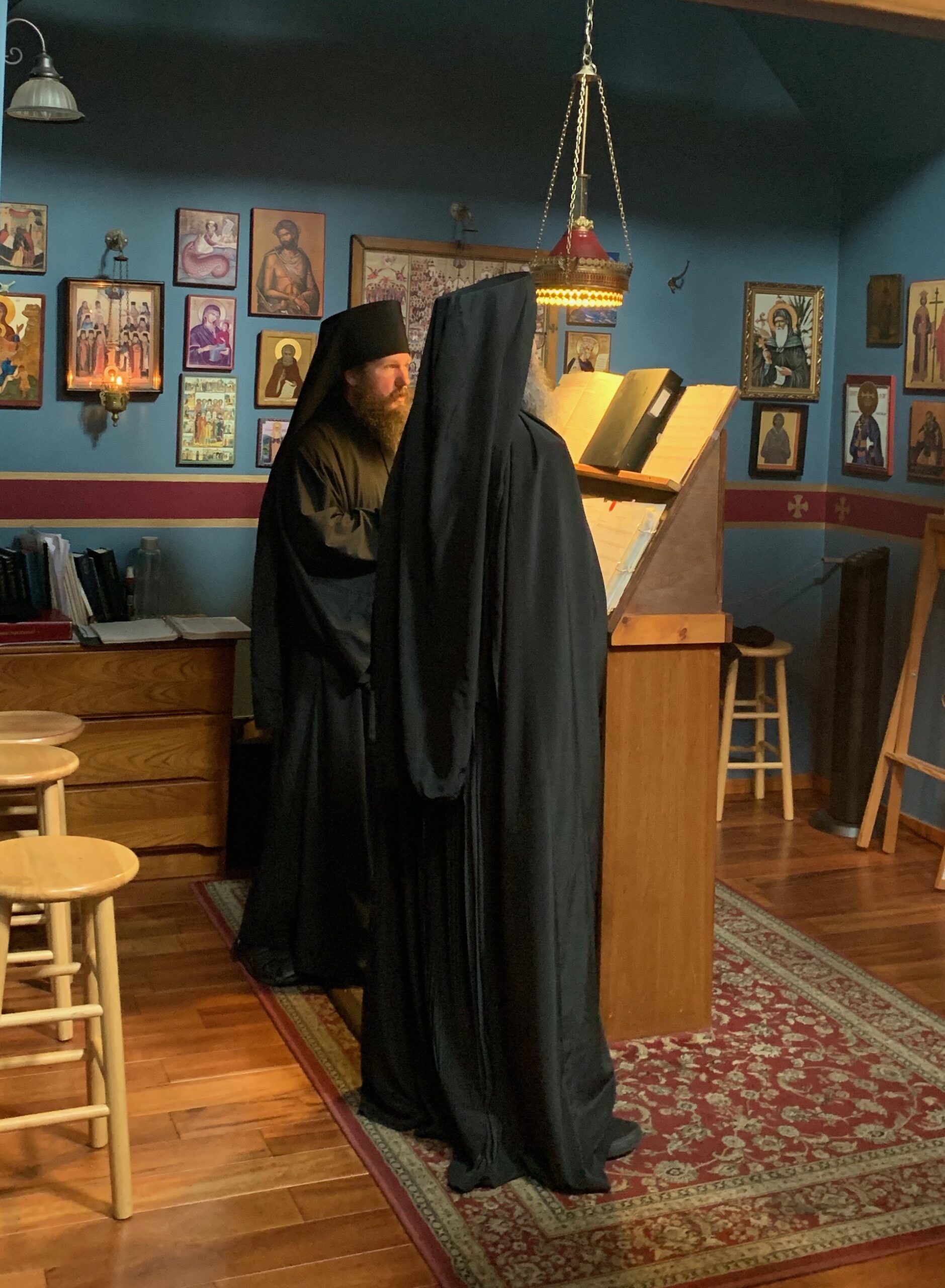 The monastic vocation is a special calling from God that is all about relationships. It is a relationship that involves community (the monastic brotherhood), but primarily revolves around the monk's relationship with God.
Monks are not holy men who are living lives set apart from the world, but men who are seeking holiness by entering into a relationship with the God Who, through that relationship, promises holiness. The monk attempts, with God's help, to live a life that is in imitation of the angels, thus the monastic life is often referred to as the angelic life. Through his continued communion with God the monk attempts to give himself over to the transformation of his own life that comes with the action of the Holy Spirit.
Holiness is not something that is just about the saints, whose icons we venerate and whose lives we read about. Holiness is better understood as wholeness, made whole, or healed. We seek healing from the darkness and estrangement that we've inherited as a result of the fall. We seek out the God of righteousness Who alone can heal us of our infirmity. As Christ increases in us, our fallen nature decreases. In monastic obedience, the self is replaced by the will of God and the ego is trampled down.
The goal of the monk is to acquire the Holy Spirit from whom comes true repentance and a humble and contrite heart. This relationship that brings healing for the monk also brings healing for the world. Saint Seraphim of Sarov said that if you acquire inner peace, a thousand around you will be saved. The monk is thus not someone who leaves the world because he cares little for those in the world but because he cares for everyone and everything. Because he loves his neighbor and the whole of the cosmos, he gives himself over to be transformed by the Holy Spirit, becoming a living martyr to self.
The monk stands before God as an intercessor for the whole of mankind, not because he intentionally flees from others, but because he becomes closer to others by entering into an intimate relationship with Jesus Christ, Whom he serves.
Love in Christ,
Abbot Tryphon
All-Merciful Saviour Monastery is a non-profit, 501 C3 organization, under IRS regulations. All donations are tax deductible. Donations can be made through PayPal, (www.vashonmonks.com) or by sending your gift directly to the monastery.
All-Merciful Saviour Monastery
PO Box 2420
Vashon Island, WA 98070
We support ourselves through the sale of Monastery Blend Coffee, and our on-line gift shop, but are also dependent on the generosity of our friends, supporters, and benefactors. We thank you for your prayerful and financial support.
Saturday December 28, 2019 / December 15, 2019
28th Week after Pentecost. Tone two.
Nativity (St. Philip's Fast). Fish Allowed
Hieromartyr Eleutherius, bishop of Illyria, and his mother, Martyr Anthia and Martyr Corivus the Eparch (126).
Venerable Paul of Mt. Latros (956).
St. Stephen the Confessor, archbishop of Surozh in the Crimea (790).
Synaxis of All Saints of Crimea.
New Hieromartyr Hilarion (Troitsky), bishop of Verey (1929).
New Hieromartyrs Alexander, Basil, Victorinus priests (1937).
New Hieromartyrs Joseph, metropolitan of Petrograd (1938).
Venerable Tryphon, of Pechenga or Kola (1583), and his martyred disciple Venerable Jonah.
Synaxis of All Saints of Kolsk.
Martyr Eleutherius at Constantinople (4th c.).
Venerable Pardus, hermit of Palestine (6th c.).
Monk-martyr Bacchus of Mar Saba (8th c.).
Martyr Susanna the Deaconess of Palestine (4th c.).
Venerable Nektarius of Bitel'sk (1500).
St. Aubertus, bishop (668) (Neth.).
The Scripture Readings
Ephesians 1:16-23
16 do not cease to give thanks for you, making mention of you in my prayers: 17 that the God of our Lord Jesus Christ, the Father of glory, may give to you the spirit of wisdom and revelation in the knowledge of Him, 18 the eyes of your understanding being enlightened; that you may know what is the hope of His calling, what are the riches of the glory of His inheritance in the saints, 19 and what is the exceeding greatness of His power toward us who believe, according to the working of His mighty power 20 which He worked in Christ when He raised Him from the dead and seated Him at His right hand in the heavenly places, 21 far above all principality and power and might and dominion, and every name that is named, not only in this age but also in that which is to come.
22 And He put all things under His feet, and gave Him to be head over all things to the church, 23 which is His body, the fullness of Him who fills all in all.
Luke 14:1-11
A Man with Dropsy Healed on the Sabbath
14 Now it happened, as He went into the house of one of the rulers of the Pharisees to eat bread on the Sabbath, that they watched Him closely. 2 And behold, there was a certain man before Him who had dropsy. 3 And Jesus, answering, spoke to the lawyers and Pharisees, saying, "Is it lawful to heal on the Sabbath?"
4 But they kept silent. And He took him and healed him, and let him go. 5 Then He answered them, saying, "Which of you, having a donkey or an ox that has fallen into a pit, will not immediately pull him out on the Sabbath day?" 6 And they could not answer Him regarding these things.
Take the Lowly Place
7 So He told a parable to those who were invited, when He noted how they chose the best places, saying to them: 8 "When you are invited by anyone to a wedding feast, do not sit down in the best place, lest one more honorable than you be invited by him; 9 and he who invited you and him come and say to you, 'Give place to this man,' and then you begin with shame to take the lowest place.10 But when you are invited, go and sit down in the lowest place, so that when he who invited you comes he may say to you, 'Friend, go up higher.' Then you will have glory in the presence of those who sit at the table with you. 11 For whoever exalts himself will be humbled, and he who humbles himself will be exalted."