We must embrace our material self, together with our soul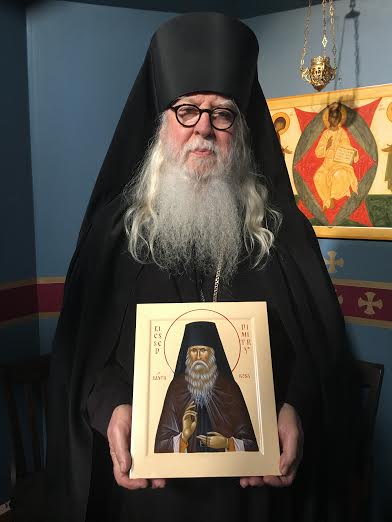 Unlike angels, who are entirely spiritual beings, God has made each of us as creatures dwelling in a material world. To be whole, we must worship God both in body and soul. This teaching is central to our Christian faith and is an affirmation of the sacramental nature of this material world. Because of this truth icons have played a central role in Christian history, for they proclaim Jesus Christ's physical reality as God Incarnate.
Our Lord told his disciples that "he who has seen me has seen the Father", yet icons depicting the Holy Virgin show the Christ Child with bare feet, reminding us that he (God) walked the earth among us. The Logos, through Whom all that is was brought into existence, condescended to take on our flesh and walk among us. God joined His divinity to our humanity, that we might become gods.
The Lord Jesus Christ was born, lived, died and rose from the dead in this material world. He broke bread with disciples, ate fish with his friends, and invited His disciple Thomas to feel the wound in his side, following His resurrection from the dead. Additionally, most of the miracles Christ performed were in the nature of the physical realm.
At the Last Judgment the Lord's words, "I was hungry and you fed me, I was thirsty and you gave me drink, I was naked and you clothed me, I was homeless and you gave me shelter, I was sick and you cared for me, I was in prison and you came to visit me", will echo in our minds. In fact, it is through our care for others that we will be judged. We can even say that it is in our demonstrated love for others that we show forth our own personal love for God, for the Lord asked the question, "How can you love God Whom you have not seen, when you do not love your neighbor?"
Because of the Incarnation, our prayers must not be allowed to be centered in the head. Our use of icons while praying, allows us to behold the beauty of God's creation, and brings our whole nature, both body and soul, into this material world where we were born. This physical nature of prayer is what connects us to our true self, composed of both body and soul. This is where God reaches down to embrace us. Cutting off the physical world, with our eyes closed, does not bring us closer to God.
The icons are wonderful aides in helping us communion with God because they serve as bridges to Christ and links with the Holy Virgin and the saints. They are by no means necessary, for sitting on the top of a mountain, or walking on the seashore, eyes open, allows you to behold the beauty of God's creation, and His love for us as His children. The beauty of an icon and the glory of God's creation can all be windows for us into eternity.
With love in Christ,
Abbot Tryphon
Friday December 13, 2019 / November 30, 2019
26th Week after Pentecost. Tone eight.
Nativity (St. Philip's Fast). Food with Oil
Holy and All-praised Apostle Andrew the First-called (62).
St. Elias, schemamonk of Valaam and Verkhoturye (1900).
New Hieromartyr John priest (1937).
St. Frumentius, archbishop of Abyssinia (380).
St. Tudwal, bishop in Wales and Brittany (6th c.) (Celtic & British ).
St. Alexander, bishop of Methymna on Lesbos (Greek).
Sts. Peter I (5th c.) and Samuel I (5-6th c.), Catholicoses of Georgia.
St. Vakhtang Gorgasali, King of Georgia (502).
The Scripture Readings
Matthew 4:18-23
Four Fishermen Called as Disciples
18 And Jesus, walking by the Sea of Galilee, saw two brothers, Simon called Peter, and Andrew his brother, casting a net into the sea; for they were fishermen. 19 Then He said to them, "Follow Me, and I will make you fishers of men." 20 They immediately left their nets and followed Him.
21 Going on from there, He saw two other brothers, James the son of Zebedee, and John his brother, in the boat with Zebedee their father, mending their nets. He called them, 22 and immediately they left the boat and their father, and followed Him.
Jesus Heals a Great Multitude
23 And Jesus went about all Galilee, teaching in their synagogues, preaching the gospel of the kingdom, and healing all kinds of sickness and all kinds of disease among the people.
1 Timothy 4:4-8
4 For every creature of God is good, and nothing is to be refused if it is received with thanksgiving; 5 for it is sanctified by the word of God and prayer.
A Good Servant of Jesus Christ
6 If you instruct the brethren in these things, you will be a good minister of Jesus Christ, nourished in the words of faith and of the good doctrine which you have carefully followed. 7 But reject profane and old wives' fables, and exercise yourself toward godliness. 8 For bodily exercise profits a little, but godliness is profitable for all things, having promise of the life that now is and of that which is to come.
1 Timothy 4:16
16 Take heed to yourself and to the doctrine. Continue in them, for in doing this you will save both yourself and those who hear you.
Luke 20:19-26
19 And the chief priests and the scribes that very hour sought to lay hands on Him, but they feared the people—for they knew He had spoken this parable against them.
The Pharisees: Is It Lawful to Pay Taxes to Caesar?
20 So they watched Him, and sent spies who pretended to be righteous, that they might seize on His words, in order to deliver Him to the power and the authority of the governor.
21 Then they asked Him, saying, "Teacher, we know that You say and teach rightly, and You do not show personal favoritism, but teach the way of God in truth: 22 Is it lawful for us to pay taxes to Caesar or not?"
23 But He perceived their craftiness, and said to them, "Why do you test Me? 24 Show Me a denarius. Whose image and inscription does it have?"
They answered and said, "Caesar's."
25 And He said to them, "Render therefore to Caesar the things that are Caesar's, and to God the things that are God's."
26 But they could not catch Him in His words in the presence of the people. And they marveled at His answer and kept silent.