Chaplains represent the presence of God in the midst of tragedy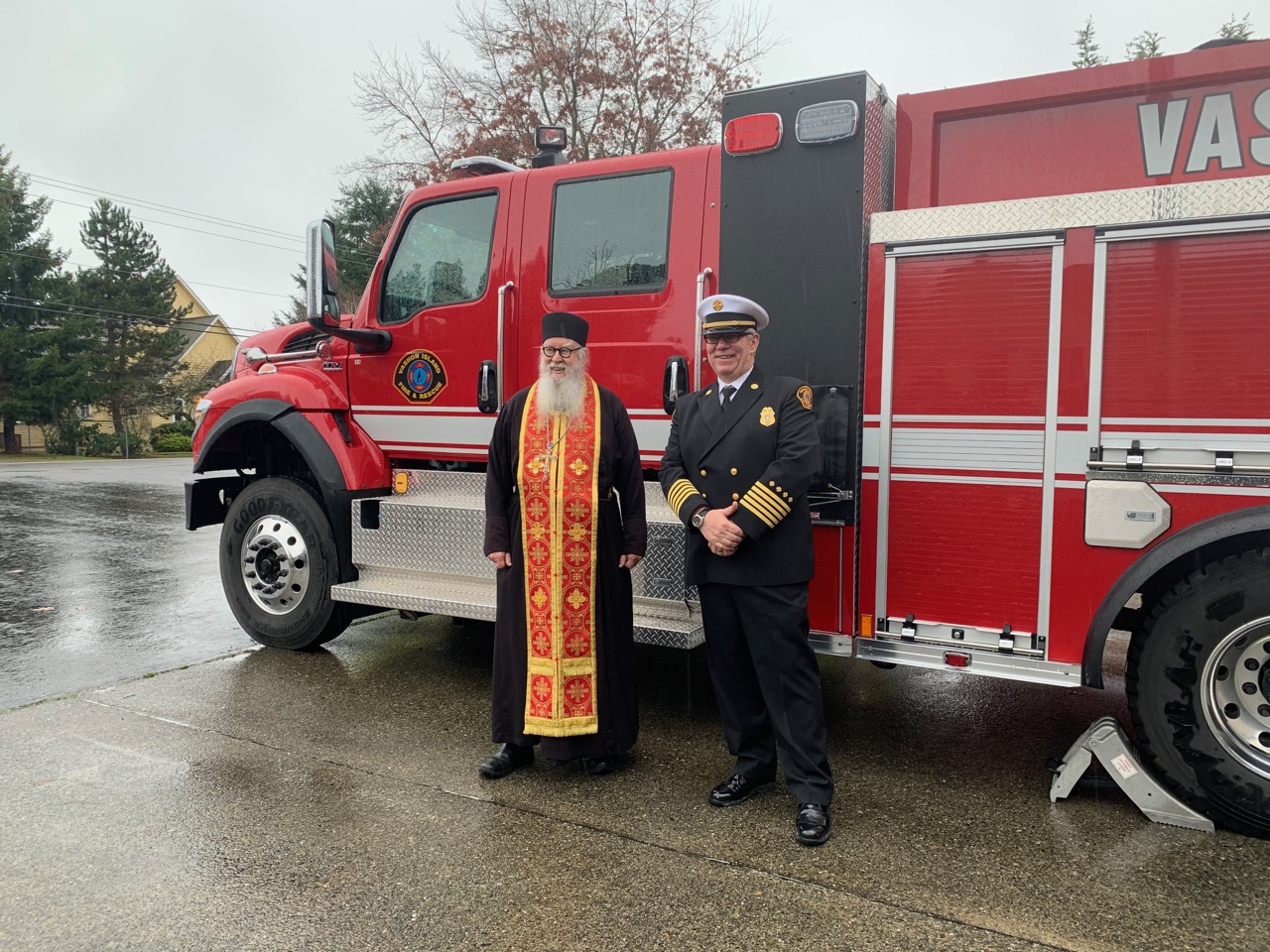 I am grateful to God for all the friendships I've formed with other chaplains during these past seventeen years of service as a police and fire chaplain, and am privileged to count among my friends some of the finest people I have ever known. These are individuals who have dedicated their lives in compassionate service to others, touching lives during the most difficult of circumstances.
Chaplains minister to people whose lives have been turned upside down, with the loss of a child, the death of a spouse, the trauma of a fatal car accident, or a homicide. Chaplains serve as God's presence on murder scenes, or house fires. They hold children whose parents have been killed, and comfort the old woman whose husband of sixty years has died. They serve as pastors to people who have never had a pastor. They are clergy who lend support to a police officer or medic who is traumatized by an incident that would have sent most people running in the other direction.
I, like other chaplains, have broken down in tears while recounting situations that would traumatize the toughest of soldiers. I've seen fellow chaplains being strong for their officers, while enduring unimaginable pain themselves. I've suffered, like other chaplains, over the death of police officers and firefighters who were my friends.
At the heart of chaplaincy is the love of Jesus Christ, and a compassionate heart that is formed by a relationship with this very Christ. The chaplain runs towards a bad situation, offering his prayers and his heart to those in need. The chaplain is one who is the presence of God in the midst of tragedy, making manifest Christ in the midst of horrendous moments in the life of those whom he is called to serve. He sits in for God during those moments when no words can be found to comfort someone experiencing great loss. The chaplain sacrifices his own comfort zone so that Christ may be made manifest in the most broken of moments.
Chaplaincy is a unique calling, one that takes special training and deep commitment. It is not for the faint hearted, but a vocation that is as challenging as it is satisfying. The chaplain is an instrument of reconciliation between God and the first responder, their department, the community, and the families and individuals affected by tragic events.
Please pray for all chaplains, be they in service as military chaplains, or in ministry as police and fire chaplains.
With love in Christ,
Abbot Tryphon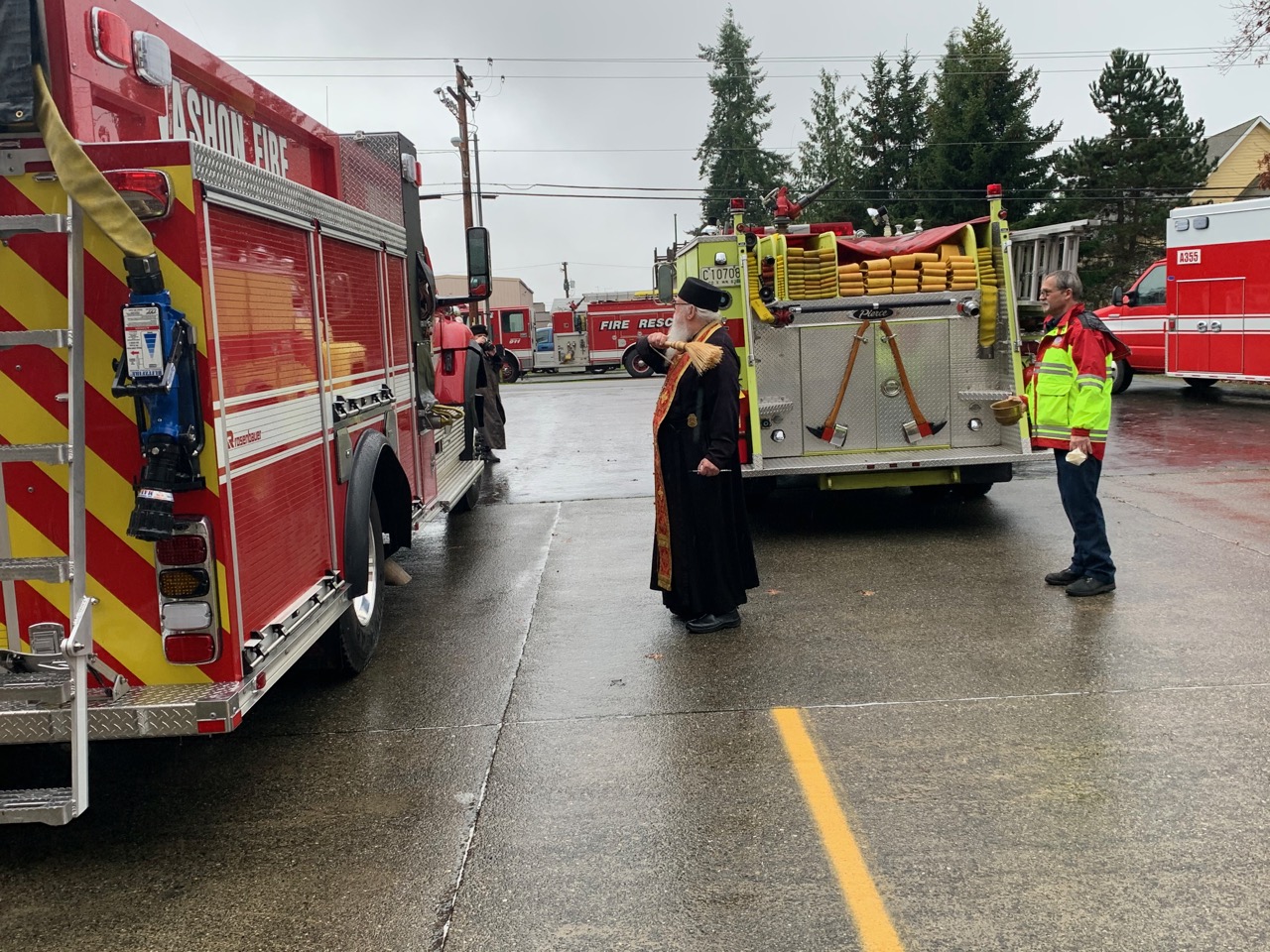 Photos: We dedicated our newest Vashon Island fire engine on Saturday. Along with blessing the new engine, as well as Chief Charlie Krimmert and the assembled firefighters, with holy water, I anointed the Maltese crosses on the sides of fire truck with holy oil, as is traditionally done by chaplains in all fire departments around the world.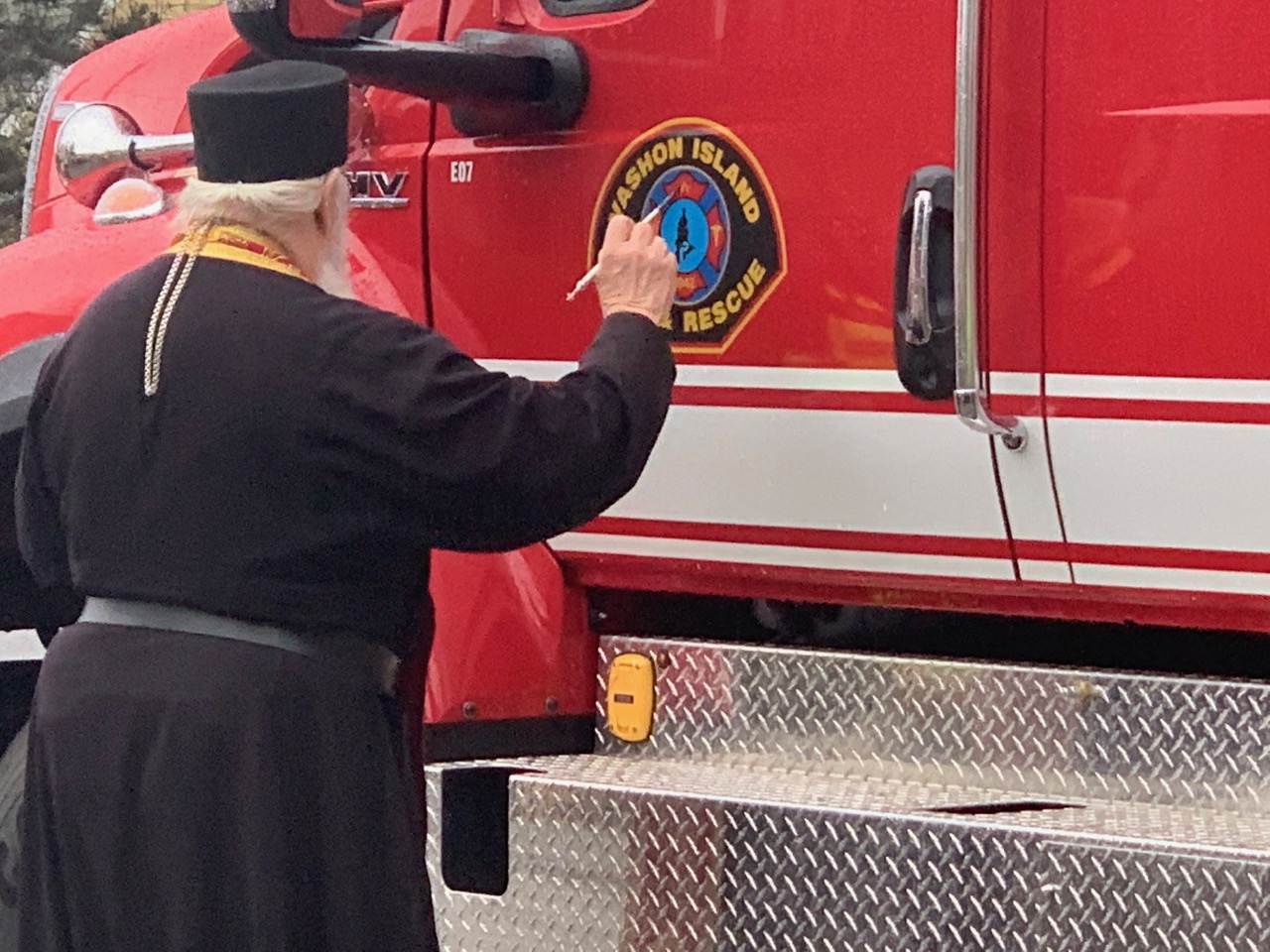 Sunday December 22, 2019 / December 9, 2019
27th Sunday after Pentecost. Tone two.
Nativity (St. Philip's Fast). Fish Allowed
The Conception by St. Anna of the Most Holy Theotokos.
New Hieromartyr Vladimir priest (1919).
New Hieromartyr Vladimir priest and Virgin-martyr Ephrosia (1920).
New Hieromartyrs Basil and Alexander priests (1937).
New Martyr Priest Sergius Mechev of Moscow (1941).
Prophetess Anna (Hannah) (1100 B.C.), mother of the Prophet Samuel.
Saint Sophronios, Archbishop of Cyprus (6th C).
Venerable Stephen the "New Light" of Constantinople (912).
Icon of the Mother of God, named "Unexpected Joy".
Martyr Narses of Persia (Greek).
St. Valeria of Aquitaine (2nd c.).
Martyr Sositheus of Persia (553).
Martyr Isaak (Greek).
The Scripture Readings
Luke 24:12-35
12 But Peter arose and ran to the tomb; and stooping down, he saw the linen cloths lying by themselves; and he departed, marveling to himself at what had happened.
The Road to Emmaus
13 Now behold, two of them were traveling that same day to a village called Emmaus, which was seven miles from Jerusalem. 14 And they talked together of all these things which had happened. 15 So it was, while they conversed and reasoned, that Jesus Himself drew near and went with them. 16 But their eyes were restrained, so that they did not know Him.
17 And He said to them, "What kind of conversation is this that you have with one another as you walk and are sad?"
18 Then the one whose name was Cleopas answered and said to Him, "Are You the only stranger in Jerusalem, and have You not known the things which happened there in these days?"
19 And He said to them, "What things?"
So they said to Him, "The things concerning Jesus of Nazareth, who was a Prophet mighty in deed and word before God and all the people, 20 and how the chief priests and our rulers delivered Him to be condemned to death, and crucified Him. 21 But we were hoping that it was He who was going to redeem Israel. Indeed, besides all this, today is the third day since these things happened. 22 Yes, and certain women of our company, who arrived at the tomb early, astonished us. 23 When they did not find His body, they came saying that they had also seen a vision of angels who said He was alive. 24 And certain of those who were with us went to the tomb and found it just as the women had said; but Him they did not see."
25 Then He said to them, "O foolish ones, and slow of heart to believe in all that the prophets have spoken! 26 Ought not the Christ to have suffered these things and to enter into His glory?" 27 And beginning at Moses and all the Prophets, He expounded to them in all the Scriptures the things concerning Himself.
The Disciples' Eyes Opened
28 Then they drew near to the village where they were going, and He indicated that He would have gone farther. 29 But they constrained Him, saying, "Abide with us, for it is toward evening, and the day is far spent." And He went in to stay with them.
30 Now it came to pass, as He sat at the table with them, that He took bread, blessed and broke it, and gave it to them. 31 Then their eyes were opened and they knew Him; and He vanished from their sight.
32 And they said to one another, "Did not our heart burn within us while He talked with us on the road, and while He opened the Scriptures to us?" 33 So they rose up that very hour and returned to Jerusalem, and found the eleven and those who were with them gathered together, 34 saying, "The Lord is risen indeed, and has appeared to Simon!" 35 And they told about the things that had happened on the road, and how He was [f]known to them in the breaking of bread.
Ephesians 6:10-17
The Whole Armor of God
10 Finally, my brethren, be strong in the Lord and in the power of His might. 11 Put on the whole armor of God, that you may be able to stand against the wiles of the devil. 12 For we do not wrestle against flesh and blood, but against principalities, against powers, against the rulers of the darkness of this age, against spiritual hosts of wickedness in the heavenly places. 13 Therefore take up the whole armor of God, that you may be able to withstand in the evil day, and having done all, to stand.
14 Stand therefore, having girded your waist with truth, having put on the breastplate of righteousness, 15 and having shod your feet with the preparation of the gospel of peace; 16 above all, taking the shield of faith with which you will be able to quench all the fiery darts of the wicked one. 17 And take the helmet of salvation, and the sword of the Spirit, which is the word of God;
Luke 17:12-19
12 Then as He entered a certain village, there met Him ten men who were lepers, who stood afar off. 13 And they lifted up their voices and said, "Jesus, Master, have mercy on us!"
14 So when He saw them, He said to them, "Go, show yourselves to the priests." And so it was that as they went, they were cleansed.
15 And one of them, when he saw that he was healed, returned, and with a loud voice glorified God, 16 and fell down on his face at His feet, giving Him thanks. And he was a Samaritan.
17 So Jesus answered and said, "Were there not ten cleansed? But where are the nine? 18 Were there not any found who returned to give glory to God except this foreigner?" 19 And He said to him, "Arise, go your way. Your faith has made you well."