Being happy ourselves we are more likely to bring about happiness in others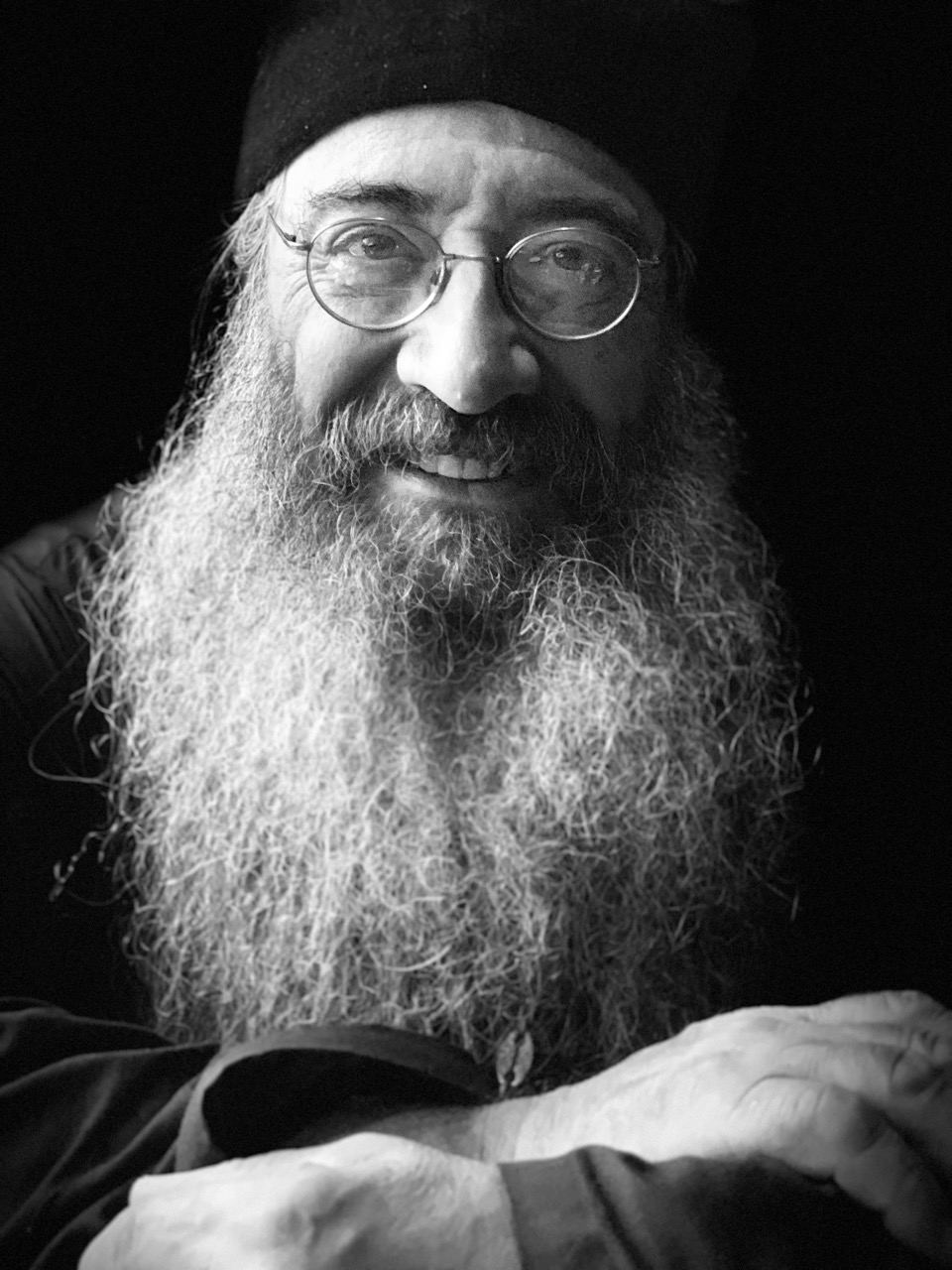 Gratitude is an affirmation of goodness, for in our being grateful we affirm that there are good things in the world, and good people that are part of our lives. Our being grateful does not mean that everything in life is perfect, but it does mean that we look at life as a whole, and receive with gratitude all the goodness that is in our life. In turn, our gratitude becomes the foundation for building up those around us, for in being happy ourselves, we are more likely to bring about happiness in others. The Elder Gabriel, a disciple of Saint Paisios of Mount Athos, even tells us that a smile offered to someone who is upset sends their anger to heaven, and that a man who smiles against hardships can even feed a lion.
With love in Christ,
Abbot Tryphon
Photo: Our own beloved Hieromonk Paul.
Wednesday December 11, 2019 / November 28, 2019
26th Week after Pentecost. Tone eight.
Nativity (St. Philip's Fast). Food with Oil
Martyr Stephen the New of Mt. St. Auxentius (767).
Martyr Hirenarchus and Seven Women-martyrs at Sebaste (303).
New Hieromartyr Seraphim (Chichagov), metropolitan of St. Petersburg (1937).
New Hieromartyrs Alexis, Alexis, Basil priests, Hieromartyrs Raphael, Vincent and Virgin-martyr Anysia (1937).
Virgin-Martyr Paraskeva (1938).
New Hieromartyr Nicholas priest (1941).
Uncovering of the relics of Venerable Sergius Srebriansky (2000).
Blessed Theodore, archbishop of Rostov (1394).
Martyrs Basil, Stephen, two Gregories, John (near Constantinople), Andrew, Peter, Anna, and many others (741-775).
Martyrs Timothy and Theodore, bishops; Peter, John, Sergius, Theodore, and Nicephorus, presbyters; Basil and Thomas, deacons; Hierotheus, Daniel, Chariton, Socrates, Comasius, and Eusebius, monks; and Etymasius at Tiberiopolis (361).
New Martyr Christos of Constantinople (1748) (Greek).
St. Theodore, bishop of Theodosiopolis in Armenia (end of 6th c.).
St. Oda, virgin of Brabant (726) (Neth.).
Virgin-Martyr Juthwara of Cornwall.
The Scripture Readings
1 Timothy 1:18-20
Fight the Good Fight
18 This charge I commit to you, son Timothy, according to the prophecies previously made concerning you, that by them you may wage the good warfare, 19 having faith and a good conscience, which some having rejected, concerning the faith have suffered shipwreck, 20 of whom are Hymenaeus and Alexander, whom I delivered to Satan that they may learn not to blaspheme.
1 Timothy 2:8-15
Men and Women in the Church
8 I desire therefore that the men pray everywhere, lifting up holy hands, without wrath and doubting; 9 in like manner also, that the women adorn themselves in modest apparel, with propriety and [a]moderation, not with braided hair or gold or pearls or costly clothing, 10 but, which is proper for women professing godliness, with good works. 11 Let a woman learn in silence with all submission. 12 And I do not permit a woman to teach or to have authority over a man, but to be in silence. 13 For Adam was formed first, then Eve. 14 And Adam was not deceived, but the woman being deceived, fell into transgression. 15 Nevertheless she will be saved in childbearing if they continue in faith, love, and holiness, with self-control.
Luke 20:1-8
Jesus' Authority Questioned
20 Now it happened on one of those days, as He taught the people in the temple and preached the gospel, that the chief priests and the scribes, together with the elders, confronted Him 2 and spoke to Him, saying, "Tell us, by what authority are You doing these things? Or who is he who gave You this authority?"
3 But He answered and said to them, "I also will ask you one thing, and answer Me: 4 The baptism of John—was it from heaven or from men?"
5 And they reasoned among themselves, saying, "If we say, 'From heaven,' He will say, 'Why then did you not believe him?' 6 But if we say, 'From men,' all the people will stone us, for they are persuaded that John was a prophet." 7 So they answered that they did not know where it was from.
8 And Jesus said to them, "Neither will I tell you by what authority I do these things."