We are all in this together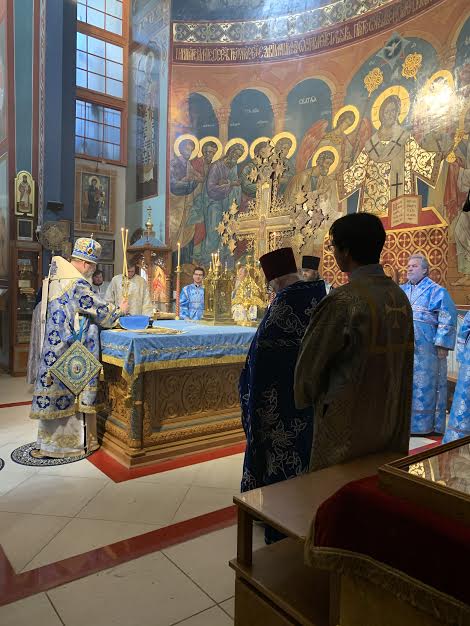 As we struggle in this life, it is good to remember that we are all together. We find our place of silence, where we encounter God, but even in this place set apart, we are together. In our journey to God, our common goal is the acquisition of a humble and contrite heart, and our common homeland is found in the Divine Liturgy, wherein we enter Paradise, and participate in the Heavenly Banquet, together.
In our moments of loneliness, and despondency, we are together. We are together in our celebration of life, and even in our death. When we seem so alone, we are together, for in Christ we are One Body. Glory to God for His loving kindness. Glory to Him forever.
With love in Christ,
Abbot Tryphon
Photo: It was my joy to have been in the altar of Holy Virgin Cathedral in San Francisco, for the Patronal Feast Day celebration, held on Sunday. This photo shows Archbishop Kyrill serving the Divine Liturgy in his cathedral.
Tuesday November 5, 2019 / October 23, 2019
21st Week after Pentecost. Tone three.
Holy Apostle James the Brother of the Lord (63).
Translation of the relics of Blessed James of Borovichi, wonderworker of Novgorod (1540).
New Hieromartyrs Nicholas, Vladimir, Alexander, Nicholas, Emilian and Sozont priests (1937).
New Hieromartyr Archpriest Vladimir Ambartsumov of Moscow (1937).
Venerable Euphrosyne (1942).
St. Ignatius, patriarch of Constantinople (877).
Venerable Elisha of Lavrishevo, Belo-Russia (1250).
Venerable Nicephorus of Charsianos, Constantinople.
Venerable Petronius, disciple of St. Pachomius the Great (346).
Venerable Oda of Amay, foundress of churches (723) (Neth.).
St. Macarius the Roman of Mesopotamia.
St. Ethelfleda, abbes of Romsey.
The Scripture Readings
Colossians 1:1-2
Greeting
1 Paul, an apostle of Jesus Christ by the will of God, and Timothy our brother,
2 To the saints and faithful brethren in Christ who are in Colosse:
Grace to you and peace from God our Father and the Lord Jesus Christ.
Colossians 1:7-11
7 as you also learned from Epaphras, our dear fellow servant, who is a faithful minister of Christ on your behalf, 8 who also declared to us your love in the Spirit.
Preeminence of Christ
9 For this reason we also, since the day we heard it, do not cease to pray for you, and to ask that you may be filled with the knowledge of His will in all wisdom and spiritual understanding; 10 that you may walk worthy of the Lord, fully pleasing Him, being fruitful in every good work and increasing in the knowledge of God; 11 strengthened with all might, according to His glorious power, for all patience and longsuffering with joy;
Luke 11:1-10
The Model Prayer
11 Now it came to pass, as He was praying in a certain place, when He ceased, that one of His disciples said to Him, "Lord, teach us to pray, as John also taught his disciples."
2 So He said to them, "When you pray, say:
Our Father in heaven,
Hallowed be Your name.
Your kingdom come.
Your will be done
On earth as it is in heaven.
3 Give us day by day our daily bread.
4 And forgive us our sins,
For we also forgive everyone who is indebted to us.
And do not lead us into temptation,
But deliver us from the evil one."
A Friend Comes at Midnight
5 And He said to them, "Which of you shall have a friend, and go to him at midnight and say to him, 'Friend, lend me three loaves; 6 for a friend of mine has come to me on his journey, and I have nothing to set before him'; 7 and he will answer from within and say, 'Do not trouble me; the door is now shut, and my children are with me in bed; I cannot rise and give to you'? 8 I say to you, though he will not rise and give to him because he is his friend, yet because of his persistence he will rise and give him as many as he needs.
Keep Asking, Seeking, Knocking
9 "So I say to you, ask, and it will be given to you; seek, and you will find; knock, and it will be opened to you. 10 For everyone who asks receives, and he who seeks finds, and to him who knocks it will be opened.