The Orthodox Faith must be shown to be relevant for this age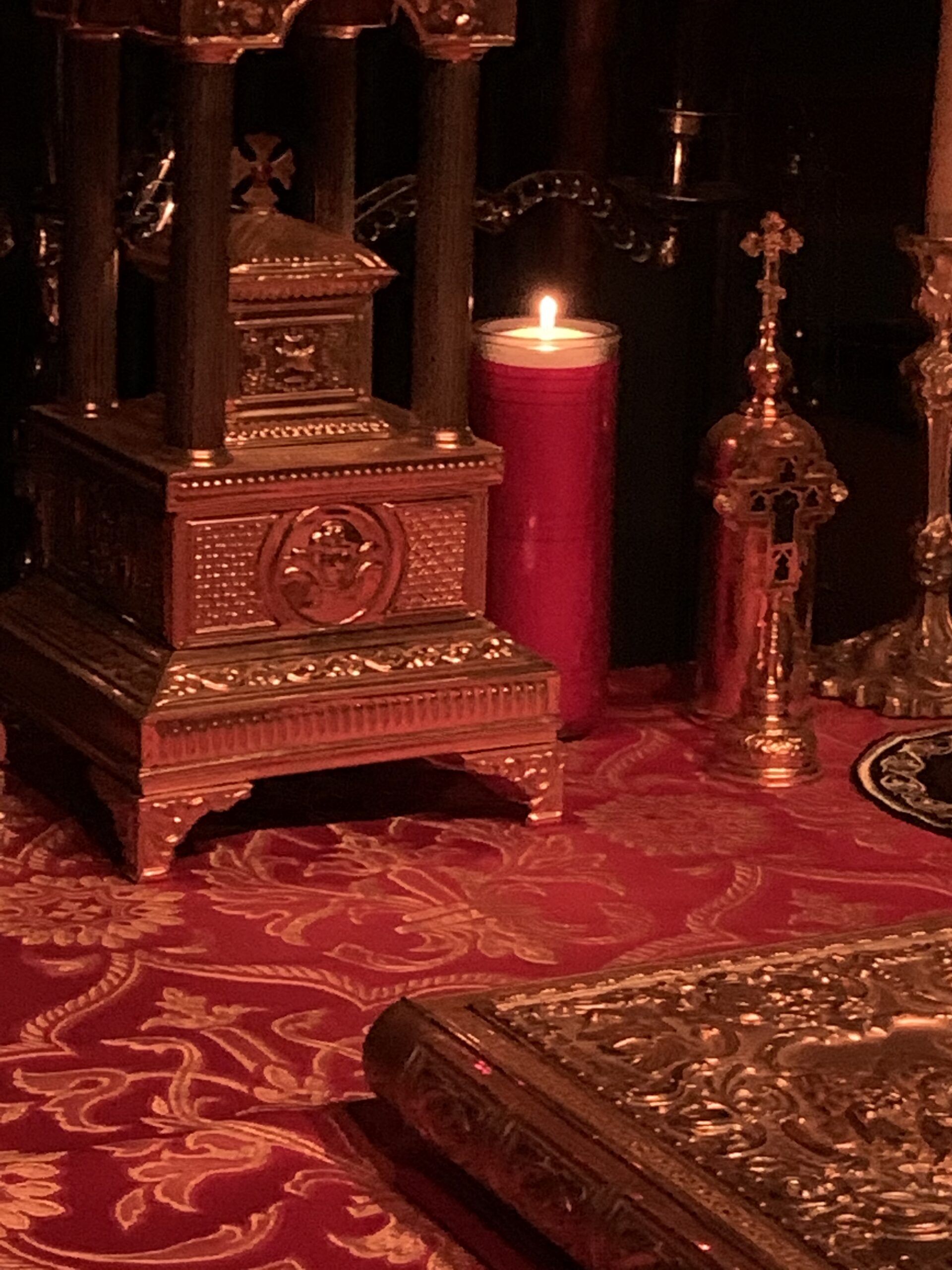 When a priest makes a concerted effort to relate to his parishioners, demonstrating a real interest in their lives, discovering what is important to them, and taking the time to actually instruct them in the Orthodox faith, there is a good likelihood they will remain pious Orthodox Christians for the rest of their lives. The priest cannot simply be a liturgical functionary without being one step removed from wizardry. The Divine Services have to be more than form and ritual, or the Orthodox faith will remain unknown to the people, and personal, sustaining faith, will not impact their lives.
We must not allow our people to use the Church as simply a vehicle for the preservation of ethnic culture and family tradition, or the Church will become irrelevant, and our people will ultimately depart from the faith. Furthermore, we priests must be willing to interact with the society at large, dialogue with the thinkers and political leaders of the day, and demonstrate that we actually believe the Church can bring healing to a nation that has gone astray.
The living faith of Orthodoxy must be shown to be relevant for this age, or we will have failed to bring the Gospel message into the modern world. The Orthodox Church must be an active witness to the teachings of Christ, militantly fighting against the dark forces that would destroy all the Christian roots of our culture, otherwise she will become an irrelevant relic of the past, and the West will be lost to Christ.
With love in Christ,
Abbot Tryphon
Friday November 29, 2019 / November 16, 2019
24th Week after Pentecost. Tone six.
Nativity (St. Philip's Fast). Food with Oil
Holy Apostle and Evangelist Matthew (60).
New Hieromartyrs Theodore Korolev priest and with him Martyr Ananius Boykov and Michael Boldakov (1929).
New Hieromartyrs John, Nicholas, Victor, Basil, Makarius and Michael priests, Hieromartyr Panteleimon (1937).
Martyr Demetrius (1938).
New Hieromartyr Philumenus (1978).
St. Fulvianus, prince of Ethiopia, in holy baptism Matthew (1st c.).
Hieromartyr Hipatius bishop of Gangra (360).
Venerable Sergius, abbot, of Malopinega (1585).
St. Eucherius of Lyons (449).
St. Lubuinus, missionary to Friesland (773) (Neth.).
St. Otmar, abbot and monastic founder in Switzerland (759).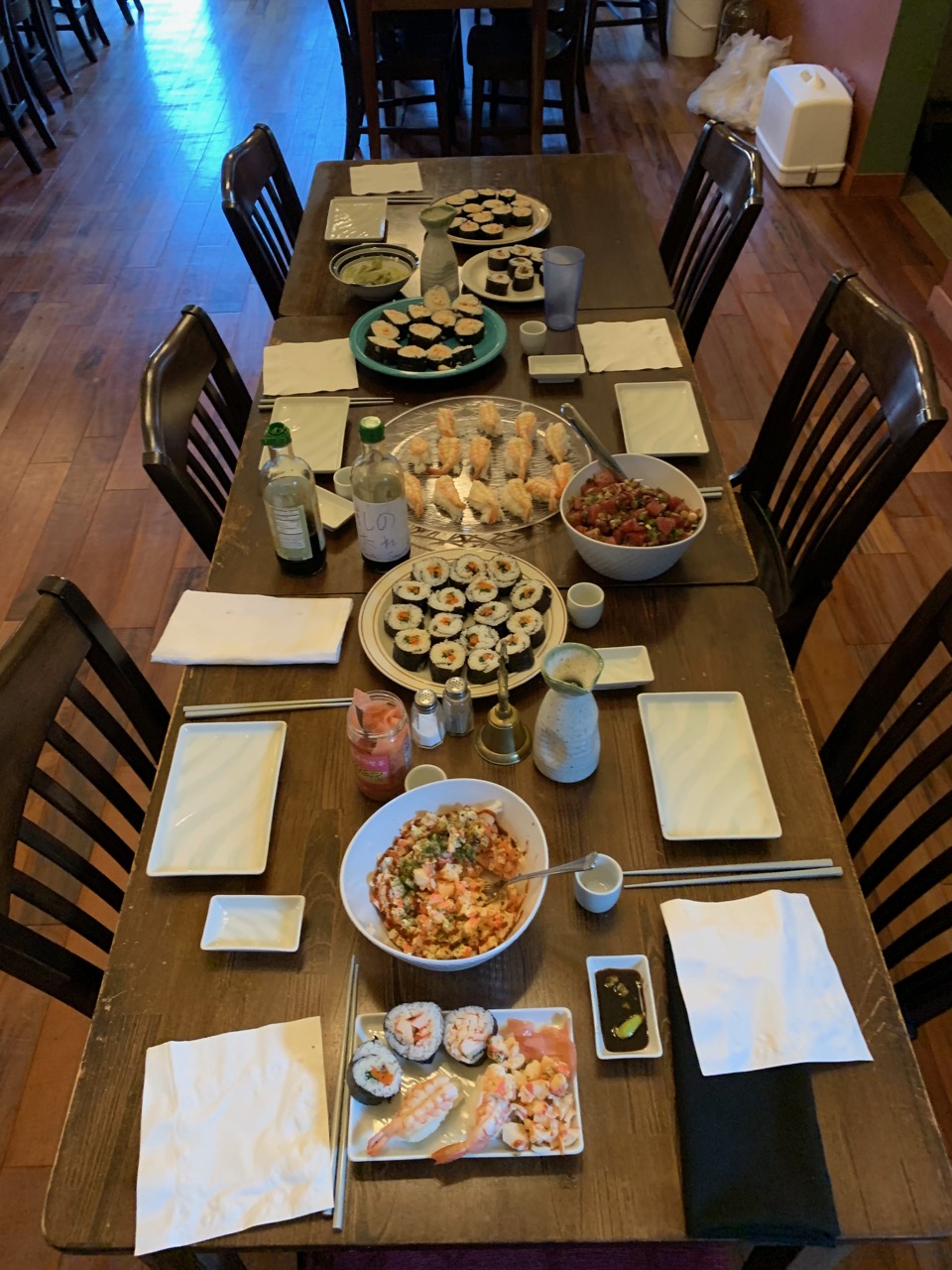 Photo: We monks had sushi for our Thanksgiving Dinner.
The Scripture Readings
John 21:15-25
Jesus Restores Peter
15 So when they had eaten breakfast, Jesus said to Simon Peter, "Simon, son of Jonah, do you love Me more than these?"
He said to Him, "Yes, Lord; You know that I love You."
He said to him, "Feed My lambs."
16 He said to him again a second time, "Simon, son of Jonah, do you love Me?"
He said to Him, "Yes, Lord; You know that I love You."
He said to him, "Tend My sheep."
17 He said to him the third time, "Simon, son of Jonah, do you love Me?" Peter was grieved because He said to him the third time, "Do you love Me?"
And he said to Him, "Lord, You know all things; You know that I love You."
Jesus said to him, "Feed My sheep. 18 Most assuredly, I say to you, when you were younger, you girded yourself and walked where you wished; but when you are old, you will stretch out your hands, and another will gird you and carry you where you do not wish."19 This He spoke, signifying by what death he would glorify God. And when He had spoken this, He said to him, "Follow Me."
The Beloved Disciple and His Book
20 Then Peter, turning around, saw the disciple whom Jesus loved following, who also had leaned on His breast at the supper, and said, "Lord, who is the one who betrays You?" 21 Peter, seeing him, said to Jesus, "But Lord, what about this man?"
22 Jesus said to him, "If I will that he remain till I come, what is that to you? You follow Me."
23 Then this saying went out among the brethren that this disciple would not die. Yet Jesus did not say to him that he would not die, but, "If I will that he remain till I come, what is that to you?"
24 This is the disciple who testifies of these things, and wrote these things; and we know that his testimony is true.
25 And there are also many other things that Jesus did, which if they were written one by one, I suppose that even the world itself could not contain the books that would be written. Amen.
1 Thessalonians 5:9-13
9 For God did not appoint us to wrath, but to obtain salvation through our Lord Jesus Christ, 10 who died for us, that whether we wake or sleep, we should live together with Him.
11 Therefore comfort each other and edify one another, just as you also are doing.
Various Exhortations
12 And we urge you, brethren, to recognize those who labor among you, and are over you in the Lord and admonish you, 13 and to esteem them very highly in love for their work's sake. Be at peace among yourselves.
1 Thessalonians 5:24-28
24 He who calls you is faithful, who also will do it.
25 Brethren, pray for us.
26 Greet all the brethren with a holy kiss.
27 I charge you by the Lord that this epistle be read to all the holy brethren.
28 The grace of our Lord Jesus Christ be with you. Amen.
Luke 16:15-18
15 And He said to them, "You are those who justify yourselves before men, but God knows your hearts. For what is highly esteemed among men is an abomination in the sight of God.
16 "The law and the prophets were until John. Since that time the kingdom of God has been preached, and everyone is pressing into it. 17 And it is easier for heaven and earth to pass away than for one tittle of the law to fail.
18 "Whoever divorces his wife and marries another commits adultery; and whoever marries her who is divorced from her husband commits adultery.
Luke 17:1-4
Jesus Warns of Offenses
17 Then He said to the disciples, "It is impossible that no offenses should come, but woe to him through whom they do come! 2 It would be better for him if a millstone were hung around his neck, and he were thrown into the sea, than that he should offend one of these little ones. 3 Take heed to yourselves. If your brother sins against you, rebuke him; and if he repents, forgive him. 4 And if he sins against you seven times in a day, and seven times in a day returns to you, saying, 'I repent,' you shall forgive him."