A day set aside for giving thanks to God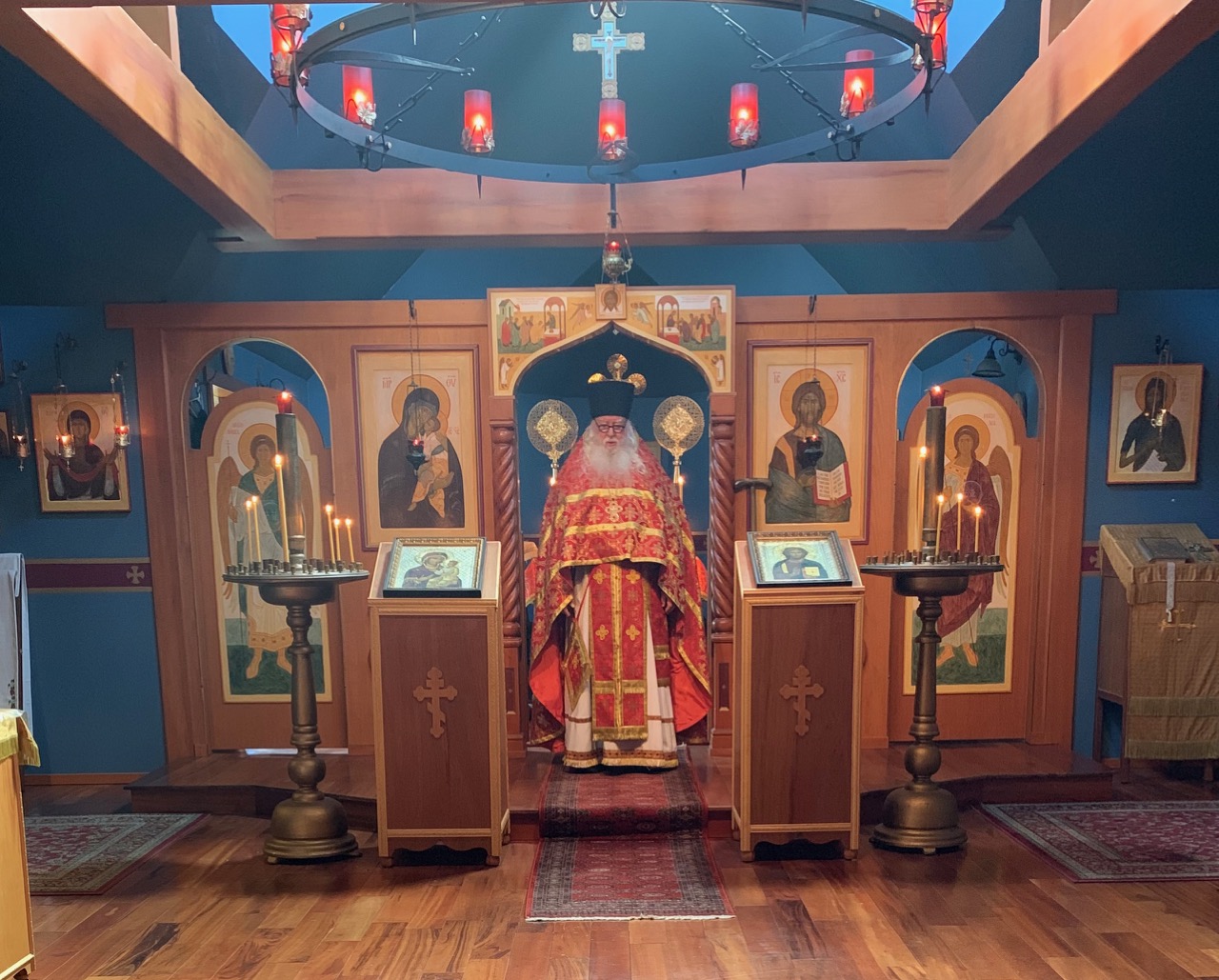 Thanksgiving has officially been an annual tradition since 1863, when during the Civil War President Abraham Lincoln proclaimed a national day of thanksgiving. The word Thanksgiving has its roots in the Greek word, eucharistia, where the Church gets the word Eucharist. For we Orthodox Christians the ultimate giving of thanks to God comes when we offer the Eucharistic sacrifice, and enter into the Heavenly Banquet, and participate in the eternal Mystical Supper that is ongoing in the heavenly realm.
During the celebration of the Divine Liturgy we offer a sacrifice of praise and thanksgiving to the Lord for His mercy and loving kindness. It has become common practice in some areas for parishes and monasteries to celebrate the Divine Liturgy on the morning of Thanksgiving, having become a local American Orthodox custom to remember, with thanks, all that the Lord has given to His people.
The Heavenly Banquet, that eternal celebration taking place before the Throne of God is ours, here and now, whenever we participate in the celebration of the Divine Liturgy. This Eucharistic celebration (Thanksgiving) where Christ offers His Body and Blood for our spiritual and physical healing, is that moment in time when we are able to experience, and participate in, the Banquet that awaits us. The hope of eternal life is worthy of our struggle in this life, as we prepare for our life worshiping before the Holy Trinity. We Orthodox have much to be thankful for.
With love in Christ,
Abbot Tryphon
In preparation for the Nativity of Christ, I suggest you read one chapter of the Gospel of Luke each day.
On the New Calendar: December 2th through December 25th. 
On

the Old Calendar: 

December 15th through January 7th. 
Thursday November 28, 2019 / November 15, 2019
24th Week after Pentecost. Tone six.
Nativity (St. Philip's Fast). Food with Oil
Beginning of Nativity Fast.
Holy Martyrs and Confessors Gurias (299), Samonas (306), and Abibus (322), of Edessa.
Venerable Paisius (Velichkovsky) of Moldavia and Mt. Athos (1794).
New Hieromartyrs Nicholas and Peter priests, Gregory and Nicitas deacons (1937).
Martyrs Elpidius, Marcellus, and Eustochius, who suffered under Julian the Apostate (361).
Martyr Demetrius of Thrace (307).
"Kupyatich" Icon (1180) of the Most Holy Theotokos.
Venerable Philip, abbot of Rabang (Vologda) (1457).
St. Quinctian, bishop of Seleucia (4th c.).
St. Thomas the New, patriarch of Constantinople (665-668) (Greek).
Repose of St. Herman, wonderworker of Alaska (1836).
The Scripture Readings
1 Thessalonians 5:1-8
The Day of the Lord
5 But concerning the times and the seasons, brethren, you have no need that I should write to you. 2 For you yourselves know perfectly that the day of the Lord so comes as a thief in the night. 3 For when they say, "Peace and safety!" then sudden destruction comes upon them, as labor pains upon a pregnant woman. And they shall not escape. 4 But you, brethren, are not in darkness, so that this Day should overtake you as a thief. 5 You are all sons of light and sons of the day. We are not of the night nor of darkness. 6 Therefore let us not sleep, as others do, but let us watch and be [a]sober. 7 For those who sleep, sleep at night, and those who get drunk are drunk at night. 8 But let us who are of the day be sober, putting on the breastplate of faith and love, and as a helmet the hope of salvation.
Luke 16:1-9
The Parable of the Unjust Steward
16 He also said to His disciples: "There was a certain rich man who had a steward, and an accusation was brought to him that this man was wasting his goods. 2 So he called him and said to him, 'What is this I hear about you? Give an account of your stewardship, for you can no longer be steward.'
3 "Then the steward said within himself, 'What shall I do? For my master is taking the stewardship away from me. I cannot dig; I am ashamed to beg. 4 I have resolved what to do, that when I am put out of the stewardship, they may receive me into their houses.'
5 "So he called every one of his master's debtors to him, and said to the first, 'How much do you owe my master?' 6 And he said, 'A hundred measures of oil.' So he said to him, 'Take your bill, and sit down quickly and write fifty.' 7 Then he said to another, 'And how much do you owe?' So he said, 'A hundred measures of wheat.' And he said to him, 'Take your bill, and write eighty.' 8 So the master commended the unjust steward because he had dealt shrewdly. For the sons of this world are more shrewd in their generation than the sons of light.
9 "And I say to you, make friends for yourselves by unrighteous mammon, that when you fail, they may receive you into an everlasting home.