Children learn love of God by the example of their parents
Every Orthodox parent wants their children to grow up attending Sunday Liturgies and staying active in the life of the Church throughout their lives. Yet many parents don't demonstrate the importance of having a personal relationship with God in front of their children. If you do not make God important, neither will your child.
Children observe their parents. They see hypocrisy and know when you are not following through with the teachings of the Church during the week. They hear when you take the Lord's name in vain. They notice when you reserve prayer to weekend service. They notice you only speaking of God on a Sunday morning.
Making the sign of the cross, lighting candles and burning incense only on Sundays teaches your children to compartmentalize their own faith, and leaves them defenseless in a world fulled with temptations and distractions from things that are of a spiritual nature. If you do not demonstrate the importance of prayer before your children, you will leave them defenseless in a world that hates Christ. Your children need to pray with you, read the scriptures with you, be taught the faith by you.
If you do not make your home a domestic church, your children will be lost to Christ, and Orthodoxy will not be lived out beyond your own grave. If they do not see you living a committed life in Christ, they will turn from the faith, and Orthodoxy will not survive into the next generation.
Love in Christ,
Abbot Tryphon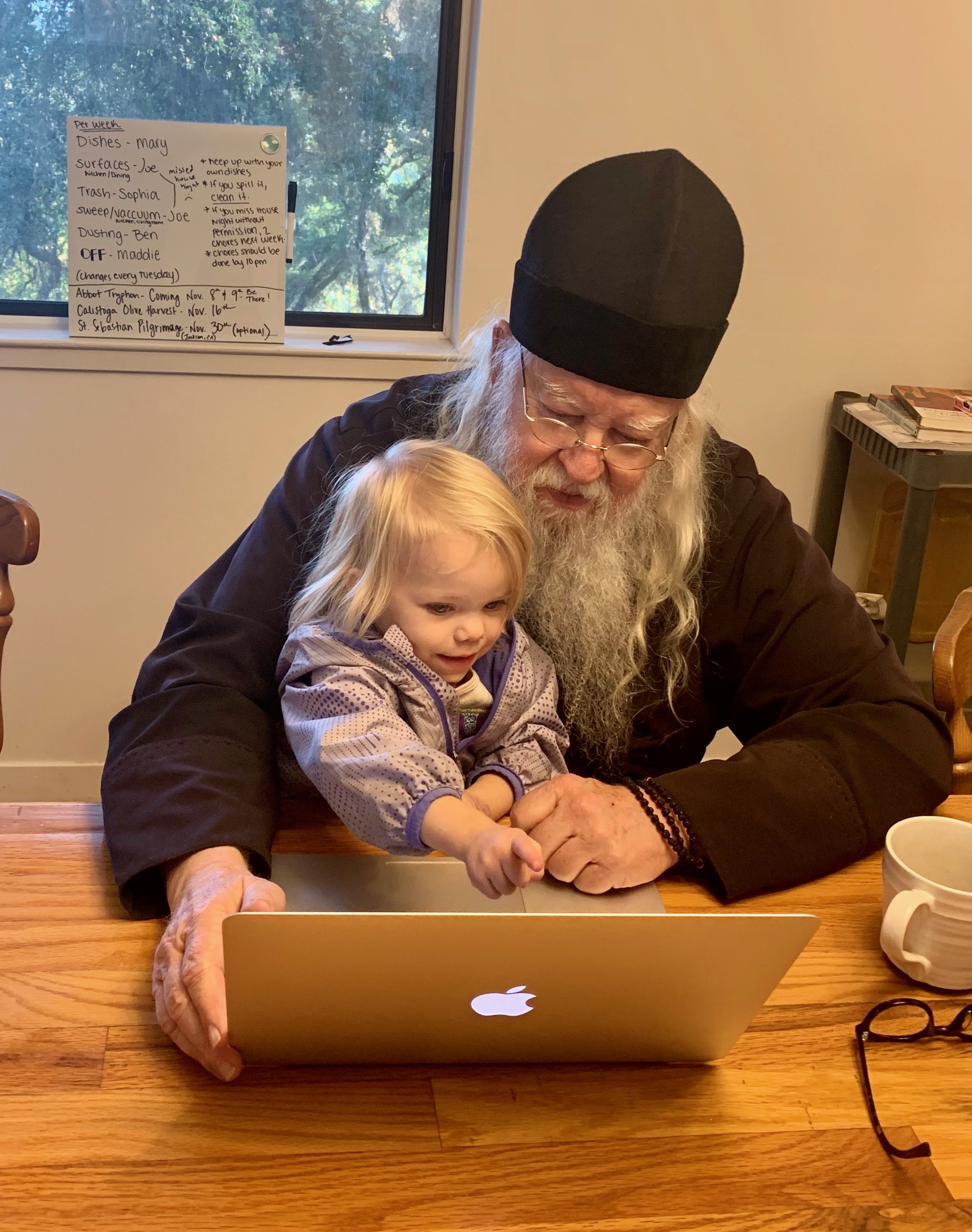 Wednesday November 13, 2019 / October 31, 2019
22nd Week after Pentecost. Tone four.
Fast. By Monastic Charter: Strict Fast (Bread, Vegetables, Fruits)
Apostles Stachys, Amplias, Urban, Narcissus, Apelles, and Aristobulus of the Seventy (1st c.).
Martyr Epimachus of Pelusium, who suffered at Alexandria (250).
New Hieromartyr Priest John Kochurov of Chicago and St. Petersburg (1917).
New Hieromartyr Leonid (1918).
New Hieromartyrs Vsevolod, Alexander, Sergius, Alexis, Basil, Peter, Basil priests, Hieromartyrs Anatolius, Euphrosynus and Martyr James (1937).
New Hieromartyr Innocent (1938).
Venerables Spyridon and Nicodemus the Prosphorabakers of the Kiev Caves (1148).
Venerable Maura of Constantinople (436).
Venerable Anatolius, recluse of the Kiev Caves (12th c.).
New Martyr Nicholas the New of Chios (1754) (Greek).
Venerable Foillan, Irish monk-martyr (655) (Neth.).
Martyr Quentin of Rome (3rd-4th c.).
St. James, bishop of Mygdonia (4th. c.).
Commemoration of the Martyrs of Tbilisi slain under Jelaluddin (1227) (Georgia).
Martyr Epimachus the Roman and his companion Gordian (361-363) (Greek).
Martyrs Stephen, Barnabas, Trophimus, Dorymedon, Cosmas, Damian, Sabbas, Bassa, Abraham, and others with them (Greek).
Martyrs Seleucius and Stratonica his wife, myrr-gushers (Greek).
The Scripture Readings
Colossians 3:17-4:1
17 And whatever you do in word or deed, do all in the name of the Lord Jesus, giving thanks to God the Father through Him.
The Christian Home
18 Wives, submit to your own husbands, as is fitting in the Lord.
19 Husbands, love your wives and do not be bitter toward them.
20 Children, obey your parents in all things, for this is well pleasing to the Lord.
21 Fathers, do not provoke your children, lest they become discouraged.
22 Bondservants, obey in all things your masters according to the flesh, not with eyeservice, as men-pleasers, but in sincerity of heart, fearing God. 23 And whatever you do, do it heartily, as to the Lord and not to men, 24 knowing that from the Lord you will receive the reward of the inheritance; for you serve the Lord Christ. 25 But he who does wrong will be repaid for what he has done, and there is no partiality.
Christian Graces; Final Greetings
4 Masters, give your bondservants what is just and fair, knowing that you also have a Master in heaven.
Luke 11:42-46
42 "But woe to you Pharisees! For you tithe mint and rue and all manner of herbs, and pass by justice and the love of God. These you ought to have done, without leaving the others undone. 43 Woe to you Pharisees! For you love the best seats in the synagogues and greetings in the marketplaces. 44 Woe to you, scribes and Pharisees, hypocrites! For you are like graves which are not seen, and the men who walk over them are not aware of them."
45 Then one of the lawyers answered and said to Him, "Teacher, by saying these things You reproach us also."
46 And He said, "Woe to you also, lawyers! For you load men with burdens hard to bear, and you yourselves do not touch the burdens with one of your fingers.