Centers for prayer and spiritual healing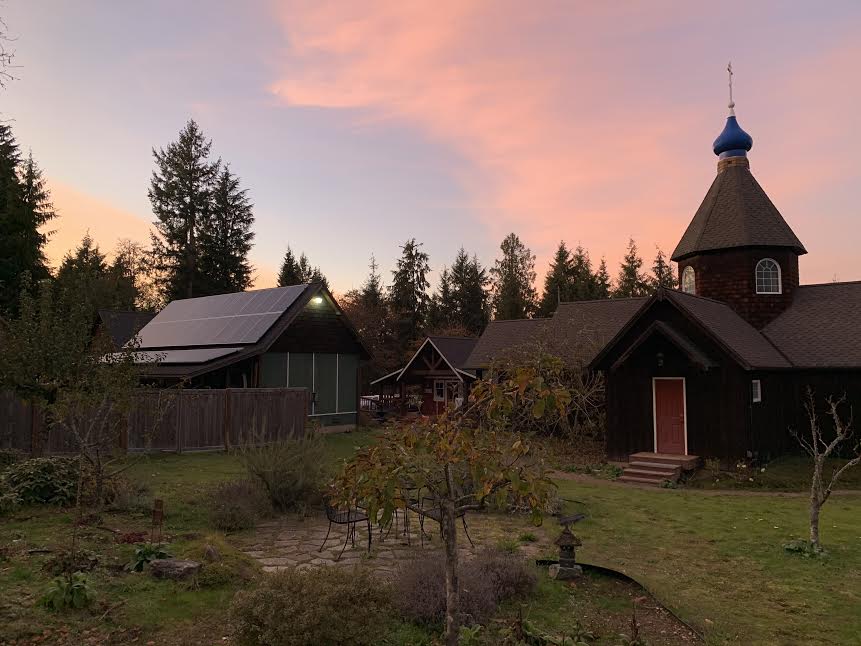 Monastics are an integral part of the Church and should not be seen as independent of the Church Universal. Monks are bound by the same Gospel as other Christians and need to avail themselves to the missionary and pastoral needs of the Church, as needed. Although a primary role of monasticism is to be found in worship and contemplative prayer, monks also have a long history as missionaries.
Many of the great monasteries of Russia, as an example, where founded in remote places but became centers of pilgrimage, attracting countless people. Whole cities often formed around monasteries, precisely because the monks had reached out with the Gospel and worked among the people. Where there was a need, monks responded with charity and evangelical witness.
In these difficult times where people are suffering economic hardship, loss of jobs and foreclosure on homes, monks can bring a different perspective that can give hope to those who've lost all hope. Monasteries become centers of spiritual healing and empowerment. People who've been struggling to find meaning in their lives can walk away with a new vision, gained through the interior work of the monks who've availed themselves as therapists for those who are hurting.
The strength of Orthodox monasticism is not to be found in the sameness of every monastery, for each monastic community has its own expression, often quite different from other monasteries. In Greece and Russia, there are monastic communities that run printing presses, care for the elderly and infirm, run Orthodox bookstores in cities, live as hermits, run large retreat facilities, teach in schools, and even, on occasion, serve parishes.
Monasticism is not something that is mastered through academic pursuits, but is rather acquired over many years of struggle, through obedience, long nights of prayer, ascetical practice, and communal life. A monastic, who is true to his vocation, will often see himself as just a beginner, even though he's been a monk for forty years, for he realized how far he is from the perfection that comes with total surrender to Christ.
Many would wish to see monasticism in a romantic way, with monks quietly and silently living out hidden lives, yet there are monks who work with people as spiritual fathers, preachers, teachers, participating in an active way in service to the world. Each monk, and each monastery is called apart for the service of God and His Church, as God wishes. Thus, it is dangerous ground when we judge a monastery or a monk from our own fanciful image of what we think they should be like, for even on the Holy Mountain of Athos, there are many varieties of monastic expression, none being better than the other, and all based on the prompting of the Holy Spirit, as the monk attempts to live out the evangelical life of the Gospels.
Although the Orthodox Church does not have religious orders as the Latin Church does, there are in Orthodoxy different styles of monastic life, both individually and in community. Generally speaking some monasteries may be more liturgically oriented, while others may be more ascetic, while still others may have a certain mystical tradition, and others be more inclined to spiritual guidance and openness to the world for the purpose of care and counseling. These various styles of monasticism, which take both a personal as well as a corporate form, are not formally predetermined or officially legislated. They are the result of organic development under the living grace of God.
Yet all monastics share the common vows of poverty, chastity, stability, and obedience, ever following the words of Jesus which are the cornerstone for this life, "be ye perfect as your heavenly Father is perfect."
With love in Christ,
Abbot Tryphon
Photo: Hieromonk Paul took this photo of the monastery as evening approached. I am in San Francisco for the Patronal Feast of Holy Virgin Cathedral, as well as the consecration of bishop elect, Archimandrite James of the Old Cathedral. I am also giving a talk for a young adult group in the Santa Cruz Mountains.
Monday November 4, 2019 / October 22, 2019
21st Week after Pentecost. Tone three.
The Kazan Icon of the Most Holy Theotokos, commemorating the deliverance from the Poles in 1612.
Holy Equal-to-the-Apostles Abercius, bishop and wonderworker of Hierapolis (167).
7 Holy Youths ("7 Sleepers") of Ephesus: Maximilian, Iamblichus, Martinian, Dionysius, Antoninus, Constantine (Hexakustodianos), and John (250).
New Hieromartyrs Seraphim archbishop of Uglich and with him German archimandrite, Vladimir, Alexander, Basil, Alexander priests and Martyrs Herman and Menas (1937).
New Hieromartyrs Nicholas, Nicholas priests and Martyr Gregory (1937).
Uncovering of the relics of Hieromartyr Nikodim, bishop of Belgorod (2012).
Martyrs Alexander the bishop, Heraclius, Anna, Elizabeth, Theodota and Glyceria, at Adrianopolis (2nd-3rd c.).
"Andronikos" and "Jacobshtad" (17th c.) Icons of the Mother of God.
Venerable Lot of Egypt (5th c.).
Venerables Theodore and Paul, abbots, of Rostov (1409).
Venerable James of Luga and Omutch, disciple of Theophilus of Omutch.
St. Mellon, bishop of Rouen.
Martyr Zachariah (Greek).
Venerable Rufus of the Paradise (Greek).
The Scripture Readings
Luke 1:39-49
Mary Visits Elizabeth
39 Now Mary arose in those days and went into the hill country with haste, to a city of Judah, 40 and entered the house of Zacharias and greeted Elizabeth. 41 And it happened, when Elizabeth heard the greeting of Mary, that the babe leaped in her womb; and Elizabeth was filled with the Holy Spirit. 42 Then she spoke out with a loud voice and said, "Blessed are you among women, and blessed is the fruit of your womb! 43 But why is this granted to me, that the mother of my Lord should come to me? 44 For indeed, as soon as the voice of your greeting sounded in my ears, the babe leaped in my womb for joy. 45 Blessed is she who believed, for there will be a fulfillment of those things which were told her from the Lord."
The Song of Mary
46 And Mary said:
"My soul magnifies the Lord,
47 And my spirit has rejoiced in God my Savior.
48 For He has regarded the lowly state of His maidservant;
For behold, henceforth all generations will call me blessed.
49 For He who is mighty has done great things for me,
And holy is His name.
Luke 1:56
56 And Mary remained with her about three months, and returned to her house.
Philippians 2:5-11
The Humbled and Exalted Christ
5 Let this mind be in you which was also in Christ Jesus, 6 who, being in the form of God, did not consider it robbery to be equal with God, 7 but made Himself of no reputation, taking the form of a bondservant, and coming in the likeness of men. 8 And being found in appearance as a man, He humbled Himself and became obedient to the point of death, even the death of the cross. 9 Therefore God also has highly exalted Him and given Him the name which is above every name, 10 that at the name of Jesus every knee should bow, of those in heaven, and of those on earth, and of those under the earth, 11 and that every tongue should confess that Jesus Christ is Lord, to the glory of God the Father.
Luke 10:38-42
Mary and Martha Worship and Serve
38 Now it happened as they went that He entered a certain village; and a certain woman named Martha welcomed Him into her house. 39 And she had a sister called Mary, who also sat at Jesus' feet and heard His word. 40 But Martha was distracted with much serving, and she approached Him and said, "Lord, do You not care that my sister has left me to serve alone? Therefore tell her to help me."
41 And Jesus answered and said to her, "Martha, Martha, you are worried and troubled about many things. 42 But one thing is needed, and Mary has chosen that good part, which will not be taken away from her."
Luke 11:27-28
Keeping the Word
27 And it happened, as He spoke these things, that a certain woman from the crowd raised her voice and said to Him, "Blessed is the womb that bore You, and the breasts which nursed You!"
28 But He said, "More than that, blessed are those who hear the word of God and keep it!"