We must take Orthodoxy beyond the external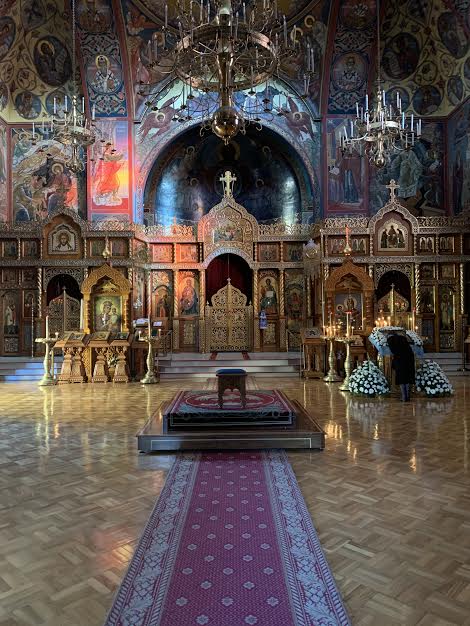 We must guard against noticing when another parishioner seems careless in the making of the sign of the cross, while we go about demonstrating for all around us, the proper way. Making sweeping signs of the cross that are done in such a way as to be almost a caricature, following up with profound bows, we can end up distracting fellow worshipers in the process. If we make a public display of our fasting, making sure our non-Orthodox family and friends know how strict we are, we miss the point of fasting. If we struggle to make our icon corner the largest and most complete of anyone in the parish, but never stand before it in prayer, we treat it as nothing more than nice art.
If we allow ourselves to become spiritual gluttons, and turn the traditions of Orthodoxy into occasions for sensual and prideful displays, we will not embrace the grace that can be ours through quiet and penitential struggle. If our public displays of piety become distractions for fellow worshipers, we can actually be diverting our attention from the all important confrontation of our personal sin. Externals, while important to Orthodox piety, and the deepening of our faith, must not be allowed to replace the mystery of faith that comes only with the acquisition of a humble and contrite heart.
We must guard against allowing external displays of Orthodoxy to become an end in themselves, and remember these traditions and pious practices were designed to serve as aids for deepening our faith by connecting our whole being, both body and soul, on this journey to God. We must take Orthodoxy beyond the self-congratulatory of being a part of a beautiful faith, with sublime worship practices, glorious temples, and beautiful vestments.
Without giving our full attention to the struggle for holiness, and deepening our prayer time, we will end with a weak form of Orthodoxy, that is beautiful on the outside , but hollow on the inside. Taking simple little steps under the guidance and direction from one's priest or spiritual father, or by council with that pious little old lady, whose face radiates the light of Christ, we will be able to enter into the Kingdom of God, having gained the humility and joy that does not necessitate being extravagant with the externals.
With love in Christ,
Abbot Tryphon
Photo:
The interior of Holy Virgin "Joy of All Who Sorrow" Russian Orthodox Cathedral in San Francisco.
Wednesday November 6, 2019 / October 24, 2019
21st Week after Pentecost. Tone three.
Fast. Food with Oil
Icon of the Most Holy Theotokos "The Joy of All Who Sorrow"(1688).
Martyr Arethas of Omir and with him 4299 Martyrs (523).
St. Zosimas (Verkhovsky), elder of Siberia (1833).
New Hieromartyrs Laurence bishop of Balakhninsk, Alexis priest and Martyr Alexis (1918).
Venerable Aretha (1932).
New Hieromartyrs John and Nicholas priests (1937).
New Martyr Peter priest (1938).
Venerables Aretha (12th C), Sisois (13th C) and Theophil (12th-13th C), Hermits of the Kievan Caves, near caves.
Blessed Elesbaan, king of Ethiopia (553).
Martyr Syncletia and her 2 daughters (6th C).
St. Athanasius, patriarch of Constantinople (1311).
Venerable George the Confessor(1959).
Venerable John, recluse of the Pskov Caves (1616).
Martyr Acacius of Armenia (303).
Venerable Senoch, abbot of Tours (576) (Gaul).
Martyr Sebastiana of Heraclea in Thrace (86).
St. Maglorius, abbot of Sark.
The Scripture Readings
Luke 1:39-49
Mary Visits Elizabeth
39 Now Mary arose in those days and went into the hill country with haste, to a city of Judah, 40 and entered the house of Zacharias and greeted Elizabeth. 41 And it happened, when Elizabeth heard the greeting of Mary, that the babe leaped in her womb; and Elizabeth was filled with the Holy Spirit. 42 Then she spoke out with a loud voice and said, "Blessed are you among women, and blessed is the fruit of your womb! 43 But why is this granted to me, that the mother of my Lord should come to me? 44 For indeed, as soon as the voice of your greeting sounded in my ears, the babe leaped in my womb for joy. 45 Blessed is she who believed, for there will be a fulfillment of those things which were told her from the Lord."
The Song of Mary
46 And Mary said:
"My soul magnifies the Lord,
47 And my spirit has rejoiced in God my Savior.
48 For He has regarded the lowly state of His maidservant;
For behold, henceforth all generations will call me blessed.
49 For He who is mighty has done great things for me,
And holy is His name.
Luke 1:56
56 And Mary remained with her about three months, and returned to her house.
Colossians 1:18-23
18 And He is the head of the body, the church, who is the beginning, the firstborn from the dead, that in all things He may have the preeminence.
Reconciled in Christ
19 For it pleased the Father that in Him all the fullness should dwell, 20 and by Him to reconcile all things to Himself, by Him, whether things on earth or things in heaven, having made peace through the blood of His cross.
21 And you, who once were alienated and enemies in your mind by wicked works, yet now He has reconciled 22 in the body of His flesh through death, to present you holy, and blameless, and above reproach in His sight— 23 if indeed you continue in the faith, grounded and steadfast, and are not moved away from the hope of the gospel which you heard, which was preached to every creature under heaven, of which I, Paul, became a minister.
Luke 11:9-13
Keep Asking, Seeking, Knocking
9 "So I say to you, ask, and it will be given to you; seek, and you will find; knock, and it will be opened to you. 10 For everyone who asks receives, and he who seeks finds, and to him who knocks it will be opened. 11 If a son asks for bread from any father among you, will he give him a stone? Or if he asks for a fish, will he give him a serpent instead of a fish? 12 Or if he asks for an egg, will he offer him a scorpion? 13 If you then, being evil, know how to give good gifts to your children, how much more will your heavenly Father give the Holy Spirit to those who ask Him!"