We must look only for the good in others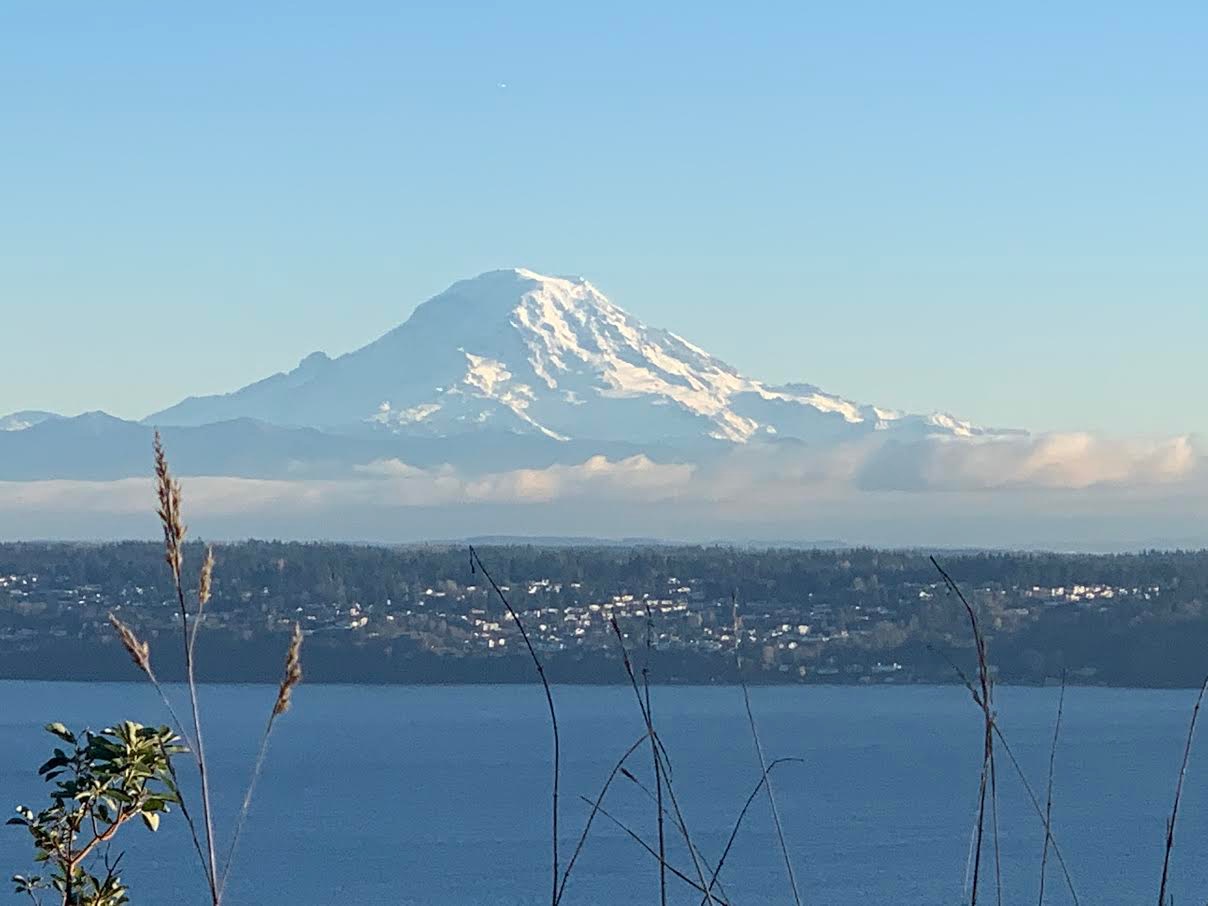 Saint Paisios of the Holy Mountain said there are two types of people. "There are the bees and there are the flies. The bees are attracted to flowers and sweet smells, whereas the flies are only attracted to dirt and stench. Ask a bee where there is stench, and he will say, what is stench? Ask a fly, where is the sweet smell, and he will say, what sweet smell? The bee knows only sweetness and good, whereas the fly knows only stench and dirt."
As we examine our lives, we must decide whether we will be a bee, or a fly. Do we judge others, and look only for the stench and the dirt, or do we look only for the good in others, and see the stench only in ourselves.
Love in Christ,
Abbot Tryphon
Photo: Mount Rainier, the dormant volcano that looms over the Puget Sound region, as seen from Vashon Island. This volcano is considered one of the most dangerous of the volcanoes that make up the "Ring of Fire".
In preparation for the Nativity of Christ, I suggest you read one chapter of the Gospel of Luke each day. On the New Calendar: December 2th through December 25th. On the Old Calendar: December 15th through January 7th.
Wednesday November 27, 2019 / November 14, 2019
24th Week after Pentecost. Tone six.
Fast. Food with Oil
Holy and All-praised Apostle Philip (1st c.).
New Hieromartyrs Demetrius, Alexander, Victor, Alexis, Michael, Michael, Theodore, Peter, Alexis, Sergius, Nicholas, Basil, Alexander, Nicholas, Demetrius, Demetrius, Porphirius, Basil, George, Basil, Sergius priests, Nicholas deacon, New Hieromartyr Aristrah, Martyr Gabriel and Virgin-martyr Anna (1937).
New Hieromartyr Theodore priest (1940).
New Hieromartyr Sergius priest (1941).
Venerable Philip, abbot of Irap near Novgorod (1527).
St. Justinian the Emperor of Byzantium (565) and his wife St. Theodora (548).
St. Gregory Palamas, archbishop of Thessalonica (1360).
New Martyr Constantine of Hydra (Mt. Athos) (1800) (Greek).
St. Dyfrig (Dubricius), bishop in Hereford and Gwent, hermit of Bardsey Island (ca. 550) (Celtic & British).
St. Malo (Machulus) of Brittany (7th c.) (Celtic & British).
New Martyr Panteleimon the Youth of Asia Minor (Greek).
St. Alberik, bishop of Utrecht (784) (Neth.).
Repose of St. Alexander Nevsky (Alexis in monasticism) (1263).
The Scripture Readings
John 21:15-25
Jesus Restores Peter
15 So when they had eaten breakfast, Jesus said to Simon Peter, "Simon, son of Jonah, do you love Me more than these?"
He said to Him, "Yes, Lord; You know that I love You."
He said to him, "Feed My lambs."
16 He said to him again a second time, "Simon, son of Jonah, do you love Me?"
He said to Him, "Yes, Lord; You know that I love You."
He said to him, "Tend My sheep."
17 He said to him the third time, "Simon, son of Jonah, do you love Me?" Peter was grieved because He said to him the third time, "Do you love Me?"
And he said to Him, "Lord, You know all things; You know that I love You."
Jesus said to him, "Feed My sheep. 18 Most assuredly, I say to you, when you were younger, you girded yourself and walked where you wished; but when you are old, you will stretch out your hands, and another will gird you and carry you where you do not wish."19 This He spoke, signifying by what death he would glorify God. And when He had spoken this, He said to him, "Follow Me."
The Beloved Disciple and His Book
20 Then Peter, turning around, saw the disciple whom Jesus loved following, who also had leaned on His breast at the supper, and said, "Lord, who is the one who betrays You?" 21 Peter, seeing him, said to Jesus, "But Lord, what about this man?"
22 Jesus said to him, "If I will that he remain till I come, what is that to you? You follow Me."
23 Then this saying went out among the brethren that this disciple would not die. Yet Jesus did not say to him that he would not die, but, "If I will that he remain till I come, what is that to you?"
24 This is the disciple who testifies of these things, and wrote these things; and we know that his testimony is true.
25 And there are also many other things that Jesus did, which if they were written one by one, I suppose that even the world itself could not contain the books that would be written. Amen.
1 Thessalonians 4:1-12
Plea for Purity
4 Finally then, brethren, we urge and exhort in the Lord Jesus that you should abound more and more, just as you received from us how you ought to walk and to please God; 2 for you know what commandments we gave you through the Lord Jesus.
3 For this is the will of God, your sanctification: that you should abstain from sexual immorality; 4 that each of you should know how to possess his own vessel in sanctification and honor, 5 not in passion of lust, like the Gentiles who do not know God; 6 that no one should take advantage of and defraud his brother in this matter, because the Lord is the avenger of all such, as we also forewarned you and testified. 7 For God did not call us to uncleanness, but in holiness. 8 Therefore he who rejects this does not reject man, but God, who[a] has also given us His Holy Spirit.
A Brotherly and Orderly Life
9 But concerning brotherly love you have no need that I should write to you, for you yourselves are taught by God to love one another; 10 and indeed you do so toward all the brethren who are in all Macedonia. But we urge you, brethren, that you increase more and more; 11 that you also aspire to lead a quiet life, to mind your own business, and to work with your own hands, as we commanded you, 12 that you may walk properly toward those who are outside, and that you may lack nothing.
Luke 15:1-10
The Parable of the Lost Sheep
15 Then all the tax collectors and the sinners drew near to Him to hear Him. 2 And the Pharisees and scribes complained, saying, "This Man receives sinners and eats with them." 3 So He spoke this parable to them, saying:
4 "What man of you, having a hundred sheep, if he loses one of them, does not leave the ninety-nine in the wilderness, and go after the one which is lost until he finds it? 5 And when he has found it, he lays it on his shoulders, rejoicing. 6 And when he comes home, he calls together his friends and neighbors, saying to them, 'Rejoice with me, for I have found my sheep which was lost!' 7 I say to you that likewise there will be more joy in heaven over one sinner who repents than over ninety-nine just persons who need no repentance.
The Parable of the Lost Coin
8 "Or what woman, having ten silver coins, if she loses one coin, does not light a lamp, sweep the house, and search carefully until she finds it? 9 And when she has found it, she calls her friends and neighbors together, saying, 'Rejoice with me, for I have found the piece which I lost!' 10 Likewise, I say to you, there is joy in the presence of the angels of God over one sinner who repents."