A sort of Orthodox Readers Digest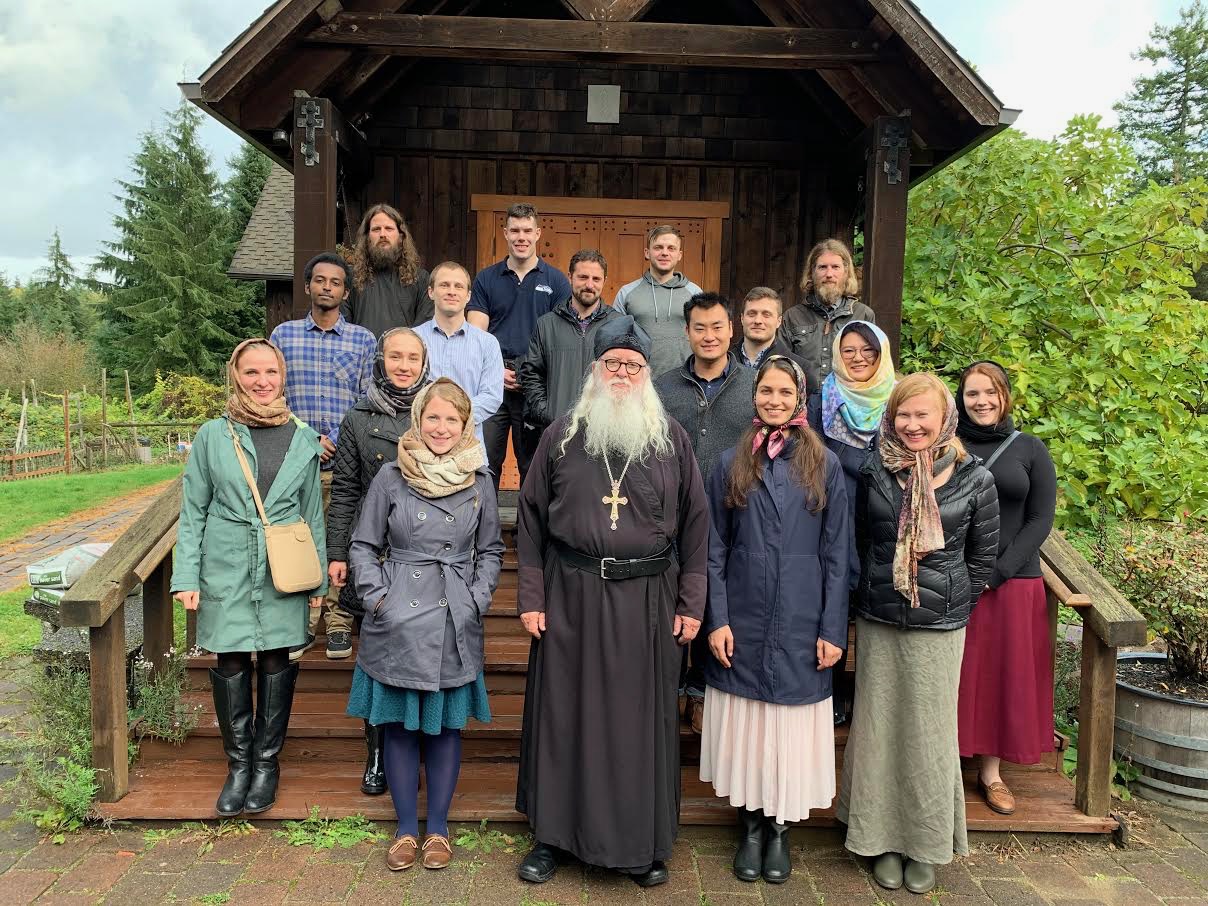 As any of you who have been following my blog articles all these many years know, I am not a theologian. Nor am I an academic. I am simply a monk who has a heart for people, and a calling from the Lord, and a blessing from my bishop, to try, in my feeble way, to impart the profound truths of the Orthodox Faith, in a way that allows the average person to understand their faith.
Most of us do not have the time, nor even the inclination, to study Orthodox theology, so I have attempted to simplify the mystical theology of the Church, allowing the average person to know the teachings and traditions of our Faith. I also try to impart the faith in a way that can reveal the teachings of our faith to those outside the Church, and who are searching for a spiritual path.
When I first started writing these blog articles, I had as my inspiration a program called "The Lutheran Hour", a syndicated radio program that was important to me during my high school years.
When Ancient Faith Publications decided to publish my blog articles in book form, my first thought was of the Readers Digest. And, sure enough, I walked into my dentist's office one day, and found, sitting on a table in the waiting room, my book, The Morning Offering.
The fine folks of Ancient Faith Radio even invited me to record a podcast, which airs Monday through Friday, and which, due to the shortness of the recordings, has become a favorite of parents who want their children to know more about our faith. Countless people, over the years, have shared with me about their habit of listening to these podcasts, also called The Morning Offering, while on their way to work.
As I've stated above, I am not an academic, nor am I a theologian. I am simply an Orthodox monk who believes the Lord has called me to this special evangelical ministry, and who is grateful for the opportunity to reach out with the soul enriching truths of our Orthodox Faith. I have attempted, with God's help, to share my love of Christ, and the wisdom of our holy faith, with people everywhere.
With love in Christ,
Abbot Tryphon
Photo: Elizabeth Kotar, daughter of Archpriest Alex Kotar of Saint Nicholas Cathedral in Seattle, organized a pilgrimage to the monastery of a group of Pan-Orthodox Young Adults, on Saturday.
For those of you who wish to support the ministry of our monastery, donations can be made directly through PayPal, or you may send donations to:
All-Merciful Saviour Monastery
PO Box 2420
Vashon Island, WA 98070-2420 USA
Monday October 21, 2019 / October 8, 2019
19th Week after Pentecost. Tone one. Venerable Tryphon, abbot, of Vyatka (1612).
Venerable Pelagia the Penitent of the Mount of Olives (457).
New Hieromartyrs Demetrius archbishop of Mozhaysk and with him John deacon, Hieromartyr Ambrosius and Pakhomius, Virgin-martyr Tatiana, Martyr Nicholas, Virgin-martyrs Mary and Nadezhda (1937).
New Hieromartyr Jonah bishop of Velizhsk, Hieromartyr Seraphim, New Hieromartyrs Peter, Basil, Paul, Peter, Vladimir priests, Martyrs Victor, John, Nicholas and Virgin-martyr Elizabeth (1937).
New Hieromartyr Barlaam (end of 1930th).
Venerable Dositheus, abbot of Verkneostrov (Pskov) (1482).
Synaxis of All Saints of Vyatka.
Venerable Thais (Taisia) of Egypt (4th c.).
Virgin-martyr Pelagia of Antioch (303).
New Monk-martyr Ignatius of Bulgaria and Mt. Athos (1814).
St. Anthony, bishop of Novgorod (1232).
St. Keyene, hermitess of Cornwall.
St. Iwi, hierodeacon of Lindisfarne.
Translation of the relics of St. Aidan, bishop of Lindisfarne and enlightener of Northumbria.
Translation of the relics of St. Ceolfrith, abbot of Wearmouth and Jarrow.
St. Triduana, nun of Restalrig.
The Scripture Readings
Philippians 1:1-7
Greeting
1 Paul and Timothy, bondservants of Jesus Christ,
To all the saints in Christ Jesus who are in Philippi, with the bishops and deacons:
2 Grace to you and peace from God our Father and the Lord Jesus Christ.
Thankfulness and Prayer
3 I thank my God upon every remembrance of you, 4 always in every prayer of mine making request for you all with joy, 5 for your fellowship in the gospel from the first day until now, 6 being confident of this very thing, that He who has begun a good work in you will complete it until the day of Jesus Christ; 7 just as it is right for me to think this of you all, because I have you in my heart, inasmuch as both in my chains and in the defense and confirmation of the gospel, you all are partakers with me of grace.
Luke 7:36-50
A Sinful Woman Forgiven
36 Then one of the Pharisees asked Him to eat with him. And He went to the Pharisee's house, and sat down to eat. 37 And behold, a woman in the city who was a sinner, when she knew that Jesus sat at the table in the Pharisee's house, brought an alabaster flask of fragrant oil, 38 and stood at His feet behind Him weeping; and she began to wash His feet with her tears, and wiped them with the hair of her head; and she kissed His feet and anointed them with the fragrant oil. 39 Now when the Pharisee who had invited Him saw this,he spoke to himself, saying, "This Man, if He were a prophet, would know who and what manner of woman this is who is touching Him, for she is a sinner."
40 And Jesus answered and said to him, "Simon, I have something to say to you."
So he said, "Teacher, say it."
41 "There was a certain creditor who had two debtors. One owed five hundred denarii, and the other fifty. 42 And when they had nothing with which to repay, he freely forgave them both. Tell Me, therefore, which of them will love him more?"
43 Simon answered and said, "I suppose the one whom he forgave more."
And He said to him, "You have rightly judged." 44 Then He turned to the woman and said to Simon, "Do you see this woman? I entered your house; you gave Me no water for My feet, but she has washed My feet with her tears and wiped them with the hair of her head. 45 You gave Me no kiss, but this woman has not ceased to kiss My feet since the time I came in. 46 You did not anoint My head with oil, but this woman has anointed My feet with fragrant oil. 47 Therefore I say to you, her sins, which are many, are forgiven, for she loved much. But to whom little is forgiven, the same loves little."
48 Then He said to her, "Your sins are forgiven."
49 And those who sat at the table with Him began to say to themselves, "Who is this who even forgives sins?"
50 Then He said to the woman, "Your faith has saved you. Go in peace."