I was in prison and you came to Me (Matthew 25:36)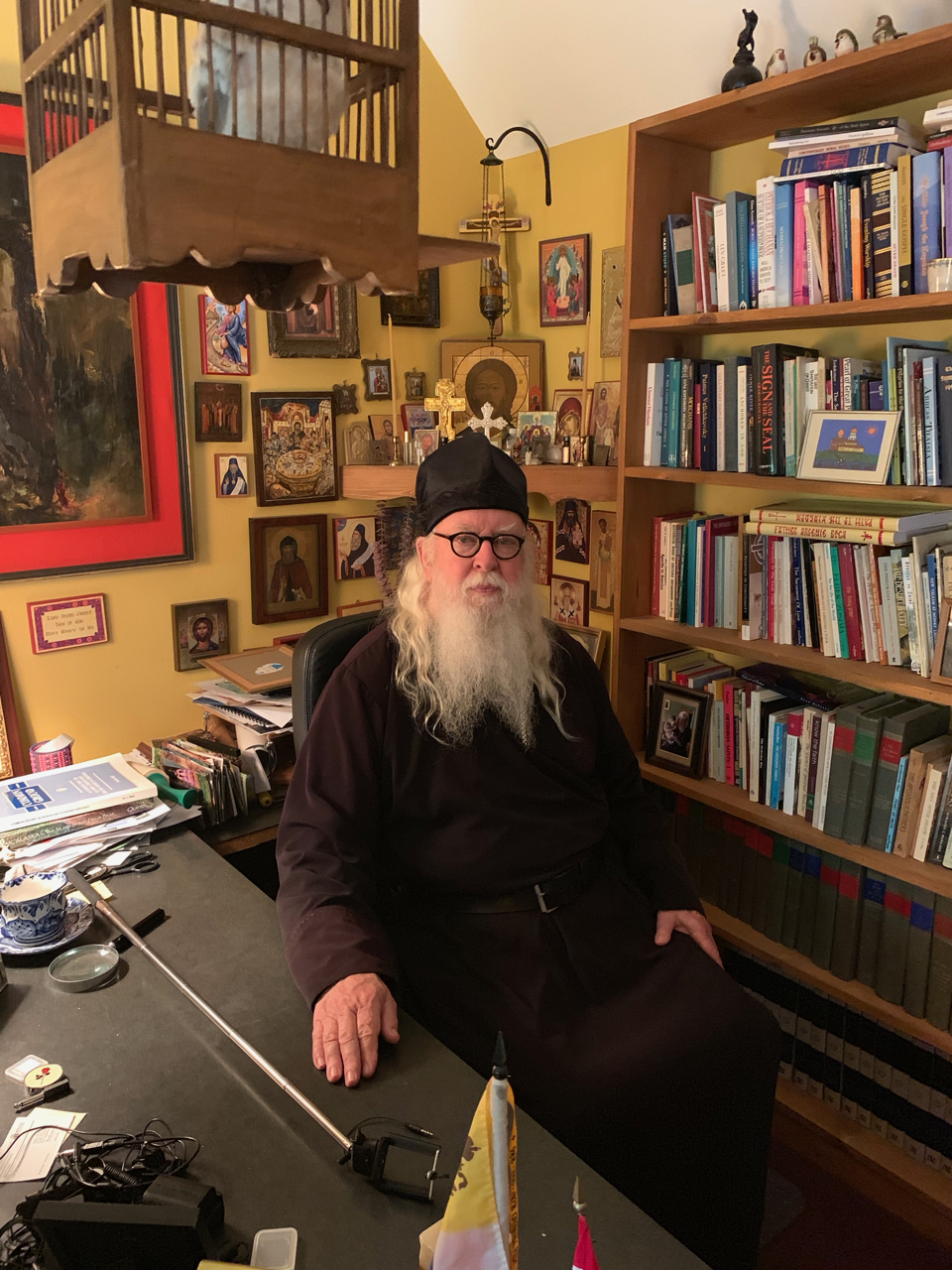 I served eight years as a volunteer Orthodox chaplain within three Washington State Prisons in Monroe, WA. With the goal of bringing the love of Christ to those, who, for whatever reason, found themselves serving hard time, I found my eyes opened to the importance of truly believing in the biblical concept of forgiveness.
Among the three prisons, I particularly remember Twin Rivers Correctional. With well over two thousand prisoners, these were the sex offenders who were deemed too dangerous to be in our communities, but possible candidates for therapy. I came away from Twin Rivers with little hope there would ever be a cure for pedophiles, but I did learn that even these people where worthy of God's forgiveness. I also came to believe that even the worst of offenders were redeemable in the eyes of God.
Many, if not most, of these sexual predators, had themselves been violated as children, so how could we simply abandon them to their perversion without making any attempt to reach out with the saving grace that comes with a relationship with Christ. Although I was blessed to baptize a number of these offenders into the life of the Church, I still remain convinced they should not be allowed to have contact with children, following their release. Nor do I believe they should be free from supervision when attending services in our parishes. That said, I do believe they can receive Christ's forgiveness, and that they are worthy of my love, as their brother in Christ.
Most men and women who are incarcerated in our nation's prisons are there for economic or drug crimes, and, if given the chance, can live productive lives in society, once released. The possibility of entering into society as truly reformed men and women, can only come about if we provide encouragement, material support, transition and reintegration services, while they are in prison, and when they are released. A solid Christian education, couched with spiritual guidance and the sacramental life of the Church, are essential for the prisoner, for, just like the rest of us, transformation of the self comes only with the grace of God, through the life of His Church.
We cannot leave these men and women to fend for themselves, for without Christ, they will be lost. It is not our place to judge them, for the courts have already done that. Once they have been sentenced, it becomes the Christ commanded role of the Church to reach out to them. The Orthodox Christian Prison Ministry, sponsored by the Assembly of Canonical Orthodox Bishops of North and Central America, is doing just that. They are always in need of volunteers, and the impact of such ministry can be life altering for any one of us.
I remember the very first words I would offer to new prisoners when they would come into the prison chapel, meeting me for the first time. "You reside in an all male institution (the prison), and I reside in an all male institution (the monastery). You live in a cell, and I live in a cell (monastic cell). You are in this prison because of your sins, and I am in the monastery because of my sins. You must live a life in repentance, just as I am living a life in repentance."
It is also imperative that we make every effort, both as individuals, and as parish communities, to help find jobs and housing for Orthodox prisoners, once they have been released. It makes no sense to expect them to live a respectable and godly lives on the outside, if they are broke and homeless. We cannot call ourselves Christians if we judge them for their past, and refuse to let them be an integral part of our parish life. As followers of Christ, we can do nothing less, then to love them, just as Christ loves them.
With love in Christ,
Abbot Tryphon
Sunday October 6, 2019 / September 23, 2019
16th Sunday after Pentecost. Tone seven.
The Conception of the Honorable, Glorious Prophet, Forerunner and Baptist John.
Canonization (1977) of St. Innocent Metropolitan of Moscow.
New Hieromartyr John priest (1937).
New Hieromartyr Arsenius archbishop (1937).
Venerables Xanthippa and Polyxena (109), disciples of the Apostles, who died in Spain.
Virgin-martyr Irais (Rhais) of Alexandria (308).
Martyrs Andrew, John, Peter, and Antoninus of Syracuse, martyred in Africa (886).
"Slovensk" Icon of the Mother of God (1635).
"Hawaiian" Myrrh-streaming Iveron Ikon of the Theotokos (2007).
New Martyr Nicholas Pantopolis at Constantinople (1672) (Greek).
New Martyr John of Epirus (1814).
Venerable Adamnan, abbot of Iona, biographer of St. Columba (704) (Celtic & British).
The Scripture Readings
Luke 24:12-35
12 But Peter arose and ran to the tomb; and stooping down, he saw the linen cloths lying by themselves; and he departed, marveling to himself at what had happened.
The Road to Emmaus
13 Now behold, two of them were traveling that same day to a village called Emmaus, which was seven miles from Jerusalem. 14 And they talked together of all these things which had happened. 15 So it was, while they conversed and reasoned, that Jesus Himself drew near and went with them. 16 But their eyes were restrained, so that they did not know Him.
17 And He said to them, "What kind of conversation is this that you have with one another as you walk and are sad?"
18 Then the one whose name was Cleopas answered and said to Him, "Are You the only stranger in Jerusalem, and have You not known the things which happened there in these days?"
19 And He said to them, "What things?"
So they said to Him, "The things concerning Jesus of Nazareth, who was a Prophet mighty in deed and word before God and all the people, 20 and how the chief priests and our rulers delivered Him to be condemned to death, and crucified Him. 21 But we were hoping that it was He who was going to redeem Israel. Indeed, besides all this, today is the third day since these things happened. 22 Yes, and certain women of our company, who arrived at the tomb early, astonished us. 23 When they did not find His body, they came saying that they had also seen a vision of angels who said He was alive. 24 And certain of those who were with us went to the tomb and found it just as the women had said; but Him they did not see."
25 Then He said to them, "O foolish ones, and slow of heart to believe in all that the prophets have spoken! 26 Ought not the Christ to have suffered these things and to enter into His glory?" 27 And beginning at Moses and all the Prophets, He expounded to them in all the Scriptures the things concerning Himself.
The Disciples' Eyes Opened
28 Then they drew near to the village where they were going, and He indicated that He would have gone farther. 29 But they constrained Him, saying, "Abide with us, for it is toward evening, and the day is far spent." And He went in to stay with them.
30 Now it came to pass, as He sat at the table with them, that He took bread, blessed and broke it, and gave it to them. 31 Then their eyes were opened and they knew Him; and He vanished from their sight.
32 And they said to one another, "Did not our heart burn within us while He talked with us on the road, and while He opened the Scriptures to us?" 33 So they rose up that very hour and returned to Jerusalem, and found the eleven and those who were with them gathered together, 34 saying, "The Lord is risen indeed, and has appeared to Simon!" 35 And they told about the things that had happened on the road, and how He was known to them in the breaking of bread.
2 Corinthians 6:1-10
Marks of the Ministry
6 We then, as workers together with Him also plead with you not to receive the grace of God in vain. 2 For He says:
"In an acceptable time I have heard you,
And in the day of salvation I have helped you."
Behold, now is the accepted time; behold, now is the day of salvation.
3 We give no offense in anything, that our ministry may not be blamed. 4 But in all things we commend ourselves as ministers of God: in much patience, in tribulations, in needs, in distresses, 5 in stripes, in imprisonments, in tumults, in labors, in sleeplessness, in fastings; 6 by purity, by knowledge, by longsuffering, by kindness, by the Holy Spirit, by sincere love, 7 by the word of truth, by the power of God, by the armor of righteousness on the right hand and on the left, 8 by honor and dishonor, by evil report and good report; as deceivers, and yet true; 9 as unknown, and yet well known; as dying, and behold we live; as chastened, and yet not killed; 10 as sorrowful, yet always rejoicing; as poor, yet making many rich; as having nothing, and yet possessing all things.
Luke 5:1-11
Four Fishermen Called as Disciples
5 So it was, as the multitude pressed about Him to hear the word of God, that He stood by the Lake of Gennesaret, 2 and saw two boats standing by the lake; but the fishermen had gone from them and were washing their nets. 3 Then He got into one of the boats, which was Simon's, and asked him to put out a little from the land. And He sat down and taught the multitudes from the boat.
4 When He had stopped speaking, He said to Simon, "Launch out into the deep and let down your nets for a catch."
5 But Simon answered and said to Him, "Master, we have toiled all night and caught nothing; nevertheless at Your word I will let down the net." 6 And when they had done this, they caught a great number of fish, and their net was breaking. 7 So they signaled to theirpartners in the other boat to come and help them. And they came and filled both the boats, so that they began to sink. 8 When Simon Peter saw it, he fell down at Jesus' knees, saying, "Depart from me, for I am a sinful man, O Lord!"
9 For he and all who were with him were astonished at the catch of fish which they had taken; 10 and so also were James and John, the sons of Zebedee, who were partners with Simon. And Jesus said to Simon, "Do not be afraid. From now on you will catch men."11 So when they had brought their boats to land, they forsook all and followed Him.