How should we approach icons and other holy things?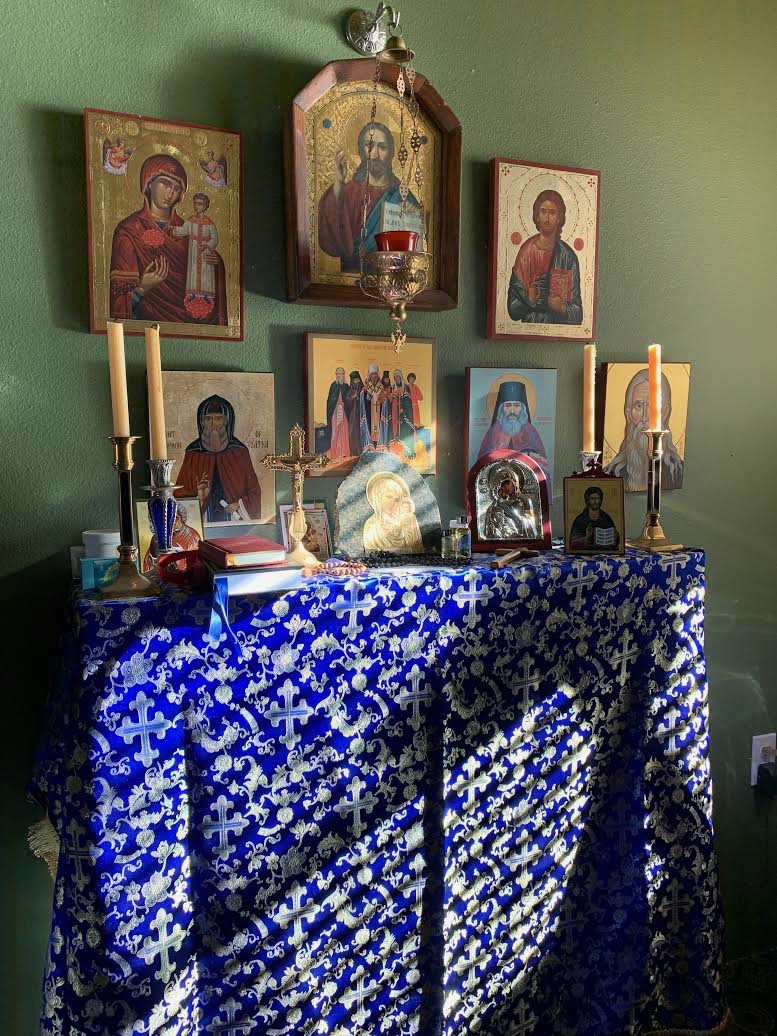 One of the attributes of God is holiness, and is reflected in His people, and in physical objects that have been blessed by the Church for the use of His people in their journey towards Him. Therefore, reverence for these sacred objects and images is the manifestation of the relationship between ourselves and God. "And ye shall be holy unto me: for I the Lord am holy… (Leviticus 20: 26)." Icons of Christ, His Holy Mother, the saints, or depictions of biblical events, are not just art objects, popular today, but disposable tomorrow, but are vehicles for God's sustaining grace.
As Orthodox Christians, we should make it a rule never have arguments, or engage in improper behavior before the images of the saints, and instill in children, from the earliest of age, reverence for the holy icons. Not only do we call upon the saints for their heavenly intercession, but their icons serve as reminders that Christ has called us to repentance, and the deification of each human soul.
Under no circumstance can such an icon, even one that has not been blessed, be simply thrown away. A holy item, even if it has lost its original appearance, should always be treated with reverence. This is one of the reasons it is never a good idea to send a greeting card with an icon on it, especially if it is to be sent to someone who might not understand the importance of treating an icon with great reverence and respect.
If an icon's condition has rendered it unfit for use and it cannot be restored, it should be taken to the church, where it can be burned in a furnace or special place set aside for the disposal of holy things. If this is not possible, you should burn the icon yourself, and bury the ashes in a place that will not be sullied or disturbed, such as in a cemetery or under a tree in the garden.
Our patronal icon should be held in particular reverence, for following baptism, we each have a special bond with our personal saint. Parents should make it a tradition to bless their children with the child's personal icon, as they set off for a new year at school, an extended journey, or when they leave home, to start their own family. Family members should be sure to bring at least a few icons into the hospital room or the nursing home, of their loved one, so a person's own departure from this life can take place in the presence of their personal icons.
Holy oils, and any other blessed articles used in the home, should always be treated with the uttermost reverence, and, like the icons, never be improperly disposed of. Those things, like bottles of holy oil, that can not be burned, should be placed in the ground, always in a place that will not be used for something else.
With love in Christ,
Abbot Tryphon
Wednesday October 30, 2019 / October 17, 2019
20th Week after Pentecost. Tone two.
Fast. By Monastic Charter: Strict Fast (Bread, Vegetables, Fruits)
Prophet Hosea (Osee) (820 B.C.).
Monk-martyr Andrew of Crete (767).
New Hieromartyr Neophit and Anatolius priests, Martyrs Hyacinth and Callistus (1918).
New Hieromartyr Archbishop Alexander (Shchukin) of Semipalatinsk (1937).
Venerable Anthony, abbot, of Leokhonov (Novgorod) (1611).
Holy Martyrs and Unmercenaries Cosmas and Damian in Cilicia (4th c.), and their brothers Leontius, Anthimus, and Eutropius.
Translation of the relics (898) of St. Lazarus "Of the Four Days" (in the tomb), bishop of Kition on Cyprus.
"Before Birth and After Birth the Virgin" (1827) and  "Deliverer"(1889) Icons of the Mother of God.
Martyr Queen Shushaniki (Susanna) of Georgia (475) (Georgia).
St. Joseph the Wonderworker, Catholicos of Georgia (1770) (Georgia).
Holy Martyr Kozman (Georgia).
Martyrs Ethelred and Ethelbert, princes of Kent (England) (ca. 640) (Celtic & British).
Translation of the relics of St. Ethelreda, abbes of Ely. (Celtic & British).
The Scripture Readings
Philippians 2:24-30
24 But I trust in the Lord that I myself shall also come shortly.
Epaphroditus Praised
25 Yet I considered it necessary to send to you Epaphroditus, my brother, fellow worker, and fellow soldier, but your messenger and the one who ministered to my need; 26 since he was longing for you all, and was distressed because you had heard that he was sick. 27 For indeed he was sick almost unto death; but God had mercy on him, and not only on him but on me also, lest I should have sorrow upon sorrow. 28 Therefore I sent him the more eagerly, that when you see him again you may rejoice, and I may be less sorrowful. 29 Receive him therefore in the Lord with all gladness, and hold such men in esteem; 30 because for the work of Christ he came close to death, not regarding his life, to supply what was lacking in your service toward me.
Luke 9:44-50
44 "Let these words sink down into your ears, for the Son of Man is about to be betrayed into the hands of men." 45 But they did not understand this saying, and it was hidden from them so that they did not perceive it; and they were afraid to ask Him about this saying.