Don't shelve the part that makes you unique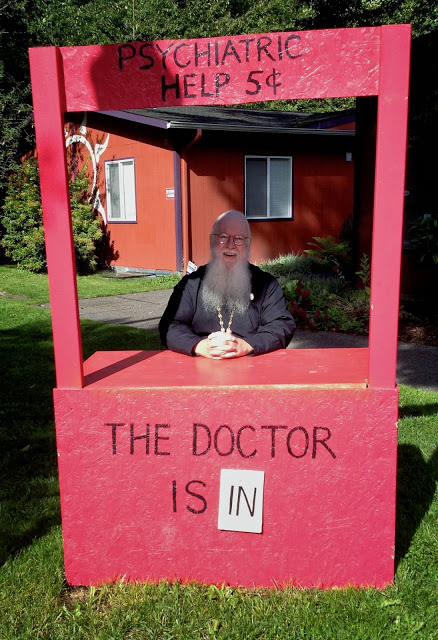 When we enter into communion with one another in the life of the Church, we come broken, and far from the image and likeness that God intended when He created us. We, to a one, are in need of the healing that comes from a life in Christ. Yet we often hinder ourselves from healing because we fear being who we are. This fear is sometimes based on what others may think of us, or what may happen if we don't fit in, or are not liked by others. We fear being rejected for essentially being ourselves.
Yet the Lord calls us to put aside our fear, because He loves us just as we are. In Christ there is no fear, because God is love, perfect and unconditional love. In our walk with Christ, we are healed, and made whole. We don't have to shelve that which makes us who we are, for it is we who are being made whole. Through total immersion in Christ, and in the disciplines of the Church, the transformational power of God's grace changes us. We don't become some stamped out version of everyone else, but are changed into the person God intended us to be. We are made perfect, just as we are."For we are his workmanship, created in Christ Jesus for good works, which God prepared beforehand, that we should walk in them (Ephesians 2:10)."
In our very weakness we are made whole, for Christ tells us, "'My grace is sufficient for you, for My strength is made perfect in weakness.' Therefore most gladly I will rather boast in my infirmities, that the power of Christ may rest upon me. Therefore I take pleasure in infirmities, in reproaches, in needs, in persecutions, in distresses, for Christ's sake. For when I am weak, then I am strong (2 Corinthians 12:9-10)."
To be a Christian is not about conformity to the image of other people, but rather, to the image of Christ. You needn't shelve a who you are, but take on the image of who Christ is. Metropolitan Anthony Bloom said, "Help me, O God, to put off all pretenses and find my true self."
With love in Christ,
Abbot Tryphon
Sunday October 13, 2019 / September 30, 2019
17th Sunday after Pentecost. Tone eight.
Hieromartyr Gregory, bishop of Greater Armenia (335).
Venerable Gregory, abbot of Pelshme, wonderworker of Vologda (1442).
St. Michael, first metropolitan of Kiev (992).
New Hieromartyr Prokopius priest (1918).
New Hieromartyrs Peter, Viacheslav, Peter, Symeon, Basil priests, Seraphim deacon, Virgin-martyr Alexandra, Martyrs Alexis and Matthew, Virgin Apollinaris (1937).
New Hieromartyr Leonidas priest (1938).
New Hiero-confessor Hieromonk Seraphim (Zagorovsky), of Kharkov (1943).
Martyrs Rhipsima and Gaiana and companions, of Armenia (4th c.).
St. Meletius, archbishop of Alexandria.
St. Honorius, archbishop of Canterbury (653) (Celtic & British).
St. Michael, great prince of Tver (1318).
St. Theodore Yaroslavich of Vladimir (1246).
Martyr-hermits Tancred, Torthred and Tova, of Thorney.
Martyr Stratonicus (Greek).
Martyr Mardonius (Greek).
The Scripture Readings
Luke 24:36-53
Jesus Appears to His Disciples
36 Now as they said these things, Jesus Himself stood in the midst of them, and said to them, "Peace to you." 37 But they were terrified and frightened, and supposed they had seen a spirit. 38 And He said to them, "Why are you troubled? And why do doubts arise in your hearts? 39 Behold My hands and My feet, that it is I Myself. Handle Me and see, for a spirit does not have flesh and bones as you see I have."
40 When He had said this, He showed them His hands and His feet. 41 But while they still did not believe for joy, and marveled, He said to them, "Have you any food here?" 42 So they gave Him a piece of a broiled fish and some honeycomb. 43 And He took it and ate in their presence.
The Scriptures Opened
44 Then He said to them, "These are the words which I spoke to you while I was still with you, that all things must be fulfilled which were written in the Law of Moses and the Prophets and the Psalms concerning Me." 45 And He opened their understanding, that they might comprehend the Scriptures.
46 Then He said to them, "Thus it is written, and thus it was necessary for the Christ to suffer and to rise from the dead the third day, 47 and that repentance and remission of sins should be preached in His name to all nations, beginning at Jerusalem. 48 And you are witnesses of these things. 49 Behold, I send the Promise of My Father upon you; but tarry in the city of Jerusalem until you are endued with power from on high."
The Ascension
50 And He led them out as far as Bethany, and He lifted up His hands and blessed them. 51 Now it came to pass, while He blessed them, that He was parted from them and carried up into heaven. 52 And they worshiped Him, and returned to Jerusalem with great joy, 53 and were continually in the temple praising and blessing God. Amen.
2 Corinthians 6:16-7:1
16 And what agreement has the temple of God with idols? For you are the temple of the living God. As God has said:
"I will dwell in them
And walk among them.
I will be their God,
And they shall be My people."
17 Therefore
"Come out from among them
And be separate, says the Lord.
Do not touch what is unclean,
And I will receive you."
18 "I will be a Father to you,
And you shall be My sons and daughters,
Says the Lord Almighty."
The Corinthians' Repentance
7 Therefore, having these promises, beloved, let us cleanse ourselves from all filthiness of the flesh and spirit, perfecting holiness in the fear of God.
Luke 6:31-36
31 And just as you want men to do to you, you also do to them likewise.
32 "But if you love those who love you, what credit is that to you? For even sinners love those who love them. 33 And if you do good to those who do good to you, what credit is that to you? For even sinners do the same. 34 And if you lend to those from whom you hope to receive back, what credit is that to you? For even sinners lend to sinners to receive as much back. 35 But love your enemies, do good, and lend,]hoping for nothing in return; and your reward will be great, and you will be sons of the Most High. For He is kind to the unthankful and evil.36 Therefore be merciful, just as your Father also is merciful.