The balance between rejoicing and repenting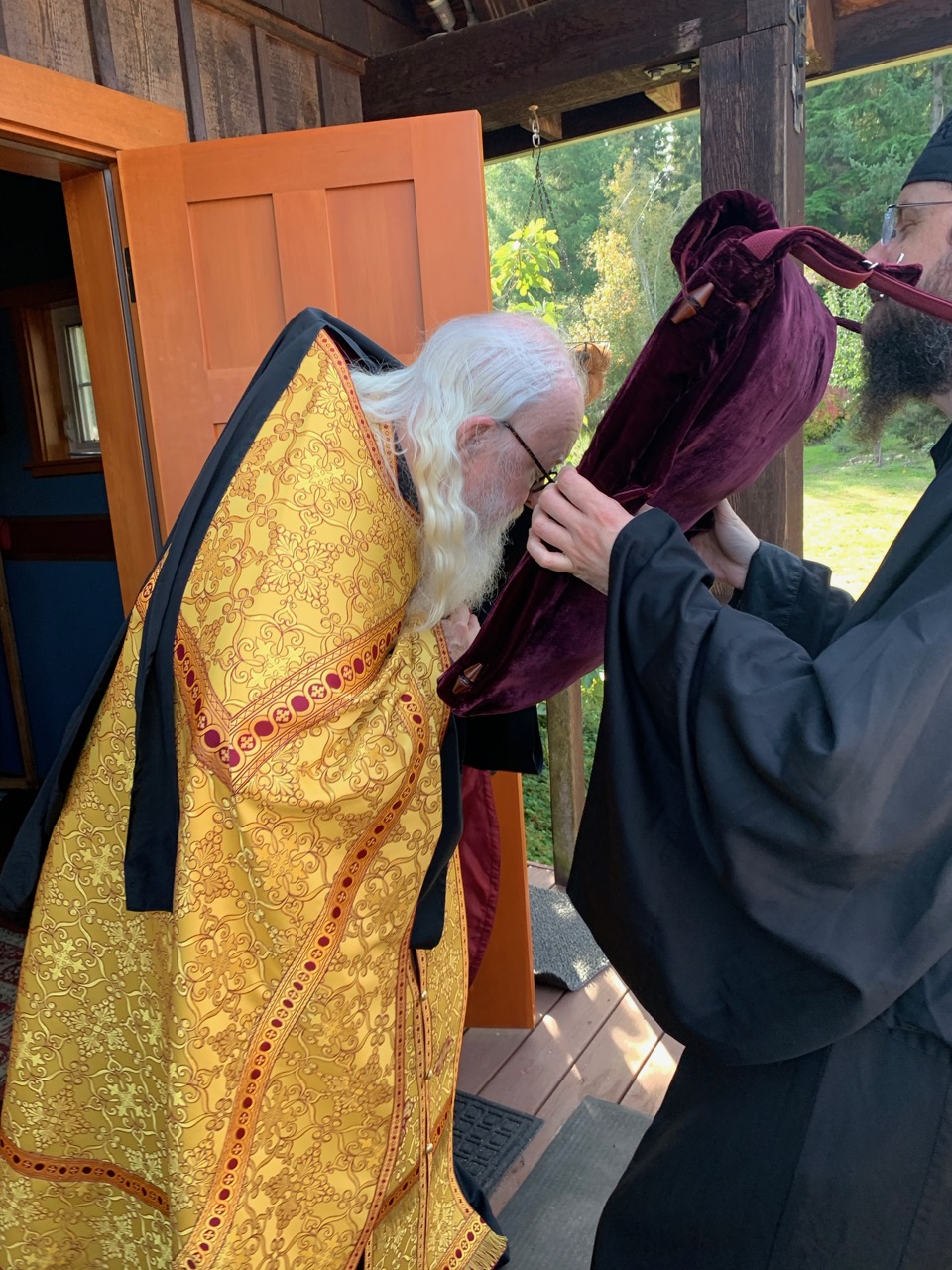 Within the self there is a battle being waged between good and evil and we endanger our soul if we start to treat God as though He were a sweet old grandpa who will love us regardless of what we do. His love does reign supreme, but so does His righteousness. He desires to transform our fallen nature and share His divinity with us, His creatures. Our response to His love must be in the form of a humble and a contrite heart. In Christ we exchange our identity and become one with Him and new creatures, saying with Saint Paul, "It is no longer I who live, but Christ in me." (Galatians 2:20)
In monasticism a monk weeps during the night over his sins that he might rejoice during the day. He knows that there is a danger in emphasizing God's all loving nature to the exclusion of His righteous wrath. Our life in Christ must be one of balance between rejoicing and repenting. We approach God with fear and trembling, not because He is an angry god, but because He is a righteous God Who asks that we keep His commandments. We trust in God's grace because we need strong medicine to balance out our sinful and rebellious nature.
With love in Christ,
Abbot Tryphon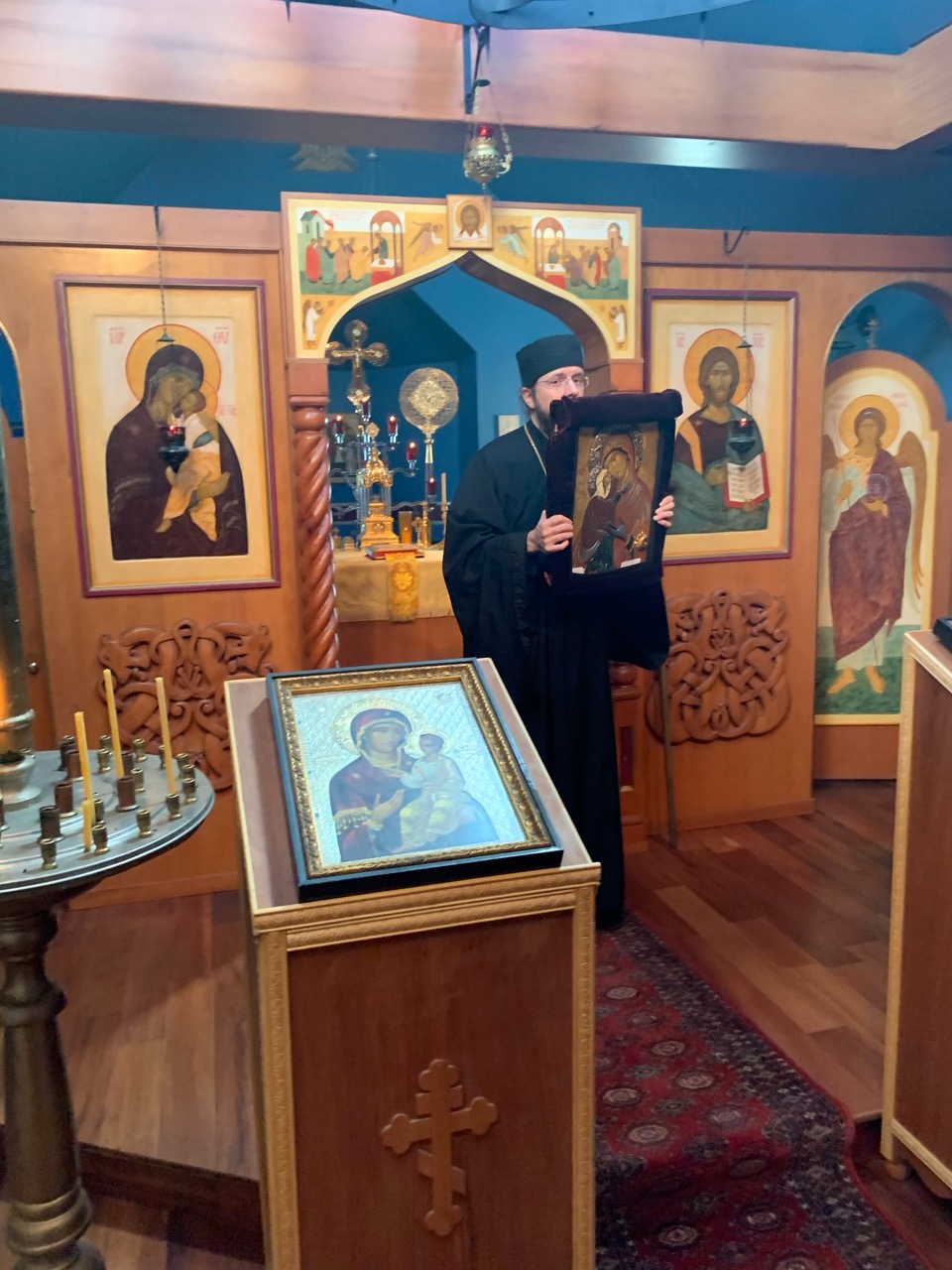 Photos: It was with great joy that we received the Miraculous Icon of Saint Anne, brought to our monastery by Archimandrite Sergius, the abbot of Saint Tikhon of Zadonsk Monastery in Pennsylvania. Father Sergius is a dear friend of mine, and this was the first time he was able to visit our monastery. He's invited me to return to Saint Tikhon's for another speaking engagement in the future.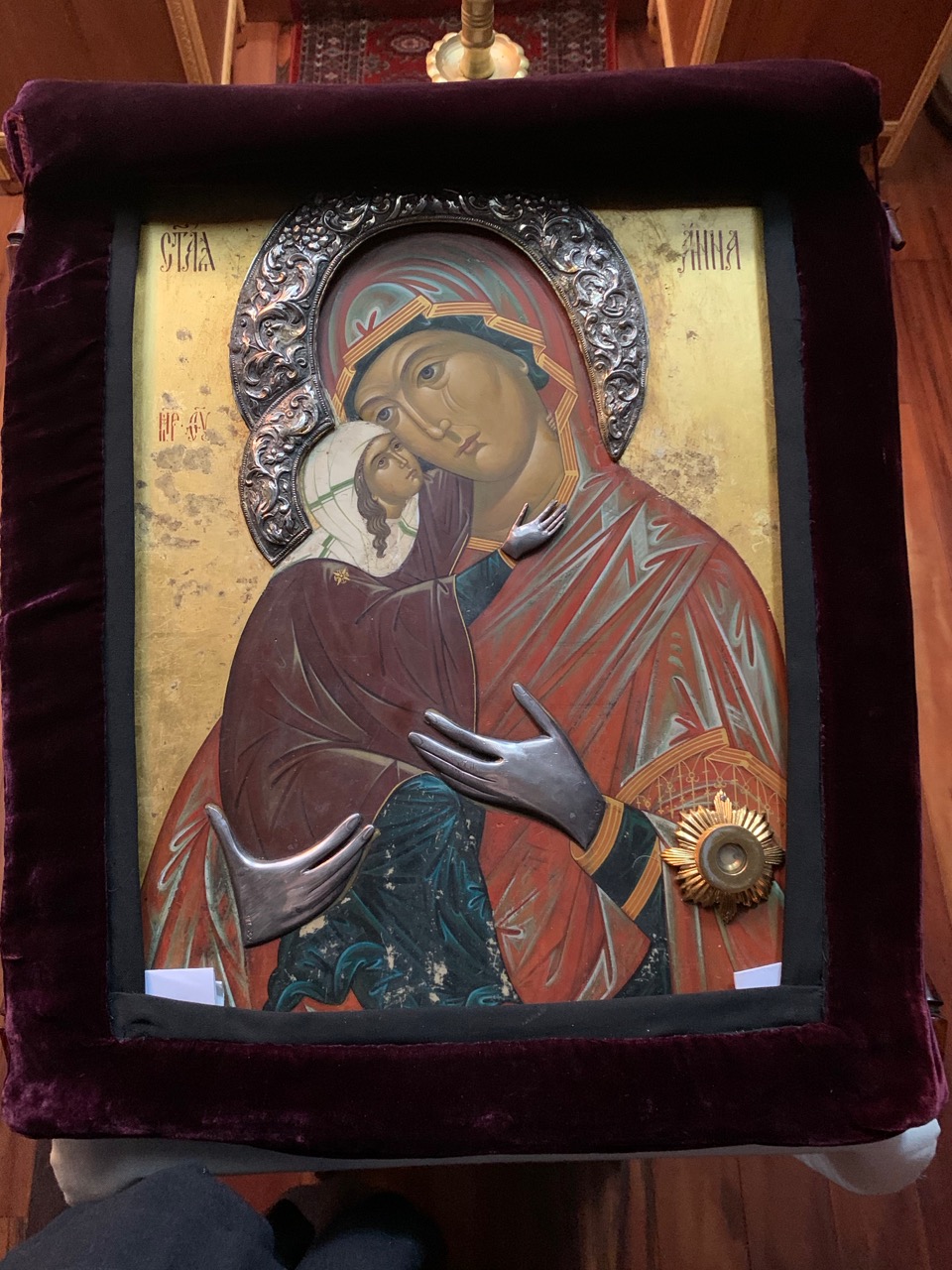 Saturday October 12, 2019 / September 29, 2019
17th Week after Pentecost. Tone seven.
Venerable Cyriacus the Hermit of Palestine (556).
New Hieromartyr John, archbishop of Riga in Latvia (1934).
Martyrs Dada, Gabdelas, and Casdoe (Casdoa) of Persia (4th c.).
Venerable Theophanes the Merciful of Gaza.
Uncovering of the relics of St. John of Shanghai and San Francisco the Wonderworker (ROCOR)
Holy Martyr Gudelia of Persia (4th c.).
Venerable Cyprian, abbot, of Ustiug (Vologda) (1276).
The Eighty Holy Martyrs of Byzantium (4th c.).
Martyrs Tryphon, Trophimus, and Dorymedon, and 150 Martyrs m Palestine (Greek).
Translation of the relics of Venerable Neophytus the Recluse of Cyprus (1214) (Greek).
St. Auxentius the Wonderworker (Greek).
New Monk-martyr Malachias of Rhodes (1500).
St. Onuphrius the Wonderworker of Garesja, Georgia (18th c.).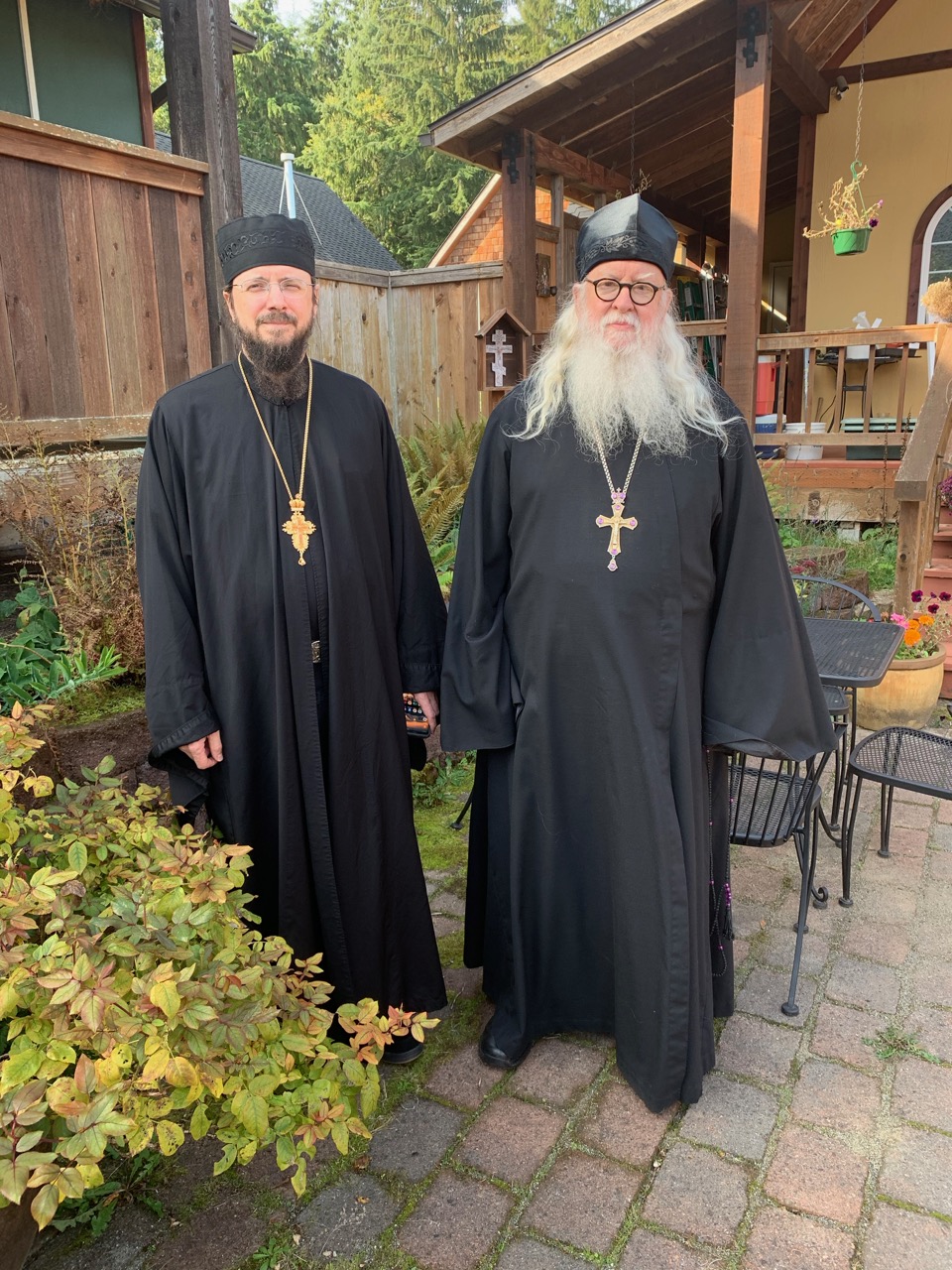 The Scripture Readings
1 Corinthians 14:20-25
Tongues a Sign to Unbelievers
20 Brethren, do not be children in understanding; however, in malice be babes, but in understanding be mature.
21 In the law it is written:
"With men of other tongues and other lips
I will speak to this people;
And yet, for all that, they will not hear Me,"
says the Lord.
22 Therefore tongues are for a sign, not to those who believe but to unbelievers; but prophesying is not for unbelievers but for those who believe. 23 Therefore if the whole church comes together in one place, and all speak with tongues, and there come in those who are uninformed or unbelievers, will they not say that you are out of your mind? 24 But if all prophesy, and an unbeliever or an uninformed person comes in, he is convinced by all, he is convicted by all. 25 And thus the secrets of his heart are revealed; and so, falling down on his face, he will worship God and report that God is truly among you.
Luke 5:17-26
Jesus Forgives and Heals a Paralytic
17 Now it happened on a certain day, as He was teaching, that there were Pharisees and teachers of the law sitting by, who had come out of every town of Galilee, Judea, and Jerusalem. And the power of the Lord was present to heal them. 18 Then behold, men brought on a bed a man who was paralyzed, whom they sought to bring in and lay before Him. 19 And when they could not find how they might bring him in, because of the crowd, they went up on the housetop and let him down with his bed through the tiling into the midst before Jesus.
20 When He saw their faith, He said to him, "Man, your sins are forgiven you."
21 And the scribes and the Pharisees began to reason, saying, "Who is this who speaks blasphemies? Who can forgive sins but God alone?"
22 But when Jesus perceived their thoughts, He answered and said to them, "Why are you reasoning in your hearts? 23 Which is easier, to say, 'Your sins are forgiven you,' or to say, 'Rise up and walk'? 24 But that you may know that the Son of Man has power on earth to forgive sins"—He said to the man who was paralyzed, "I say to you, arise, take up your bed, and go to your house."
25 Immediately he rose up before them, took up what he had been lying on, and departed to his own house, glorifying God. 26 And they were all amazed, and they glorified God and were filled with fear, saying, "We have seen strange things today!"