Orthodox worship is unchanging, and grounded in tradition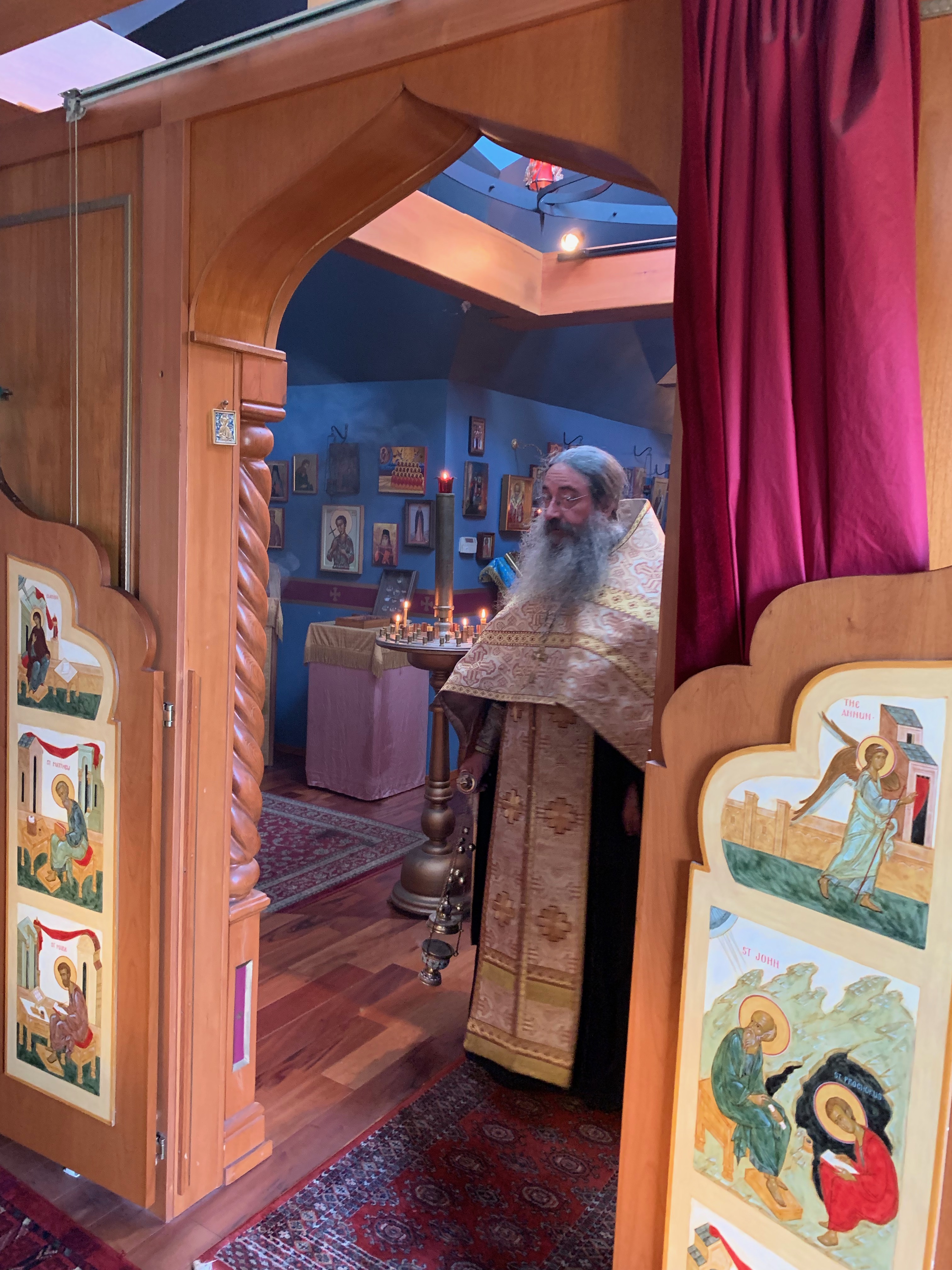 A visitor to the monastery recently shared his preference of contemporary worship with drums, guitar, etc. He insisted that God doesn't really care how we worship, as long as we offer Him our praise. Knowing this man to be a serious Christian, and an upfront disciple of the Lord Jesus Christ, made it clear to me that I could not judge him, or be critical of his views. However, it did leave me with a grateful heart, knowing that I am not convinced that he is correct. 
Believing, as he does, that God does not care how we worship Him, reminded me of a question I asked my Baptist grandmother, as a boy of twelve. Why did she think the God of the Old Testament cared so much about how His people worshipped him, that He detailed just how the vestments of their High Priest were to be designed, and how they should build His temple? Her reply suggesting that once Christ appeared, God the Father didn't care about all those Old Testament rules, did not convince me, child that I was.
The key difference between the young visitor's view of worship, and that of we Orthodox Christians, is clearly based on the difference between "man centered" worship, and worship directed to God in Trinity. Worship is not about pleasing me, or the personal taste of my neighbor, but about what is truly pleasing to God. One person may find "contemporary," "pop," "folk," "rock," and other "styles" of worship appealing, but is it truly pleasing to God? 
Our Orthodox way of worship is not about "personal taste", for that would make it "man centered". Our worship is, rather, centered on the God Who has invited us into communion with Him. It is a worship offered "in Spirit and Truth", and thus pleasing unto God, and we should care only whether our worship is truly God pleasing. 
Worship is not about being entertained, nor should we worry about our worship being "relevant". Worship, if it be true worship, must give us a glimpse of eternity, and of the divine. Our worship can not truly be worship unless it be focused on God.
Our worship "in Spirit and Truth" asks that we "lay aside all earthly cares". But, how can this take place if we engage in forms of worship that change with the decisions made by local "worship leaders", who are constantly attempting to make worship "relevant" to the tastes of an ever changing group of church members, flowing in and out of their "mega churches".
Our Orthodox faith calls us to transform our fallen human existence by bringing it into the very presence of God Himself. He has called us into His Kingdom, not ours. God is calling us to that place where He is, rather than "where we are", or where we would like Him to be. 
Our form of worship must reflect the fullness of Truth as preserved and proclaimed by the Ancient Orthodox Catholic Church. It is worship centered in the Divine Liturgy that becomes the essential act of worship and thanksgiving. This is the only form of worship that has the ability to usher us into heavenly worship, uniting us to the Church Triumphant, and joining us to the ongoing Heavenly Banquet. 
With love in Christ,
Abbot Tryphon
Wednesday September 4, 2019 / August 22, 201912th Week after Pentecost. Tone two.Fast. By Monastic Charter: Strict Fast (Bread, Vegetables, Fruits)
Martyr Agathonicus of Nicomedia and his companions: Martyrs Zoticus, Theoprepius, Acindynus, Severian, Zeno, and others, who suffered under Maximian (4th c.).
Martyr Gorazd of Prague, Bohemia and Moravo-Cilezsk (1942).
Venerable Isaac I (Antimonov, the "Elder") of Optina (1894).
New Hieromartyrs Macarius bishop of Orlov, John and Alexis priests (1918).
New Hieromartyrs Theodore bishop of Penza and with him Basil and Gabriel priests (1937).
New Hieromartyrs John bishop of Velikoluk, Alexis archbishop of Omsk, Alexander, Michael and Theodore priests, Hieromartyr Hilarion, John and Hierotheus (1937).
Hieromartyr Athanasius (270-275), bishop of Tarsus in Cilicia, Venerable Anthusa of Syria (298) and Martyrs Charesimus and Neophytus (270-275).
Virgin-martyr Eulalia of Barcelona (303).
Iveron Icon of the Most Holy Theotokos at the Monastery of St. Alexis of Moscow (1650).
Venerable Bogolep of St. Paisius of Uglich Monastery (16th c.).
St. Symphorian of Autun (2nd-3rd c.) (Celtic & British).
Venerable Sigfrid, abbot of Wearmouth (England) (688) (Celtic & British).
New Hieromartyr Andrew (Ukhtomsky), bishop of Ufa (1937).
Martyrs Irenaeus, Deakon, Or, and Oropsus (Greek).
The Scripture Readings
2 Corinthians 6:11-16
Be Holy
11 O Corinthians! We have spoken openly to you, our heart is wide open. 12 You are not restricted by us, but you are restricted by your own affections. 13 Now in return for the same (I speak as to children), you also be open.
14 Do not be unequally yoked together with unbelievers. For what fellowship has righteousness with lawlessness? And what communion has light with darkness? 15 And what accord has Christ with Belial? Or what part has a believer with an unbeliever? 16 And what agreement has the temple of God with idols? For you are the temple of the living God. As God has said:
"I will dwell in them
And walk among them.
I will be their God,
And they shall be My people."
Mark 1:23-28
23 Now there was a man in their synagogue with an unclean spirit. And he cried out, 24 saying, "Let us alone! What have we to do with You, Jesus of Nazareth? Did You come to destroy us? I know who You are—the Holy One of God!"
25 But Jesus rebuked him, saying, "Be quiet, and come out of him!" 26 And when the unclean spirit had convulsed him and cried out with a loud voice, he came out of him. 27 Then they were all amazed, so that they questioned among themselves, saying, "What is this? What new doctrine is this? For with authority He commands even the unclean spirits, and they obey Him." 28 And immediately His fame spread throughout all the region around Galilee.