The place of the Holy Virgin in our lives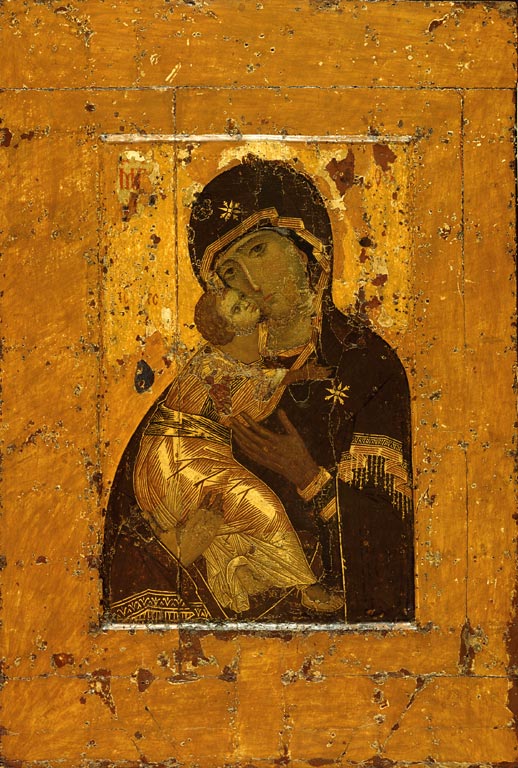 The Holy Virgin is a stumbling block for many protestants looking into Orthodoxy. The idea that this woman described in the Gospels in such humble terms could be called Mother of God seems unbiblical to them. She was never called Mother of God in the Bible, they say, so why would she be given such an exalted title? She was, they think, simply the mother of Jesus.
From the earliest of times the Church has seen fit to call her exalted among women, even more exalted then the heavenly hosts. Her role in the history of salvation has been seen as pivotal from the time of the very first century for her humility and obedience before God made her the New Eve. Whereby death entered the world through the disobedience of the first mother, Eve, the Holy Virgin became the New Eve the moment she answered, "be it done according to Thy word", agreeing to be the Mother of Christ.
The very first icon was painted depicting Mary holding the child Jesus by none other than the Holy Apostle and Evangelist Luke. The Vladimir Icon of the Mother of God was painted on a board from the table at which the Savior ate together with His All-Pure Mother and Righteous Joseph. The Mother of God, upon seeing this image, exclaimed, "Henceforth, all generations shall call Me blessed. The grace of both My Son and Me shall be with this icon." She was thus recognized by the Church for her pivotal role with the title Theotokos, which means God-bearer.
The Council of Ephesus  decreed in 431 that Mary is Theotokos because her son Jesus is one person who is both God and man, divine and human. To call her only the mother of Jesus was seen as heretical because to do so would be to suggest that Jesus was simply a man, apart from being God at the same time. The balance of being both God and Man was thus preserved by the Church from the earliest of times.
The angel Gabriel was sent by God to announce to the Virgin the birth of the Saviour:  "Hail, full of grace, the Lord is with thee.  Blessed art thou among women."  (Luke 1:28)  This angelic salutation forms a part of the hymn of the Church most frequently sung in her honor, in imitation of the words of this angelic messenger of God.  Elizabeth, the Virgin's cousin, considered it an honor for the Mother of her Lord to visit her.  "And whence is this to me that the Mother of my Lord should come to me?"  (Luke 1:43)  There is no difference between saying "Mother of God" and "Mother of the Lord".  Surely, God is the Lord! (Psalm 118:27)  During her visit to Elizabeth, the Blessed Virgin spoke the words that form the principal hymn sung in her honor at the Matins service.
"My soul doth magnify the Lord, and my spirit hath rejoiced in God my Saviour.  For He hath regarded the low estate of His handmaiden, for, behold, from henceforth all generations shall call me blessed."  (Luke 1: 47-48)
Elizabeth, having been "filled with the Holy Spirit", cried out:  "Blessed art thou among women, and blessed is the fruit of thy womb."  (Luke 1:41, 42)  This honor given the Theotokos by her cousin is exactly what all generations of the Church do when they call her blessed.  When Jesus beheld His mother and His disciple John standing by the cross, He entrusted him with her care, but He also established a new spiritual relationship between them in saying to the disciple:  "Behold thy Mother!" (John 19:27)  In making this declaration our Lord made His Mother the Mother of all Christians!
With love in Christ,
Abbot Tryphon
Sunday September 22, 2019 / September 9, 2019
14th Sunday after Pentecost. Tone five.
Sunday before the Universal Elevation of the Precious and Life-Creating Cross of the Lord
Synaxis of New Martyrs and Confessors of Kazakhstan (movable holiday on the Sunday after September 3rd).
Synaxis of All Saints of Altai (movable holiday on the Sunday after September 7th).
Holy and Righteous Ancestors of God Joachim and Anna.
Martyr Severian of Sebaste (320).
Venerable Joseph, abbot of Volokolamsk (or Volotsk) (1515).
Uncovering of the relics (1896) of St. Theodosius, archbishop of Chernigov (1696).
Elders of the Glinsk Hermitage: Venerables Basil Kishkin (1831); Philaret Danilevsky (1841); Theodotus Levchenko (1859); Macarius Sharov (1864); Martyrius Kirichenko (1865); Euthymius Liubimchenko (1866); Dositheus Kolchenkov (1874); Heliodorus Golovanitsky (1879); Innocent Stepanov (1888); Luke Shvets (1894); Archippus Shestakov (1896); Ioannicius Gromolko (1912); Seraphim Amelin (1958); Andronicus Lukash (1974); Seraphim Romantsov (1976); Zenobius Mazhuga (Seraphim) (1985).
New Hieromartyrs Gregory priest and Aleksander deacon (1918).
New Hieromartyrs Zaharias archbishop of Voronezh, Sergius, Joseph, Alexis, Demetrius priests and Martyr Basil (1937).
New Hieromartyr Andronicus (1938).
New Hieromartyr Alexander, priest (1942).
Venerable Theophanes the Confessor and Faster of Mt. Diabenos (299).
Martyrs Chariton and Straton.
Blessed Nicetas the Hidden of Constantinople (12th c.).
Commemoration of the Third Ecumenical Council (431).
Venerable Onuphrius of Voronsk (1789) (Romania).
Venerable Joachim, abbot of Opochka Monastery (Pskov) (1550).
St. Kieran (Ciaran) of Clonmacnois (Ireland) (ca. 545) (Celtic & British).
St. Omer, bishop of Therouanne (670).
St. Wulfhilda, abbes of Barking.
St. Bettelin, Hermit of Crowland.
The Scripture Readings
Mark 16:9-20
Mary Magdalene Sees the Risen Lord
9 Now when He rose early on the first day of the week, He appeared first to Mary Magdalene, out of whom He had cast seven demons. 10 She went and told those who had been with Him, as they mourned and wept. 11 And when they heard that He was alive and had been seen by her, they did not believe.
Jesus Appears to Two Disciples
12 After that, He appeared in another form to two of them as they walked and went into the country. 13 And they went and told it to the rest, but they did not believe them either.
The Great Commission
14 Later He appeared to the eleven as they sat at the table; and He rebuked their unbelief and hardness of heart, because they did not believe those who had seen Him after He had risen. 15 And He said to them, "Go into all the world and preach the gospel to every creature. 16 He who believes and is baptized will be saved; but he who does not believe will be condemned. 17 And these signs will follow those who believe: In My name they will cast out demons; they will speak with new tongues; 18 they will take up serpents; and if they drink anything deadly, it will by no means hurt them; they will lay hands on the sick, and they will recover."
Christ Ascends to God's Right Hand
19 So then, after the Lord had spoken to them, He was received up into heaven, and sat down at the right hand of God. 20 And they went out and preached everywhere, the Lord working with them and confirming the word through the accompanying signs. Amen.
2 Corinthians 1:21-2:4
21 Now He who establishes us with you in Christ and has anointed us is God, 22 who also has sealed us and given us the Spirit in our hearts as a guarantee.
23 Moreover I call God as witness against my soul, that to spare you I came no more to Corinth. 24 Not that we have dominion over your faith, but are fellow workers for your joy; for by faith you stand.
Paul Urges Forgiveness
2 But I determined this within myself, that I would not come again to you in sorrow. 2 For if I make you sorrowful, then who is he who makes me glad but the one who is made sorrowful by me?
Forgive the Offender
3 And I wrote this very thing to you, lest, when I came, I should have sorrow over those from whom I ought to have joy, having confidence in you all that my joy is the joy of you all. 4 For out of much affliction and anguish of heart I wrote to you, with many tears, not that you should be grieved, but that you might know the love which I have so abundantly for you.
Matthew 22:1-14
The Parable of the Wedding Feast
22 And Jesus answered and spoke to them again by parables and said: 2 "The kingdom of heaven is like a certain king who arranged a marriage for his son, 3 and sent out his servants to call those who were invited to the wedding; and they were not willing to come. 4 Again, he sent out other servants, saying, 'Tell those who are invited, "See, I have prepared my dinner; my oxen and fatted cattle are killed, and all things are ready. Come to the wedding." ' 5 But they made light of it and went their ways, one to his own farm, another to his business. 6 And the rest seized his servants, treated them spitefully, and killed them. 7 But when the king heard about it, he was furious. And he sent out his armies, destroyed those murderers, and burned up their city. 8 Then he said to his servants, 'The wedding is ready, but those who were invited were not worthy. 9 Therefore go into the highways, and as many as you find, invite to the wedding.' 10 So those servants went out into the highways and gathered together all whom they found, both bad and good. And the wedding hall was filled with guests.
11 "But when the king came in to see the guests, he saw a man there who did not have on a wedding garment. 12 So he said to him, 'Friend, how did you come in here without a wedding garment?' And he was speechless. 13 Then the king said to the servants, 'Bind him hand and foot, take him away, and cast him into outer darkness; there will be weeping and gnashing of teeth.'
14 "For many are called, but few are chosen."