Taking Orthodoxy beyond the self-congratulatory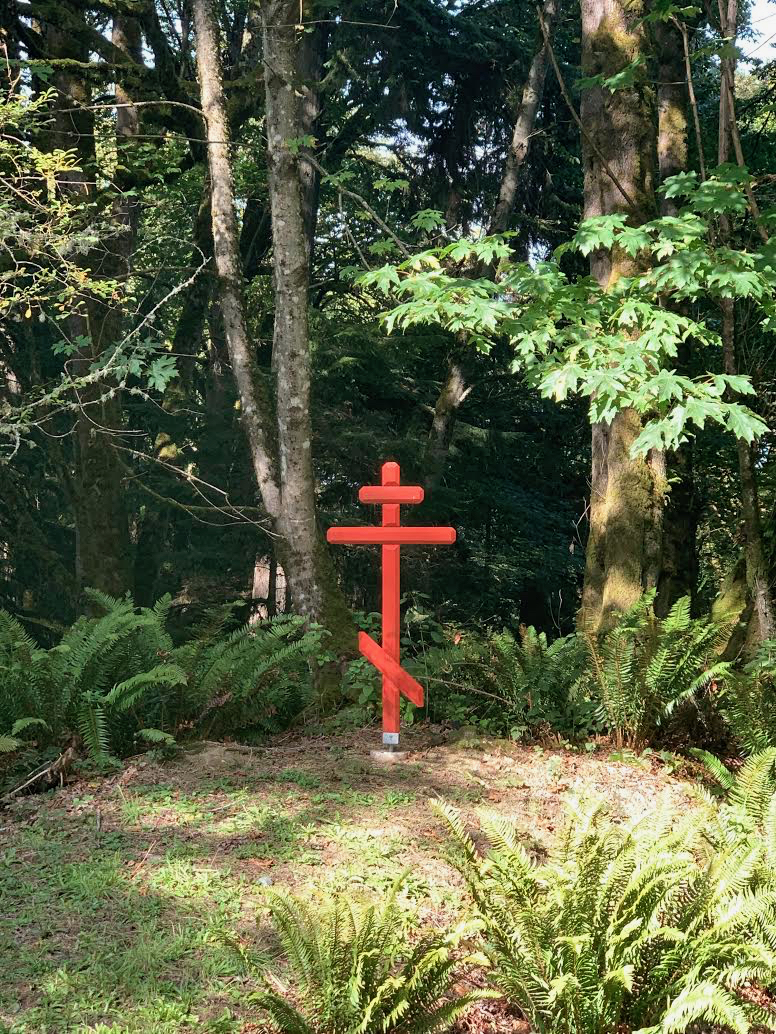 We must guard against noticing when another parishioner seems careless in the making of the sign of the cross, while we go about demonstrating for all around us, the proper way. Making sweeping signs of the cross that are done in such a way as to be almost a caricature, following up with profound bows, we can end up distracting fellow worshipers in the process. If we make a public display of our fasting, making sure our non-Orthodox family and friends know how strict we are, we miss the point of fasting. If we struggle to make our icon corner the largest and most complete of anyone in the parish, but never stand before it in prayer, we treat it as nothing more than nice art.
If we allow ourselves to become spiritual gluttons, and turn the traditions of Orthodoxy into occasions for sensual and prideful displays, we will not embrace the grace that can be ours through quiet and penitential struggle. If our public displays of piety become distractions for fellow worshipers, we can actually be diverting our attention from the all important confrontation of our personal sin. Externals, while important to Orthodox piety, and the deepening of our faith, must not be allowed to replace the mystery of faith that comes only with the acquisition of a humble and contrite heart.
We must guard against allowing external displays of Orthodoxy to become an end in themselves, and remember these traditions and pious practices were designed to serve as aids for deepening our faith by connecting our whole being, both body and soul, on this journey to God. We must take Orthodoxy beyond the self-congratulatory of being a part of a beautiful faith, with sublime worship practices, glorious temples, and beautiful vestments.
Without giving our full attention to the struggle for holiness, and deepening our prayer time, we will end with a weak form of Orthodoxy, that is beautiful on the outside , but hollow on the inside. Taking simple little steps under the guidance and direction from one's priest or spiritual father, or by council with that pious little old lady, whose face radiates the light of Christ, we will be able to enter into the Kingdom of God, having gained the humility and joy that does not necessitate being extravagant with the externals.
With love in Christ,
Abbot Tryphon
Saturday September 28, 2019 / September 15, 2019
15th Week after Pentecost. Tone five.
Saturday after the Universal Elevation of the Precious and Life-Creating Cross of the Lord
Great-martyr Nicetas the Goth (372).
New Hieromartyr John priest and Virgin-martyr Eudocia (1918).
New Hieromartyrs Andrew, Gregory, Gregory, John priests (1921).
Venerable Ignatius confessor (1932).
New Hieromartyr Demetrius priest (1935).
New Hieromartyrs John, Jacob, Peter priests and Nicholas deacon, Martyrs Mary and Ludmila (1937).
Uncovering of the relics of St. Acacius the Confessor, bishop of Melitene (257).
Martyrs Theodotus, Asclepiodotus, and Maximus of Adrianopolis (305-311).
Martyr Porphyrius the Mime of Caesaria (361).
Uncovering of the relics of the Holy Protomartyr and Archdeacon Stephen (415).
Venerable Philotheus the Presbyter of Asia Minor (10th c.).
St. Joseph, abbot, of Alaverdi in Georgia (570) (Georgia).
"Novoniketas" Icon of the Mother of God (372).
St. Symeon, archbishop of Thessalonica (1430).
Sts. Bessarion I and Bessarion II (1540), metropolitans of Larissa (Greek).
New Martyr John of Crete (1811) (Greek).
Venerable Gerasimus, abbot, of Sourvia (1740).
St. Joseph the New of Partos, metropolitan of Timisoara (1656) (Romania).
St. Mirin, abbot of Paisley.
The Scripture Readings
1 Corinthians 4:17-5:5
17 For this reason I have sent Timothy to you, who is my beloved and faithful son in the Lord, who will remind you of my ways in Christ, as I teach everywhere in every church.
18 Now some are puffed up, as though I were not coming to you. 19 But I will come to you shortly, if the Lord wills, and I will know, not the word of those who are puffed up, but the power. 20 For the kingdom of God is not in word but in power. 21 What do you want? Shall I come to you with a rod, or in love and a spirit of gentleness?
Immorality Defiles the Church
5 It is actually reported that there is sexual immorality among you, and such sexual immorality as is not even named among the Gentiles—that a man has his father's wife! 2 And you are puffed up, and have not rather mourned, that he who has done this deed might be taken away from among you. 3 For I indeed, as absent in body but present in spirit, have already judged (as though I were present) him who has so done this deed. 4 In the name of our Lord Jesus Christ, when you are gathered together, along with my spirit, with the power of our Lord Jesus Christ, 5 deliver such a one to Satan for the destruction of the flesh, that his spirit may be saved in the day of the Lord Jesus.
Matthew 24:1-13
Jesus Predicts the Destruction of the Temple
24 Then Jesus went out and departed from the temple, and His disciples came up to show Him the buildings of the temple. 2 And Jesus said to them, "Do you not see all these things? Assuredly, I say to you, not one stone shall be left here upon another, that shall not be thrown down."
The Signs of the Times and the End of the Age
3 Now as He sat on the Mount of Olives, the disciples came to Him privately, saying, "Tell us, when will these things be? And what will be the sign of Your coming, and of the end of the age?"
4 And Jesus answered and said to them: "Take heed that no one deceives you. 5 For many will come in My name, saying, 'I am the Christ,' and will deceive many. 6 And you will hear of wars and rumors of wars. See that you are not troubled; for all these thingsmust come to pass, but the end is not yet. 7 For nation will rise against nation, and kingdom against kingdom. And there will befamines, pestilences, and earthquakes in various places. 8 All these are the beginning of sorrows.
9 "Then they will deliver you up to tribulation and kill you, and you will be hated by all nations for My name's sake. 10 And then many will be offended, will betray one another, and will hate one another. 11 Then many false prophets will rise up and deceive many. 12 And because lawlessness will abound, the love of many will grow cold. 13 But he who endures to the end shall be saved.