When despondency seizes us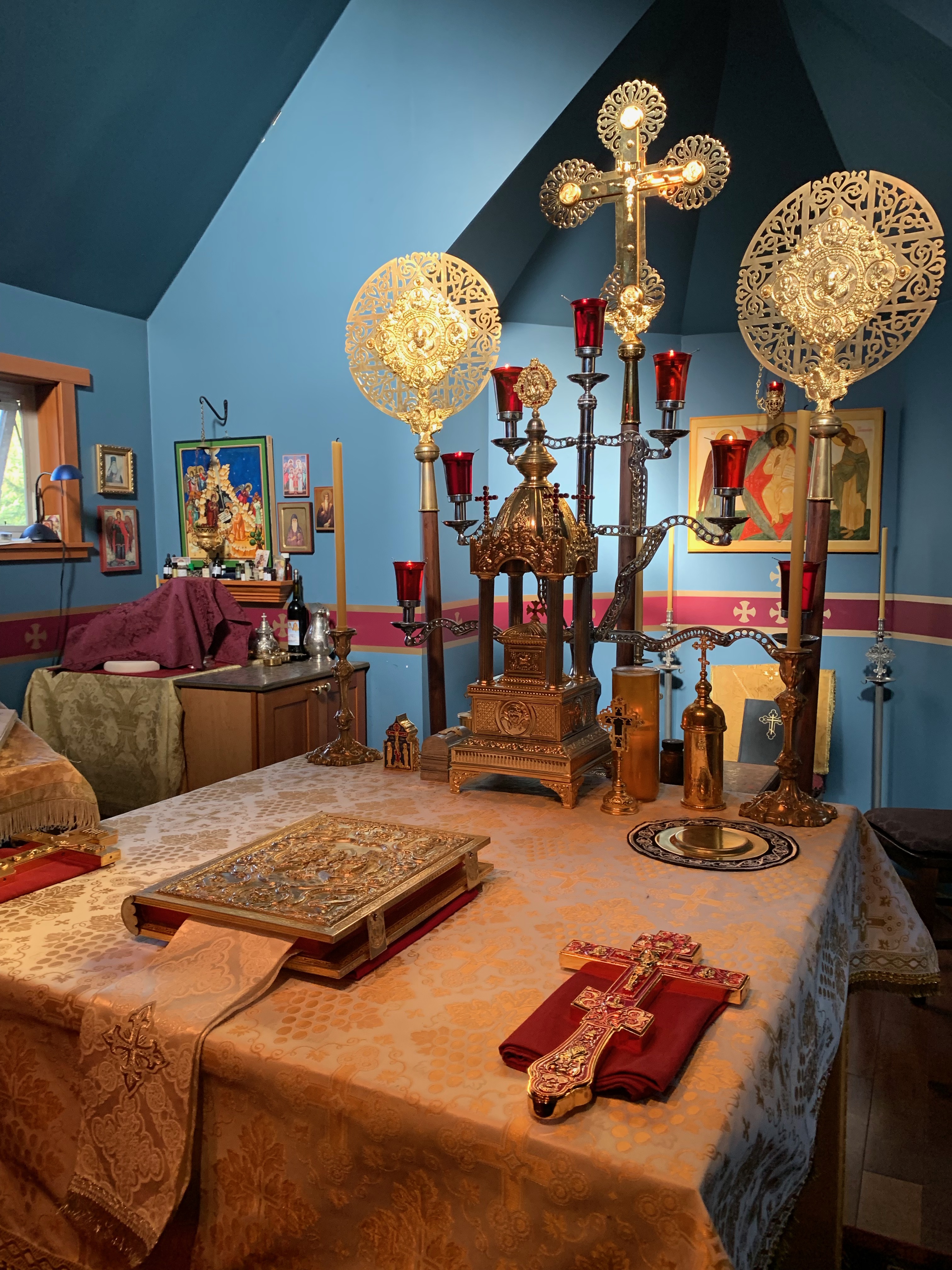 The renowned 19th century Russian saint, Seraphim of Sarov (1759-1833), said of himself, "I don't know anything". These words were remarkable coming from a hermit who was the most sought after spiritual adviser of his age, with even the Tsar seeking out his counsel. Yet Saint Seraphim recognized that he was but a funnel from which anything good that came out of him, was from God.
As a priestmonk, I am often troubled by the knowledge that I am a poor example to others, and that I fall short, daily, of living out the image of Christ in me. Yet I am compelled to live out every day with joyfulness of heart, no matter what. I am also compelled to preach, teach, and write of the things of the Lord, and to try to trust God, no matter what. I try, as best I can, to remember the words, "Rejoice in the Lord always: and again I say, Rejoice (Philippians 4:4)".
I try to remember the words of Saint Basil the Fool for Christ, whose holy relics reside in Saint Basil's Cathedral in Red Square, who said, "winter is cold, but paradise is sweet". Knowing that true validation comes only from God, I try not to be hurt when I do not receive validation from my peers, remembering that I am called upon to give to others, what I want to receive.
Like Saint Anthony the Great, I cry out to God, "where are You?", all the while floating in a river of grace. I want to be a friend of God, yet often feel like the chick who has been pushed out of the nest by the mother eagle.
Yet I am comforted by the counsel of Saint Seraphim, who instructed his spiritual children with the words: "When despondency seizes us, let us not give in to it. Rather, fortified and protected by the light of faith, let us with great courage say to the spirit of evil: "What are you to us, you who are cut off from God, a fugitive for Heaven, and a slave of evil? You dare not do anything to us: Christ, the Son of God, has dominion over us and over all. Leave us, you thing of bane. We are made steadfast by the uprightness of His Cross. Serpent, we trample on your head."
With love in Christ,
Abbot Tryphon
Tuesday September 3, 2019 / August 21, 2019
12th Week after Pentecost. Tone two.
Apostle Thaddeus of the Seventy (44).
Martyr Bassa of Edessa and her sons Theogonius, Agapius, and Pistus (4th c.).
Venerable Abramius, archimandrite, wonderworker of Smolensk (1220).
St. Martha, schemanun of Diveyevo (1829).
New Hieromartyr Alexander priest (1918).
New Hieromartyr Paul priest (1937).
New Martyr Ignatius (1942).
Venerable Abramius the Lover-of-Labor of the Kiev Caves (14th c.).
Hieromartyr Raphael of Sisatovac, Serbia (1941) (Serbia).
Appearance of the Light-Painted image of the Most Holy Theotokos on Mount Athos in the Russian Saint Panteleimon Monastery (1903).
Venerable Theocleta the Wonderworker of Asia Minor (840).
Venerable Cornelius, abbot of Palei Island (Valaam) (1420), and his disciple St. Abramius.
Venerable Ephraim (1238) of Smolensk disiciple of St. Abramius.
St. Avitus, bishop of Clermont (594) (Gaul).
Martyrs Donatus the deacon, Romul the priest, Silvan the deacon, and Venust (Romania).
Venerable Isaiah of Mt. Athos (Greek).
St. Sarmean, Catholicos of Kartli, Georgia (779) (Georgia).
New Martyr Symeon of Samokovo (1737).
Translation of the relics (1953) of St. Nectarius (Kephalus), metropolitan of Pentapolis (1920).
St. Hardulph of Breedon.
The Scripture Readings
2 Corinthians 5:15-21
15 and He died for all, that those who live should live no longer for themselves, but for Him who died for them and rose again.
16 Therefore, from now on, we regard no one according to the flesh. Even though we have known Christ according to the flesh, yet now we know Him thus no longer. 17 Therefore, if anyone is in Christ, he is a new creation; old things have passed away; behold, all things have become new. 18 Now all things are of God, who has reconciled us to Himself through Jesus Christ, and has given us the ministry of reconciliation, 19 that is, that God was in Christ reconciling the world to Himself, not imputing their trespasses to them, and has committed to us the word of reconciliation.
20 Now then, we are ambassadors for Christ, as though God were pleading through us: we implore you on Christ's behalf, be reconciled to God. 21 For He made Him who knew no sin to be sin for us, that we might become the righteousness of God in Him.
Mark 1:16-22
Four Fishermen Called as Disciples
16 And as He walked by the Sea of Galilee, He saw Simon and Andrew his brother casting a net into the sea; for they were fishermen. 17 Then Jesus said to them, "Follow Me, and I will make you become fishers of men." 18 They immediately left their nets and followed Him.
19 When He had gone a little farther from there, He saw James the son of Zebedee, and John his brother, who also were in the boat mending their nets. 20 And immediately He called them, and they left their father Zebedee in the boat with the hired servants, and went after Him.
Jesus Casts Out an Unclean Spirit
21 Then they went into Capernaum, and immediately on the Sabbath He entered the synagogue and taught. 22 And they were astonished at His teaching, for He taught them as one having authority, and not as the scribes.