How hatred and jealousy can transform a man into a saint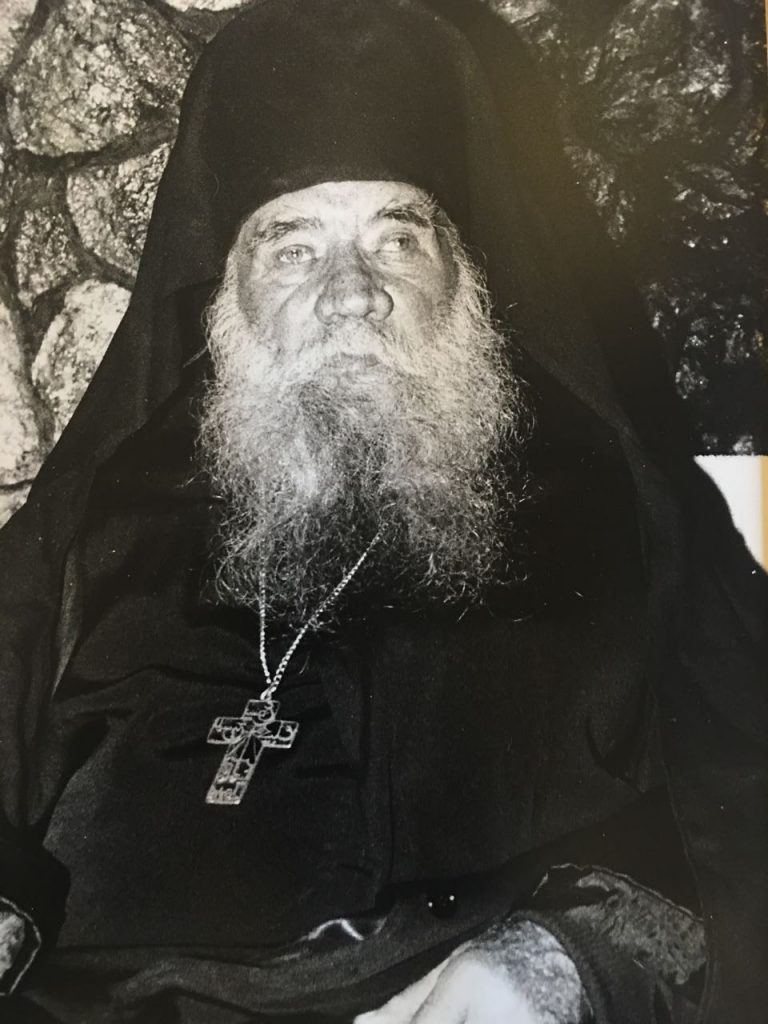 Much of how I struggle to live my life today, I base on my formative years as a monk. My beloved Elder and Spiritual Father, Archimandrite Dimitry of Santa Rosa, was a true saint in every way, and perhaps the humblest man I have ever encountered.
When I first asked the Elder to be my spiritual father, I was warned by a dear priest friend that I would be tagged by many other clergy in a negative way, since he was not liked by many. Soon after having established a father-son relationship with the Elder, I witnessed the jealousy of many other assemble clergy. During a Hierarchical Liturgy, although he outranked every other serving priest, they all let him serve way down the list in rank. The serene look on his face revealed his holiness, as he approached that celebration just as he did every Liturgy, as an encounter with the Living God.
The Elder was disliked by many clergy because they saw him as "just a foolish old monk". This view of Father Dimitry was based on the culture of envy and abuse that sometimes can overtake even priests. Many of these clergy resented the fact that many of their people sought his spiritual guidance, rather than their own. It was, in the end, a power struggle, and these poor "men of God" were so caught up in their own self-importance, they could not see the greater picture in God's plan for their service as servants of the people of God.
Father Dimitry's early formation as a monk took place under the famous Archimandrite Chariton of Valaam Monastery, the compiler of "The Art of Prayer".  The Elder Chariton later became the first Abbot of New Valaam Monastery in Finland, where the monastic brotherhood had fled as the Soviet army moved to take Valaam, furthering their planned destruction of monasticism in Russia.
Father Dimitry was known for his gift of clairvoyance, as well as his ability to behold the Holy Fire that comes down to consume the Holy Mysteries during the celebration of the Divine Liturgy. Many priests shared with me of seeing Father Dimitry transformed, as he witnessed this holy event.
Once when I was staying at the Kazan Skete in Santa Rosa, where he served as spiritual father to Abbess Susanna and her holy nuns, a young woman came to the door, seeking spiritual advice. Abbess Susanna was unavailable, so I invited the woman to sit in the reception room, and proceeded to hear her pour out her heart. Father Dimitry came into the room, and although he did not speak English, he sat with us, showing his hospitality to this guest.
As the young woman bared her soul, and shared her struggle with depression and anxiety, the Elder lifted his two hands to heaven, looking over her head. She turned toward him, and his hands want down. This continued for some minutes. Seeing she was somewhat disturbed by his actions, I explained that he was likely calling upon an angel to comfort her, so she continued talking. Father Dimitry continued lifting his arms to heaven until I noticed the woman got a look of joy on her face, the anxiety having departed from her.
Another time I went to see my Elder in order to talk to him about a deep depression that had taken hold of me. Mother Susanna sat in on the conversation, serving as translator. As is common in such situations, I shared my heart to the translator, finding myself not looking at the Elder. At one point, Father Dimitry lifted his right fist into the air, over my head,  obviously rebuking a demon that was attacking me. In a few moments I felt the depression leave me. He then lifted both his hands into the air, and as he looked into the space above my head, I knew he was now gazing upon the angel who had come to my assistance.
Abbess Victoria, another nun who knew the Elder well, told me of the occasion when monastery had received a distressing call from a woman who had witness Father Dimitry being maligned by her parish priest, at the end of the Sunday Liturgy. This priest told his people, including children in the midst, that they should avoid visiting the monastery, since "Father Dimitry was living in sin with the nuns". As the nun told the Elder what had been said at the parish, she admitted to becoming very upset as she witnessed Father Dimitry calmly stand up from his desk, cross to the other side of his study, and silently wind an old wall clock. When she asked how he could remain so calm after hearing of such scandalous slander, he quietly responded with the words, "many sins have been forgiven because of this". Truly the words of a saint.
The Elder Dimitry countlessly gave witness to the centrality of Christ in his life, and never failed at following his heart, despite the hatred of so many clergy, some of whom welded great authority over him. He always received whatever came his way as the will of God for him. In witnessing his humility and meekness, those of us  around him recognized we had a saint in our midst, and made attempts, often feeble, to emulate him.
Blessed Dimitry of Santa Rosa, pray to God for us.
With love in Christ,
Abbot Tryphon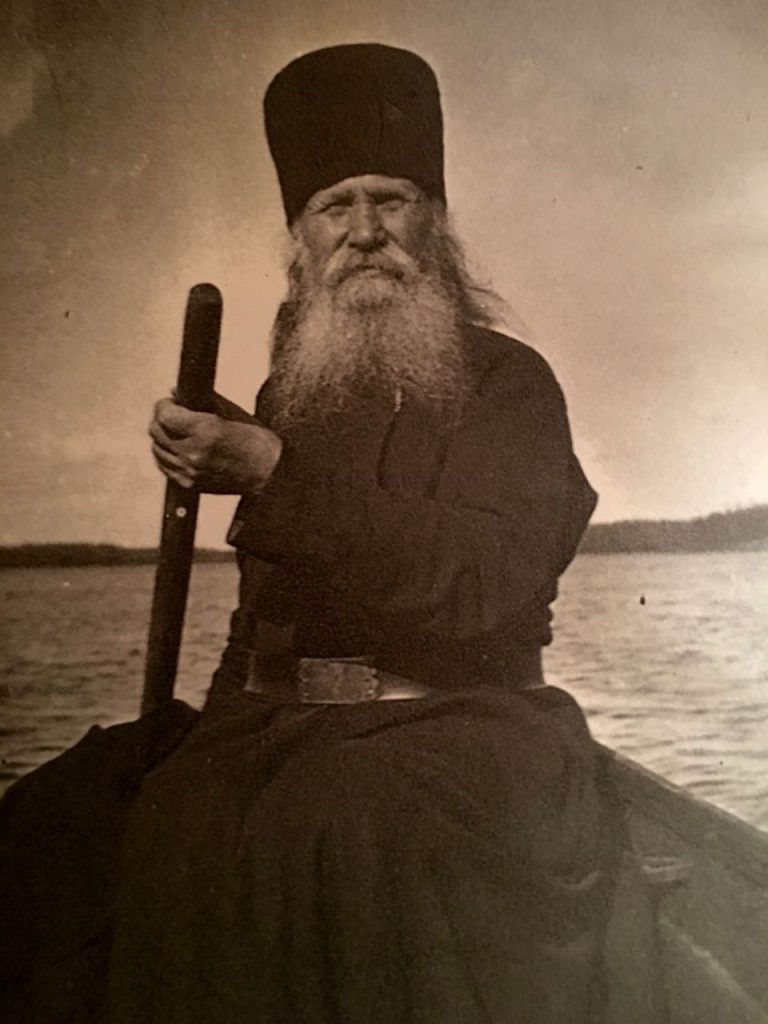 Photos: Archimandrite Dimitry of Santa Rosa, and Archimandrite Chariton of Valaam. Myself, holding the icon of Blessed Dimitry of Santa Rosa.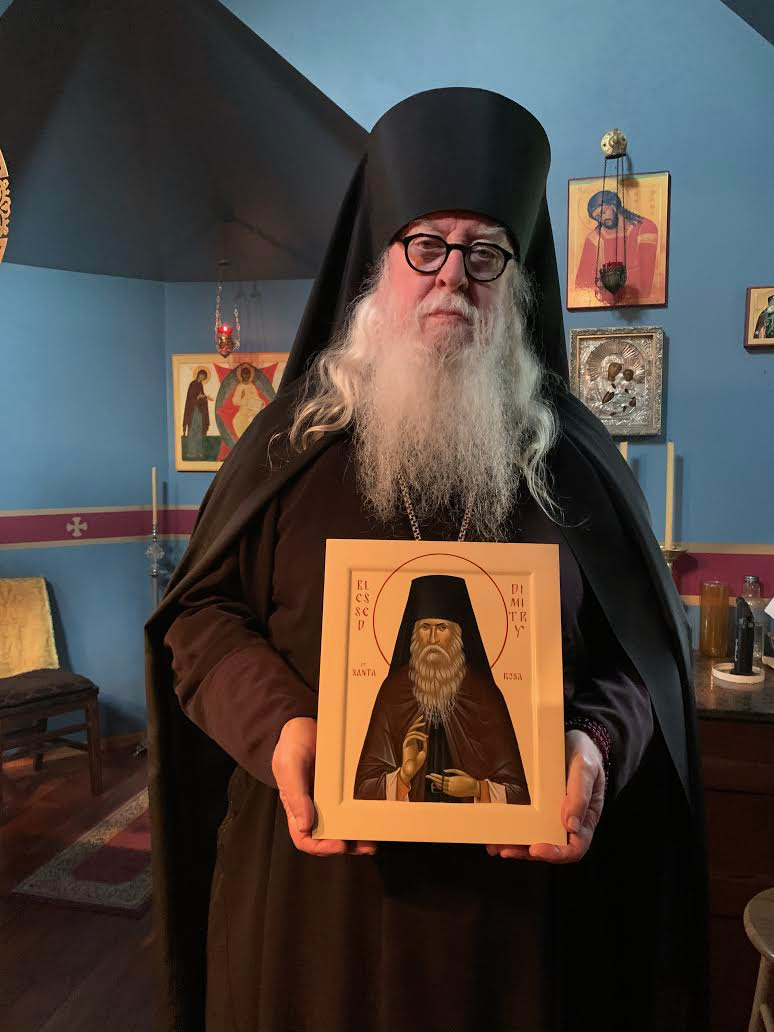 Sunday September 29, 2019 / September 16, 2019
15th Sunday after Pentecost. Tone six.
Sunday after the Universal Elevation of the Precious and Life-Creating Cross of the Lord
Great-martyr Euphemia the All-praised, of Chalcedon (304).
New Hieromartyr Gregory Raevsky priest (1937).
New Hieromartyr Sergius priest (1942).
Translation of the relics of St. Alexis of Moscow (2001).
Repose of St. Cyprian, metropolitan of Kiev (1406).
St. Photius, metropolitan of Kiev (1431).
St. Kushka of Odessa confessor (1964).
St. Sebastiana, disciple of St. Paul the Apostle, martyred at Heraclea (86).
Martyr Melitina of Marcianopolis (2nd c.).
Martyrs Victor and Sosthenes at Chalcedon (304).
Venerable Dorotheus, hermit of Egypt (4th c.).
Martyr Ludmilla (927), grandmother of St. Wenceslaus, prince of the Czechs.
Venerable Procopius, abbot, of Sazava in Bohemia (1053).
New Martyrs Isaac and Joseph, who suffered at Karnu, Georgia (808) (Georgia).
The Icon of the Mother of God, named "Support of the Humble"(1420).
St. Ninian, bishop of Whithorn (Candida Casa) ( 432) (Celtic & British).
Venerable Edith, nun, of Wilton, England (984) (Celtic & British).
Venerable Cyprian of Serbia (Serbia).
The Scripture Readings
Luke 24:1-12
He Is Risen
24 Now on the first day of the week, very early in the morning, they, and certain other women with them, came to the tomb bringing the spices which they had prepared. 2 But they found the stone rolled away from the tomb. 3 Then they went in and did not find the body of the Lord Jesus. 4 And it happened, as they were greatly perplexed about this, that behold, two men stood by them in shining garments. 5 Then, as they were afraid and bowed their faces to the earth, they said to them, "Why do you seek the living among the dead? 6 He is not here, but is risen! Remember how He spoke to you when He was still in Galilee, 7 saying, 'The Son of Man must be delivered into the hands of sinful men, and be crucified, and the third day rise again.' "
8 And they remembered His words. 9 Then they returned from the tomb and told all these things to the eleven and to all the rest. 10 It was Mary Magdalene, Joanna, Mary the mother of James, and the other women with them, who told these things to the apostles. 11 And their words seemed to them like idle tales, and they did not believe them. 12 But Peter arose and ran to the tomb; and stooping down, he saw the linen cloths lying by themselves; and he departed, marveling to himself at what had happened.
2 Corinthians 4:6-15
6 For it is the God who commanded light to shine out of darkness, who has shone in our hearts to give the light of the knowledge of the glory of God in the face of Jesus Christ.
Cast Down but Unconquered
7 But we have this treasure in earthen vessels, that the excellence of the power may be of God and not of us. 8 We are hard-pressed on every side, yet not crushed; we are perplexed, but not in despair; 9 persecuted, but not forsaken; struck down, but not destroyed— 10 always carrying about in the body the dying of the Lord Jesus, that the life of Jesus also may be manifested in our body. 11 For we who live are always delivered to death for Jesus' sake, that the life of Jesus also may be manifested in our mortal flesh. 12 So then death is working in us, but life in you.
13 And since we have the same spirit of faith, according to what is written, "I believed and therefore I spoke," we also believe and therefore speak, 14 knowing that He who raised up the Lord Jesus will also raise us up with Jesus, and will present us with you. 15 For all things are for your sakes, that grace, having spread through the many, may cause thanksgiving to abound to the glory of God.
Matthew 22:35-46
35 Then one of them, a lawyer, asked Him a question, testing Him, and saying, 36 "Teacher, which is the great commandment in the law?"
37 Jesus said to him, "'You shall love the Lord your God with all your heart, with all your soul, and with all your mind.' 38 This is the first and great commandment. 39 And the second is like it: 'You shall love your neighbor as yourself.' 40 On these two commandments hang all the Law and the Prophets."
Jesus: How Can David Call His Descendant Lord?
41 While the Pharisees were gathered together, Jesus asked them, 42 saying, "What do you think about the Christ? Whose Son is He?"
They said to Him, "The Son of David."
43 He said to them, "How then does David in the Spirit call Him 'Lord,' saying:
44 'The Lord said to my Lord,
"Sit at My right hand,
Till I make Your enemies Your footstool" '?
45 If David then calls Him 'Lord,' how is He his Son?" 46 And no one was able to answer Him a word, nor from that day on did anyone dare question Him anymore.