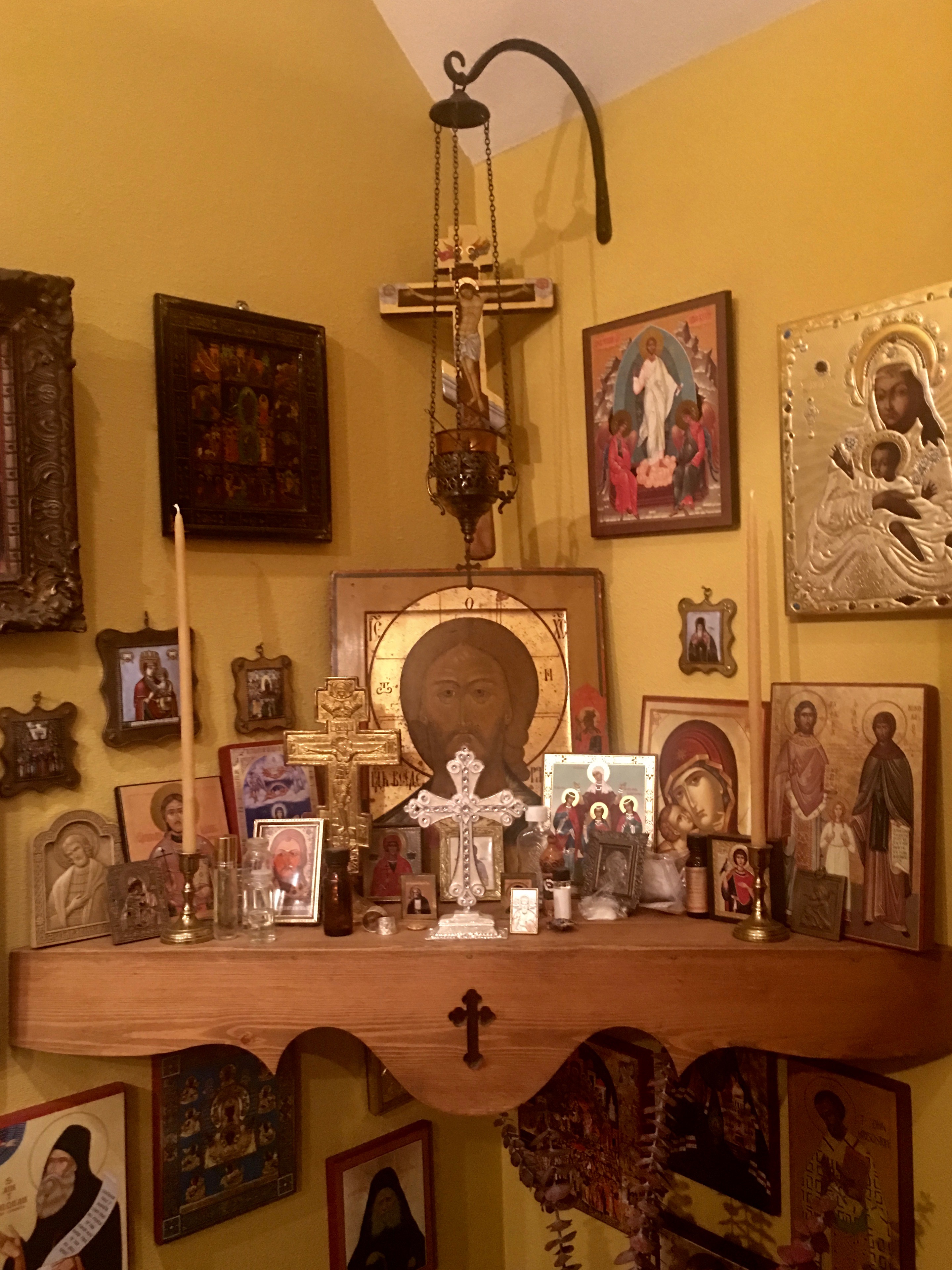 My dear mother was diagnosed with dementia, back in 2003. Soon after the diagnosis I moved her from Coeur d' Alene, Idaho, and into an assisted living place on Vashon Island, where I could be involved in the supervision of her care. The dementia progressed for the next four years, and almost from the beginning, she needed me to be with her as much as possible. I spent hours ever day by her side, taking her on drives around the island, treating her to lunches in the Chinese restaurant, and bringing her to the monastery for services. Attending to her spiritual and social needs, as best I could, and felt blessed I was able to do this for her.
My willingness to sacrifice my time and energy for my mother, in her time of need, was based not only on my love for her, but I saw this as an opportunity to pay her back for all the love and care she had given me while I was growing up.
Increasingly, people of my generation are being called upon to be caregivers for parents, siblings, or other family members. As the economy falters, we are, as a society having to take on responsibilities that were in past generations, the norm. Extended families were common during most of our nations history, where multiple generations living in one home was the norm. The elderly were seldom sent to live in institutions.
It is important that caregivers not sacrifice their own spiritual and social needs, as they take on the extra burden of attending to the physical, medical, and social needs of their family member. Caregivers have every right to have a life of their own, taking care to attend to their own needs for friendships, social engagements, and church life. The caregiver must not feel guilty, or feel they are betraying their loved one, when they step out with friends for dinner and a movie. They should not feel they are abandoning their responsibility by attending the divine services, or partaking in a Bible study.
I know only too well, that, as a priest, I must tend to my own needs if I am to minister to others. When we allow ourselves to be depleted, spiritually and emotionally, we do a disservice to those whom we serve. We should not feel a though we are betraying our family member, (or, in the case of a priest, a parishioner) when we spend an evening with friends, or take time out with other family members for a special outing. When we allow ourselves to become depleted, the person in our care will ultimately suffer, for a care giver (or priest) who becomes resentful, can slip into being abusive, without even realizing it.
There are any number of organizations that can provide in-home care when the caregiver needs a break. Whether you be a caregiver, social worker, or a priest, anyone who is in service to others, must be sure to take care of themselves, lest they become ineffective in their service to others. When flying on an airline, we are instructed by the flight attendant, when the oxygen apparatus falls down, to place it over our own face before taking care of the person next to us. Likewise, if we do not take care of our own spiritual, emotional, and social needs, we will ultimately fail in our ministering to others.
With love in Christ,
Abbot Tryphon
Thursday August 8, 2019 / July 26, 2019
8th Week after Pentecost. Tone six.
Hieromartyrs Hermolaus (305), Hermippus, and Hermocrates at Nicomedia.
New Hieromartyr Sergius priest (1937).
Venerable Moses the Hungarian, of the Kiev Caves (1043).
Martyr Parasceve of Rome (138).
St. Iakov (Netsvetov) of Atka-Island and Ikogmute, mission priest to the Yup'ik on the Yukon River (1867).
Martyr Oriozela of Reuma in Byzantium (ca. 250) (Greek).
Venerable Ignatius, monk, of Mt. Stirion (Greek).
Virgin-martyr Jerusalem of Byzantium (Greek). /font>
Venerable Gerontius, founder of the Skete of St. Anne, Mt. Athos (13th c.) (Greek).
St. Sava III, archbishop of Serbia (1316) (Greek).
The Scripture Readings
1 Corinthians 10:28-11:7
28 But if anyone says to you, "This was offered to idols," do not eat it for the sake of the one who told you, and for conscience' sake; for "the earth is the Lord's, and all its fullness." 29 "Conscience," I say, not your own, but that of the other. For why is my liberty judged by another man's conscience? 30 But if I partake with thanks, why am I evil spoken of for the food over which I give thanks?
31 Therefore, whether you eat or drink, or whatever you do, do all to the glory of God. 32 Give no offense, either to the Jews or to the Greeks or to the church of God, 33 just as I also please all men in all things, not seeking my own profit, but the profit of many, that they may be saved.
Worship and the Lord's Supper
11 Imitate me, just as I also imitate Christ.
Head Coverings
2 Now I praise you, brethren, that you remember me in all things and keep the traditions just as I delivered them to you. 3 But I want you to know that the head of every man is Christ, the head of woman is man, and the head of Christ is God. 4 Every man praying or prophesying, having his head covered, dishonors his head. 5 But every woman who prays or prophesies with her head uncovered dishonors her head, for that is one and the same as if her head were shaved. 6 For if a woman is not covered, let her also be shorn. But if it is shameful for a woman to be shorn or shaved, let her be covered. 7 For a man indeed ought not to cover his head, since he is the image and glory of God; but woman is the glory of man.
Matthew 16:24-28
Take Up the Cross and Follow Him
24 Then Jesus said to His disciples, "If anyone desires to come after Me, let him deny himself, and take up his cross, and follow Me. 25 For whoever desires to save his life will lose it, but whoever loses his life for My sake will find it. 26 For what profit is it to a man if he gains the whole world, and loses his own soul? Or what will a man give in exchange for his soul? 27 For the Son of Man will come in the glory of His Father with His angels, and then He will reward each according to his works. 28 Assuredly, I say to you, there are some standing here who shall not taste death till they see the Son of Man coming in His kingdom."