Mustering passions against that which they claim does not exist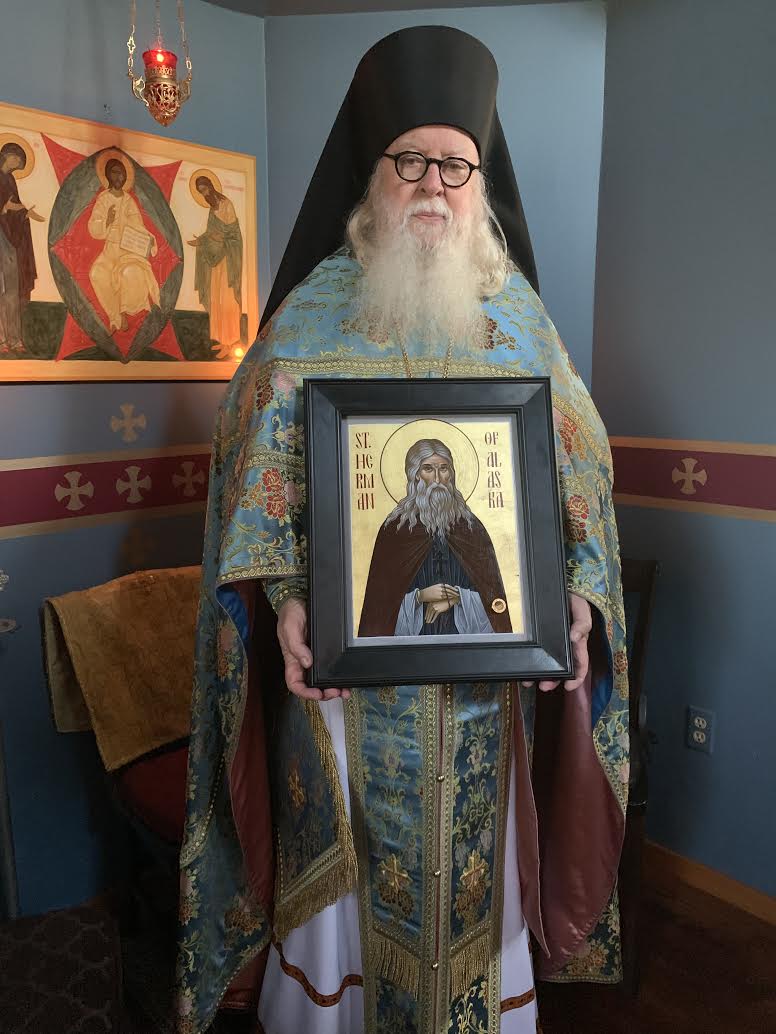 As I view the onslaught of the crazed mindset of a world gone mad, I am saddened by a culture that has totally lost its way. Christianity has always had enemies, but in the past those enemies declared themselves by introducing heresies, meant to undermine the Mind of the Church, and distort Christian truth, even obscuring the divinely inspired path to God.
Not so in today's world, where a militant atheism has raised its ugly head. The widespread denial of truth itself, along with a total rejection of God, has introduced a crude and ugly philosophy like the world has never seen before. This nothingness propagated upon our world by these militant atheists betrays a belief system that makes me cringe, as they muster passions against that which they claim does not exist
With love in Christ,
Abbot Tryphon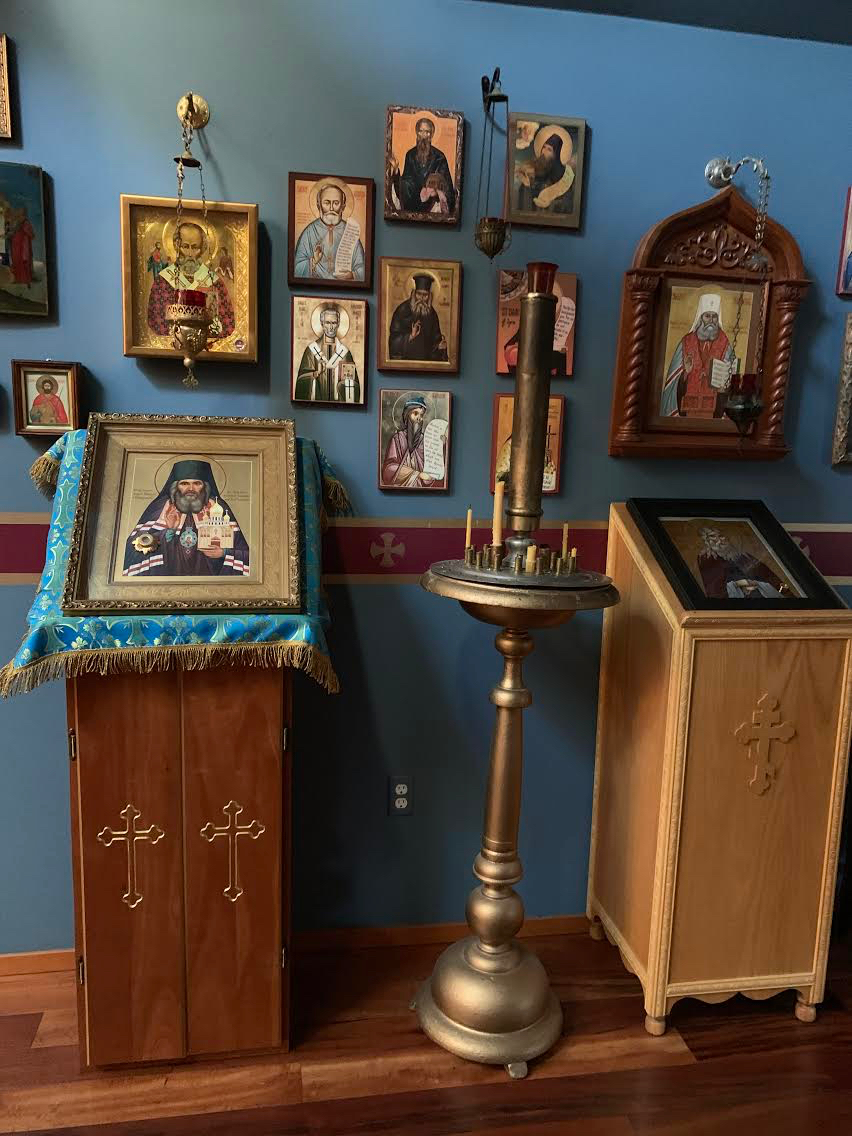 Photos: During our celebration of the Dormition of the Mother of God, we blessed our new icon of Saint Herman of Alaska, and enthroned this icon, together with the holy relic of Saint Herman, next to the icons of Saint John the Wonderworker, and Saint Innocent of Alaska (together with their holy relics). We are grateful to God for having gifted John Shayne Swenson, of Spokane, with such talent as an icon painter.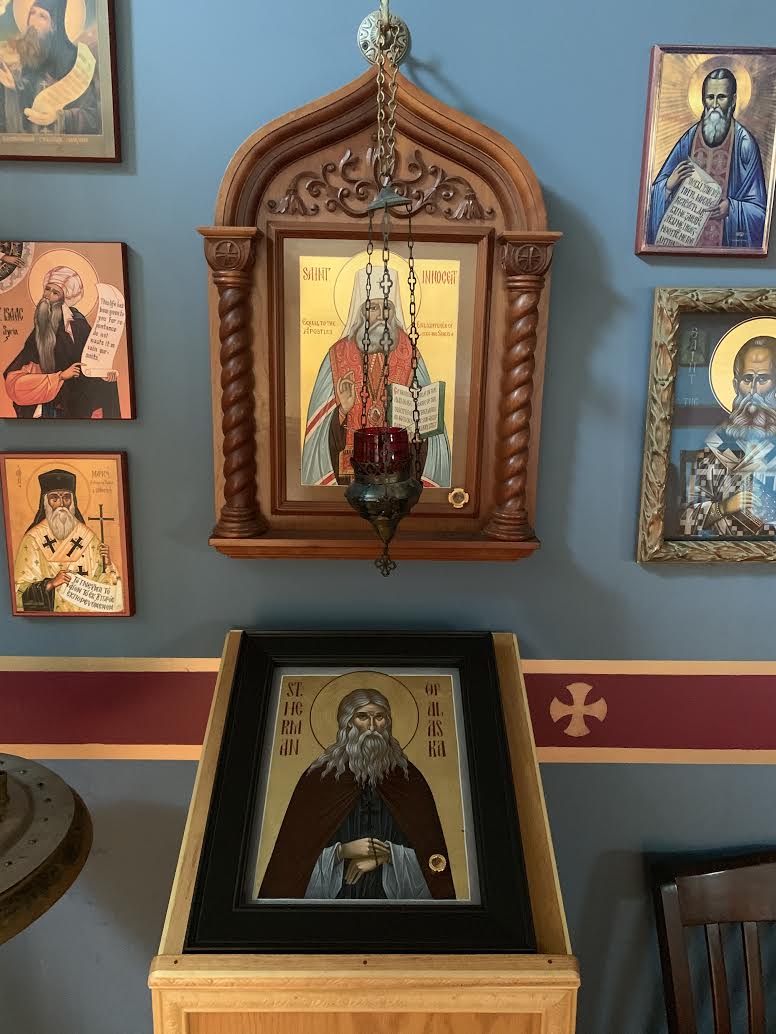 Thursday August 29, 2019 / August 16, 2019
11th Week after Pentecost. Tone one.
Translation of the Image Not-Made-By-Hands of our Lord Jesus Christ from Edessa to Constantinople (944).
Martyr Diomedes the Physician of Tarsus in Cilicia (298).
33 Martyrs of Palestine.
New Hieromartyr Stephen priest (1918).
New Hieromartyrs priest Vladimir and his brother Boris (1931).
New Hieromartyr Alexander priest, Virgin Martyr Anna and Martyr Jacob (1937).
Venerable Cherimon (Chaeremon) of Egypt (4th c.).
Martyr grand prince Constantine (1714) (Romania).
Icons of the Most Holy Theotokos of St. Theodore ("Feodorovskaya") (1239) and "Triumph of Holy Theotokos" (Port Artur) (1904).
Venerable Joachim, monk, of Osogovo and Sarandapor (11th c.).
New Martyr Nicodemus of Meteora (1551) (Greek).
New Martyr Stamatius of Volos, Thessaly (1680) (Greek).
Venerable Anthony the Stylite of Martq'ophi, Georgia (6th c.) (Georgia).
Holy Martyr Kristepore Guruli (Georgia).
New Martyrs King Constantine Brancoveanu of Wallachia and his four sons Constantine, Stephen, Radu, and Matthew, and his counsellor Ianache (1714) (Romania).
Venerable Gerasimus the New Ascetic of Cephalonia (Mt. Athos) (1579) (Greek).
Venerable Nilus, brother of Emperor Theodore Laskaris, who rebuilt the monastery of the Mother of God at Epirus (Greek).
St. Timothy of Chalcedon, archbishop, founder of the monastery of Pendeli (Greek).
Great New Martyr Apostolos of the town of St. Laurence, martyred in Constantinople (1686) (Greek).
Translation of the relics of Martyrs Seraphim, Dorotheus, James, Demetrius, Basil and Sarantis of Megaris (Greek).
Martyr Alcibiades (Greek).
St. Raphael of Banat, Serbia (17th c.) (Serbia).
St. Roman the Sinaite of Djunisa, Serbia (14th c.) (Serbia).
St. Eustathius II, archbishop of Serbia (1309) (Serbia).
The Scripture Readings
Luke 9:51-56
A Samaritan Village Rejects the Savior
51 Now it came to pass, when the time had come for Him to be received up, that He steadfastly set His face to go to Jerusalem, 52 and sent messengers before His face. And as they went, they entered a village of the Samaritans, to prepare for Him. 53 But they did not receive Him, because His face was set for the journey to Jerusalem. 54 And when His disciples James and John saw this, they said, "Lord, do You want us to command fire to come down from heaven and consume them, just as Elijah did?"
55 But He turned and rebuked them, and said, "You do not know what manner of spirit you are of. 56 For the Son of Man did not come to destroy men's lives but to save them." And they went to another village.
Luke 10:22-24
22 All things have been delivered to Me by My Father, and no one knows who the Son is except the Father, and who the Father is except the Son, and the one to whom the Son wills to reveal Him."
23 Then He turned to His disciples and said privately, "Blessed are the eyes which see the things you see; 24 for I tell you that many prophets and kings have desired to see what you see, and have not seen it, and to hear what you hear, and have not heard it."
2 Corinthians 4:1-6
The Light of Christ's Gospel
4 Therefore, since we have this ministry, as we have received mercy, we do not lose heart. 2 But we have renounced the hidden things of shame, not walking in craftiness nor handling the word of God deceitfully, but by manifestation of the truth commending ourselves to every man's conscience in the sight of God. 3 But even if our gospel is veiled, it is veiled to those who are perishing, 4 whose minds the god of this age has blinded, who do not believe, lest the light of the gospel of the glory of Christ, who is the image of God, should shine on them. 5 For we do not preach ourselves, but Christ Jesus the Lord, and ourselves your bondservants for Jesus' sake. 6 For it is the God who commanded light to shine out of darkness, who has shone in our hearts to give the light of the knowledge of the glory of God in the face of Jesus Christ.
Matthew 24:13-28
13 But he who endures to the end shall be saved. 14 And this gospel of the kingdom will be preached in all the world as a witness to all the nations, and then the end will come.
The Great Tribulation
15 "Therefore when you see the 'abomination of desolation,' spoken of by Daniel the prophet, standing in the holy place" (whoever reads, let him understand), 16 "then let those who are in Judea flee to the mountains. 17 Let him who is on the housetop not go down to take anything out of his house. 18 And let him who is in the field not go back to get his clothes. 19 But woe to those who are pregnant and to those who are nursing babies in those days! 20 And pray that your flight may not be in winter or on the Sabbath. 21 For then there will be great tribulation, such as has not been since the beginning of the world until this time, no, nor ever shall be.22 And unless those days were shortened, no flesh would be saved; but for the [a]elect's sake those days will be shortened.
23 "Then if anyone says to you, 'Look, here is the Christ!' or 'There!' do not believe it. 24 For false christs and false prophets will rise and show great signs and wonders to deceive, if possible, even the elect. 25 See, I have told you beforehand.
26 "Therefore if they say to you, 'Look, He is in the desert!' do not go out; or 'Look, He is in the inner rooms!' do not believe it. 27 For as the lightning comes from the east and flashes to the west, so also will the coming of the Son of Man be. 28 For wherever the carcass is, there the eagles will be gathered together.