The Jesus Prayer and the Acquisition of Inner Peace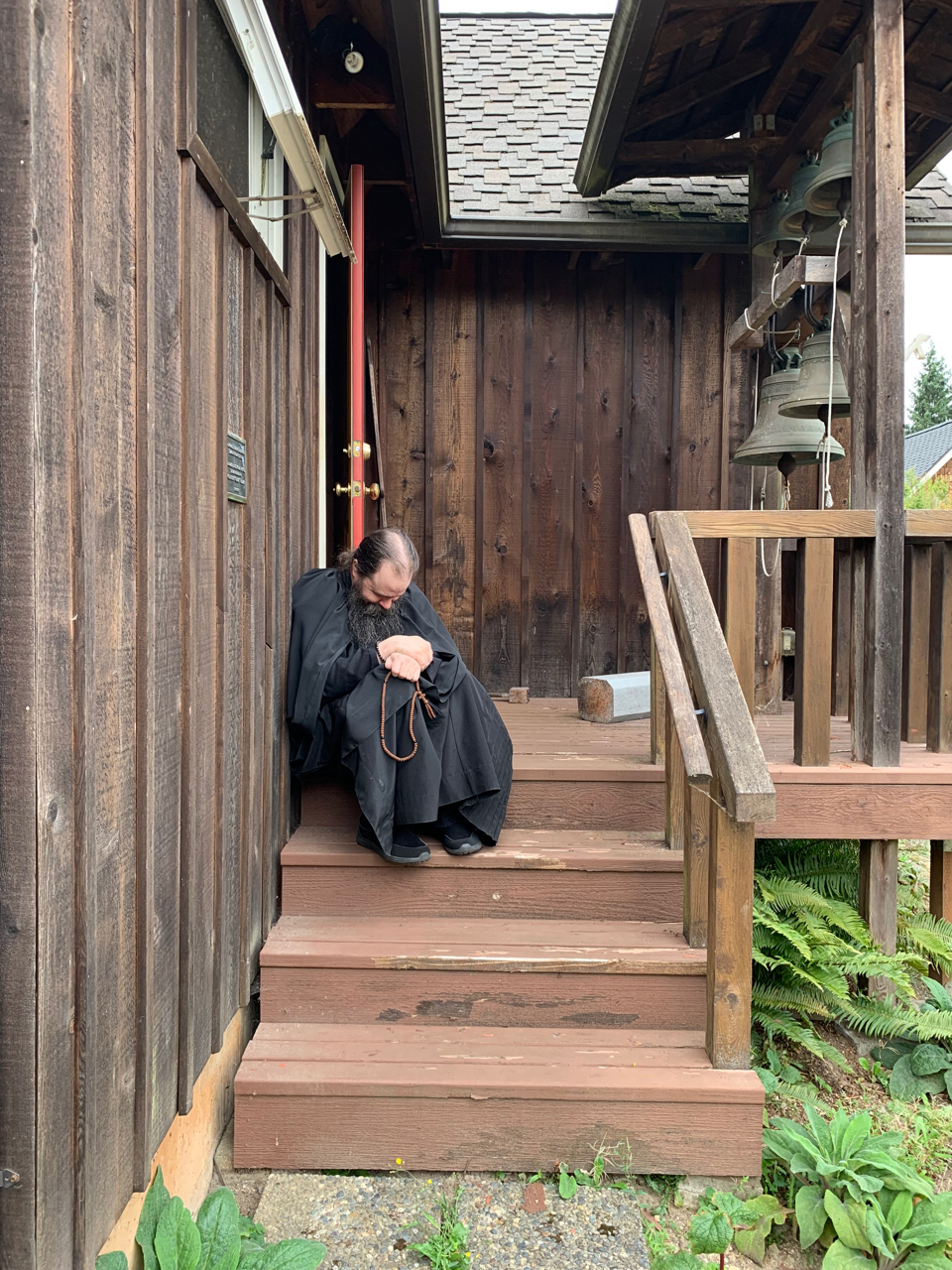 The Jesus Prayer, also known as the  Prayer of the Heart, is the central prayer for monastics. One of the early desert fathers, Saint Macarius the Great, said of the phrase from the Psalms, "The meditation of my heart is in your sight", "There is no other perfect meditation than the saving and blessed Name of Our Lord Jesus Christ dwelling without interruption in you, as it is written 'I will cry out like the swallow and I will meditate like the turtledove!' This is what is done by the devout (person) who perseveres in invoking the saving Name of Our Lord Jesus Christ."
The profound simplicity of the Jesus Prayer, "Lord Jesus Christ, Son of God, have mercy on me a sinner" makes it the perfect prayer, allowing us to follow the injunction of the of the Apostle Paul, that we "should pray always".
The prayer can be said in various shortened versions, such as "Lord Jesus Christ, have mercy on me.", or simply, "Lord Jesus Christ."
Over the years I've heard so many people tell me that they have difficulty concentrating on their daily prayers. They've shared that they struggle with thoughts coming into their minds that distract them from prayer. Others have said the same thing happens during the public services in the temple. The Prayer of the Heart can help, for it is a way to dispel outside thoughts and bring our attention back to the Holy Name of Jesus.
This Prayer enriches our lives in every way as it can be used throughout the day, and in every situation. We can pray the Jesus Prayer while working, driving to the store in heavy traffic (it is a splendid way to refrain from road rage), and even while sitting in boring meetings at the office. I use this prayer when hearing confessions, or when counseling, since it is a way of seeking guidance from the Holy Spirit when giving spiritual direction.
I promise you, if you take up this Prayer for yourself, it will contribute to peace of heart, stillness of the mind and keep you centered in things of God. It will also allow you to participate in a spiritual practice that is as old as the Church herself.
In this Prayer we are not only asking for God's mercy, but declaring a confession of Faith. The Lord Jesus Christ is God and able to grant mercy and forgiveness of our sins. He is Lord of our lives and the imparting of his mercy gives us life.
"Lord Jesus Christ, having mercy on me a sinner."
Love in Christ,
Abbot Tryphon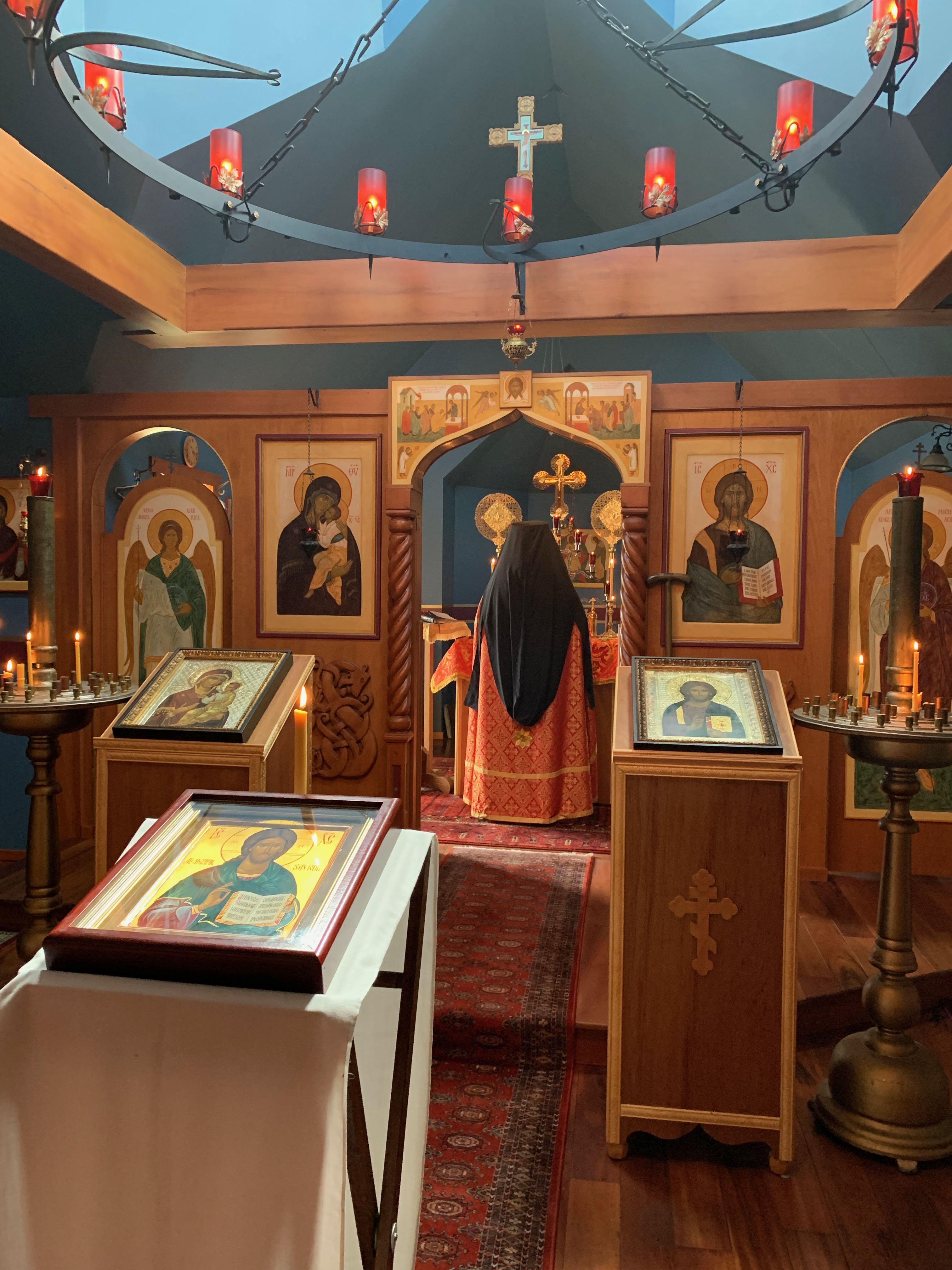 The above photo was taken during our Patronal Feast Liturgy.
Sunday August 18, 2019 / August 5, 2019
9th Sunday after Pentecost. Tone eight.
Dormition (Theotokos) Fast. Food with Oil
Forefeast of the Transfiguration of our Lord.
Martyr Eusignius of Antioch (362).
New Hieromartyr Stephen priest (1918).
New Martyrs Eudocia and Novices Daria, Daria, and Maria (1919).
New Hieromartyr Simon bishop of Ufa (1921).
New Hieromartyr John deacon (1938).
Venerable Job the Gorge-dweller on the Mezen River (Solovki) (1628).
Hieromartyrs Fabian (250) and Antherus (Antheros) (257), popes of Rome.
Martyr Pontius at Cimella in France (257).
Martyrs Cantidius, Cantidian and Sibelius (Sobel), of Egypt.
Righteous Nonna (374), mother of St. Gregory the Theologian.
St. Oswald, king and martyr (642) (Celtic & British).
Venerable John (Jacob) of Neamp, the Chozebite (1960) (Romania).
New Martyr Chrestos of Preveza (1668).
Uncovering of the relics (1967) of St. Arsenius the New of Paros (1877).
The Scripture Readings
John 20:19-31
The Apostles Commissioned
19 Then, the same day at evening, being the first day of the week, when the doors were shut where the disciples were assembled, for fear of the Jews, Jesus came and stood in the midst, and said to them, "Peace be with you." 20 When He had said this, He showed them His hands and His side. Then the disciples were glad when they saw the Lord.
21 So Jesus said to them again, "Peace to you! As the Father has sent Me, I also send you." 22 And when He had said this, He breathed on them, and said to them, "Receive the Holy Spirit. 23 If you forgive the sins of any, they are forgiven them; if you retain the sins of any, they are retained."
Seeing and Believing
24 Now Thomas, called the Twin, one of the twelve, was not with them when Jesus came. 25 The other disciples therefore said to him, "We have seen the Lord."
So he said to them, "Unless I see in His hands the print of the nails, and put my finger into the print of the nails, and put my hand into His side, I will not believe."
26 And after eight days His disciples were again inside, and Thomas with them. Jesus came, the doors being shut, and stood in the midst, and said, "Peace to you!" 27 Then He said to Thomas, "Reach your finger here, and look at My hands; and reach your hand here, and put it into My side. Do not be unbelieving, but believing."
28 And Thomas answered and said to Him, "My Lord and my God!"
29 Jesus said to him, "Thomas, because you have seen Me, you have believed. Blessed are those who have not seen and yet have believed."
That You May Believe
30 And truly Jesus did many other signs in the presence of His disciples, which are not written in this book; 31 but these are written that you may believe that Jesus is the Christ, the Son of God, and that believing you may have life in His name.
1 Corinthians 3:9-17
9 For we are God's fellow workers; you are God's field, you are God's building. 10 According to the grace of God which was given to me, as a wise master builder I have laid the foundation, and another builds on it. But let each one take heed how he builds on it. 11 For no other foundation can anyone lay than that which is laid, which is Jesus Christ. 12 Now if anyone builds on this foundation with gold, silver, precious stones, wood, hay, straw, 13 each one's work will become clear; for the Day will declare it, because it will be revealed by fire; and the fire will test each one's work, of what sort it is. 14 If anyone's work which he has built on it endures, he will receive a reward. 15 If anyone's work is burned, he will suffer loss; but he himself will be saved, yet so as through fire.
16 Do you not know that you are the temple of God and that the Spirit of God dwells in you? 17 If anyone defiles the temple of God, God will destroy him. For the temple of God is holy, which temple you are.
Matthew 14:22-34
Jesus Walks on the Sea
22 Immediately Jesus made His disciples get into the boat and go before Him to the other side, while He sent the multitudes away. 23 And when He had sent the multitudes away, He went up on the mountain by Himself to pray. Now when evening came, He was alone there. 24 But the boat was now in the middle of the sea, tossed by the waves, for the wind was contrary.
25 Now in the fourth watch of the night Jesus went to them, walking on the sea. 26 And when the disciples saw Him walking on the sea, they were troubled, saying, "It is a ghost!" And they cried out for fear.
27 But immediately Jesus spoke to them, saying, "Be of good cheer! It is I; do not be afraid."
28 And Peter answered Him and said, "Lord, if it is You, command me to come to You on the water."
29 So He said, "Come." And when Peter had come down out of the boat, he walked on the water to go to Jesus. 30 But when he saw that the wind was boisterous, he was afraid; and beginning to sink he cried out, saying, "Lord, save me!"
31 And immediately Jesus stretched out His hand and caught him, and said to him, "O you of little faith, why did you doubt?" 32 And when they got into the boat, the wind ceased.
33 Then those who were in the boat came and worshiped Him, saying, "Truly You are the Son of God."
Many Touch Him and Are Made Well
34 When they had crossed over, they came to the land of Gennesaret.