Proper attire in the House of God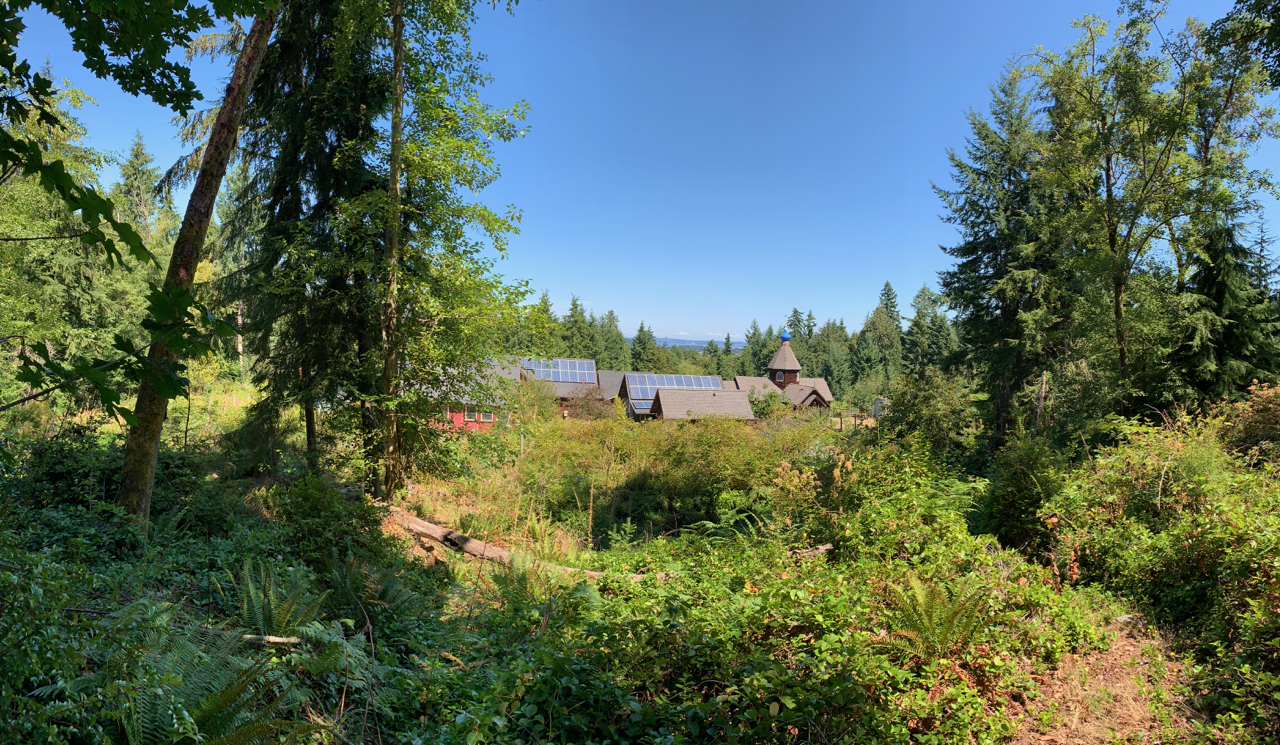 The Church is our home, a place where we should feel comfortable, and at ease. It is also God's house and is a temple set aside for worship of the Holy Trinity. Although times have changed and we have become a very casual society, this attitude can not be allowed to influence how we dress to worship God. Our way of dressing for church should reflect our desire to offer our very best to Christ. Just as we want to act in ways that demonstrate the centrality of Christ in our lives, our dress should show forth the modesty that is befitting a Christian.
Just as we take special care to dress for formal social occasions, or job interviews, how much more important it is to show our respect for God's house. If we were invited to the wedding of our boss's daughter, we'd make sure to show respect to our employer by dressing our best. Does God deserve anything less?
We should wear clothes that are modest and befitting a Christian, especially when worshiping in God's house. In our monastery's temple, we keep the ancient practice of removing our shoes before entering, recalling God's direction to Moses " … take off your shoes from your feet, for the place where you are is holy ground". We ask that no one wear shorts or tee shirts when entering the holy grounds of the monastery, and, as is proper in all Orthodox churches, ask visitors to avoid the distractions that come with slogans on clothing, or "showy" clothing that is best reserved for elegant events.
Both men and women should avoid wearing clothing that can be distracting to other worshipers. Just as we want to keep our focus on the divine services, so too we must not be the cause of the distraction for our fellow Christians. Christ should be the focus of our worship, not our personal outfits. Church is not the place to show off the latest fashion, nor the results of the fitness center.
Just as it is Orthodox custom that men remove their hats upon entering the Church, women, throughout the history of the Church, have worn head coverings. The idea that this pious, biblical custom be seen as an antiquated or sexist practice, should be foreign to our Orthodox mindset. This tradition is not intended as an insult to women but as a great compliment. The scriptures refer to a woman's hair as her "crowning glory", and the covering of her head as an act of humility. Throughout Christian history, modest believing women chose not to allow their beauty to distract others from the glory of God and the beauty of His house.
With love in Christ,
Abbot Tryphon
Photo: The view of the monastery from the southern boarder of our property.
Saturday August 3, 2019 / July 21, 2019
7th Week after Pentecost. Tone five.
Prophet Ezekiel (6th c. B.C.).
Venerable Symeon of Emesa, fool-for-Christ (590), and his fellow faster Venerable John.
New Hieromartyr Peter priest (1938).
Uncovering of the relics of St. Romanus Medved' the Confessor, priest (1999).
New Hieromartyrs Simo Banjac and Milan Stojisavljevic and his son Martyr Milan of Glamoc, Serbia (1941-1945).
Venerable Onuphrius the Silent of the Kiev Caves (12th c.) and St. Onesimus, recluse of the Kiev Caves (13th c.).
Uncovering of the relics (1649) of Venerable Anna of Kashin (1337).
Martyr Victor of Marseilles.
Martyr Acacius of Constantinople. (Greek).
Venerable Eleutherius of "Dry Hill" (Greek).
St. Parthenius of Radovizlios, bishop (Greek).
St. Anna, mother of Venerable Sabbas the Serbian (Serbia).
Hieromartyr Zoticus of Comana in Armenia (204).
Martyrs Justus, Matthew, and Eugene of the 13 who suffered at Rome together with the Martyrs Trophimus and Theophilus (305).
Martyr Bargabdesian, deacon, at Arbela in Assyria (354)
St. Paul, bishop, and St. John, presbyter, ascetics near Edessa (5th c.).
The Scripture Readings
Romans 12:1-3
Living Sacrifices to God
12 I beseech you therefore, brethren, by the mercies of God, that you present your bodies a living sacrifice, holy, acceptable to God, which is your reasonable service. 2 And do not be conformed to this world, but be transformed by the renewing of your mind, that you may prove what is that good and acceptable and perfect will of God.
Serve God with Spiritual Gifts
3 For I say, through the grace given to me, to everyone who is among you, not to think of himself more highly than he ought to think, but to think soberly, as God has dealt to each one a measure of faith.
Matthew 10:37-11:1
37 He who loves father or mother more than Me is not worthy of Me. And he who loves son or daughter more than Me is not worthy of Me. 38 And he who does not take his cross and follow after Me is not worthy of Me. 39 He who finds his life will lose it, and he who loses his life for My sake will find it.
A Cup of Cold Water
40 "He who receives you receives Me, and he who receives Me receives Him who sent Me. 41 He who receives a prophet in the name of a prophet shall receive a prophet's reward. And he who receives a righteous man in the name of a righteous man shall receive a righteous man's reward. 42 And whoever gives one of these little ones only a cup of cold water in the name of a disciple, assuredly, I say to you, he shall by no means lose his reward."
John the Baptist Sends Messengers to Jesus
11 Now it came to pass, when Jesus finished commanding His twelve disciples, that He departed from there to teach and to preach in their cities.