Holiness comes only to those who struggle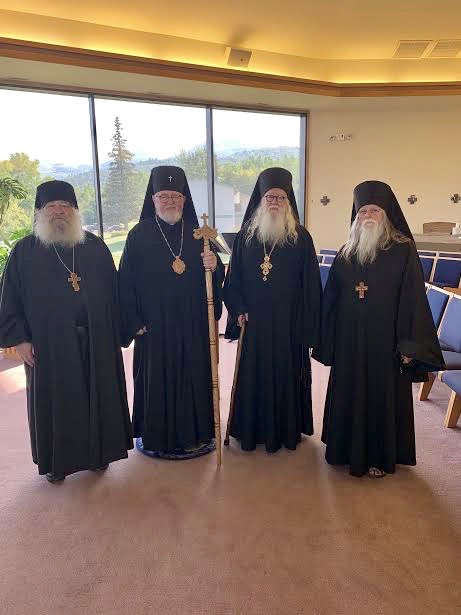 Not an hour should pass without taking time to examine our heart, for the hour of judgement can come at any time, and we must be ready to give account to God for our life. When we practice examination of the heart, we do so with the knowledge that there is no spiritual improvement if we do not seek to please God with holiness of life. If we find good in our deeds, we must attribute it to God. If we find we've neglected our spiritual struggle, and acted with foolish abandon, we must turn to God in repentance. Each moment of each hour we must resolve to turn ourselves around, and with God's help, fight against the enemy of our souls. Holiness comes only to those who struggle.
With love in Christ,
Abbot Tryphon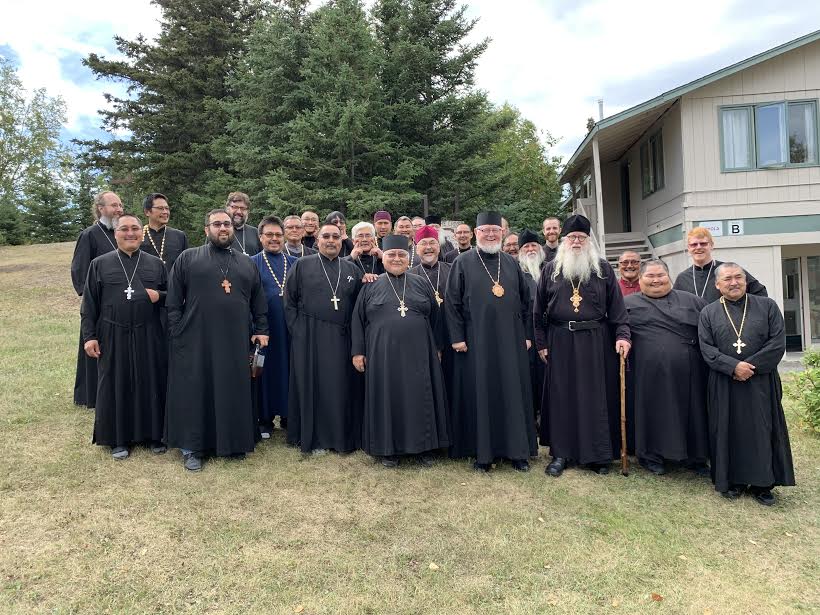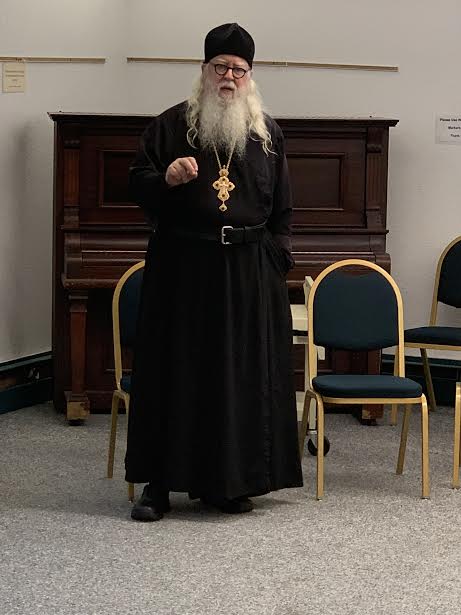 Photos: I am flying back to Seattle on Friday, following my nine day pilgrimage to Alaska. This trip has been one filled with many blessings, and I am grateful to Archbishop David for having invited me to come for the Saint Herman Pilgrimage on Spruce Island, attending services in the Kodiak cathedral, and the two days on the remote island of Saint Paul, in the middle of the Bering Sea. I am also honored to have been blessed by His Eminence to deliver numerous talks to his clergy, during their Pastoral Conference. I return to my monastery greatly renewed and refreshed. Glory to God for all things.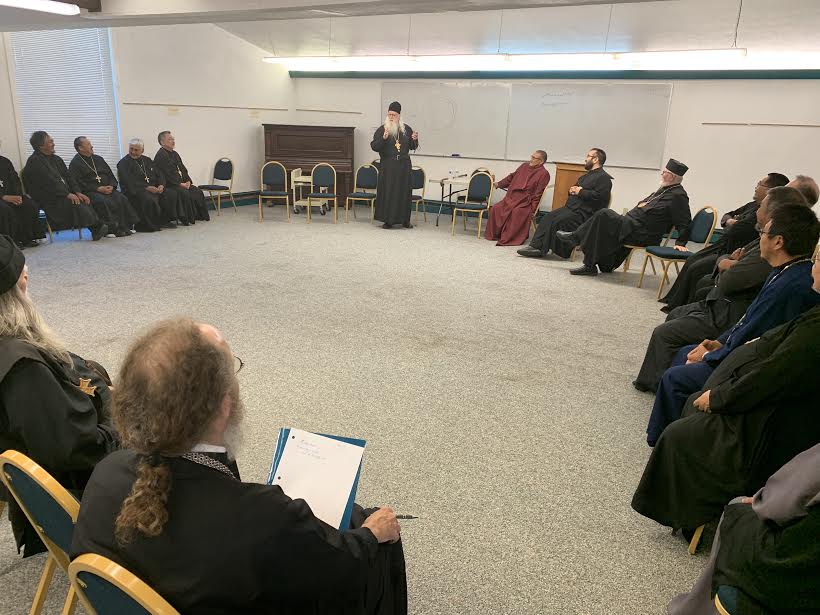 Friday August 16, 2019 / August 3, 2019
9th Week after Pentecost. Tone seven.
Dormition (Theotokos) Fast. By Monastic Charter: Strict Fast (Bread, Vegetables, Fruits)
Venerables Isaac, Dalmatus, and Faustus, ascetics of the Dalmatian Monastery, Constantinople (5th c.).
Venerable Anthony the Roman, abbot (Novgorod) (1147).
New Hieromartyr Viacheslav deacon (1918).
New Hieromartyr Nicholas priest (1938).
Protomartyr Rajden of Tsromi and Nikozi, Georgia (457) (Georgia).
Venerable Cosmas, eunuch and hermit of Palestine (6th c.).
Holy Myrrh-bearer Salome.
Venerable John, confessor, abbot of Patalaria Monastery (Greek).
Venerable Theoctistus the Wonderworker of Optimaton (Greek).
Venerable Theodora of Thessalonica (Greek).
Nine Kherkheulidze brothers, their mother and sister, and 9,000 others, who suffered on the field of Marabde, Georgia (1625) (Georgia).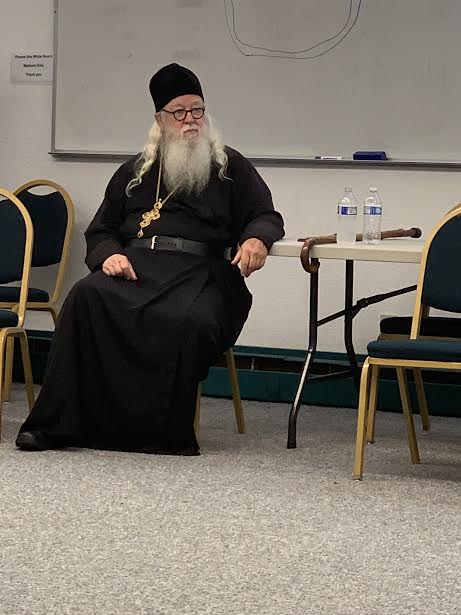 The Scripture Readings
1 Corinthians 14:26-40
Order in Church Meetings
26 How is it then, brethren? Whenever you come together, each of you has a psalm, has a teaching, has a tongue, has a revelation, has an interpretation. Let all things be done for edification. 27 If anyone speaks in a tongue, let there be two or at the most three, each in turn, and let one interpret. 28 But if there is no interpreter, let him keep silent in church, and let him speak to himself and to God. 29 Let two or three prophets speak, and let the others judge. 30 But if anything is revealed to another who sits by, let the first keep silent. 31 For you can all prophesy one by one, that all may learn and all may be encouraged. 32 And the spirits of the prophets are subject to the prophets. 33 For God is not the author of confusion but of peace, as in all the churches of the saints.
34 Let your women keep silent in the churches, for they are not permitted to speak; but they are to be submissive, as the law also says. 35 And if they want to learn something, let them ask their own husbands at home; for it is shameful for women to speak in church.
36 Or did the word of God come originally from you? Or was it you only that it reached? 37 If anyone thinks himself to be a prophet or spiritual, let him acknowledge that the things which I write to you are the commandments of the Lord. 38 But if anyone is ignorant, let him be ignorant.
39 Therefore, brethren, desire earnestly to prophesy, and do not forbid to speak with tongues. 40 Let all things be done decently and in order.
Matthew 21:12-14
Jesus Cleanses the Temple
12 Then Jesus went into the temple of God and drove out all those who bought and sold in the temple, and overturned the tables of the money changers and the seats of those who sold doves. 13 And He said to them, "It is written, 'My house shall be called a house of prayer,' but you have made it a 'den of thieves.' "
14 Then the blind and the lame came to Him in the temple, and He healed them.
Matthew 21:17-20
17 Then He left them and went out of the city to Bethany, and He lodged there.
The Fig Tree Withered
18 Now in the morning, as He returned to the city, He was hungry. 19 And seeing a fig tree by the road, He came to it and found nothing on it but leaves, and said to it, "Let no fruit grow on you ever again." Immediately the fig tree withered away.
The Lesson of the Withered Fig Tree
20 And when the disciples saw it, they marveled, saying, "How did the fig tree wither away so soon?"