The place where heaven and earth are united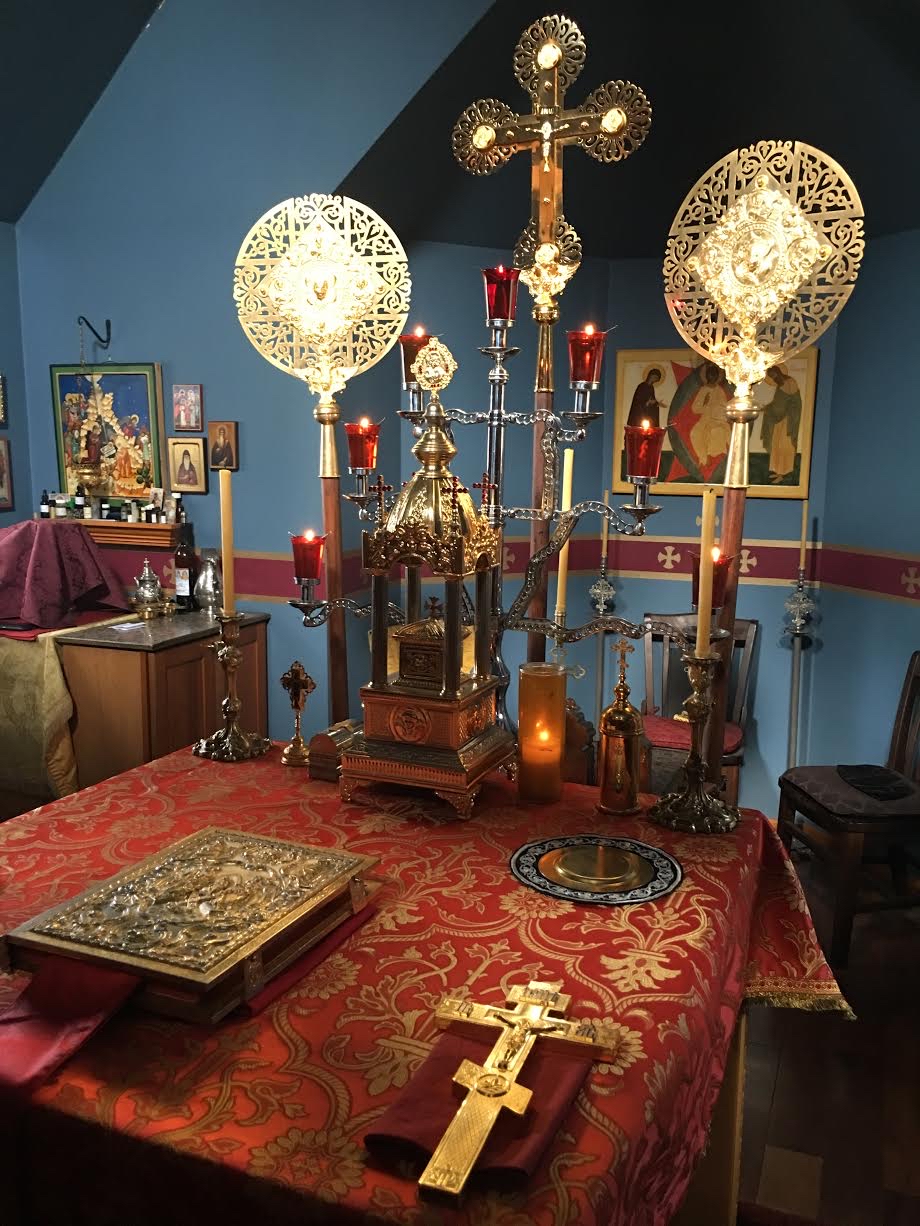 As a priest, I bear the awesome burden of offering the Holy Oblation before the Throne of God, on behalf of all the people who's names are submitted to the monastery, and who are Orthodox. I offer for my spiritual children, and even for the whole world. I commemorate my own beloved parents, Albert and Dolores, who both converted to the Orthodox Faith while in their mid seventies, and who both lived many years in Orthodoxy before reposing in the Lord.
I remember my best friend in college, Russell, who, like myself, converted from Lutheranism to Orthodoxy, and died at the age of 56, in the pastoral care of my friend Archpriest Nicholas Letten. I offer the Holy Oblation for the people who regularly attend the Sunday and Holy Day Liturgies, here in our monastery's temple. I offer, like all priests, the Holy Oblation for our nation, our civil authorities, and our armed forces. I offer the Eucharistic sacrifice for our Holy Patriarch Kirill, our Metropolitan Hilarion, for Archbishop Kyrill of San Francisco, and my Bishop Theodosy of Seattle. I offer the Oblation for all those who have no one to pray for them, and for those who have died, but are forgotten. I offer the Holy Sacrifice for all the clergy of the Seattle area, and for my brother priests of the diocese. I offer the Holy Sacrifice for myself.
As a priest, I am a Servant of the Altar, and when I stand before the holy table I am bound together with every priest who has ever served, and with everyone who has laid down his life for Christ, as a martyr. I am bound to every Christian who has ever lived. I am bound to Christ in His Eternal Kingdom wherein the Heavenly Banquet is eternally celebrated, eternally offered, and am falling down, together with all the heavenly hosts, in worship of the Holy Trinity.
The whole of the cosmos is united together in this heavenly offering, for it is the very source of Life itself. This offering is not simply a "symbol" or "memorial" of something that took place in the past, but a place where we meet the Eternal God, for Christ said, "he who eats of My Body, and drinks of my Blood, has life". Within this celebration we enter into the place where there is neither time, nor space, and we enter into the Heavenly Kingdom, where the Church Triumphant (in heaven) unites with the Church Militant (on earth). We enter into the Communion of Saints!
I am a proponent of frequent communion because we need the Eucharist. It sustains us, encourages us, fortifies us, heals us, transforms us. The early Christians receive whenever they gathered together, for they knew the communal participation in the Eucharistic banquet, was life giving.
With love in Christ,
Abbot Tryphon
Thursday July 11, 2019 / June 28, 2019
4th Week after Pentecost. Tone two.
Apostles' (Peter & Paul) Fast. Fish Allowed
Translation of the relics (412) of the Holy and Wonderworking Unmercenaries Cyrus and John (311).
Venerables Sergius and Herman (14th c.), abbots of Valaam.
New Hieromartyr Basil, deacon (1918).
Virgin-martyr Sebastiana (1938).
New Hieromartyr Gregory, deacon (1940).
Venerable Xenophon, abbot of Robeika (Novgorod) (1262).
Venerable Paul the Physician of Corinth (7th c.).
Icon of the Most Holy Theotokos "Of the Three Hands" (8th c.).
Venarable Sergius of Crete.
Venerable Moses the Anchorite.
St. Sennuphius the Standard-bearer of Egypt (4th c.).
St. Austol of Cornwall (6th c.) (Celtic & British).
Hieromartyr Donatus of Libya (Greek).
Three Martyrs of Galatia (Greek).
70 Martyrs of Scythopolis (Greek).
Martyr Pappias (Greek).
Martyr Macedonius (Greek).
Venerable Magnus, monk who reposed while praying to the Lord (Greek).
Martyrs Serenus, Plutarchus, Heraclides, Heron, Raiso, and others in Alexandria (202).
The Scripture Readings
Romans 11:13-24
13 For I speak to you Gentiles; inasmuch as I am an apostle to the Gentiles, I magnify my ministry, 14 if by any means I may provoke to jealousy those who are my flesh and save some of them. 15 For if their being cast away is the reconciling of the world, what will their acceptance be but life from the dead?
16 For if the firstfruit is holy, the lump is also holy; and if the root is holy, so are the branches. 17 And if some of the branches were broken off, and you, being a wild olive tree, were grafted in among them, and with them became a partaker of the root and fatness of the olive tree, 18 do not boast against the branches. But if you do boast, remember that you do not support the root, but the root supports you.
19 You will say then, "Branches were broken off that I might be grafted in." 20 Well said. Because of unbelief they were broken off, and you stand by faith. Do not be haughty, but fear. 21 For if God did not spare the natural branches, He may not spare you either. 22 Therefore consider the goodness and severity of God: on those who fell, severity; but toward you, goodness, if you continue in His goodness. Otherwise you also will be cut off. 23 And they also, if they do not continue in unbelief, will be grafted in, for God is able to graft them in again. 24 For if you were cut out of the olive tree which is wild by nature, and were grafted contrary to nature into a cultivated olive tree, how much more will these, who are natural branches, be grafted into their own olive tree?
Matthew 11:27-30
27 All things have been delivered to Me by My Father, and no one knows the Son except the Father. Nor does anyone know the Father except the Son, and the one to whom the Son wills to reveal Him. 28 Come to Me, all you who labor and are heavy laden, and I will give you rest. 29 Take My yoke upon you and learn from Me, for I am gentle and lowly in heart, and you will find rest for your souls.30 For My yoke is easy and My burden is light."