When we experience the "dark side" of the Church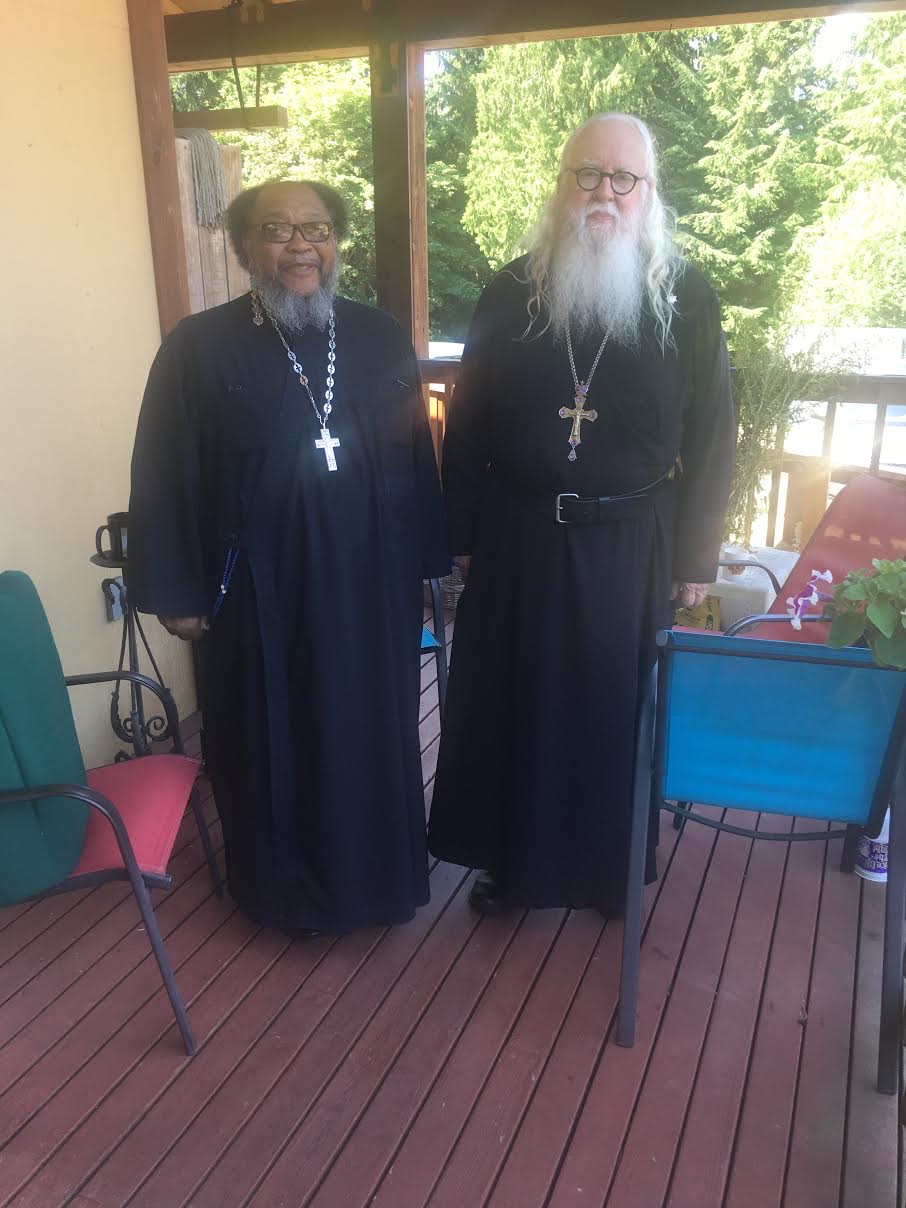 For those who have experienced what has been called the "dark side" of the Church, the struggle to remain faithful to the Orthodox Faith can seem daunting. The dark side is the result of the sinful, fallen nature of all of us who make up the Body of Christ. It is that part of each of us that is yet to have been transformed, and made whole. This is especially difficult for pious believers when that dark side rears it's ugly head through those who serve the Church as her clergy. But if we see this dark side for what it is, and know that it is not actually coming from the Life of the Church, but from the great Enemy of our souls, we realize that our common fallen nature is vulnerable to the attacks of Satan, who as the enemy of God, attacks those who serve the Church with an especially hardened hatred. When priests and bishops are seen as operating in a shameful way, and we see no love in them, we can find ourselves wondering if there is anything to the Church. When the Church fails us, be it her clergy, or fellow members of a parish, we can feel especially betrayed, and wonder why we remain at all.
Like all human institutions, the Church can fall short of her calling, and her special vocation as hospital of the soul, can appear no different than any other human institution. Rather than receiving the needed love, and the resulting healing of the soul, the parishioner may feel as thought they've been abused. Parish intrigue can turn the hospital into an insane asylum, and we come away feeling hurt and disrespected. We look at political organizations, businesses, institutions of higher education, and other human based institutions, and see this dark side of the human condition, and we can see that this dark side is really not about the divinely instituted Church, nor her clergy, but about the Evil One.
When we look at our common enemy, we see that this dark side is really not about the Church, but about ourselves, and our own common failure to submit our whole selves, and all our life, into the hands of Our Saviour. It is in this submission to Christ, that healing will take place, and we will be made whole. That is the point in which we can stop blaming our clergy, or our bishops, and take the blame upon ourselves. The dark side is coming from within our own fallen nature, and it is we who are in need of acting according to the gospel message. We are the enemy of Christ, and it is our sin that is responsible for the dark side that resides within the life of Christ's Church.
When we confront our own fallen nature, and blame only ourselves for the debilitating dark side, we usher in the Light of Christ, and all is made whole. When we've done that, we are no longer able to see the sin of others, and we look upon everyone that seems to have failed us, in a new light. We look at them as Christ. Be it Christ crucified, or Christ glorified, we see only Christ. It is then that we emerge out of the long, dark tunnel, having been purified by the action of the Holy Spirit. We are made whole (holy), and the failures of others are no longer noticed by us, and we see only the love of Christ in the faces of our brothers and sisters. The dark side is transformed, and we are made stronger for having suffered as we did, and we will have experienced the truth in the saying that God allows difficulties, humiliations, and hardships, as the way to draw us closer to Him, and make us stronger.
When this happens, we will know that God is Our Father, and He desires His children to grow in wisdom and strength. Because of His great love for us, He allows us to experience pain and rejection, knowing it will make us stronger. Just as an earthly father knows an overprotected child does not grow in wisdom and strength, God, as the good father, changes us into loving, compassionate, and giving persons, and the darkness shall be no more.
With love in Christ,
Abbot Tryphon
Photos: Father Moses Berry, together with his beloved Matushka Magdalena, visited the monastery this weekend. Father Moses is one of my dearest friends, and we refer to each other as our "brother from a different mother". Father Moses is founder of the Brotherhood of Saint Moses, and is rector of Holy Virgin "Unexpected Joy" Orthodox Church in Ash Grove, Missouri.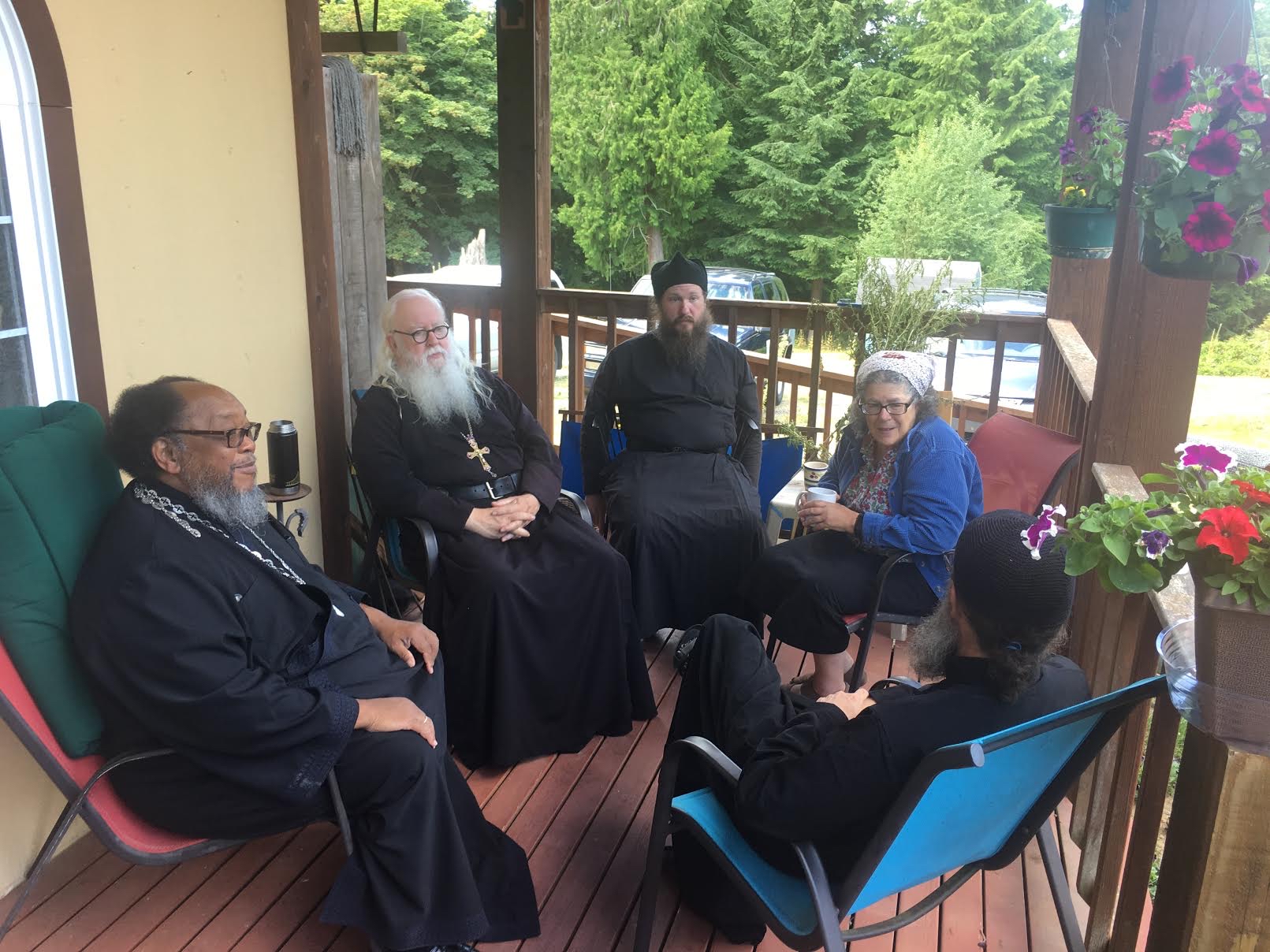 Tuesday July 9, 2019 / June 26, 2019
4th Week after Pentecost. Tone two.
Apostles' (Peter & Paul) Fast. Fish Allowed
Appearance of the Tikhvin Icon of the Most Holy Theotokos (1383).
Venerable David of Thessalonica (540).
New Hieromartyr Gregory priest (1918).
St. Dionysius, archbishop of Suzdal (1385).
Uncovering of the relics (1569) of Venerable Tikhon of Lukhov (1503).
Translation of the relics of Venerable Nilus of Stolben Island (1995).
Venerable John, bishop of the Goths in Crimea (ca. 787).
Kazan "Of the Seven Lakes", "Nemetsk" (1399) and "Lidda" or Roman Icons of the Most Holy Theotokos.
The Holy Martyred Brothers John and Paul, and Gallicanus
Venerable Serapion of Kozha Lake.
Translation of the relics of St. Brannock (Brynach) of Braunton, England (Celtic & British).
New Martyr David of St. Anne's Skete, martyred in Thessalonica (1813).
Anthion, monk.(Greek).
The Scripture Readings
Luke 1:39-49
Mary Visits Elizabeth
39 Now Mary arose in those days and went into the hill country with haste, to a city of Judah, 40 and entered the house of Zacharias and greeted Elizabeth. 41 And it happened, when Elizabeth heard the greeting of Mary, that the babe leaped in her womb; and Elizabeth was filled with the Holy Spirit. 42 Then she spoke out with a loud voice and said, "Blessed are you among women, and blessed is the fruit of your womb! 43 But why is this granted to me, that the mother of my Lord should come to me? 44 For indeed, as soon as the voice of your greeting sounded in my ears, the babe leaped in my womb for joy. 45 Blessed is she who believed, for there will be a fulfillment of those things which were told her from the Lord."
The Song of Mary
46 And Mary said:
"My soul magnifies the Lord,
47 And my spirit has rejoiced in God my Savior.
48 For He has regarded the lowly state of His maidservant;
For behold, henceforth all generations will call me blessed.
49 For He who is mighty has done great things for me,
And holy is His name.
Luke 1:56
56 And Mary remained with her about three months, and returned to her house.
Romans 10:11-11:2
11 For the Scripture says, "Whoever believes on Him will not be put to shame." 12 For there is no distinction between Jew and Greek, for the same Lord over all is rich to all who call upon Him. 13 For "whoever calls on the name of the Lord shall be saved."
Israel Rejects the Gospel
14 How then shall they call on Him in whom they have not believed? And how shall they believe in Him of whom they have not heard? And how shall they hear without a preacher? 15 And how shall they preach unless they are sent? As it is written:
"How beautiful are the feet of those who preach the gospel of peace,
Who bring glad tidings of good things!"
16 But they have not all obeyed the gospel. For Isaiah says, "Lord, who has believed our report?" 17 So then faith comes by hearing, and hearing by the word of God.
18 But I say, have they not heard? Yes indeed:
"Their sound has gone out to all the earth,
And their words to the ends of the world."
19 But I say, did Israel not know? First Moses says:
"I will provoke you to jealousy by those who are not a nation,
I will move you to anger by a foolish nation."
20 But Isaiah is very bold and says:
"I was found by those who did not seek Me;
I was made manifest to those who did not ask for Me."
21 But to Israel he says:
"All day long I have stretched out My hands
To a disobedient and contrary people."
Israel's Rejection Not Total
11 I say then, has God cast away His people? Certainly not! For I also am an Israelite, of the seed of Abraham, of the tribe of Benjamin. 2 God has not cast away His people whom He foreknew. Or do you not know what the Scripture says of Elijah, how he pleads with God against Israel, saying,
Matthew 11:16-20
16 "But to what shall I liken this generation? It is like children sitting in the marketplaces and calling to their companions, 17 and saying:
'We played the flute for you,
And you did not dance;
We mourned to you,
And you did not lament.'
18 For John came neither eating nor drinking, and they say, 'He has a demon.' 19 The Son of Man came eating and drinking, and they say, 'Look, a glutton and a winebibber, a friend of tax collectors and sinners!' But wisdom is justified by her children."
Woe to the Impenitent Cities
20 Then He began to rebuke the cities in which most of His mighty works had been done, because they did not repent: