Our morning and evening prayerful offerings to God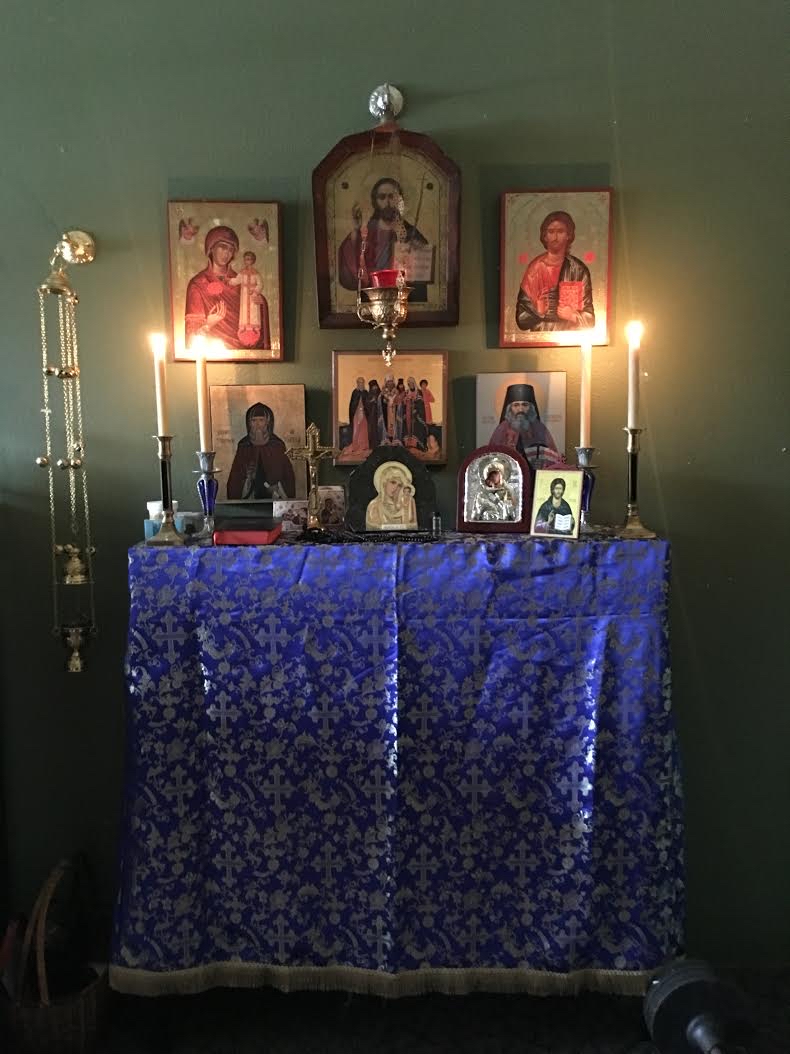 When we awake from sleep, it is important to thank God for the sleep and rest we've had, and ask that He grant us strength for the coming day. It is also important to know that this is the time when we should request God's help for any struggles we'll face during the coming day, especially regarding our spiritual needs. We should ask the Lord's help to overcome our spiritual sickness, and our weakness, knowing that God will pour out the grace necessary to have a profitable day.
In the evening, we should pray in our own words, letting the Lord know of our love for Him, and to give thanks in our own words for all that has happened, both good and bad, pleasant and unpleasant. We should ask for forgiveness for all the wrongs we've committed, and request help in making the next day one where we improve ourselves, and give glory to the God Who loves us, and is quick to forgive. We should express all this to God from our mind and from our whole heart, knowing His grace will be sufficient to make tomorrow a better day.
Since we have a tendency to have wandering thoughts during prayer, it is important to concentrate and pray from our heart. As it is common for our thoughts to wander when praying, we should know that such thoughts become a sin only when we willingly allow our mind to wonder. There is fault, however, when we notice our thoughts wandering and take no action to bring ourselves into the presence of God.
One must not forget the importance of saying the Morning and Evening Prayers out of the Prayer Book, each and every day. Personal prayers are important, but the prayers read from a Prayer Book, join us with the whole of the Church at prayer, and also teach of the Art of Prayer, since these prayers come out of Scripture, and the hearts and minds of the saints.
With love in Christ,
Abbot Tryphon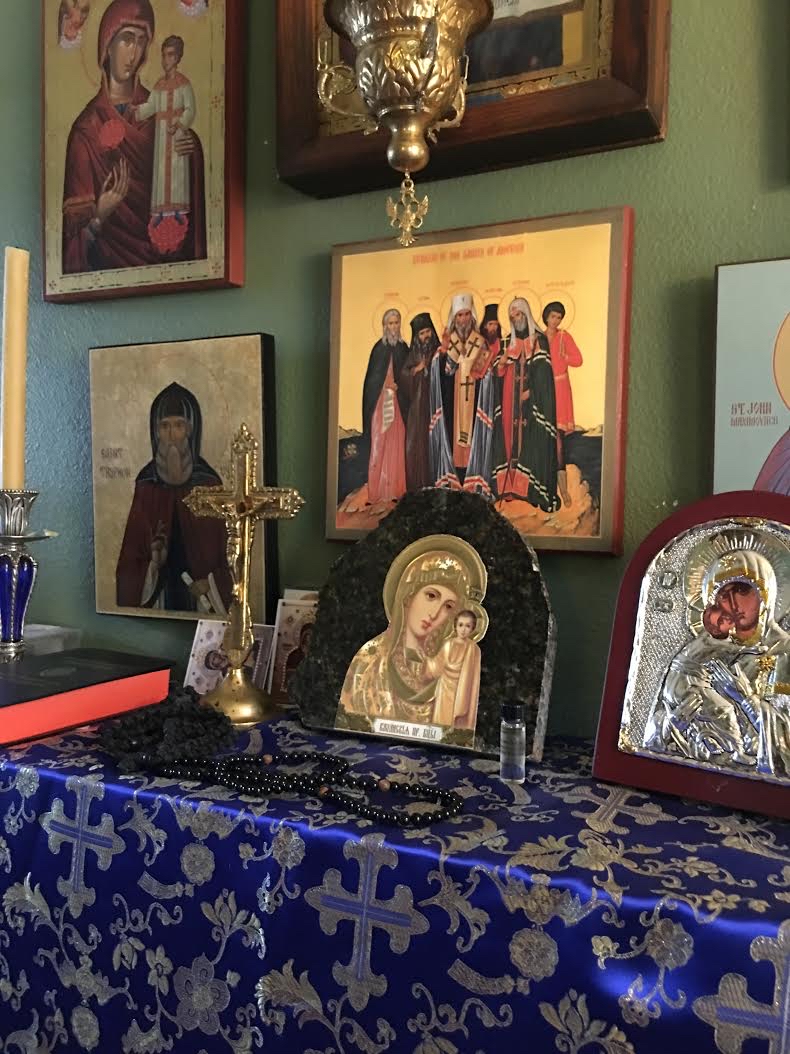 Saturday July 6, 2019 / June 23, 2019
3rd Week after Pentecost. Tone one.
Apostles' (Peter & Paul) Fast. Fish Allowed
The Meeting of the Vladimir Icon of the Most Holy Theotokos in memory of Saving of Moscow from the Invasion of Khan Achmed.
Synaxis of All Saints of Vladimir.
Martyr Agrippina of Rome (253-260).
New Hieromartyrs Alexander, Alexis, Peter priests (1918).
New Hieromartyr Mitrophan archbishop of Astrakhan (1919), bishop Leonty of Enotaeva, and those with him.
New Hieromartyr Maxim, bishop of Serpukhov (1930).
St. Artemius of Verkola (1545).
Translation of the relics (1714) of St. Herman, archbishop of Kazan (1567).
Martyrs Eustochius, Gaius, Probus, Lollius, and Urban, of Ancyra (4th c.).
Pskov Icon of the Most Holy Theotokos, "Tenderness" (1524), Zaonikeevsk (1588), and "Vratarnitsa"(1894) Icons of the Mother of God.
Venerables Joseph (1612), Anthony, and Ioannicius, abbots, of Vologda.
Translation of the relics of Venerable Michael, fool-for-Christ of Klops Monastery (1482).
Virgin Etheldreda of Ely (England) (679) (Celtic & British).
St. Dionysius of Polotsk (1182).
St. Nicetas of Thebes in Boetia (1079) and his disciples Theodore, Gregory and Daniel.
The Scripture Readings
Luke 1:39-49
Mary Visits Elizabeth
39 Now Mary arose in those days and went into the hill country with haste, to a city of Judah, 40 and entered the house of Zacharias and greeted Elizabeth. 41 And it happened, when Elizabeth heard the greeting of Mary, that the babe leaped in her womb; and Elizabeth was filled with the Holy Spirit. 42 Then she spoke out with a loud voice and said, "Blessed are you among women, and blessed is the fruit of your womb! 43 But why is this granted to me, that the mother of my Lord should come to me? 44 For indeed, as soon as the voice of your greeting sounded in my ears, the babe leaped in my womb for joy. 45 Blessed is she who believed, for there will be a fulfillment of those things which were told her from the Lord."
The Song of Mary
46 And Mary said:
"My soul magnifies the Lord,
47 And my spirit has rejoiced in God my Savior.
48 For He has regarded the lowly state of His maidservant;
For behold, henceforth all generations will call me blessed.
49 For He who is mighty has done great things for me,
And holy is His name.
Luke 1:56
56 And Mary remained with her about three months, and returned to her house.
Romans 3:28-4:3
28 Therefore we conclude that a man is justified by faith apart from the deeds of the law. 29 Or is He the God of the Jews only? Is Henot also the God of the Gentiles? Yes, of the Gentiles also, 30 since there is one God who will justify the circumcised by faith and the uncircumcised through faith. 31 Do we then make void the law through faith? Certainly not! On the contrary, we establish the law.
Abraham Justified by Faith
4 What then shall we say that Abraham our father has found according to the flesh? 2 For if Abraham was justified by works, he has something to boast about, but not before God. 3 For what does the Scripture say? "Abraham believed God, and it was accounted to him for righteousness."
Matthew 7:24-8:4
Build on the Rock
24 "Therefore whoever hears these sayings of Mine, and does them, I will liken him to a wise man who built his house on the rock: 25 and the rain descended, the floods came, and the winds blew and beat on that house; and it did not fall, for it was founded on the rock.
26 "But everyone who hears these sayings of Mine, and does not do them, will be like a foolish man who built his house on the sand:27 and the rain descended, the floods came, and the winds blew and beat on that house; and it fell. And great was its fall."
28 And so it was, when Jesus had ended these sayings, that the people were astonished at His teaching, 29 for He taught them as one having authority, and not as the scribes.
Jesus Cleanses a Leper
8 When He had come down from the mountain, great multitudes followed Him. 2 And behold, a leper came and worshiped Him, saying, "Lord, if You are willing, You can make me clean."
3 Then Jesus put out His hand and touched him, saying, "I am willing; be cleansed." Immediately his leprosy was cleansed.
4 And Jesus said to him, "See that you tell no one; but go your way, show yourself to the priest, and offer the gift that Mosescommanded, as a testimony to them."