Wherein the temporal and the eternal are connected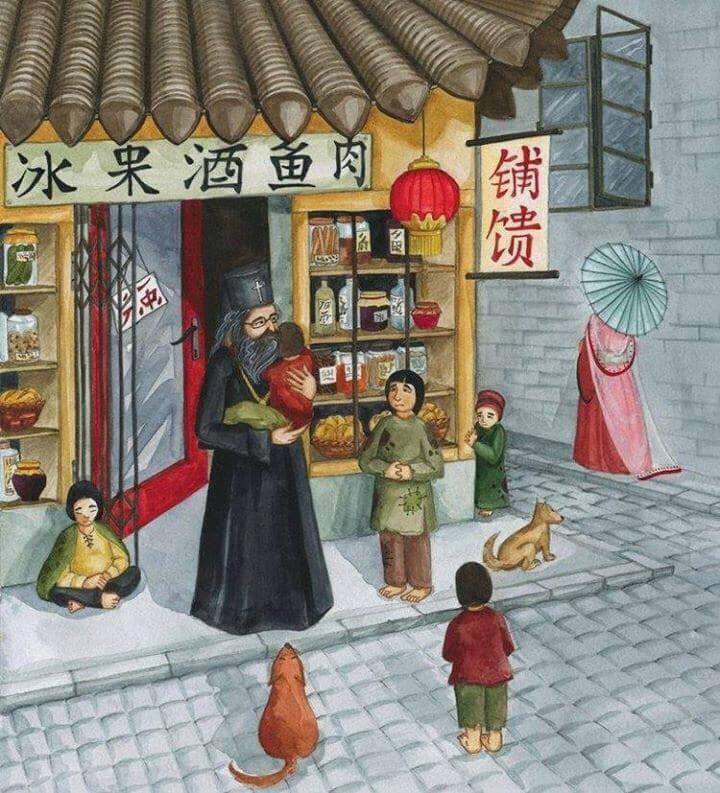 We can be rich in liturgical correctness and wealthy in traditions, but if we do not have love and mercy, we are in reality bankrupt. Our Lord Himself made love and mercy the chief criterion whereby we will be judged on the Last Day. The fulfillment of the law is love, not liturgical correctness, as was thought by the Pharisees. When we see our Orthodox Christian faith only in the context of liturgical correctness, and the length of our services, but do not love others, we will have gained nothing of eternal value. If we do not show compassion and mercy towards everyone we meet, we will have committed a grievous crime against our Orthodox faith, and will stand before God with nothing to show for our life.
Our liturgical rites and religious traditions are of no value if we have not love and mercy. When we rise to a sincere evangelical love for others, we become God's collaborators, for our Christian love and mercy is the most divine trait possible for the human being. Our mercy is the expression of our love of God, for it is in our love of God that our mercy is poured out upon those who suffer, and upon those who are ill, or helpless in body and mind. Our Christian mercy springs from love and is a concrete expression of love.
Our religious rites and practices are not ends in themselves, but vehicles by which we enter into a profound relationship with God, Who is love. The very essence of our Christian faith is love because God Himself is love (1 John 4:8). Thus, our Christian morality, our ethics, and even our liturgical services and rites, are inconceivable in the absence of love. And, this love is not merely an act that has sprung up from a sense of ethical duty, but something that binds our world, the one seen, to the heavenly world, that world unseen. One world is temporal, and the other world is eternal, yet both have been created by God. The temporal world is wherein we exercise, preparing ourselves for the eternal world. Mercy and love is the means by which both are connected.
"If I speak in the tongues of men or of angels, but do not have love, I am only a resounding gong or a clanging cymbal. If I have the gift of prophecy and can fathom all mysteries and all knowledge, and if I have a faith that can move mountains, but do not have love, I am nothing. If I give all I possess to the poor and give over my body to hardship that I may boast, but do not have love, I gain nothing."
(1 Corinthians 13:1-3)
With love in Christ,
Abbot Tryphon
Photo: A painting depicting Saint John the Wonderworker, rescuing orphans from the streets of Shanghai, during his service as Archbishop of Shanghai. Following the takeover by the communists, Saint John bought a house in San Francisco, and moved his orphans, together with the nuns who cared for them, to the house, which he named after Saint Tikhon.
Wednesday July 24, 2019 / July 11, 2019
6th Week after Pentecost. Tone four.
Fast. Food with Oil
Commemoration of the Miracle (451) of Great-martyr Euphemia the All-praised, of Chalcedon (304).
Blessed Equal-to-the-Apostles Olga, princess of Russia, in holy baptism called Helen (969).
Uncovering of the relics of Hieromartyr Hilarion (Troitsky), bishop of Verey (1998).
Hieromartyr Cindeus of Pamphylia (3rd-4th c.).
"Rzevsk" or "Okovetsk" (1539) and "Borkolabsky" Icons of the Most Holy Theotokos.
"Rudensk" (1687) Icon of the Mother of God.
Venerable Nicodemus of Hilandar and Vatopedi, Mt. Athos (14th c.) (Greek).
New Martyr Venerable Nicodemus of Elbasan and Mt. Athos (1722) (Greek).
Uncovering of the relics of the Monk Arkadius of Vyazemsk and Novotorzhsk (1677).
New Martyr Nectarius of St. Anne's Skete, Mt. Athos (1820) (Greek).
Venerable Leo, monk, of Mandra (Greek).
Martyrs Januarius and Pelagia of Nicopolis in Armenia (310).
New Hiero-martyrs Momcilo Grgurevic, Dobroslav Blazenovic, Milan Bozic, Mihailo Djusic, Jovan Zecevic, Bozidar Jovic, Bogdan Lalic, Trifun Maksimovic, Velimir Mijatovic, Bozidar Minic, Miladin Minic, Marko Popovic, Dimitrije Rajanovic, Budimir Sokolovic, Relja Spahic, Lazar Culibrk, Savo Siljac, Savo Skaljka, Milorad Vukojicic, Ratomir Jankovic, Mihailo Jevdjevic, Dusan Prijovic, Dobrosav Sokovic, Nestor Trkulja, Serafim Dzaric, Andrija Siljak, Slobodan Siljak, and Jovan Rapajic of Serbia (1941-1945) (Serbia).
St. Drostan of Old Deer and Aberdeen (6th c.) (Celtic & British).
The Scripture Readings
1 Corinthians 2:9-3:8
9 But as it is written:
"Eye has not seen, nor ear heard,
Nor have entered into the heart of man
The things which God has prepared for those who love Him."
10 But God has revealed them to us through His Spirit. For the Spirit searches all things, yes, the deep things of God. 11 For what man knows the things of a man except the spirit of the man which is in him? Even so no one knows the things of God except the Spirit of God. 12 Now we have received, not the spirit of the world, but the Spirit who is from God, that we might know the things that have been freely given to us by God.
13 These things we also speak, not in words which man's wisdom teaches but which the Holy Spirit teaches, comparing spiritual things with spiritual. 14 But the natural man does not receive the things of the Spirit of God, for they are foolishness to him; nor can he know them, because they are spiritually discerned. 15 But he who is spiritual judges all things, yet he himself is rightly judged by no one. 16 For "who has known the mind of the Lord that he may instruct Him?" But we have the mind of Christ.
Sectarianism Is Carnal
3 And I, brethren, could not speak to you as to spiritual people but as to carnal, as to babes in Christ. 2 I fed you with milk and not with solid food; for until now you were not able to receive it, and even now you are still not able; 3 for you are still carnal. For where there are envy, strife, and divisions among you, are you not carnal and behaving like mere men? 4 For when one says, "I am of Paul," and another, "I am of Apollos," are you not carnal?
Watering, Working, Warning
5 Who then is Paul, and who is Apollos, but ministers through whom you believed, as the Lord gave to each one? 6 I planted, Apollos watered, but God gave the increase. 7 So then neither he who plants is anything, nor he who waters, but God who gives the increase. 8 Now he who plants and he who waters are one, and each one will receive his own reward according to his own labor.
Matthew 13:31-36
The Parable of the Mustard Seed
31 Another parable He put forth to them, saying: "The kingdom of heaven is like a mustard seed, which a man took and sowed in his field, 32 which indeed is the least of all the seeds; but when it is grown it is greater than the herbs and becomes a tree, so that the birds of the air come and nest in its branches."
The Parable of the Leaven
33 Another parable He spoke to them: "The kingdom of heaven is like leaven, which a woman took and hid in three measures of meal till it was all leavened."
Prophecy and the Parables
34 All these things Jesus spoke to the multitude in parables; and without a parable He did not speak to them, 35 that it might be fulfilled which was spoken by the prophet, saying:
"I will open My mouth in parables;
I will utter things kept secret from the foundation of the world."
The Parable of the Tares Explained
36 Then Jesus sent the multitude away and went into the house. And His disciples came to Him, saying, "Explain to us the parable of the tares of the field."