Freely responding to God's invitation to commune with Him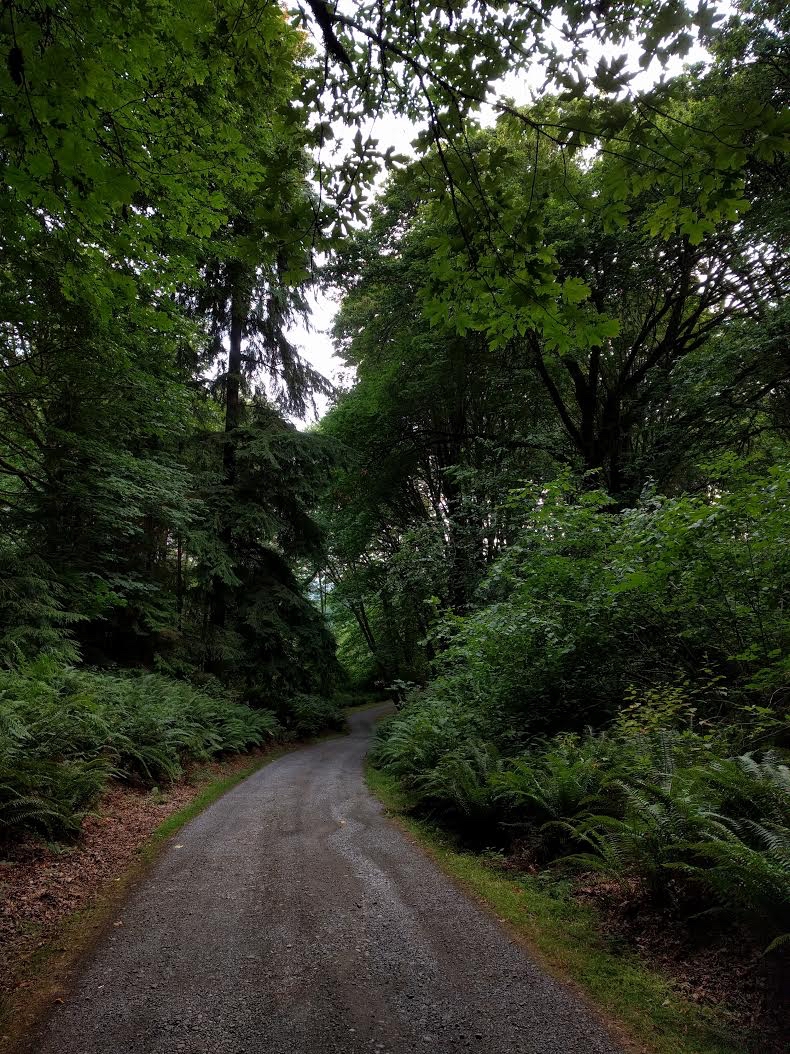 It is important to remember that our God did not create us as puppets, but rather as persons with the freedom to respond, or not, to His invitation to enter into communion with Him. Just as a loving dad, desiring to help his child take those first steps on his own, will let go of the child's hands, as the mother reaches out from a few feet away, allowing their child the freedom to move independently, so does our God withdraw our sense of His presence, that we might freely reach out to Him. This is because, just as the child is given freedom to make that first step, so we are given the opportunity to respond to God's invitation, by our own free will.
With love in Christ,
Abbot Tryphon
Photo:
The road to the monastery.
Friday July 19, 2019 / July 6, 2019
5th Week after Pentecost. Tone three.
Fast. By Monastic Charter: Strict Fast (Bread, Vegetables, Fruits)
Synaxis of All Saints of Radonezh.
Venerable Sisoes the Great of Egypt (429).
New Hieromartyr Simon, bishop of Ufa (1921).
New Martyr Euthymius (1931).
New Martyr Theodore (1943).
Venerable Sisoes of the Kiev Caves (13th c.).
Uncovering of the relics of Holy Princess Juliana Olshanskaya (1540).
Martyrs Marinus and Martha, their children Audifax and Abbacum(Habakkuk), and those with them at Rome: Cyrinus, Valentine the Presbyter, and Asterius (269).
Martyrs Isaurus the Deacon, Innocent, Felix, Hermias, Basil, Peregrinus, Rufus, and Rufinus of Apollonia in Macedonia (283-284).
St. Cointus (Quintus) of Phrygia, confessor and wonderworker (283).
Virgin-martyr Lucy, Martyr Rixius, and those with them at Rome (301): Martyrs Anthony, Lucian, Isidore, Dion, Diodorus, Cutonius, Arnosus, Capicus, Satyrus, and others.
"Bororodsko-Ufimsly" Icon of the Mother of God (1621).
St. Gleb Vsevolodovich of Kiev (12th c.).
Venerable Monenna, foundress of Killeevy Monastery (Ireland) (518) (Celtic & British).
Synaxis of the Apostles Archippus, Philemon, and Onesimus (Greek).
Martyrs Apollonius, Alexander, and Epimachus (Greek).
New monk-martyr Cyril of Hilandar, Mt. Athos, who suffered at Thessalonica (1566).
St. Barnabas, elder of the Gethsemane Skete of St. Sergius' Lavra (1906).
St. Goar, hieromonk, hermit, and missionary along the Rhine (Germany) (649)..
The Scripture Readings
Romans 16:1-16
Sister Phoebe Commended
16 I commend to you Phoebe our sister, who is a servant of the church in Cenchrea, 2 that you may receive her in the Lord in a manner worthy of the saints, and assist her in whatever business she has need of you; for indeed she has been a helper of many and of myself also.
Greeting Roman Saints
3 Greet Priscilla and Aquila, my fellow workers in Christ Jesus, 4 who risked their own necks for my life, to whom not only I give thanks, but also all the churches of the Gentiles. 5 Likewise greet the church that is in their house.
Greet my beloved Epaenetus, who is the first fruits of Achaia to Christ. 6 Greet Mary, who labored much for us. 7 Greet Andronicus and Junia, my countrymen and my fellow prisoners, who are of note among the apostles, who also were in Christ before me.
8 Greet Amplias, my beloved in the Lord. 9 Greet Urbanus, our fellow worker in Christ, and Stachys, my beloved. 10 Greet Apelles, approved in Christ. Greet those who are of the household of Aristobulus. 11 Greet Herodion, my countryman. Greet those who are of the household of Narcissus who are in the Lord.
12 Greet Tryphena and Tryphosa, who have labored in the Lord. Greet the beloved Persis, who labored much in the Lord. 13 Greet Rufus, chosen in the Lord, and his mother and mine. 14 Greet Asyncritus, Phlegon, Hermas, Patrobas, Hermes, and the brethren who are with them. 15 Greet Philologus and Julia, Nereus and his sister, and Olympas, and all the saints who are with them.
16 Greet one another with a holy kiss. The churches of Christ greet you.
Matthew 13:4-9
4 And as he sowed, some seed fell by the wayside; and the birds came and devoured them. 5 Some fell on stony places, where they did not have much earth; and they immediately sprang up because they had no depth of earth. 6 But when the sun was up they were scorched, and because they had no root they withered away. 7 And some fell among thorns, and the thorns sprang up and choked them. 8 But others fell on good ground and yielded a crop: some a hundredfold, some sixty, some thirty. 9 He who has ears to hear, let him hear!"