In confession we humble ourselves before another person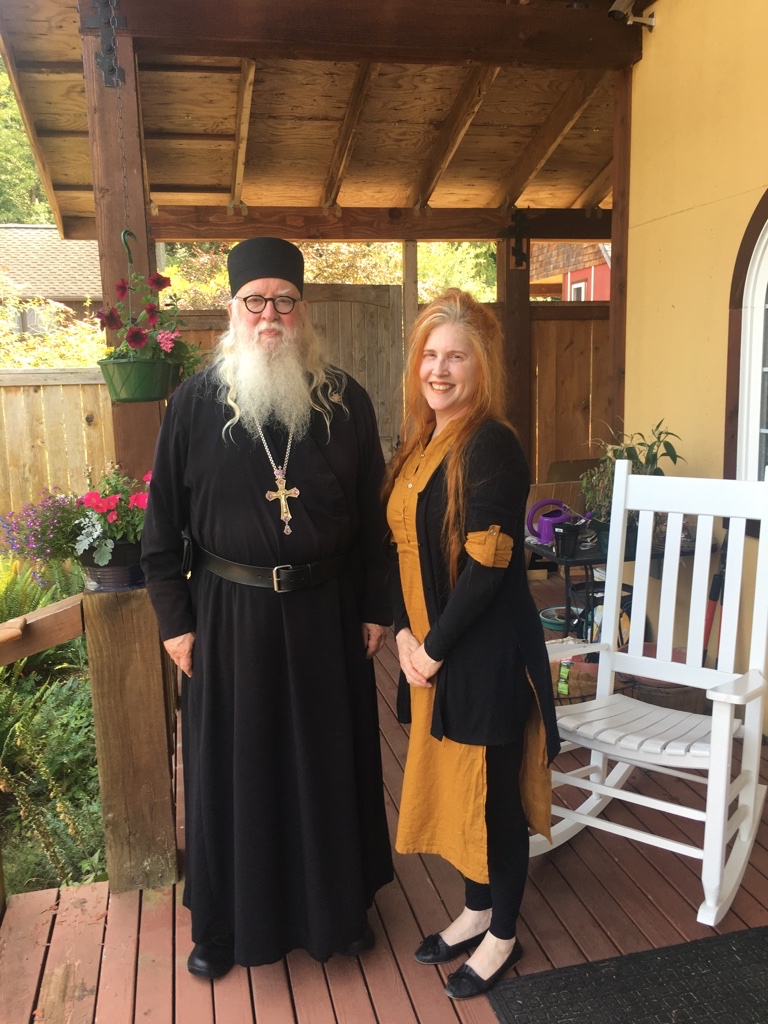 It is only out of delusion we believe we do not need others to see, understand, and treat our spiritual sickness. Anyone who believes that he alone can cure his spiritual diseases has isolated himself from a Mystery of the Church and will come to ruin. Only with the help of others are we saved, for within the Christian faith, salvation comes not in a self-focused void, but in the collective nature that is the Church. The Mystery of Confession, established by Our Lord, is a clear sign of the biblical truth that we need the Church, and we need the Mystery of Confession.
In confession we do not simply regret past evil but recognize the dar­kened vision of our own condition, in which sin, by sepa­rating us from God, has reduced us to a divided, auto­nomous existence, depriving us of both our natural glory and our true freedom. "If we confess our sins, he is faithful and just and will forgive us our sins and purify us from all unrighteousness." 1 John 1:9
The Sacrament of Confession is important because on it constitutes the cure of spiritual illness. Since the goal of the Christian life is transformation in Christ, ridding ourselves of the corrupt and diseased fallen self, it must begin with the death of the ego. We humble ourselves before the priest, when we confess our sins, for it is not just that Christ hears us. Christ hears us because of our act of humility in baring our souls in front of another person. Thus, Scripture establishes confession, recounts Christ's gift of authority to the Apostles and their successors to bestow forgiveness to penitents, and exhorts us to confess even to one another (James 5:16), since through one another we achieve humility and, mystically, this joins us to Christ.
With love in Christ,
Abbot Tryphon
Photo: Professor Brenda Ihssen of Pacific Lutheran University, together with her husband Tim and daughter Maeve, visited the monastery the afternoon of the 4th. Dr. Ihssen, a patristic scholar, has been a close friend for many years.
Friday July 5, 2019 / June 22, 2019
3rd Week after Pentecost. Tone one.
Apostles' (Peter & Paul) Fast. By Monastic Charter: Strict Fast (Bread, Vegetables, Fruits)
Hieromartyr Eusebius, bishop of Samosata (380).
New Hieromartyr Gennadius priest (1918).
New Hieromartyrs Theodore and Gabriel (1938).
New Hieromartyr Michael Stephanovsky.
St. Alban, protomartyr of Britain (305) (Celtic & British).
Martyrs Zeno and his servant Zenas of Philadelphia (304).
Martyrs Galacteon, Juliana, and Saturninus of Constantinople.
St. Gregory metropolitan of Valasha (1834) (Romania).
Martyr Pompian (Greek).
1,480 martyrs of Samaria in Palestine (615).
The Scripture Readings
Romans 9:6-19
Israel's Rejection and God's Purpose
6 But it is not that the word of God has taken no effect. For they are not all Israel who are of Israel, 7 nor are they all children because they are the seed of Abraham; but, "In Isaac your seed shall be called." 8 That is, those who are the children of the flesh, these are not the children of God; but the children of the promise are counted as the seed. 9 For this is the word of promise: "At this time I will come and Sarah shall have a son."
10 And not only this, but when Rebecca also had conceived by one man, even by our father Isaac 11 (for the children not yet being born, nor having done any good or evil, that the purpose of God according to election might stand, not of works but of Him who calls), 12 it was said to her, "The older shall serve the younger." 13 As it is written, "Jacob I have loved, but Esau I have hated."
Israel's Rejection and God's Justice
14 What shall we say then? Is there unrighteousness with God? Certainly not! 15 For He says to Moses, "I will have mercy on whomever I will have mercy, and I will have compassion on whomever I will have compassion." 16 So then it is not of him who wills, nor of him who runs, but of God who shows mercy. 17 For the Scripture says to the Pharaoh, "For this very purpose I have raised you up, that I may show My power in you, and that My name may be declared in all the earth." 18 Therefore He has mercy on whom He wills, and whom He wills He hardens.
19 You will say to me then, "Why does He still find fault? For who has resisted His will?"
Matthew 10:32-36
Confess Christ Before Men
32 "Therefore whoever confesses Me before men, him I will also confess before My Father who is in heaven. 33 But whoever denies Me before men, him I will also deny before My Father who is in heaven.
Christ Brings Division
34 "Do not think that I came to bring peace on earth. I did not come to bring peace but a sword. 35 For I have come to 'set a man against his father, a daughter against her mother, and a daughter-in-law against her mother-in-law'; 36 and 'a man's enemies will be those of his own household.'
Matthew 11:1
John the Baptist Sends Messengers to Jesus
11 Now it came to pass, when Jesus finished commanding His twelve disciples, that He departed from there to teach and to preach in their cities.