Finding one's true home in the Orthodox Church
The one thing I have learned since my entrance into Orthodoxy is that this is the preserved Church that Christ founded, and the very Church whose first pastors were the apostles themselves. Preserved once and for all, it is neither East nor West, but simply the Church of Christ on this earth.
I no longer feel as though I've embraced the exotic faith of Eastern Christians, but rather immersed myself in the embrace of the Ancient Church. Within the protective walls of the Church of Christ I am as comfortable as though in the city of my birth. Orthodox temples are as familiar to me as the living room of my childhood home, and I am at peace.
With love in Christ,
Abbot Tryphon
Photo: We were blessed with numerous visitors this weekend, including a large group of Lutherans from a parish in Port Orchard, WA., and Father Photios Dumont, together with his wife and granddaughter, from Saint Demetrios Greek Orthodox Church in Seattle.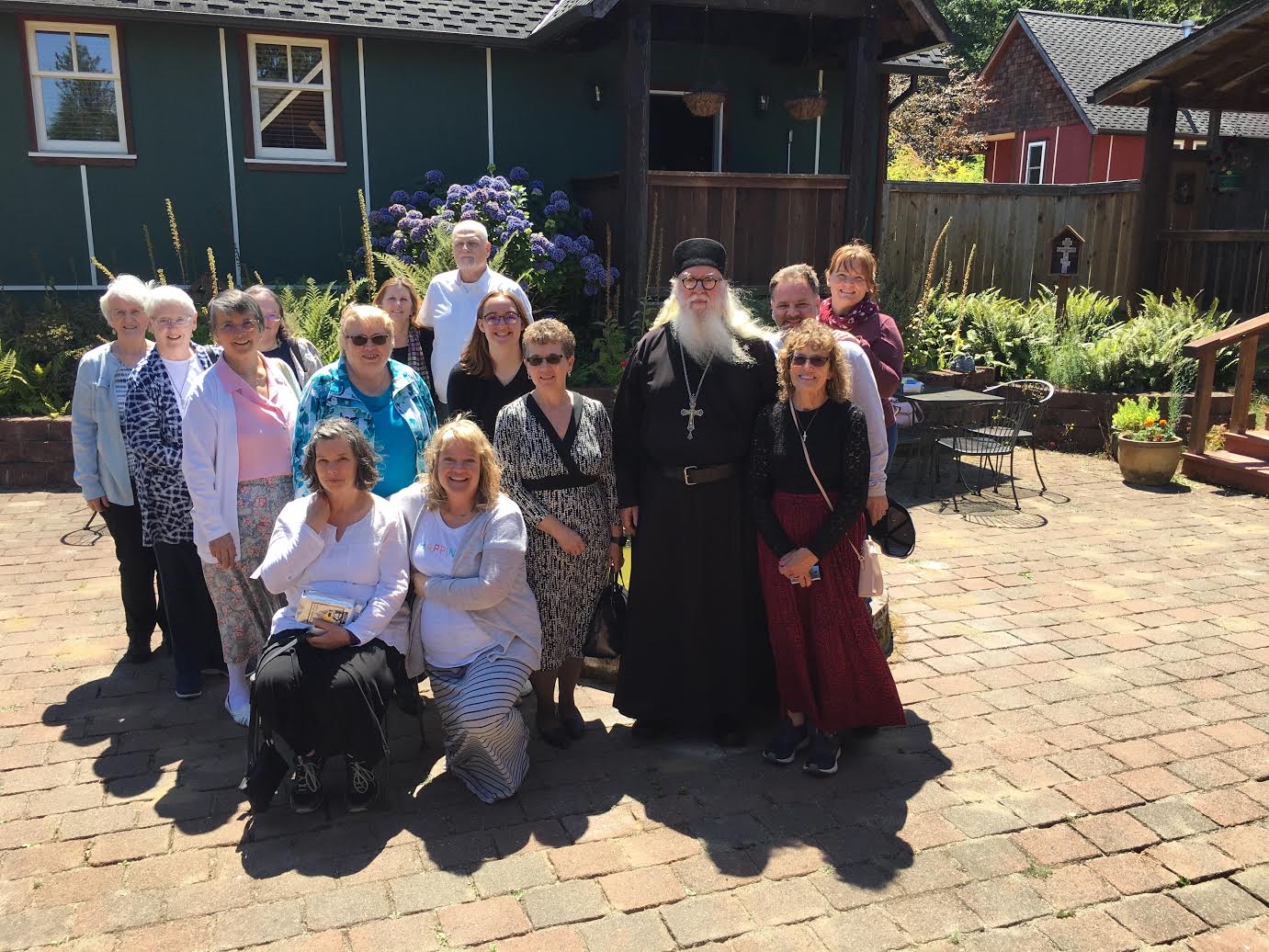 Monday July 22, 2019 / July 9, 2019
6th Week after Pentecost. Tone four.
Hieromartyr Pancratius, bishop of Taormina in Sicily (1st c.).
Venerable Gabriel, abbot of St. Elias Skete, Mt. Athos (1901).
New Hieromartyr Constantine priest (1918).
Hieromartyr Cyril, bishop of Gortyna in Crete (250-252).
Martyrs Patermuthius, Coprius, and Alexander the Soldier, in Egypt (361).
Sts. Patermuthius and Coprius, ascetics of Egypt (4th c.).
St. Theodore, bishop of Edessa (848).
"Cyprus" in the village of Stromyn (Moscow diocese) and "Koloch"(1413) Icons of the Mother of God.
Venarable Anthony Leokhnovsky (1611).
Venerable Euthymius of Karelia (1435).
Blessed Peter, hieromartyr of Cherevkov (Vologda) (16th-17th c.).
St. Everild, nun, of England (700) (Celtic & British).
Martyrs Andrew and Probus (Greek).
Venerables Dionysius the Rhetorician and Metrophanes of Mt. Athos (Greek).
Venerable Theodosius, stylite of Edessa (9th c.).
Venerable John of the Caves in Babylon.
Martyr Michael, disciple and the Kinsman of St. Theodore.
Martyr John (before holy baptism Moavy), king of Baghdad and with him the Three Holy Youths (9th c.).
New Hieromartyr Methodius of Amaria, Crete (1793).
Hieromartyr Killian, bishop in East Franconia and Thuringia, and his companions Hieromonk Colman and Hierodeacon Totman, at Wurzburg (689).
The Scripture Readings
Romans 16:17-24
Avoid Divisive Persons
17 Now I urge you, brethren, note those who cause divisions and offenses, contrary to the doctrine which you learned, and avoid them. 18 For those who are such do not serve our Lord Jesus Christ, but their own belly, and by smooth words and flattering speech deceive the hearts of the simple. 19 For your obedience has become known to all. Therefore I am glad on your behalf; but I want you to be wise in what is good, and simple concerning evil. 20 And the God of peace will crush Satan under your feet shortly.
The grace of our Lord Jesus Christ be with you. Amen.
Greetings from Paul's Friends
21 Timothy, my fellow worker, and Lucius, Jason, and Sosipater, my countrymen, greet you.
22 I, Tertius, who wrote this epistle, greet you in the Lord.
23 Gaius, my host and the host of the whole church, greets you. Erastus, the treasurer of the city, greets you, and Quartus, a brother. 24 The grace of our Lord Jesus Christ be with you all. Amen.
Matthew 13:10-23
The Purpose of Parables
10 And the disciples came and said to Him, "Why do You speak to them in parables?"
11 He answered and said to them, "Because it has been given to you to know the mysteries of the kingdom of heaven, but to them it has not been given. 12 For whoever has, to him more will be given, and he will have abundance; but whoever does not have, even what he has will be taken away from him. 13 Therefore I speak to them in parables, because seeing they do not see, and hearing they do not hear, nor do they understand. 14 And in them the prophecy of Isaiah is fulfilled, which says:
'Hearing you will hear and shall not understand,
And seeing you will see and not perceive;
15 For the hearts of this people have grown dull.
Their ears are hard of hearing,
And their eyes they have closed,
Lest they should see with their eyes and hear with their ears,
Lest they should understand with their hearts and turn,
So that I should heal them.'
16 But blessed are your eyes for they see, and your ears for they hear; 17 for assuredly, I say to you that many prophets and righteous men desired to see what you see, and did not see it, and to hear what you hear, and did not hear it.
The Parable of the Sower Explained
18 "Therefore hear the parable of the sower: 19 When anyone hears the word of the kingdom, and does not understand it, then the wicked one comes and snatches away what was sown in his heart. This is he who received seed by the wayside. 20 But he who received the seed on stony places, this is he who hears the word and immediately receives it with joy; 21 yet he has no root in himself, but endures only for a while. For when tribulation or persecution arises because of the word, immediately he stumbles. 22 Now he who received seed among the thorns is he who hears the word, and the cares of this world and the deceitfulness of riches choke the word, and he becomes unfruitful. 23 But he who received seed on the good ground is he who hears the word and understands it, who indeed bears fruit and produces: some a hundredfold, some sixty, some thirty."