Simplicity and humility lead to true knowledge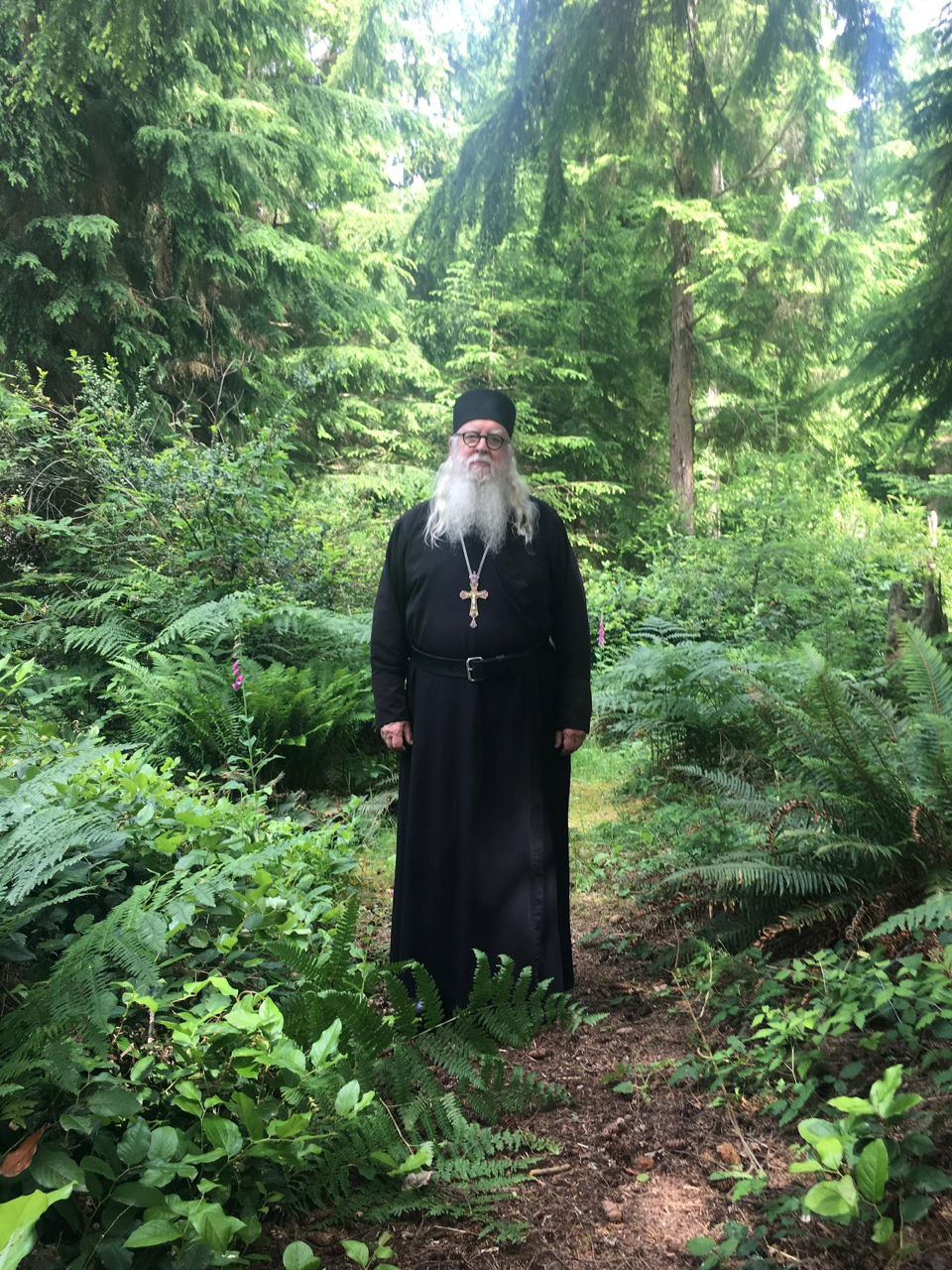 The Apostle Paul tells us that it is better to be ignorant in speech rather than in spiritual knowledge (2 Cor. 11:6). Being skilled in speaking is a matter of human learning, as are the other forms of worldly education, but they do not contribute to the salvation of the soul. Even if one is ignorant and uneducated in secular and human knowledge, if they are dedicated to continual prayer, and to keeping their mind on God, the Lord will reveal Himself. The man who lives in simplicity and humility gains everything, whereas the man whose knowledge is worldly, and whose heart is devoid of all humility, gains nothing.
With love in Christ,
Abbot Tryphon
Photo: Myself, standing on the Valaam Trail, just east of our monastery's katholikon.
Tuesday June 11, 2019 / May 29, 2019
Afterfeast of the Ascension. Tone six.
Virgin-martyr Theodosia of Constantinople (730).
Repose of Blessed John of Ustiug, fool-for-Christ (1494).
Uncovering of the relics (2000) of Venerable Job, Schemamonk of Anzersk (1720).
New Hieromartyr John deacon and martyr Andrew (1938).
St. Luke, hierarch-surgeon of Simferopol (1961).
Virgin-martyr Theodosia of Tyre (308).
Commemoration of the First Ecumenical Council (325).
Pskov-Pechersk Icon of the Most Holy Theotokos "Surety of Sinners".
Synaxis of All Saints of Krasnoyarsk Metropolia.
The Icon of the Mother of God "Non-Slumbering Eye"("Nedremliuschee Oko").
The Icon of the Mother of God "Imperial" ("Tsesarkaya") Borovsk.
St. Alexander, patriarch of Alexandria (328).
New Martyr Andrew of Chios (1465) (Greek).
New Martyr John (or Nannus) at Smyrna (1802).
Blessed Constantine XII, last of the Byzantine emperors, martyred by the Turks (1453).
Hieromartyr Olbian, bishop of Aneus, and his disciples (Greek).
Martyrs Cyril, child Carellus, Primolus, Phinodus, Venustus, Gissinus, Alexander, Tredentius, and Jocunda at Caesarea in Cappadocia (253-259).
Righteouses John and Mary of Ustiug (13th c.).
The Scripture Readings
Acts 21:26-32
Arrested in the Temple
26 Then Paul took the men, and the next day, having been purified with them, entered the temple to announce the expiration of the days of purification, at which time an offering should be made for each one of them.
27 Now when the seven days were almost ended, the Jews from Asia, seeing him in the temple, stirred up the whole crowd and laid hands on him, 28 crying out, "Men of Israel, help! This is the man who teaches all men everywhere against the people, the law, and this place; and furthermore he also brought Greeks into the temple and has defiled this holy place." 29 (For they had previously seen Trophimus the Ephesian with him in the city, whom they supposed that Paul had brought into the temple.)
30 And all the city was disturbed; and the people ran together, seized Paul, and dragged him out of the temple; and immediately the doors were shut. 31 Now as they were seeking to kill him, news came to the commander of the garrison that all Jerusalem was in an uproar. 32 He immediately took soldiers and centurions, and ran down to them. And when they saw the commander and the soldiers, they stopped beating Paul.
John 16:2-13
2 They will put you out of the synagogues; yes, the time is coming that whoever kills you will think that he offers God service. 3 Andthese things they will do to you because they have not known the Father nor Me. 4 But these things I have told you, that when the time comes, you may remember that I told you of them.
"And these things I did not say to you at the beginning, because I was with you.
The Work of the Holy Spirit
5 "But now I go away to Him who sent Me, and none of you asks Me, 'Where are You going?' 6 But because I have said these things to you, sorrow has filled your heart. 7 Nevertheless I tell you the truth. It is to your advantage that I go away; for if I do not go away, the Helper will not come to you; but if I depart, I will send Him to you. 8 And when He has come, He will convict the world of sin, and of righteousness, and of judgment: 9 of sin, because they do not believe in Me; 10 of righteousness, because I go to My Father and you see Me no more; 11 of judgment, because the ruler of this world is judged.
12 "I still have many things to say to you, but you cannot bear them now. 13 However, when He, the Spirit of truth, has come, He will guide you into all truth; for He will not speak on His own authority, but whatever He hears He will speak; and He will tell you things to come.