Cultivating my own garden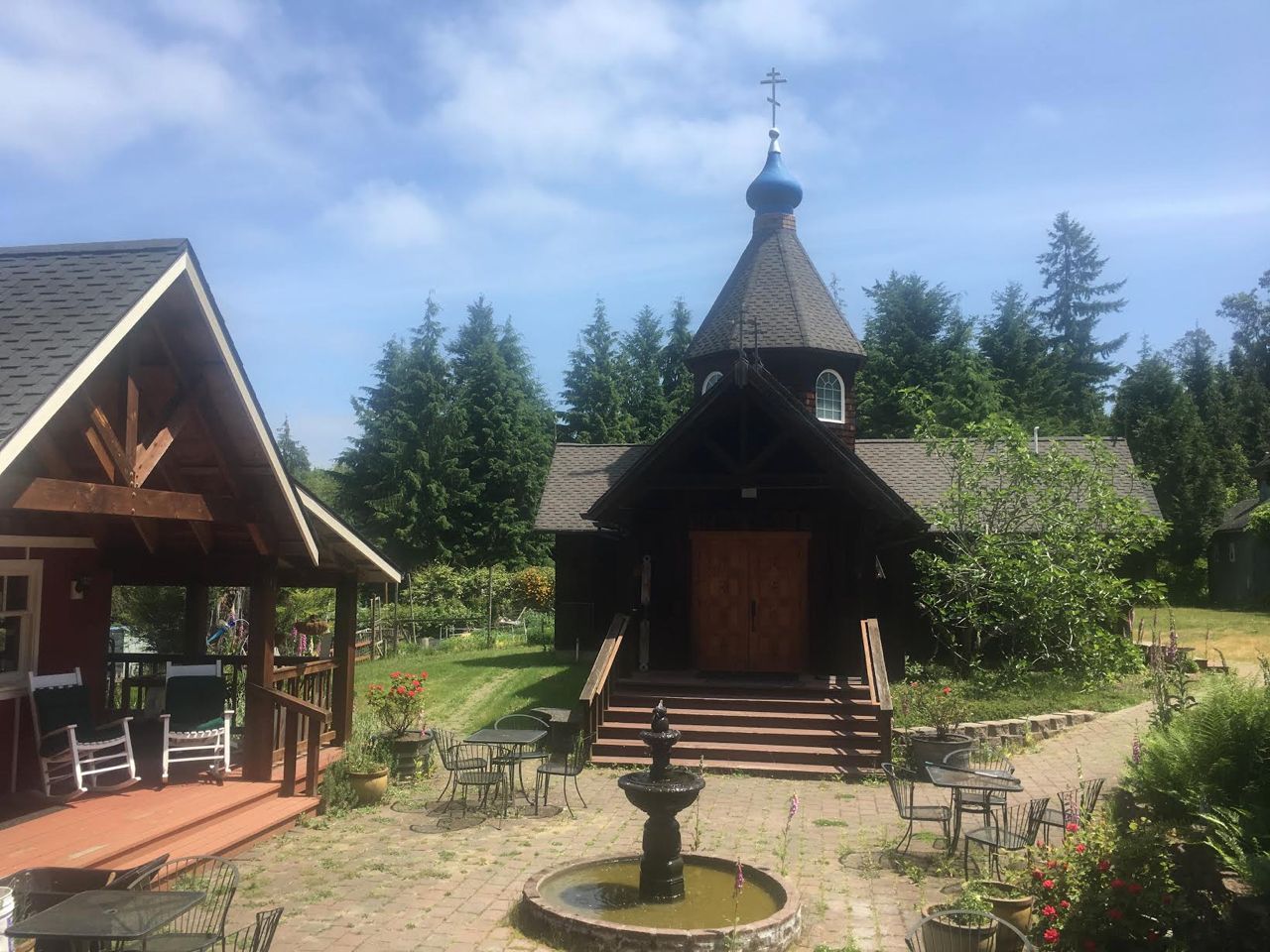 I teeter on the edge if I let myself be concerned about my neighbor's garden rather than focusing on the cultivation of my own garden. Judging another person's spiritual life is one of the most dangerous things we can do, for judging another distracts us from fully living a life of repentance.
The importance of this truth really became clear after hearing complaints from a number of my readers who found fault with my having been on Sister Vassa's show, "Coffee With Sister Vassa".
The complaint was that I, in being on her show, gave carte blanche approval of her "modernist" views, after she had received correction from our bishops after posting something the bishops found morally and theologically questionable.
Certainly, we all have some discernment, but unfortunately most of us do not use it on ourselves but on our fellow men (so that we ourselves will not be … discerned), and we contaminate it with criticism, condemnation, and the demand for others to correct themselves. We should, rather, demand this only from ourselves, who do not resolve to struggle fervently, cut off our passions, liberate our souls, and fly into Heaven.
"If you want to correct your brother when he is doing wrong, you must keep yourself calm; otherwise you yourself may catch the sickness you are seeking to cure and you may find that the words of the Gospel now apply to you, 'Why do you look at the speck of dust in your brother's eye, and not notice the rafter in your own eye?' (Saint John Cassian, Philiokalia, Vol 1)."
To dismiss the decision of our Synod of Bishops to accept her reasons, and her apology, while allowing her to continue publicly as a nun, is something that lays within the realm of the bishops, only. That they allowed her to continue in her ministry was enough for me. And, it was a clear reminder that I am called to love, and not to judge anyone. I have enough trouble accounting myself guilty of the sin in my own life, without concentrating on the sins and failures of another.
"Let's not stone our fellow-man in a so-called "Christian manner." The person who – in the presence of others – checks someone for having sinned (or speaks in an impassioned manner about a certain person), is not moved by the Spirit of God; he is moved by another spirit.
The way of the Church is love; it differs from the way of the legalists. The Church sees everything with tolerance and seeks to help each person, whatever he may have done, however sinful he may be (Saint Paisios the Athonite)."
With love in Christ,
Abbot Tryphon
A note to my readers:
Please know that I take my direction from none other than Saint Paul, who was willing to preach anywhere for the sake of the Gospel of Jesus Christ. I am not a follower of Sister Vassa, but I admire her willingness to go into the marketplace with Orthodoxy. The controversy surrounding her is not something I've followed, since I am way too busy with my own work, and with my community of monks. I agreed to be on her show for much the same reasons Saint Paul would agree to preach anywhere.
As well, that our bishops have blessed her to continue her on-line ministry, as well as her speaking tours, is enough for me. So, if I've somehow offended any of you for my having agreed to be on her show, I can only say that I am sorry for having caused offense.
Meanwhile, I will continue my own ministry of outreach, and with God's help, never depart from the path of our Orthodox Faith and Tradition.
With love and blessings,
Abbot Tryphon
Wednesday June 5, 2019 / May 23, 2019
Apodosis of Pascha. Tone five.
Fast. Fish Allowed
Venerable Michael the Confessor, bishop of Synnada (818).
Uncovering of the relics (1164) of St. Leontius, bishop and wonderworker of Rostov (1077).
Synaxis of All Saints of Rostov and Yaroslavl: Bishop Leontius (1073), Bishop Isaiah, wonderworker (1090), Bishop Ignatius (1288), Bishop James (1391), Archbishop Theodore (1394), Metropolitan Demetrius (1709), Archimandrite Abraham the wonderworker (1073-1077), Monk Irinarchus the Hermit (1616). Prince Basil ( 1238), Peter, Tsarevich of Ordynsk (1290) Blessed Isidore, Fool-for-Christ (1474) Blessed John of the Hair-Shirt (the Merciful), Fool-for-Christ (1580); Yaroslav Wonderworkers: Princes Basil (1249), Constantine (1257), Theodore (1299) and his sons David (1321) and Constantine (XIV); Pereslavl Wonderworkers: Monk Nikita the Stylite (1186), Monk Daniel the Archimandrite (1540), Prince Alexander Nevsky (1263), Prince Andrew of Smolensk (15th c.); Uglich Wonderworkers: Monk Paisius (1504), Monk Cassian (1504), Monk Ignatius of Lomsk (1591), Prince Roman (1285), Tsarevich Demetrius (1591); Poshekhonsk Wonderworkers: Monk Sylvester of Obnora (1379), Monk Sebastian (1542), Hieromartyr Adrian (1550), Monk Gennadius of Liubimograd and Kostroma (1565).
Venerable Euphrosyne, princess of Polotsk (1173).
Venerable Paisius, abbot, of Galich (1463).
Martyr Michael "the black-robed" of St. Sabbas' Monastery (9th c.).
Uncovering of the relics of Virgin-martyrs Eudocia, Daria, Daria, and Mary (2001).
Holy Myrrh-bearer Mary, wife of Cleopas.
Martyr Salonas the Roman (Greek).
Martyr Seleucus (Greek).
Venarable Damiane (King Demetrius) (1157) (Georgia).
St. Ioannicius I, archbishop of Serbia (1270).
The Scripture Readings
Acts 18:22-28
22 And when he had landed at Caesarea, and gone up and greeted the church, he went down to Antioch. 23 After he had spent some time there, he departed and went over the region of Galatia and Phrygia in order, strengthening all the disciples.
Ministry of Apollos
24 Now a certain Jew named Apollos, born at Alexandria, an eloquent man and mighty in the Scriptures, came to Ephesus. 25 This man had been instructed in the way of the Lord; and being fervent in spirit, he spoke and taught accurately the things of the Lord, though he knew only the baptism of John. 26 So he began to speak boldly in the synagogue. When Aquila and Priscilla heard him, they took him aside and explained to him the way of God more accurately. 27 And when he desired to cross to Achaia, the brethren wrote, exhorting the disciples to receive him; and when he arrived, he greatly helped those who had believed through grace; 28 for he vigorously refuted the Jews publicly, showing from the Scriptures that Jesus is the Christ.
John 12:36-47
36 While you have the light, believe in the light, that you may become sons of light." These things Jesus spoke, and departed, and was hidden from them.
Who Has Believed Our Report?
37 But although He had done so many signs before them, they did not believe in Him, 38 that the word of Isaiah the prophet might be fulfilled, which he spoke:
"Lord, who has believed our report?
And to whom has the arm of the Lord been revealed?"
39 Therefore they could not believe, because Isaiah said again:
40 "He has blinded their eyes and hardened their hearts,
Lest they should see with their eyes,
Lest they should understand with their hearts and turn,
So that I should heal them."
41 These things Isaiah said when he saw His glory and spoke of Him.
Walk in the Light
42 Nevertheless even among the rulers many believed in Him, but because of the Pharisees they did not confess Him, lest they should be put out of the synagogue; 43 for they loved the praise of men more than the praise of God.
44 Then Jesus cried out and said, "He who believes in Me, believes not in Me but in Him who sent Me. 45 And he who sees Me sees Him who sent Me. 46 I have come as a light into the world, that whoever believes in Me should not abide in darkness. 47 And if anyone hears My words and does not believe, I do not judge him; for I did not come to judge the world but to save the world.