Looking for hope in all the right places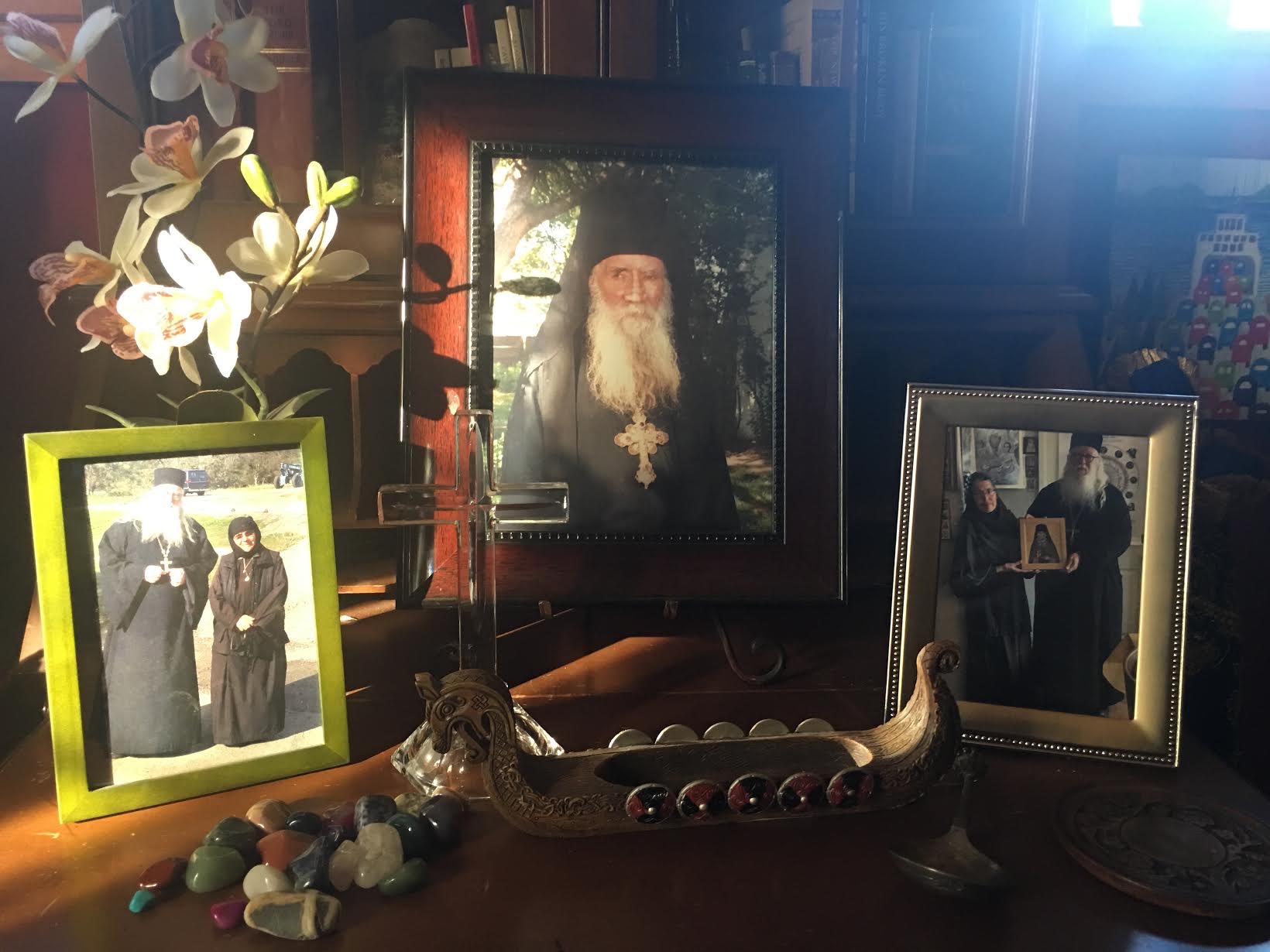 Earlier this evening I was listening to one of the last songs recorded by Johnny Cash, probably the best country western singer of all time. The line in his song, "put me in my box on the 309", is coming from a man who is facing his own imminent death. With the loss of his beloved wife, June Carter Cash still heavy on his heart, Johnny was ready to go to God.
At seventy-three, I'm more aware than ever of my own mortality. I'm not afraid of death but find myself concerned about the monastery and wanting it to prosper beyond my life. I believe with all my heart that this place was built by God, working one miracle after another to make it happen, but like a mother who's given birth to her child and wanting the best for him, I'm not in a hurry to leave this life. I want to know this monastery will be on sure footing and with enough young monks to continue into the next generation before they put my box on the 309.
Like Johnny Cash in his last album, I find myself driven by a desire to share in words my life experience and help today's young people realize the importance of making God central in their lives. We live in an age where many are living in a constant state of listlessness, not caring or being concerned about their spiritual condition, or that of the world. Having given themselves over to leisure pursuits and entertainment, they've become unable to be attentive to that which is of eternal importance. As the world seems on the brink of total meltdown, they have failed to build a foundation that will help them face the challenges and dangers that lie ahead.
History is filled with times like ours and the spiritually fit were the ones who came through those difficult times and prospered. The spiritually fit can triumph over anything, so I continue trying to encourage this new generation of young people. You have before you many challenges, but you also have the prayerful support of monks everywhere, and the love and respect of people of my generation. With God's help you will triumph, so don't neglect the needs of your soul.
With love in Christ,
Abbot Tryphon
Photo: Archimandrite Dimitry, my late spiritual father, along with photos of Abbess Markella of the Life-Giving Spring Monastery in Dunlap, CA., and Abbess Susanna of the Kazan Skete in Santa Rosa, CA.
Sunday June 16, 2019 / June 3, 2019
Pentecost – Trinity Sunday.
"Lesna" Icon of the Most Holy Theotokos (1696) (movable holiday on the Trinity Sunday).
Holy Fathers and Mothers of Atchara (18th c.) (movable holiday on the Trinity Sunday) (Georgia).
Martyr Lucillian and those with him at Byzantium: four youths — Claudius, Hypatius, Paul, and Dionysius; and Virgin Paula (270).
New Hieromartyr Cyprian (1934).
New Hieromartyr Michael priest (1938).
Translation of the relics (1606) of the slain Crown Prince Demetrius of Moscow (1591).
Hieromartyr Lucian the bishop, Maxianus the presbyter, Julian the deacon and Martyrs Marcellinus and Saturninus in Belgium (96).
"Yougskaya" Icon of the Most Holy Theotokos (1615).
Venerable Athanasius, the wonderworker of Cilicia.
The Meeting of Venerable Demetrius, monk of Priluki (Vologda) (1503).
St. Hieria, widow, of Mesopotamia (312).
St. Clotilde (Chlotilda), queen of France (545) (Gaul).
Venerable Kevin, hermit and abbot of Glendalough (618) (Celtic & British).
St. Meriasek, bishop of Camborne.
Venerable Pappus monk (Greek).
St. Achilles, patriarch of Alexandria (312).
Monk-martyr Barsabus, abbot of Ishtar, and ten companions in Persia (342).
New Hieromartyr Joseph, metropolitan of Thessalonica (1821).
The Scripture Readings
John 20:19-23
The Apostles Commissioned
19 Then, the same day at evening, being the first day of the week, when the doors were shut where the disciples were assembled, for fear of the Jews, Jesus came and stood in the midst, and said to them, "Peace be with you." 20 When He had said this, He showed them His hands and His side. Then the disciples were glad when they saw the Lord.
21 So Jesus said to them again, "Peace to you! As the Father has sent Me, I also send you." 22 And when He had said this, He breathed on them, and said to them, "Receive the Holy Spirit. 23 If you forgive the sins of any, they are forgiven them; if you retain the sins of any, they are retained."
Acts 2:1-11
Coming of the Holy Spirit
2 When the Day of Pentecost had fully come, they were all with one accord in one place. 2 And suddenly there came a sound from heaven, as of a rushing mighty wind, and it filled the whole house where they were sitting. 3 Then there appeared to them divided tongues, as of fire, and one sat upon each of them. 4 And they were all filled with the Holy Spirit and began to speak with other tongues, as the Spirit gave them utterance.
The Crowd's Response
5 And there were dwelling in Jerusalem Jews, devout men, from every nation under heaven. 6 And when this sound occurred, the multitude came together, and were confused, because everyone heard them speak in his own language. 7 Then they were all amazed and marveled, saying to one another, "Look, are not all these who speak Galileans? 8 And how is it that we hear, each in our own language in which we were born? 9 Parthians and Medes and Elamites, those dwelling in Mesopotamia, Judea and Cappadocia, Pontus and Asia, 10 Phrygia and Pamphylia, Egypt and the parts of Libya adjoining Cyrene, visitors from Rome, both Jews and proselytes, 11 Cretans and Arabs—we hear them speaking in our own tongues the wonderful works of God."
John 7:37-52
The Promise of the Holy Spirit
37 On the last day, that great day of the feast, Jesus stood and cried out, saying, "If anyone thirsts, let him come to Me and drink.38 He who believes in Me, as the Scripture has said, out of his heart will flow rivers of living water." 39 But this He spoke concerning the Spirit, whom those believing in Him would receive; for the Holy Spirit was not yet given, because Jesus was not yet glorified.
Who Is He?
40 Therefore many from the crowd, when they heard this saying, said, "Truly this is the Prophet." 41 Others said, "This is the Christ."
But some said, "Will the Christ come out of Galilee? 42 Has not the Scripture said that the Christ comes from the seed of David and from the town of Bethlehem, where David was?" 43 So there was a division among the people because of Him. 44 Now some of them wanted to take Him, but no one laid hands on Him.
Rejected by the Authorities
45 Then the officers came to the chief priests and Pharisees, who said to them, "Why have you not brought Him?"
46 The officers answered, "No man ever spoke like this Man!"
47 Then the Pharisees answered them, "Are you also deceived? 48 Have any of the rulers or the Pharisees believed in Him? 49 But this crowd that does not know the law is accursed."
50 Nicodemus (he who came to Jesus by night, being one of them) said to them, 51 "Does our law judge a man before it hears him and knows what he is doing?"
52 They answered and said to him, "Are you also from Galilee? Search and look, for no prophet has arisen out of Galilee."